This week the Group of Five is down to four and this week, the top two ranked G5 teams meet in the regular season finale for each. Cincinnati plays at Memphis with each having sights at the American Athletic Conference title and a Cotton Bowl bid as the top G5 squad in the final rankings as the G5
Below is the full list of all the Top 25 College Football Playoff Top 25.
| | Logo | Team | Record |
| --- | --- | --- | --- |
| 1 | | Ohio State University | 11-0 |
| 2 | | Louisiana State University | 11-0 |
| 3 | | Clemson University | 11-0 |
| 4 | | University of Georgia | 10-1 |
| 5 | | University of Alabama | 10-1 |
| 6 | | University of Utah | 10-1 |
| 7 | | University of Oklahoma | 10-1 |
| 8 | | University of Minnesota | 10-1 |
| 9 | | Baylor University | 10-1 |
| 10 | | Penn State University | 9-2 |
| 11 | | University of Florida | 9-2 |
| 12 | | University of Wisconsin | 9-2 |
| 13 | | University of Michigan | 9-2 |
| 14 | | University of Oregon | 9-2 |
| 15 | | Auburn University | 8-3 |
| 16 | | University of Notre Dame | 9-2 |
| 17 | | University of Iowa | 8-3 |
| 18 | | University of Memphis | 10-1 |
| 19 | | University of Cincinnati | 10-1 |
| 20 | | Boise State University | 10-1 |
| 21 | | Oklahoma State University | 8-3 |
| 22 | | University of Southern California | 8-4 |
| 23 | | Iowa State University | 7-4 |
| 24 | | Virginia Tech | 8-3 |
| 25 | | Appalachian State University | 10-1 |
Memphis leads as the Top G5 currently and Cincinnati is just one spot behind. Boise State is next and Appalachian State follows. SMU was in the Top 25 last week but lost at Navy (who I thought would get back in the Top 25 again this week but missed out. Navy, however, still has a chance at the AAC West crown should it beat Houston and Cincinnati defeat Memphis.
Boise State plays at Colorado State and will then host Hawai'i in the Mountain West title game. Appalachian State plays at Troy and then hosts Louisiana in the Sun Belt title game. I will also provide quick previews of this games below the G5 game of the week.
Group of Five Game of the Week:
Cincinnati (10-1, 7-0 AAC) at Memphis (10-1, 6-1 AAC)
Where: Liberty Bowl Memorial Stadium
When: Friday, Nov. 29, 3:30PM EST
TV/Streaming: ABC
Cincinnati Bearcats
Cincinnati has won nine straight since only loss to currently CFP #1 Ohio State in September. The Bearcats, however, have not won these game real easily. The Cincinnati offense is coming off its worst performance of the season. The Bearcats escaped a loss last week at home by Temple with a defense-led 15-13 victory, which was aided by some Temple special teams implosions leading to five Cincinnati points. Cincinnati also escaped with last minute wins in two of the prior three games as well with field goals in in the last minute in wins at East Carolina and South Florida on the road.
Despite the small margin of victories, the Bearcats remain undefeated in AAC play and with last week's win have already clinched the AAC East Division and a spot in next week's AAC championship game.
While the offense has sputtered at times, the real reason Cincinnati has clinched the AAC East crown is its defense. The Bearcats have allowed a league best 19.9 points per game. And that number would be even better if the 42-0 loss at Ohio State were to be thrown out. Cincinnati ranks 69th in pass defense in all of FBS, giving up 231.5 yards a game and second in rushing defense in the AAC, yielding 133.7 yards per game. The Bearcat defense will be a key for the defense facing the Tigers' potent offense.
Friday marks the 35th meeting all-time between the two squads but the first since 2016 in a series that dates to 1984. The Tigers lead the all-time series 21-13. The two teams have split the last two matchups in Memphis with the Tigers holding an overall three-game win streak.
Key Player: RB Michael Warren II ran 24 times for 106 yards against Temple and will need to carry the load with QB Desmond Ridder limited by an injured throwing shoulder. Overall this season, Warren has 939 rushing yards with 11 touchdowns. Ridder has not looked right with the injury. In fact, Cincinnati tallied just 78 yards passing at USF and 62 against Temple, the first time since 1997 UC has failed to cross 100-yards passing in two consecutive games. Yet, the Bearcats found a way to win each in using the ball control and having a stingy defense. Warren will need to be key for the Bearcats to keep the time of possession in the run game.
Memphis Tigers
Memphis has 10 wins for fourth time in program history and second under coach Mike Norvel. Outside of an off game against Navy, the Tigers have domintated their opponents. Memphis has registered at least 500 yards of offense in three straight games and in six games this season.
The Tigers will be seeking their third straight West Division title with a victory and a win will give Memphis the right to host next week's AAC game in a rematch with Cincinnati.
The Tigers defense has not been as strong as the Cincinnati defense but still has given up just 24.5 points and 361.1 yards per game. The rushing defense will be the key for Memphis to get Cincinnati off the field.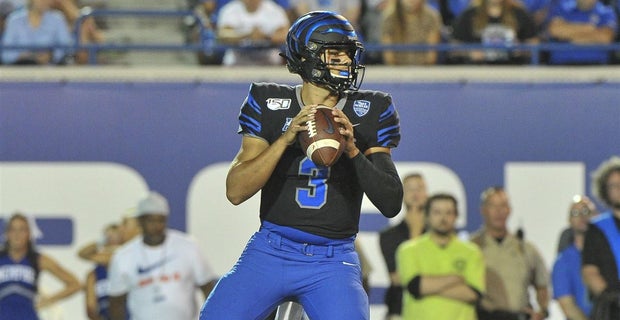 Key Player: QB Brady White has directed a terrific Tiger passing game. He has thrown for 3,074 yards and 30 touchdowns and is ranked in the top 10 nationally in multiple categories, including touchdowns, yards per attempt and quarterback rating. He will need to mix the run with his passing in the play calling. He has a dynamic freshman in RB Kenneth Gainwell, who ranks ninth nationally with 1,294 yards rushing, to give the ball to. He's also fourth in the country with 1,766 all-purpose yards.
Fearless Forecast: All signs in this game point towards an easy Memphis victory given the state the two teams sit right now. However, I believe Cincinnati will have a game plan to slow down the Tigers offense and will force some turnovers to keep this game close. Cincinnati has shown it knows how to win close games and will have a chance to win it late and will win with a last minute field goal to host the AAC title game next weekend. Cincinnati 26 Memphis 23
Other CFP G5 Top 25 Game Predicions
| | | | | | |
| --- | --- | --- | --- | --- | --- |
| Boise State at | | 2:30 PM | CBSSN | | Canvas Stadium, Fort Collins, Col. |
The Broncos get one road tune-up game before hosting the Mountain wees title game next weekend. Boise State is the the superior defensive team in this matchup, andwill win the turnover battle to win this game easily. Boise State 36 Colorado State 17
| | | | | | |
| --- | --- | --- | --- | --- | --- |
| Appalachian State | | 5:00 PM | ESPN+ | | Veterans Memorial Stadium , Troy, Ala. |
An App State victory over Troy on Friday means the Mountaineers will be at home once again next week in the Sun Belt title game against Louisiana. A loss and a Ragin' Cajuns win means App State would have to travel for that game and would lose any hope for the G5 top spot. That motivation will mean the Mountaineers will win this game fairly easy. App State 31 Troy 17
Originally from LaMoure, North Dakota, Kent is a 1996 graduate of North Dakota State University. His prior writing experience is over 15 years having previously worked with D2football.com, I-AA.org, and College Sporting News before coming to College Sports Journal in 2016. His main focus is college football is the Missouri Valley Football Conference within the Division I FCS. And in 2017, he began also to look at the FBS Group of Five conferences of the American Athletic, Conference USA, Mid-American, Mountain West, and Sun Belt.
Reach him at this email or click below: