Football season is once again upon us and the race for the Celebration Bowl and post season play is now on! Can anybody in the SWAC Challenge Grambling for the crown, will anyone in the MEAC challenge the North Carolina schools, and is this Tennessee State's year to bust into the post season? This week begin to get answers and the path to Atlanta starts for the MEAC and SWAC teams. We'll look at the 8 most important HBCU games of week one and look at the keys to victory to those contests.
Alabama A&M at UAB-September 2nd-Birmingham, Alabama
UAB has not fielded a team since 2014 and now the Blazers are back. Much excitement surrounds the return of the Blazers but The Bulldogs have plans of crashing this welcome back party. Bulldog Head Coach James Spady enters year number four on "The Hill" and has only yielded 11 wins so it's important that the Bulldogs get off to a fast start this season. Alabama A&M will get the benefit of playing in Birmingham which is a huge alumni base for them so expect close to a 50/50 crowd come Saturday afternoon. The Bulldogs must establish the run early with All-Conference running back Jordan Bentley and they must avoid the turnover bug. In 2014 Alabama A&M lead UAB 14-0 before surrendering 41 unanswered points to The Blazers. Ironically that was year number one for Coach James Spady and UAB Head Coach Bill Clark. UAB will have the advantage of having film on Alabama A&M but will be at a disadvantage of having a talented roster that has yet to play together in a game setting. I expect early mistakes by UAB being key to the Bulldogs hanging around and give these experienced Bulldogs a legitimate shot of an upset over the in-state FBS squad.
Virginia State at Norfolk State-September 2nd-Norfolk, Va
The return of The Labor Day Classic in Virginia has the fans of both schools and the local community buzzing with excitement. The teams have not met since 2012, but have played 50 previous times. The teams met each other in the first game of the season every year from 1991-2009 in what became known as the Labor Day Classic. Norfolk State Head Coach Latrell Scott resurrected his coaching career at Virginia State back in 2013 where he led the Trojans to a 19-3 record over two seasons. Now Scott roams the sidelines of the Norfolk State and is coming off of back to back 4-win seasons. Scott is one of several NSU staff with close ties to VSU. Associate head coach and inside linebackers coach Andrew Faison preceded Scott as the head coach at VSU. Faison compiled a 58-52 record as coach of the Trojans from 2002-12. In addition, NSU director of football operations Shawn Hunt was a placekicker at VSU from 2011-13, playing under both Faison and Scott. Defensive coordinator Matt Dawson held the same position at VSU in 2013 under Scott. Virginia State comes into the season on a positive note after finishing the 2016 season with a 9-2 record under first year head coach Reggie Barlow. The Spartans return 19 players who started at least one game from last season's team which went 4-7 for the second year in a row, yet won three of its final four games to close 2016. Virginia State hasn't beaten the Spartans from Norfolk since 2005 but they have more than a puncher's chance to score the upset on Saturday in the renewal of the Labor Day Classic.
Tennessee State at Georgia State- August 31st– Atlanta, Ga
Georgia State moves into their new digs in the revamped version of Turner Field in a game that is much anticipated by the Panther faithful. Tennessee State returns to Atlanta for the first time 2010 after playing annually in the Atlanta Football Classic from 1994-2010. The Tigers boast a very impressive squad on paper which includes All-American defensive end Ebenezer Ogundeko and preseason OVC offensive player of the year Patrick Smith at receiver. Coach Rod Reed has probably his most talented and deepest roster that he has had in Nashville which is why expectations are high. Georgia State has had some rough times since starting the program back in 2010. The Panthers are on Head Coach Number 3 and has a 20-62 overall record since starting the program. Georgia State has a 2-4 record vs FCS teams since making the jump to the FBS in 2013. Tennessee State is coming off of a 7-4 season in 2016 and returns the majority of its starters on both sides of the football. One new starter for Tennessee State comes in the form of Florida transfer Treon Harris who was named the starting quarterback for the Tigers. Georgia State is expecting close to a sellout crowd on Thursday but the key to getting that crowd to return for other games this season is to win on Thursday night.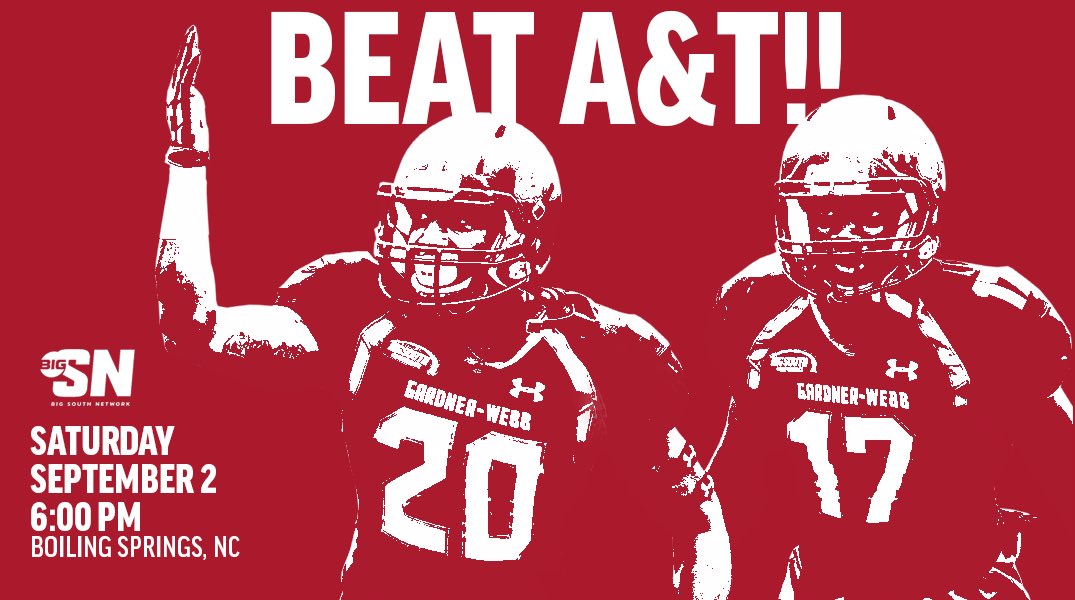 North Carolina A&T at Garner-Webb-September 2nd-Boiling Springs, NC
Last season ended about as bad as a season could end for the Aggies of A&T. The Aggies went into the final game of the season with a 9-1 record, an opportunity to win the conference crown, and punch their ticket to Atlanta for The Celebration Bowl. Instead the Aggies were trounced 42-21 by North Carolina Central and were beaten 39-10 by Richmond in the first round of the FCS Playoffs. Now the Aggies are back but without All-American running back Tarik Cohen who's now with the Chicago Bears. Gardner-Webb comes into the contest looking to improve off of a 5-6 2016 season in which the Running Bulldogs showed a lot of promise. If the Bulldogs are to compete for the Big South title and FCS playoff berth they must win this game and if the Aggies are to play themselves into an at-large bid just in case the fail to make it to Atlanta then this also a must win. Garner-Webb's quarterback Tyrell Maxwell must have a big day if the Runnin Bulldogs are to get the win. Quarterback Lamar Raynard returns for a third season for the Aggies and he was on his way to have a huge year before injury sidelined him for the final three games last season. This game will be a tough, hard hitting game and I don't expect the winner to be victorious by a large margin.
Morgan State at Towson- September 2nd-Baltimore, Md.
It seems like ages ago that Morgan State won a share of the MEAC crown and went on to represent the conference in the FCS playoffs back in 2014. Since that time the Bears are 7-14 including a 3-8 campaign last season. Towson also knows a thing or two about longing for yesteryear as they are 15-19 since their appearance in the FCS National Title game during the 2014 season. This game is now known as The Battle for Greater Baltimore and is scheduled to be played annually through the 2020 season. These two neighboring schools are only 4.4 miles apart from each other but have not met since the 2011 season. Both teams are looking to return to the days of old and to do that it starts with winning this game. Towson. Morgan State has only 2 seasons above .500 since 2010 and if the Bears are to make this season 3 they need to start fast against Tigers. After this game Morgan State has Albany and Rutgers in the upcoming weeks which means failure to beat Towson could result in a 0-3 record staring the Bears right in the face. The key for Towson to win this ball game is to shore up the defense. Towson's defense surrendered 27.6 points and allowed 332.3 yards per game last season. Total, the group welcomes back nine starters. This game looks to be more competitive than the 42-3 drumming of Morgan State by Towson back in 2011, and if this series is to develop into a real rivalry, it must be.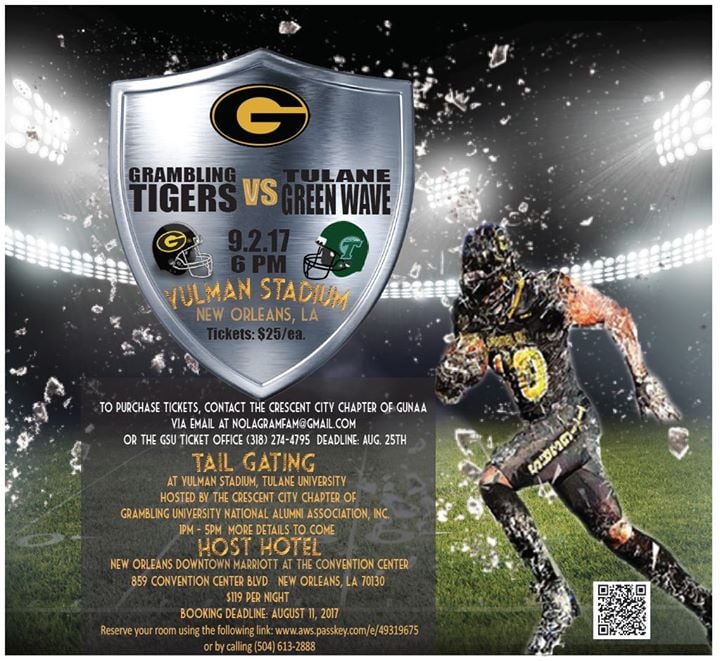 Grambling State at Tulane-September 2nd-New Orleans, La
A year ago Grambling went out to face Arizona in what was supposed to be the typical Power 5 vs. FCS beat down. Instead Grambling lead the Wildcats 21-3 at halftime and it took second half heroics for them to pull out the win. Tulane is on high alert. Coach Willie Fritz is in year two and history tell us from his previous stops, that it is usually in year two where his team makes the most strides. Grambling comes into this contest with a more talented roster than the one a year ago that won the SWAC and HBCU National Title. The key for Grambling is to get that defense which was ranked nationally to limit Tulane's triple option attack. Grambling must establish the run and not rely solely on the passing attack like they did against Arizona a year ago. The Tigers need a huge day from SWAC offensive player of the year Devante Kincade to spring the upset over the Green Wave. This game will either show us that Tulane is on its way back or Grambling is more dangerous than years' past. Either way this game will tell us a lot about both teams.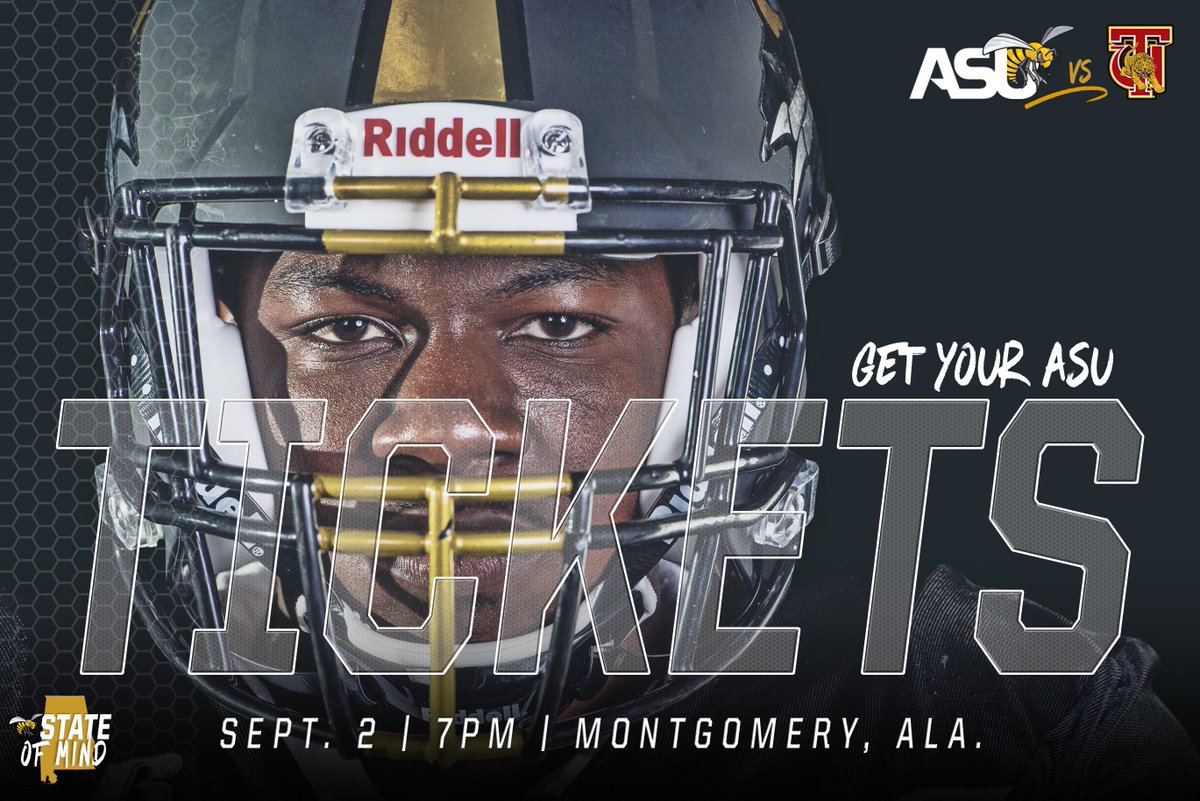 Tuskegee at Alabama State- September 2nd– Montgomery, Al
These two schools are less than 40 miles apart and for years met annually in the oldest HBCU Classic game, The Turkey Day Classic. These two rivals have not met since 2012 when Tuskegee spoiled the opening of Alabama State's new stadium by beating the Hornets 27-25. These two started meeting back in 1924 and despite Tuskegee being the Division 2 program, they lead the overall series 61-34-4 over Alabama State including winning 7 out of the last 10 meetings. Buzz has been surrounding this matchup since it was announced 2 years ago. The game has been sold out for weeks and now it's time for the business. Head Coach Brian Jenkins is in year 3 at ASU and needs to get things turned around before his seat heats up. The Hornets finished the 2016 season 4-7 in an injury riddled season, while Tuskegee finished the year 9-3 and made it to the Second Round of the Division 2 Playoffs. Alabama State must start fast and limit mistakes if they are to beat their rivals from down I-85. An opening season loss against a longtime rival would most definitely turn up the heat on Coach Brian Jenkins.
South Carolina State at Southern (The MEAC/SWAC Challenge)-September 3rd-Baton Rouge, La.
Both teams are expected to compete for their respective conference titles. Southern returns after an 8-3 season last season that had them a game away from the conference title game. South Carolina State finished 2016 with an uncharacteristic 5-6 record but comes into the 2017 with arguably the best linebacker in FCS football Darius Leonard. SC State is known for having an outstanding defensive unit while the Jags are known for an explosive offense. Southern returns Austin Howard at quarterback who is in year number 4 as a starter and 9 of 11 starters defensively including All-American defensive back Danny Johnson. The game looks to be a low scoring affair which is exactly how South Carolina State wants it. The winner of this game not only brings back home bragging rights for their conference but they would take the first step towards Atlanta and The Celebration Bowl. Southern has yet to lose a MEAC/SWAC Challenge, boasting a 2-0 record while South Carolina State also is undefeated in the Challenge with a 3-0 record. Sunday one of these teams will take their first loss in the challenge and more importantly their first loss of the 2017 season.
BJ Jones is an HBCU contributor to College Sports Journal.