SARASOTA, Fla. – The scene is forever etched in the minds of sports fans across the world as former North Carolina State basketball coach Jim Valvano is helped from the stage of the ESPYs in 1993 by Duke coach Mike Krzyzewski and Dick Vitale after delivering his memorable speech.
At that moment basketball took a backseat to all else in the world.
The moment, forever frozen in time, should come as little surprise to those who know Vitale best.
He is all about making life better for others.
Vitale grew up in Passaic, N.J. and learned early on about love, enthusiasm and inspiring those around him.
"I grew up in a home filled with love," he explained. "My parents both had a fifth-grade educations … but they both had a doctorate in love.
"They taught me about always having a passion and to be enthusiastic," he added.
That upbringing explains a lot. A whole lot.
Vitale has become one of the most popular sports broadcasters in history and one of the most recognizable faces … and voices in all of sport.
Oh, as a coach, he certainly knew how to win … Baby.
GROWING UP
After moving with his family to what is now Elmwood Park, N.J. sports continued to be a central part of Vitale's life. A childhood injury suffered at the age of five left Vitale blind in one eye, which curtailed his own athletic career.
He was surrounded by an army of aunts and uncles, many of whom were avid sports fans, and that only fueled Vitale's passion for sports.
"My family was truly a blue-collar family," he said. "My mother and father, my aunts and uncles, it was all about family, work, doing the right thing … and sports.
"I was always a sports junkie, but I couldn't play football, basketball or baseball, he added, " … but I could read a scoreboard and knew that in order to win one team had to outscore the other."
After graduating from East Rutherford High School, he attended Seton Hall and began his teaching career at Garfield Junior High School at the age of 24. Not long after, he was offered a position to teach elementary school in East Rutherford and coach the basketball team at his alma mater.
The seeds of coaching success were quickly planted.
Vitale's teams won the sectional championship in each of his first two season and captured state titles in 1970 and 1971. His teams compiled a 131-47 (.736) record in six seasons at the school.
COLLEGE BASKETBALL
Vitale left East Rutherford High School to become an assistant coach at Rutgers under Dick Lloyd and spent two seasons with the Scarlet Knights.
He then accepted what would become his only collegiate head coaching position by taking over at Detroit.
"We turned that program around," the effervescent Vitale said.
Boy, did they ever.
His first two Titan squads both finished with 17-9 records and improved that win total to 19 games in 1975-76 when they finished 19-8.
The stage was set. And Vitale and his team did not shy away from having one of the best seasons in NCAA history the following season.
The Titans, thanks in large part to a 21-game winning streak during the season, would advance to the NCAA tournament. The tournament field was just 32 teams at the time.
Along the way the defeated Marquette 64-63 on the road in Milwaukee. The Warriors, as Marquette was known as at the time, would win the national championship just two months later.
Vitale's Titans, meanwhile, saw its winning snapped in their next game when Duquesne toppled Detroit 95-88. They would regroup to win two of the final three games of the regular season to make the NCAA tournament field.
A 93-76 win over Middle Tennessee at the Maravich Assembly Center on the campus of Louisiana State University sent the Titans to fabled Rupp Arena, home of the Kentucky Wildcats and a Sweet 16 date with Michigan. The Wolverines ended Detroit's season with an 86-81 win.
Detroit would end the year at 26-3.
The loss to would turn out to be the final game of Vitale's college coaching career.
"That game changed my life," said Vitale, who would not fully understand how much his life would change for a few more years.
The Titans were 79-29 (.731) in four seasons with Vitale at the helm. He stepped down as coach to become the athletics director at the school.
NBA CAREER
After one season as an administrator at Detroit Vitale returned to coaching. This time in the professional ranks when he became coach of the Detroit Pistons and tasked with rebuilding a troubled franchise who went through two coaches the previous season.
And for the first time in his career Vitale was unable to find the winning formula. His 1978-79 Detroit team finished 30-52 and missed the playoffs.
It only got worse from there.
Just 12 games into the 1979-80 season he was fired by the team after a dismal 4-8 start.
His firing still resonates in his mind.
Just 10 days after his departure from the Pistons the phone rang at his home. And with it came an opportunity that Vitale had reservations about.
BROADCASTING ROOKIE
On the other end of the line of that call was Scott Connal, who offered Vitale a chance to join new cable network, ESPN, and broadcast college basketball games.
"I had never heard of ESPN," Vitale said. "It sounded like a disease to me. I knew nothing about TV."
Vitale spurned that initial offer in hopes that another shot at coaching basketball would come his way. But, Connal continued courting Vitale, who finally agreed to join the network.
Less than one month after his coaching career ended Vitale was behind the microphone for the first time when he teamed with Joe Boyle to broadcast a game between DePaul and Wisconsin on Dec. 5, 1979 in . The Blue Demons won the game 90-77.
A short time after that first broadcast Vitale would begin to learn how the loss in the NCAA tournament that ended his collegiate coaching career would eventually change his life.
It was during the regional tournament in Lexington that Connal had been introduced to Vitale and listened as the Detroit coach talked to his prior to the game against . Connal was captivated by Vitale's exuberance.
"I was surprised when we got to the tournament and saw the (former UCLA coach) John Wooden was doing the analysis on TV," Vitale explained.
One of the things Connal continued to stress to Vitale during his attempts to lure him to the network was to continually tell the future broadcasting legend that he possessed "a quality we can't teach," Vitale recalled.
That quality, ripe with an abundance of passion, would become fine-tuned by working some other legendary names in sports broadcasting. Names like Jim Simpson, Keith Jackson and Brent Musburger. Other broadcast partners have included Digger Phelps, Hubert Davis and Bobby Knight.
A SPECIAL BOND
But it was a friendship that was forged with Valvano that will have the pair entwined for all time.
Valvano, a native of Queens, N.Y., began his coaching career as an assistant at Rutgers, his alma mater. He later coached at Johns Hopkins (1969-70), Bucknell (1972-75) and Iona (1975-80). He resigned after five seasons with the Gaels to take over at North Carolina State.
History would soon follow.
Three years after taking over in Raleigh, Valvano and the Wolfpack stunned the college basketball world by upsetting heavily favored Houston when Lorenzo Charles put home a rebound just ahead of the final buzzer off a desperation shot by Dereck Whittenburg to lift N.C. State to the title.
The scene played out showing Valvano frantically running around the court in celebration is a part of virtually every NCAA basketball highlight reel.
Valvano later said he was only looking for someone to hug in celebration of his team's monumental triumph over the Cougars.
Valvano retired from coach following the 1989-90 season after compiling a record of 209-114 (.647) while at N.C. State. His overall record is 346-210 (.622) in 19 seasons as a head coach.
The friendship that had already existed between Vitale and Valvano, later dubbed the "Killer Vees," grew to a new level when the former N.C. State coach was teamed together for broadcasts of college basketball games.
ESPYS
Less than one year after being diagnosed with cancer in June of 1992 Valvano returned to New York City early in March of 1993 to take part in the first-ever ESPY Awards inside famed Madison Square Garden.
Vitale played a huge part in making sure his friend and colleague was part of the festivities.
It turned out Valvano would steal the show.
One day before the event there were doubts that Valvano's failing health would allow him to be on hand.
"He was in a lot of pain the night before," Vitale said as he remembered the now-famous event, "so the plan was to simply take the microphone to Valvano as he sat in his seat as let him say a few words. When (Krzyzewski) and I got to his seat, he asked what we were doing and told us to just get him to the stage."
The stage became a sort of pulpit for the next 10 minutes. While the iconic coach seemed to deliver his words of wisdom with plenty of humor, he also managed to bring those in attendance and around the world to tears.
"When people say to me how do you get through life or each day, it's the same thing, Valvano told the world that night. "To me, there are three things we all should do every day.
"We should do this every day of our lives. Number one is laugh. You should laugh every day. Number two is think. You should spend some time in thought. Number three is you should have your emotions moved to tears, could be happiness or joy. But think about it. If you laugh, you think and you cry, that's a full day. That's a heck of a day. You do that seven days a week, you're going to have something special."
Toward the end of his speech Valvano delivered another of his most memorable thoughts of the night.
"Cancer can take away all of my physical abilities. It cannot touch my mind, it cannot touch my heart, and it cannot touch my soul. And those three things are going to carry on forever."
A noticeably frail Valvano again was helped from the stage a short time later by his two longtime friends.
Valvano died less than two months later, on April 28, 1993, less than two months following his speech at the ESPYS.
THE V FOUNDATION
The night of Valvano's famous speech also brought the announcement of the establishment of The V Foundation in honor of the college coaching icon.
Vitale remains very active in promoting the foundation and the causes it supports. To date, the foundation has awarded 100 percent of the more than $260 million donated to cancer research and programs aimed at defeating all forms of the disease.
This year's Dick Vitale Gala, the 16th annual event, held in May in conjunction with The V Foundation, raised more than $6.5 million for pediatric cancer research. The initial event in 2005 raised $350,000.
An estimated 17,000 children up to age 19 were affected by pediatric cancer in 2020 and estimated 2,000 children died of the disease that same year. It is the leading disease-related cause of death for American children over the age of one.
"There is nothing worse than a mom and dad putting their child to rest, so young, so beautiful with dreams and goals," Vitale said of his devotion to the cause. "Forty-five to 50 mothers and fathers every day will hear four words that no mom and dad ever wants to hear: 'Your child has cancer.' It's life changing.'"
"My life is now in its final chapter, and the people who have been so good to me over the years, fans, ESPN, all the people I've worked with over 42 years, that's half my life now with ESPN, said Vitale, a member of 14 halls of fame in basketball, broadcasting and other organizations.
"I've had a lot of honor that have come my way," he added. I just feel that at this stage of my life I just want to give back," Vitale said of his passion for helping raise funds for children facing cancer. "I love young kids, I love young people,"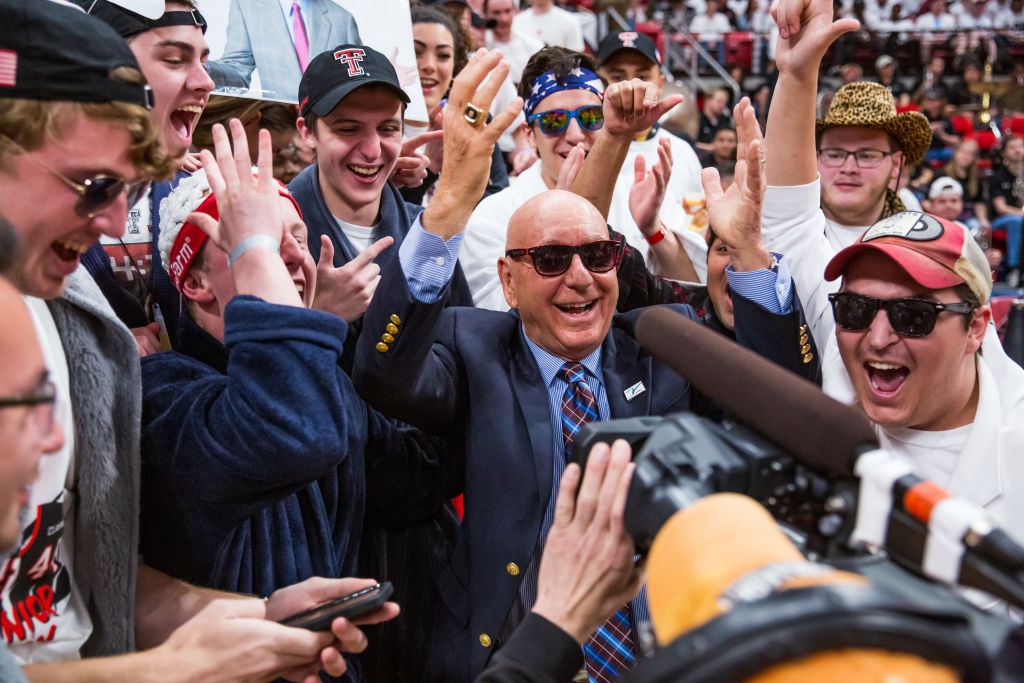 ENDLESS ENTHUSIASM
Basketball will always be at the center of Vitale's world.
"I plan on becoming the first person to do a basketball broadcast at the age of 100," Vitale said, "… I only have 18 more years to go."
He has made appearances in countless television and films through the years. He has also authored 14 books that combine his vast knowledge of the game with his trademark humor and catch phrases. He says there are other books in the works.
NOTE – For information on how to donate or get involved in The V Foundation contact www.v.org or call 919-380-9505.
A native of Bismarck, N.D., Ray is a graduate of North Dakota State University where he began studying athletic training and served as a student trainer for several Bison teams including swimming, wrestling and baseball and was a trainer at the 1979 NCAA national track and field championship meet at the University of Illinois. Ray later worked in the sports information office at NDSU. Following his graduation from NDSU he spent five years in the sports information office at Missouri Western State University and one year in the sports information at Georgia Tech. He has nearly 40 years of writing experience as a sports editor at several newspapers and has received numerous awards for his writing over the years. A noted sports historian, Ray is currently an assistant editor at Amateur Wrestling News.