Rivalry was back this past week in the state of North Dakota last week.
North Dakota State played at North Dakota for the first time since both were Division II schools in 2003. The two teams have played three games in Fargo since that last time with NDSU winning each of those contests easily. This game in Grand Forks this year was far from an easy contest but the Bison prevailed 16-10 with rather dominant defensive performance.
The Bison scored their first nine points with a trio of field goals from K Jake Reinholz – one each in the first, second and third quarters. Reinholz's 45-yarder to open the scoring was a career long.
NDSU iced the victory with a three-yard touchdown run by QB Quincy Patterson with 1:13 remaining in the fourth quarter, pushing the margin to 16-7.
The Fighting Hawks added a late field goal before a last-ditch onside kick attempt was covered by the Bison.
Here are some video highlights from this game below:
The game of the week though may have been the battle between Western Illinois and Southern Illinois. SIU raced out to a 21-0 lead into the second quarter and held a 21-10 lead at the half. WIU battled back and took the game to overtime at home in Macomb.
Saluki QB Nic Baker threw a 25-yard touchdown strike to WR Landon Lenoir on the first play of overtime to put SIU up 31-24.
After WIU RB Myles Wanza scored on a 25-yard touchdown run on the Leathernecks OT possession, WIU decided to try to win the game with a two-point conversion. SIU LB Jakari Patterson rose to the occasion, stopping receiver Dennis Houston behind the line of scrimmage.
The other scores from last week are as follows with highlights with less dramatic endings.
Missouri State at Illinois State MSU, 41-20
*Indiana State at South Dakota USD, 38-10
*Youngstown State at #15/13 UNI UNI, 34-7
Dixie State at #2/3 South Dakota State SDSU, 55-7
This week, we get another dose of top game with two involving both ranked squads in UNI at NDSU and SIU at SDSU being the top two games with three others involving MVFC squads. Here are my predictions for the five games this week.
Western Illinois at Indiana State, 12 p.m. CT ( ESPN3)
This looks like a battle to see who might stay out of the bottom of the standings. WIU has shown something though in the last two weeks after defeating Youngstown State two weeks ago and taking Southern Illinois to overtime last week, this team is improving. Indiana State on the other hand, has not been competitive in the its two conference losses to SDSU and USD. The signs points to a Leatherneck victory and that is the way I am going in this one but should be a game that goes down to the final minutes of the game. Western Illinois 37 Indiana State 30
Missouri State at Youngstown State, 1 p.m. CT ( ESPN+)
The Penguins were blown out last week as shown above by UNI and Missouri State blew out Illinois State on the road. The Bears look like the team that made the playoffs this past spring and should have an easy time in Youngstown in this one. Missouri State 31 Youngstown State 14
Northern Iowa at North Dakota State, 1 p.m. CT (ABC ND/ ESPN+)
Make no mistake the Panthers and Bison do not like each other at all. But the Bison have won the last seven meetings between these two former DII North Central Conference rivals, as well as nine out of the last ten contests. UNI really won the statistical battle in last spring's game but NDSU used its kick return game to really win the game in Cedar Falls 23-20. Both offenses are better than they were this spring and their defenses are just as good. This game is NDSU's homecoming so the edge to me is with the home squad to edge out the road team. North Dakota State 24 Northern Iowa 17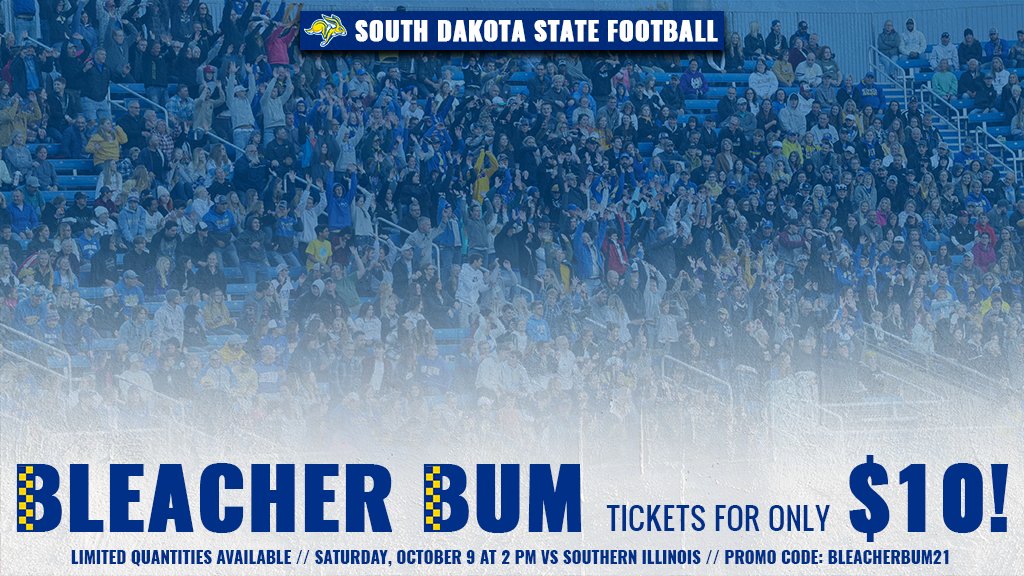 Southern Illinois at South Dakota State, 2 p.m. CT (Midco/ ESPN+)
This game might be a first in the history of college football–two teams meeting three times in a calendar year. To say that these two playoff hopefuls know each other would be an understatement. The Jackrabbits hammered the Salukis in the regular season game this past spring 44-3 in Carbondale. The two met again in the quarterfinals of this spring's FCS playoffs in Brookings and it was a much tighter game, where SDSU won in come-from-behind fashion 31-26. SIU led that game 20-10 at halftime but could not hold off SDSU in the second half. This game is also in Brookings and this year's Jackrabbit team might be better than the one that went to Frisco for the national title game. SIU did not show me much in their last game against WIU but they will be up for this game. I don't think it will be enough and the Jacks will have their third win of this calendar year over the Salukis. South Dakota State 38 Southern Illinois 31
North Dakota at South Dakota, 2 p.m. CT (Midco/ ESPN+)
USD lost their opener at Missouri State and came back home to defeat Indiana State last week. UND had its MVFC opener with NDSU at home and as mentioned, a loss. North Dakota has a better roster than the Coyotes but with the home field advantage in the DakotaDome, this likely will led to a close game in what used be the Sitting Bull Trophy game (which was retired after the 2000 season). The Fighting Hawks beat the Coyotes at home this spring 21-10 and this feels like a similar score this fall despite the game being in Vermillion. North Dakota 21 South Dakota 10
Idle: Illinois State
Originally from LaMoure, North Dakota, Kent is a 1996 graduate of North Dakota State University. His prior writing experience is over 15 years having previously worked with D2football.com, I-AA.org, and College Sporting News before coming to College Sports Journal in 2016. His main focus is college football is the Missouri Valley Football Conference within the Division I FCS. And in 2017, he began also to look at the FBS Group of Five conferences of the American Athletic, Conference USA, Mid-American, Mountain West, and Sun Belt.
Reach him at this email or click below: