CSJ's Games of the Week
Jamie Williams: For me this one was easy this week: Montana at Eastern Washington. It was a late start being on the west coast, but it was worth staying up for. Eric Barriere was phenomenal once again, throwing for 422 yards. Montana's defense was flying all over the field. Eastern thwarted a last play hail mary to secure the 34-28 win that had Big Sky and national implications. The Eagles are in the driver seat for a top seed at this point.
Ben Schlieger: EWU and Montana could not have set the inferno more on fire than these two have. A truly thrilling game where these two heavyweights duked it out like the western giants they are. Eric Barriere is the FCS Golden Child so far and will continue to be the best damn product we have.
Ray Maloney: The game of the week has to be Eastern Washington's win over Montana, but not it the way you think. The game proved me to be correct in my refusing to put as much credence in Montana's win over lowly Washington to begin the season.
Many across the nation touted Montana's defense as being among the best in the nation. Sorry gang, but allowing 34 points hardly is a sign of an outstanding defense.
The Eagles' win also showed that its offense can score in bunches. But, their defense fared only just a tad better than the Grizzlies.
The bottom line is its long been said that defense wins championships … neither EWU or Montana will advance far enough in the playoffs.
Kent Schmidt: While I liked the Montana-Eastern Washington getting some national attention on ESPN2, my game of the week had to be North Dakota State's win at North Dakota. The Bison, who last played UND in Grand Forks in 2003, won for the first time ever in the Alerus Center 16-10. The Bison offense did just enough against a strong UND defense to pick up the win in UND's sold out indoor facility. NDSU now has won though the last four match-ups with the prior three all taking place inside the Fargodome. While the offense was rather lackluster for the Bison, the defense was still stellar and at this point, would say they are the best defense in all of the FCS.
Rob Butler: The Battle of the Piney Woods – #1 Sam Houston vs. SFA at NRG in Houston. With star QB Eric Schmid ruled out for medical reasons, the Bearkats mounted a fourth-quarter comeback to squeak past the Lumberjacks 21-20, scoring the final 15 points. K.C. Keeler remains unbeaten in his seven games against Stephen F. Austin. And it didn't come easy. Former Lafayette QB Keegan Shoemaker led the comeback – after a slow start Shoemaker passed for 222 yards and two touchdowns, completing 16-of-29 passes. Keep in mind that Shoemaker isn't even on a full scholarship – only partial. My guess would be that's bound to change soon after his performance Saturday. Sam Houston's offense finally woke up in the fourth quarter and the Bearkats extended their overall winning streak to 15 games.
Chuck Burton: All Hail the Alma Mater of Jerry Rice! With one second remaining, the Delta Devils broke the hearts of the North Carolina Central University Eagles on a 2-yard reception from Jalani Eason to Caleb Johnson to give Mississippi Valey State a 17-16 victory. Not counting MVSU's 2-0 "forfeit" win over Alcorn State in the spring, the victory broke a 9 game Delta Devil losing streak.
CSJ's Teams of the Week
Jamie: To me it is Eastern Washington. No one helped their cause more than the Eagles. With the win they jump into the top five and currently have the best playoff resume of any team. Plus the game was on ESPN2 for a national audience.
Ben: I would split it between NDSU and EWU. Both proved themselves to be the better of the two rivals in competitive, but strong fashion.
Kent: I will agree with others on Eastern Washington. Beating Montana will help the Eagles with their playoff position and likely with their FBS win already they are likely just a couple of wins away this season of a guaranteed playoff bid.
Chuck: Fordham won an old-fashioned shootout at Fisher Field in Easton, PA, winning 42-41 and putting them squarely in the conversation for the Patriot League Championship and autobid with a gutsy road conference victory. Though Holy Cross' 38-13 loss to Harvard didn't count in the conference standings, both teams look like they are the class of the league.
Ray: Tennessee State gets the nod here. The Tigers figured to continue to struggle under first-year coach Eddie George. But instead of just playing out the string, TSU stunned Austin Peay for a narrow 24-22 win. And while the game did not count in the Ohio Valley Conference, wow, a huge does of momentum came with the victory. And with momentum … anything can happen down the stretch.
Rob: Central Arkansas. The Bears mounted a HUGE comeback on the road in a 42-21 win over Abilene Christian. UCA scored 35 unanswered points and dominated the second half, forcing three turnovers and pitching a shutout. Breylin Smith played phenomenally well for the Bears Saturday – he was 28-of-38 for 358 yards and five touchdown passes.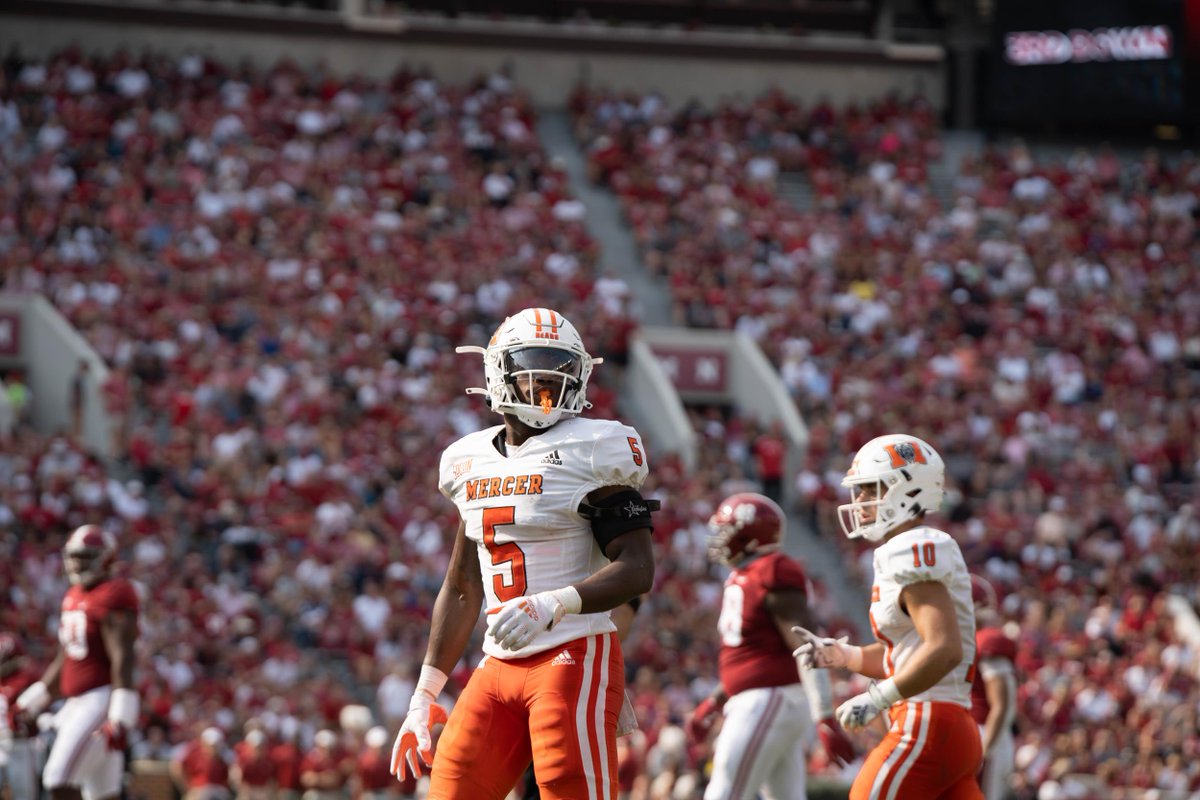 CSJ'S Top Performers On Offense, Defense, and Special Teams
(As determined by the CSJ Staff)
Offense: Fred Davis, R-Fr., RB, Mercer Mercer running back Fred Davis had a record-breaking day for the Bears in their 45-42 win over Samford on Saturday. The redshirt freshman from Fortson, Georgia, ran for 276 yards and five touchdowns, both program records. His yardage total ranks 12th in a game in SoCon history, while his five touchdowns tie for second-most in a game in league history and his four second-half scores are tied for second-most in a half in SoCon history.
Honorable Mention: WR Lujuan Winningham, Central Arkansas, OL (all), North Dakota State.
Defense: Morgan Vest, R-Jr., DB, Northern Arizona. Vest helped NAU hold the Idaho State offense at bay, as the safety had two interceptions on the day. Both forced turnovers led to points for the Lumberjacks on the ensuing possession, with scores of 80 and 11 yards.
Honorable Mention: LB Matt Jackson, Eastern Kentucky, DL Jahari Kay, Sam Houston
Special Teams: Jake Reinholz, Sr., PK, North Dakota State. Reinholz scored the first nine points for North Dakota State in a 16-10 road win over North Dakota. He made all three of his field goals – one each in the first, second and third quarters – including a career-long 45-yarder to open the scoring. He connected from 34 yards and 30 yards to put the Bison ahead, and converted an extra point on NDSU's only touchdown in the fourth quarter.
Honorable Mention: PK Chris Campos, Stephen F. Austin
CSJ Question of the Week
CSJ: Historically, big rivalry games have tended to be at the end of the season, but this past week saw two really great FCS games, UND/NDSU and the Battle of the Piney Woods, during the first week of October. Should Rivalries always be at the end of the year? Should Rivalries be paced out like this all throughout the season?
Chuck: Without wading into the debate on whether UND/NDSU is a rivalry, in general I think Rivalries are best at the end of the season simply because college football teams are almost always work in progress and by the end of a season you're more likely to get the best of both teams. I am a little biased because Lehigh/Lafayette has always traditionally been on the third week in November, but I do feel like the quality of those games would have suffered if they had happened on, say, Week 2.
But not every Rivalry game can be on the last week in November. By now, North Dakota State has a bunch of Rivalries (I'd consider their biggest Rivals are UND, SDSU, and UNI, all for very different reasons). They can't contest them all on the final game of the year. So in that sense they need to be staggered out. But how? This to me shows how challenging it actually is to pull together college football schedules that are engaging and fair.
Kent: When I was growing up in North Dakota, the NDSU-UND was always the last game of the season. It seemed right in the state as would be the Saturday before the D-II playoffs started in mid-November. After the two schools decided at different times to move up to D-I, the rivalry was lost and at least for NDSU, the found new rivals of SDSU and UNI. Neither of those two teams either are the last game. In some ways,, I kind of like the rivalries ahead of the last weekend especially for the playoff caliber teams. It is kind of nice to have a non-rival to end the season as this I think helps prepare the team for the upcoming playoff schedule. The team can more focus on winning the game and not the same kind of media hype ahead of the game.
Jamie: I like to see rivalry games spread throughout the season for the simple reason that i can watch more of them that way. If they are all packed in the last week I have to pick and choose what to watch. I like having a big game or two every week and if its a rivarly, that is a bonus.
Ben: I think Montana/ EWU should be included in the fray despite the unofficial designation. As for when they should happen I think week 5/6 or later on is the best course. Halfway through the year most teams know if they are worth their salt or not. This adds to the excitement as premature playoff talk can be had at the halfway and beyond.
Ray: There is nothing like a rivalry game, no matter where it may land on the schedule and I will take it whenever it falls. It only adds to the excitement and allure of college football.
CSJ Upcoming Games of the Week, And Fearless Predictions
Chuck: 3-0 Princeton takes on 3-2 Monmouth in a real yardstick battle for both teams. This is the Tigers' one shot to prove how good they truly are nationally before they go back to Ivy League play and conclude their season, while Monmouth's up-and-down early season faces one more great out-of-conference challenge and could be a surprisingly important one in terms of any hopes of running the table and getting any home games in the FCS Playoffs. Princeton has looked like a complete team in their three wins – but they haven't faced a team quite as talented as Monmouth. It should be an entertaining game – one that could go down to the wire. Fearless Prediction: Monmouth 29, Princeton 27
Jamie: There is no shortage of compelling games this weekend. There are a number of matchups between ranked teams and games that will go a long way toward determining conference champions and playoff spots. But for me, Ill stick close to home and go with Villanova at James Madison. Outside of the spring, these teams have played every year since 1993. There have been some great matchups. a 44-41 game won by Villanova with Brian Westbrook scoring five touchdowns. A matchup following College Gameday when JMU picked up a win. These games never disappoint. And I will be in the stands. Villanova is coming off a bye, so they had extra time to prepare. JMU is coming off a close win where they escaped New Hampshire. JMU is the more talented team and has won 19 straight home games. That continues this weekend. Fearless Prediction: James Madison 34, Villanova 20.
Kent: There are two games in the MVFC had my attention with both being Top 15 ranked teams facing each other in Northern Iowa at North Dakota State and Southern Illinois at South Dakota State. These two games will both shape the MVFC race even though it is still early in the conference scheduling. I think both Dakota schools will find ways to win at home each of these games but both should come down to the final possession before each is settled. NDSU 24 UNI 17 & SDSU 38 SIU 31
Rob: Southern Illinois at South Dakota State. Top 10 matchup with plenty of intrigue – the Jackrabbits have plenty of offense with their stellar QB Chris Oladokun and RB Pierre Strong. Oladokun has lit up defenses this year – he has thrown for 721 yards, 11 TDs, and ZERO interceptions. Strong picked up right where he left off at the national championship game in Frisco – he has rushed for 486 yards and five TDs while averaging 8.8 yards per carry. The Salukis also have a great QB in Nic Baker. Baker has thrown for 1,338 yards with 11 TDs and has a 66% completion percentage. Fearless Prediction: South Dakota State wins this game 37-24.
Ray: While most pollsters from around the nation have been reluctant to give much love to Northern Iowa all season long the Panthers have slowly been climbing all of the polls. I have had them in my top five all season long and this weekend's game against North Dakota State has a boatload of playoff implications. The two teams battled it out for several years as members of the North Central Conference and since the rivalry was resumed when NDSU joined the MVFC the vast majority of the games have been nail-biters no matter the records.
Mark Farley's Panthers will give NDSU all it can handle once again. But home-filed advantage goes the way of the Bison: Fearless Prediction: NDSU 14, UNI 6.
Ben: While the Big Sky was the crown jewel last week the CAA and MVFC are the marquee players this week. NDSU/UNI, SDSU/SIU, JMU/Villanova, and URI/Delaware should all help shape the playoff race. Which one is the best match up? Who knows, but I think Southern Illinois at South Dakota State will be the most influential. Fearless Prediction: SDSU 27, SIU 20
CSJ Highlights of the Week
Eastern Washington 34. Montana 28
2. Sam Houston 21, Stephen F. Austin 20
3. North Dakota State 16, North Dakota 10
4. Mississippi Valley State 17, North Carolina Central 16
5. Fordham 42, Lafayette 41