GAME PREVIEW: Incarnate Word vs. #1 Sam Houston
When: Saturday, December 4 at 2:00 PM CST
Where: Bowers Stadium; Huntsville, Texas
TV/Streaming: ESPN+
Incarnate Word defeated Stephen F. Austin 35-28 in a dramatic overtime contest in the first-round of the FCS playoffs. This secured the first playoff win in program history and the first overtime victory in UIW's Division I history. Cameron Ward led UIW with 328 passing yards against the Lumberjack defense. UIW had two Cardinals with 100-plus receiving yards – Robert Ferrel caught 14 passes for 100 yards and Taylor Grimes snagged 10 passes for 118 yards. Linebacker Kelechi Anyalebechi led the Cardinal defense with 13 total tackles.
The road to Frisco will go through Huntsville after the Sam Houston Bearkats were named the No. 1 overall seed in the FCS Playoffs when the bracket was revealed a couple of weeks ago. The reigning national champions, Sam Houston will host each game on the way to the national title game, beginning with the second round after earning a first-round bye with its seed selection. Also, the WAC office released the football all-WAC teams last week with the Bearkats leading the way with a total of 25 selections. In addition to K.C. Keeler being named WAC Coach of the Year, and defensive lineman Kamren Washington the WAC Freshman of the Year, the Bearkats had all 11 starters on offense and nine starters on defense land on either the first or second teams.
Incarnate Word Cardinals (10-2, 1st in Southland)
The Cardinals are virtually unstoppable offensively – they're scoring 39.2 points per game, which is fifth in the FCS; their 477.8 yards per game ranks seventh in the FCS. Cameron Ward can light up a defense – he's completed 345-of-529 passes (65% comp. pct.) for 4,167 yards, 42 touchdowns and 10 interceptions. Running back Kevin Brown has carried the ball 138 times for 892 yards (6.46 yards per attempt) and 12 touchdowns. Wide receiver Taylor Grimes has 78 receptions for 1,041 yards (13.35 yards per catch) and 14 touchdowns. The Cardinals are allowing 25 points per game, which is 46th in the FCS; they're giving up 416.9 yards per game, which is 92nd in the FCS.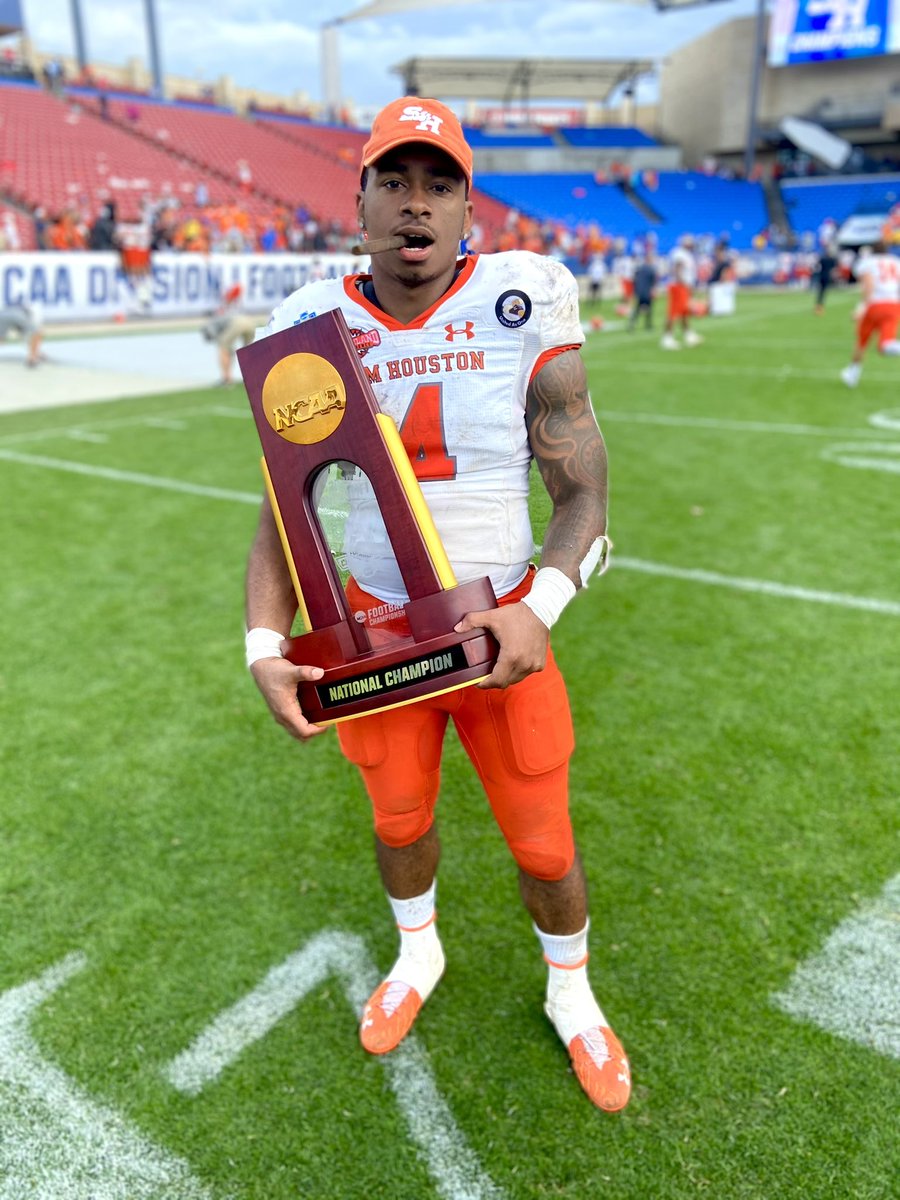 Sam Houston Bearkats (10-0, 1st in WAC)
The Bearkats are scoring 42.4 points per game, which is third in the FCS; their 490 yards per game is fifth in the FCS. Eric Schmid leads a potent offense – he's completed 167-of-296 passes (56% comp. pct.) for 2,247 yards and 26 touchdowns with seven interceptions. Running back Ramon Jefferson has carried the ball 140 times for 972 yards (6.94 ypa) and 11 touchdowns. Wide receiver Cody Chrest has 40 receptions for 595 yards (14.88 ypc) and five touchdowns. The Bearkats are stout defensively – they're only allowing 17.3 points per game, which is 12th in the FCS; they're only giving up 319.6 yards per game, which is 19th in the FCS.
Fearless Prediction
The Bearkats win at home before advancing to face either Montana State or UT-Martin.
Sam Houston 41 Incarnate Word 31
Rob Butler is a lifelong Texas A&M football fan – his family is full of A&M graduates. He graduated from Lamar University in Beaumont, Texas with two degrees – a BBA in Finance and an MBA. His hobbies include jogging and reading books pertaining to college football.