FCS Playoff Round Two – Game Preview – Holy Cross Crusaders at #5 Villanova Wildcats
GAME PREVIEW: Holy Cross vs. #5 Villanova
When: Friday, December 3rd, 7:00 PM EST
Where: Villanova Stadium; Villanova, PA
TV/Streaming: ESPN+
With under a minute to play, a 35 yard spiral from Holy Cross QB Matthew Sluka to WR Jalen Coker was on the money – and Coker came up with it and fell in the end zone, and with it, gave Holy Cross their first-ever FCS Playoff win in five tries, 13-10 over Sacred Heart. The Crusaders' win was the Patriot League's first in the FCS Playoffs since Colgate beat James Madison in 2018 23-20.
Villanova is making its 14th appearance all-time in the FCS playoffs and its second in the past three seasons. The Wildcats were co-champions of the CAA with James Madison (6-1), and both the Dukes and Wildcats earned seeds after great regular seasons and season-ending winning streaks. Villanova has never lost to a Patriot League school in the postseason; one of their victories came against Holy Cross in their national championship season in 2009 by a 38-28 score. On a windy, blustery afternoon, the Wildcats and Crusaders traded scores most of the game, but Villanova prevailed by dominating on the ground with RB Angelo Babbaro and outlasting the Crusaders in the final quarter with a lengthy, clock-eating drive.
Holy Cross Crusaders (10-2, 1st in Patriot League)
Holy Cross led the Patriot League in scoring this year with an average of 35.5 points per game during the regular season, while holding opponents to a league-best 19.0 points per contest. In conference contests, the Crusaders averaged 42.4 points a game, while allowing just 12.7 points per contest.
On a national level, the Crusaders ranked 10th among all FCS teams with an average of 217.7 rushing yards per game. On the other side of the ball, Holy Cross ranks fifth among all FCS teams in rushing defense, allowing an average of just 76.6 rushing yards per contest. The Crusader defense gained 24 turnovers this season, ranked tied for fifth in FCS, totaling 18 interceptions on the year — the second-most in FCS.
Holy Cross is unusual in that they are 10th in rushing in all of FCS, but don't have a single 1,000 yard rusher nor are they a triple-option team. Their two leading rushers are RB Peter Oliver (726 yards, 4 TDs, 5.4 yards per carry) and QB Matthew Sluka (672 yards rushing, 13 TDs, 5.6 yards per carry). Similarly, seventeen different Crusaders have caught passes this year with WR Jalen Coker (518 yards, 3 TDs) and WR Ayir Asante (467 yard, 4 TDs) leading the way.
Defensively the Crusaders are led by all-Patriot League LB Jacob Dobbs (112 tackles, 15 tackles for loss 8 sacks) and a swarming defense that has forced sacks and turnovers in droves. CB John Smith (5 interceptions) and LB Liam Anderson (7 sacks) feature on a deep squad with few weak spots on defense.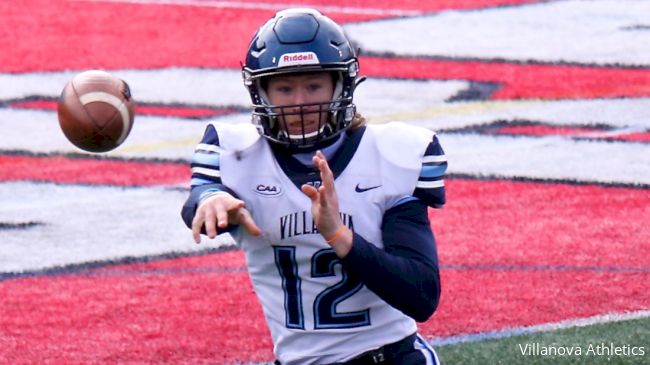 Villanova Wildcats (9-2, T-1st in CAA)
Friday's game will feature two of the top three defensive teams in the FCS this season. Holy Cross leads the nation in total defense and is allowing its opposition just 253.4 yards of total offense per game. Villanova ranks third nationally and gives up only 254.9 yards per contest. The Wildcats own an edge in scoring defense, allowing just 15.1 points per game while the Crusaders give up 18.3 points per contest. Villanova has the best defensive passing efficiency (93.73) in the country and ranks in the top 10 nationally in seven different categories.

The most prominent in a deep cast of stars on the Wildcats defense is LB Forrest Rhyne, who was named the CAA Football Defensive Player of the Year and is a finalist for the Buck Buchanan Award. Rhyne has 112 tackles this season and is ranked 11th nationally with an average of 10.2 total stops per game. Senior CB Christian Benford leads the nation in passes defended with 23 in 11 games, including a CAA-best seven interceptions to go along with 16 pass breakups.
Villanova also boasts an experienced offense in all the skill positions, with RB Justin Covington leading a stable of different rushers. QB Daniel Smith is also a deadly weapon, ranking seventh in school history in career passing yards (6,125) and total offense (6,926). Smith can beat you with both his arms and his legs – he has thrown for 22 touchdowns this season and leads the Wildcats with seven rushing touchdowns.
Fearless Prediction
Villanova's drive to Frisco will start at home with a convincing win as their stable of talented backs wear down Holy Cross in the second half.
Villanova 31 Holy Cross 16