This might the rarest of first round Division I FCS playoff games in the history of the event. While two teams from the same conference have played before (rule implemented if two conference mates had not played during the regular season), this game features two schools within the same conference that have never played each other as conference mates before.
The two teams have met before as non-conference opponents, however, as this will be the third meeting in program history, with the teams splitting the previous two contests. The Bears captured the first showdown on Sept. 6, 2014 in Springfield by a 38-0 score before the Fighting Hawks returned the favor with a 34-0 shutout on Sept. 9, 2017 at the Alerus Center.
The reason for this being the first conference match-up is that North Dakota is new to the Missouri Valley Football Conference and were scheduled to play Missouri State earlier this month on April 3rd. But that game was canceled due to COVID-19 protocols at UND. Ironically, UND has not played a game since the week before this scheduled game–a 34-13 loss at rival North Dakota State. UND had its last three games scheduled canceled due to the COVID-19 breakout and other teams opting out of the season in Illinois State and Youngstown State.
Before what is now the last regular season game loss for UND, the Fighting Hawks were out to a torrid start with four straight wins that included wins over playoff bound teams in this year's #1 overall playoff seed South Dakota State and Southern Illinois.
The Bears were one of just a handful of teams to play multiple fall games and to be quite honest, looked like the same old Bears that have been in the MVFC for the past three decades. Missouri State lost their three fall contests to FBS Oklahoma and twice to the Southland's Central Arkansas (a team that only played a fall schedule).
But the delay between the fall and spring seemed to have ignited a different Bears team. Missouri State would only lose to North Dakota State in the spring and had wins at perrienial MVFC power Northern Iowa and at home over playoff bound Southern Illinois.
With both teams having just one lose within conference play, both were considered co-champions of the MVFC along with South Dakota State.
UND earned its third Division I FCS playoff spot and second in a row as the Fighting Hawks also made the opening round in the 2019 season. However, UND is looking for its first playoff win at the Division I level. UND lost last season to Nicholls State, while their prior appearance in 2016 with a loss to Richmond.
Missouri State is also making its third FCS playoff appearance but first since back-to-back appearances in 1989 and 1990. The Bears do have one win in their history in the FCS postseason with at win over Maine in 1989 in the first round.
Both the two teams within the same conference get to play their first contest ever against each other in Grand Forks (where the regular season contest was slated to take place).
Key Players to Watch on Offense
Missouri State
WR Damoriea Vick (40 receptions, 544 yards, 2 TDs)
Vick is the leading the receiver for the Bears. The junior's 544 receiving yards this season ranks 12th nationally this spring. In league games, he ranks third in the MVFC in receiving yards per game (74.8) and is 6th in receptions per game (5.2). He has started 30 consecutive games so he has the experience.
The key for Vick and the offense though it to relay on its two QB system. QBs Matt Struck and Jaden Johnson have teamed up to provide the Bears with a dual threat at signal caller this spring. An Idaho State transfer, Struck is 3-0 as a starter and earned MVFC Newcomer of the Week honors after he was 18-of-26 (.692) passes for 245 yards in MSU's win over Southern Illinois. The Bears are 2-1 when Johnson starts, with the Southern Miss transfer coming on in relief in the league finale vs. Youngstown State (April 10) to engineer three straight TD drives and clinch the Bears victory.
Struck has a history against North Dakota. In Oct. 2019, Struck was the starting quarterback for Idaho State when his team hosted UND. Struck had one of the best games of his collegiate career as he completed 23-of-41 passes for 396 yards and five touchdowns in a dominating 55-20 win over the Fighting Hawks.
North Dakota
RB Otis Weah (76 carries, 570 yards, 7 TDs)
Weah is part of a great 1-2 punch with Luke Skokna and together have helped produce an offense that averages 206.4 rushing yards per game. Weah had a breakout freshman season in 2018 but was deemed academically ineligible for the 2019 season but has come back stronger in this spring 2021 season.
That running duo will likely be the main focus for the Bears defense but the UND passing led by QB Tommy Schuster has put up some comparable numbers too. Schuster has passed for 992 yards and eight scores to go with three interceptions.
Key Players to Watch on Defense
Missouri State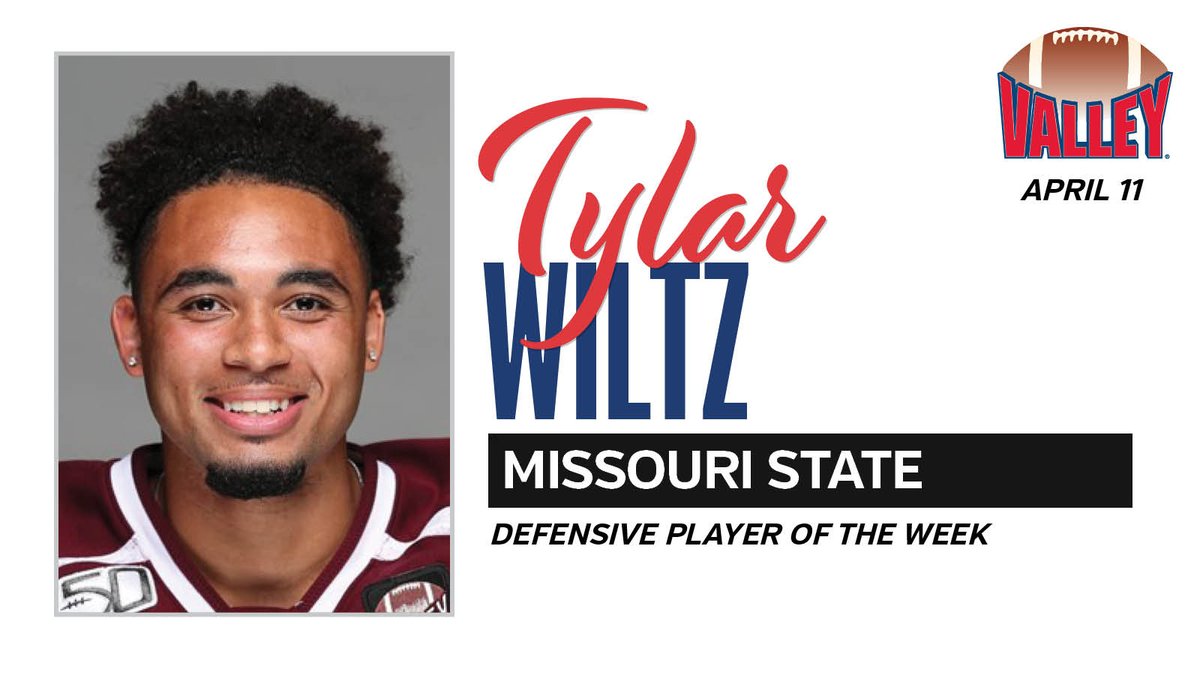 ILB Tyler Wiltz (75 tackles, 6 TFL)
Wiltz leads the team in tackles and will likely be busy in this game with UND likely using the running game as its top offensive option.
But if UND does try to throw it better beware. Missouri State set a school-record 27 sacks this season, which leads all of FCS. The Bears' pressure is mixed as 18 different players have contributed to the 27 sacks.
The Bears defense led the MVFC in third-down defense, holding opponents to just a 28.7 percent conversion rate in league games and 28.8 percent (6th nationally) overall. Missouri State's defense also ranks 11th nationally in take-aways (14), 13th in red zone defense (.690) and 24th in rushing defense (118.0).
North Dakota
LB Devon Krzanowski (19 tackles, 2 sacks, 3 takeaways)
Krzanowski is the leading tackler this spring for the Fighting Hawks and much like the Bears stopping the UND offense, the UND defense will need to key in on the run.
But as was shown with now Bears QB Struck when he played the Fighting Hawks while at Idaho State last season, UND can also at times be vulnerable at times against the passing game. UND did give up over 200 yards passing in three of its five games this spring.
Fearless Prediction
A big key for this game will be if UND has its game legs. With the Fighting Hawks having not played in nearly a month, this could go two ways. UND might have mended all the small injuries and are a completely healthy team ready for a playoff run or it could be that the team has lost its timing and groove that only playing against opposition can give.
With UND being a run orientated team, I think they will be fine despite the extended time off and the home field will give them the edge in this game.
But I think Missouri State will keep this game close but in the end the Fighting Hawks will move on to face the James Madison-VMI winner. North Dakota 30 Missouri State 23