Monmouth secured a spot in the FCS Playoffs by winning a second straight Big South title on April 10. The Hawks are coming off a 42-17 win over then-No. 7 Kennesaw State. Monmouth head coach Kevin Callahan is no stranger to big games – the Hawks are in the FCS Playoffs for the third time in four seasons. Sam Houston was a 42-14 winner over No. 25 Incarnate Word on Saturday to close out the regular season, securing the No. 2 overall seed in the 16-team tournament. The Bearkats are coached by K.C. Keeler – his 2003 Delaware squad won the NCAA Division I-AA (now FCS) national championship. The Bearkats beat three nationally ranked teams during the season.
The game will feature two of most explosive offenses in the FCS with the Hawks averaging 41.7 points per game which is fifth in the FCS and Sam Houston scoring 45.4 per contest just ahead of MU in fourth.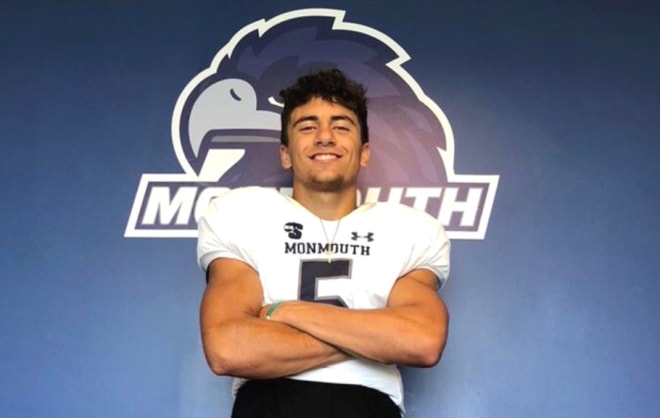 Monmouth Hawks (3-0 overall, 3-0 in Big South)
Monmouth
| Date | Event | Venue | Match Day |
| --- | --- | --- | --- |
| 2021-03-27 13:00:49March 27, 2021 | Monmouth 35, Charleston Southern 17 | Kessler Stadium | West Long Branch, NJ |
| 2021-04-03 12:00:49April 3, 2021 | Monmouth 48, Gardner-Webb 19 | Spangler Stadium | Boiling Springs, NC |
| 2021-04-10 13:00:49April 10, 2021 | Monmouth 42, Kennesaw State 17 | Kessler Stadium | West Long Branch, NJ |
| 2021-04-24 12:00:51April 24, 2021 | Sam Houston 21, Monmouth 15 (FCS Playoffs 1st Round) | Bowers Stadium | Huntsville, TX |
The Hawks may have lost some key pieces, but the offense has not missed a beat. True freshman quarterback Tony Muskett has thrown for 742 yards, with eight touchdowns and no interceptions; redshirt sophomore running back Juwon Farri has 442 yards and nine touchdowns in three games. Starting wide receivers Terrance Greene and Lonnie Moore have combined for six touchdown receptions, while Muskett has completed passes to 11 different receivers. Defensively, the addition of UConn transfer linebacker Eddie Hahn has helped – he plays alongside fellow linebacker and leading tackler Da'Quan Grimes.
The Monmouth pass rush is relentless – defensive tackle Kahari Scarlett leads the way with 3.5 sacks, while JUCO transfer defensive end Lorenzo Hernandez has 2.5 sacks. Safety Anthony Budd has two interceptions and is second in tackles on a defense giving up 308.3 yards per game. Monmouth's weakness this season has been special teams. They have had a punt blocked, given up a 93-yard punt return and missed on the only field goal they ever attempted.
Sam Houston Bearkats (6-0 overall, 6-0 in Southland)
Sam Houston State Bearkats
Sam Houston is averaging 45.4 points per game, the third highest total in the FCS. Leading the Bearkats' up-tempo offense is quarterback Eric Schmid – he is averaging 330 yards per game through the air, with 13 touchdown passes and seven interceptions. Wide receiver Jequez Ezzard has five touchdown catches, while Cody Chrest and Noah Smith have 35 receptions and four touchdown receptions between them. Running back Ramon Jefferson is averaging 6.5 yards per carry, and 76.6 yards per game. The Bearkats are giving up just 18.2 points per game and have given up 17 points or less in each of their last five games.
Linebacker Trevor Williams, a junior, is their leading tackler with 7.5 tackles-for-loss and two fumble recoveries. Senior defensive lineman Jahari Kay leads the Bearkats with 4.5 sacks, with the defense having rolled up 20 sacks so far.
Fearless Prediction: Sam Houston will win this game and host either defending national champion North Dakota State or Eastern Washington, setting the stage for one of the biggest games in Bearkat history.
Sam Houston 37 Monmouth 31
Rob Butler is a lifelong Texas A&M football fan – his family is full of A&M graduates. He graduated from Lamar University in Beaumont, Texas with two degrees – a BBA in Finance and an MBA. His hobbies include jogging and reading books pertaining to college football.