BETHLEHEM, PA – College football is a lot like a burlesque show. As the show rolls forward, more and more gets revealed about what your college football team is.
As Lehigh (1-4, 1-0) and Fordham (4-1, 1-0) play this weekend at noon at Murray Goodman stadium, a lot will be revealed about the home team Mountain Hawks and the away team Rams. When the game ends, we'll know a lot more about who has a chance to win the Patriot League title, and whose title hopes will be on life support.
It may seem cruel, but it's true. All the pretty words, or harsh words, don't really matter until you line up and play the games. In the end, the score tells the story – not the pretty statistics, not the statistical analysis – only the final score.
And it's especially cruel in college football, where there's one shot to get it right – one time you're on the stage, one of eleven times you're guaranteed to put your skills on display to show what you can do.
It's what makes college football great – the stakes at play every week are high, especially for the super fans, who ride huge highs and deep lows from the wins and losses. It's not a sport for the faint of heart. The expectations are high, and the rewards are high – as the pains are low.
In Lehigh's case this week, they are definitely hoping that the stats going in won't be the story of the game on the scoreboard when the clock hits 0:00. Though they've shown some flashes of good play, it's been very inconsistent. In their lone win against Georgetown, the Mountain Hawks were outgained 422-306, lost the turnover battle (Lehigh turned it over twice, Georgetown 0 times), and gave up four first downs with penalties and ran 30 fewer offensive plays than the Hoyas. Ugly as those stats were, Lehigh prevailed on the scoreboard.
It stands to reason that a similar performance against Fordham would seem like a recipe for another loss. If Lehigh keeps being sloppy with the football and turning things over, this game could be over fast. If they get penalized at the clip they've been going – averaging almost 6 penalties a game and more than 50 yards – that could mean gifting opportunities to a Fordham offense that could be the best in the nation.
But maybe there is a team in there that is ready to gel, to come together and explode onto the scene like the teams in 2019 and 2021. In 2019, Lehigh surprised many with a 30-27 overtime win over the Rams, and in 2021, Lehigh's 42-35 loss showed the nation that they weren't the offensively challenged team that started the year.
It might be there. If it is, it will have to reveal itself this week.
The game is taking place at Murray Goodman Stadium, and kickoff is at noon. If you can't make it to the Bronx, it is going to be streamed on ESPN+ with Steve Degler and Grant DelVecchio calling the game. The Lehigh radio call will be available on Fox Sports Radio 1230/1320 AM and 94.7 FM Allentown, with Tom Fallon, Matt Markus and Jim Guzzo on the call (and also available on LVFoxSports.com).
LFN's Drink of the Week
This week, literally, I was trying to come up with a drink that would use up a bunch of blood orange seltzer water that was about to go flat. I came up with this concoction, which my wife liked and named. "Cotton Candy Cooler," she named it. You can find the recipe here.
LFN's Tailgate Dish of the Week
I can't begin to tell you what a problem it is, in terms of tailgating things, that Lehigh games now kick off at noon. It's not clear as to what problems Lehigh is trying to solve by doing this (rambunctious tailgating? Curbing drinking?), but all it really seems to do is to severely curtail the party feel to a Lehigh football game.
This doesn't just apply to mixed drinks – it also applies to the tailgating as well. You have to think about foods that don't have a lot of time for in-site preparation – for example, you're not going to have an hour to steam lobsters, you'll need to be serving food by 10:30AM, and starting to break down the tailgate at 11:30AM if you have any hope of making it in before kickoff.
This is why I like to have "Tailgate dishes of the week" something you can make on Friday, and reheat at the stadium on Saturday morning – and ideally have it as a breakfast.
For a Lehigh game – that's where a steak, egg and cheese bagel comes into play. It's a great choice, especially if you've made cheesesteaks the night before. (You made it the right way with fried onions, right?) Why not? You can find a super-easy recipe for it here.
Lehigh Game Notes and Injury Report
Lehigh's game notes don't show a lot of changes this week. QB Dante Perri is still listed atop the depth chart, even though freshman QB Brayten Silbor played a good portion of the game last week. Last season, Perri had one of his best days as a Mountain Hawk in a narrow 35-28 victory. Perri went 27 for 37 with 317 yards passing and 1 TD that time; he'll need a similar performance to keep Lehigh in this against yet another Top 25 team.
RB Zaythan Hill exited the game last week, but he's still listed atop the depth chart in the Lehigh "stable", and he's expected to be a full go, at this point, on Saturday. RB Gaige Garcia, who scored Lehigh's only touchdown last week, is listed right below him.
Last week's 35-7 loss to Monmouth was a particularly tough one for Lehigh Nation to handle, as it was hoped that the Mountain Hawk offense could get more on track against a Monmouth team that gave up 42 points to Villanova and 52 points to Fordham. "We lost to a very good team," Lehigh head coach Tom Gilmore said. "We got dominated in the process. Nobody is happy with this result. We have to evaluate everything that we're doing. We're going to have to figure out how we can execute a lot better moving forward."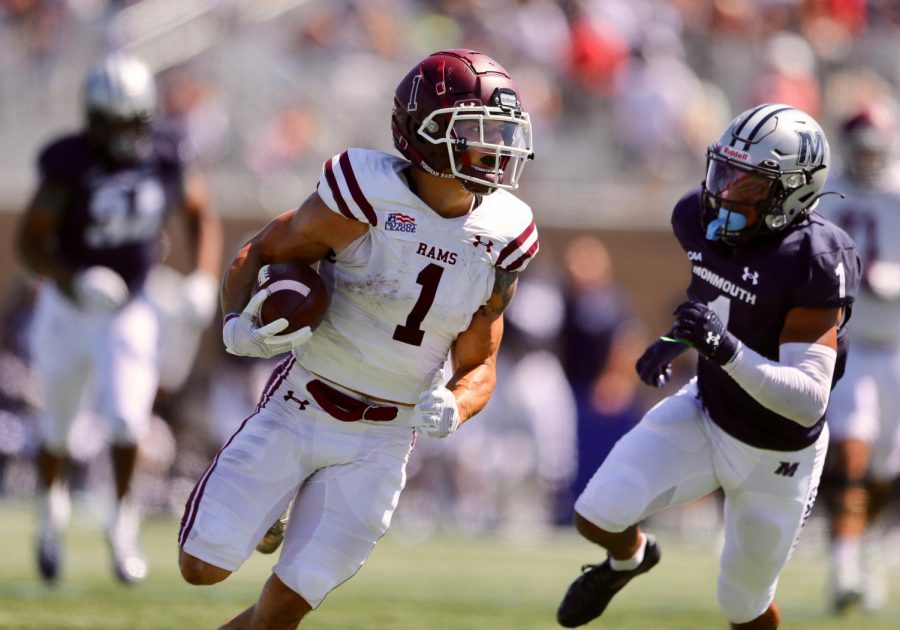 Scouting Fordham
It almost seems like I don't need the Fordham game notes – I could just cut-and-paste here the scouting report for Fordham for the last five years, but the truth is QB Tim DeMorat, WR Fotis Kokosioulis and RB Trey Sneed has done what some might not have thought possible – they've made an already-daunting offense from the last three years and made it even more imposing.
Fordham has one loss on the season, a 59-52 defeat to an FBS team (Ohio) that feels more like a win rather than a loss. That's because DeMorat and Kokosioulis really revealed what they are – the most deadly QB-to-WR combination in FCS. They hooked up for a school and Patriot League record 13 catches, 320 yards, and 4 TDs. Against a school playing with 85 scholarships.
I've had the opportunity to ask Tim DeMorat questions over the years, and he's always struck me as a natural talent – he seems to keep things simple, and obviously it's working out for him spectacularly, as he holds a host of Fordham passing records (845 career completions and 10,716 career passing yards) over some pretty big names like John Skelton, Kevin Anderson, Mike Nebrich, and the famous Fordham-player-turned-offensive-wizard, Joe Moorhead.
At 6'4, 220, he isn't the typical running QB, though he has enough wheels to take off with the ball on occasion to keep defenses honest. He's a pocket passer that seems destined to at least have a chance to play football on Sundays – he's got the measurables and talent that NFL teams are looking for, and the statistics and ability he's shown to pick defenses apart, no matter how many scholarships they have.
In talking up DeMorat, however, that sort of takes away from the two-back punch of Sneed and RB Julius Loughridge, who have the speed and ability to keep defenses honest if they overcommit to the pass, and Kokosioulis, who simply seems to have a sixth sense as to where he needs to be in this offense. It's really the combination of all these players – and a big, veteran offensive line that has only allowed five sacks all year – that have made Fordham into the terrible offensive machine they have become. As a unit of eleven players, there's not really much to poke at in terms of weak spots. They're as good as advertised.
LFN's Keys to the Game
Ball Control. Fordham plays fast. They want to play fast. Even if you want to play slow, they play fast. To me, the key is to disrupt the rhythm of the Fordham offense by slowing things down and grounding things out. I'd huddle the ball a lot, try to dominate the line of scrimmage on offense, and grind it out.
Take Away the Big Play. Fordham is going to get yards with their porous defense and their huge, veteran offensive line. What's going to be critical is tackling and preventing yardage plays from being big yardage plays. What makes this challenging is that Fordham has done this against every team they've gone up against. If they get yards – but not big scoring plays – Lehigh has a chance.
Going For It On Fourth Down. The only way Lehigh stays in this game is with an early touchdown lead, and an early lead is not going to come from field goals. Last week, Monmouth jumped to a 14 point lead, and the Hawks were then able to pin their ears back and pressure the quarterback as Lehigh got forced into many obvious pass situations. If that happens again, it could be even uglier this time around.
Fearless Prediction
It's Reveal Week. Up until this point, Lehigh and Fordham have played games that have shown what their potential might be in terms of the 2022 football season. They both sit at 1-0 in Patriot League play with wins over Georgetown. Even though Lehigh is 0-4 against their out-of-conference competition and Fordham is 3-1, it's what is revealed at Murray Goodman Stadium this weekend that will ultimately count in terms of the trajectory of the season.
I don't know how to find the Las Vegas betting lines for this game, but it's safe to say that if there were, it would say that the betting algorithms would dictate a high scoring game and Lehigh a sizeable underdog.
Is that what's going to be revealed this weekend – or something else?
Fearless Prediction: Fordham 55, Lehigh 24