Charlotte at Appalachian State
When: Saturday, Sept. 12th 12:00 PM EDT
Where: Kidd Brewer Stadium, Boone, N.C.
TV/Streaming: ESPN2/WatchESPN (subscription req'd)
Charlotte starts is gamut of non-Conference USA games with its first game at Appalachian State. The 49ers will also face two other non-conference games this season but like this game with App State, will not have to leave the state of North Carolina.
The other two games for Charlotte will be at the ACC's Duke and North Carolina later in the season.
This game will also be the opener for the App State. The Mountaineers had the Big 10's Wisconsin and the ACC's Wake Forest as its two tests in a quest for the Group of Five top spot. But these two games were scrapped due to the COVID 19 pandemic.
The Mountaineers were one win away from taking that spot last year but did its part against its Power Five match-ups with North Carolina and South Carolina. Only a loss to its old FCS Southern Conference rival Georgia Southern prevented the Mountaineers from a New Year's Six Bowl bid.
With the COVID 19 scrapping its two Power Five match-ups, the Mountaineers got this home game with Charlotte, a road game with Marshall, and another home game with FCS Campbell.
With no Power Fives on its resume, there still could be a chance for App State to get a New Year's Six bowl bid but likely will have to go undefeated this season to do it (and possibly get some help with in its Sun Belt Conference with some Power Five upsets to help).
While these two schools were not originally scheduled to play this year, the two did meet the last two seasons with App State picking up wins in both of the home-and-home match-ups.
Here are some highlights from last year's shootout game that went deep into the fourth quarter before App state had the pull-away touchdown.
Also here are some stats from the two teams from 2019. App State finished 2019 with a 31-17 win over UAB in the New Orleans Bowl. Charlotte captured its first ever bowl bid but lost the Bahamas Bowl to Buffalo, 31-9.
Charlotte 49ers (7-6 overall, 5-3 C-USA) in 2019
The 49ers had a breakout season a year ago. Charlotte is now entering Year 8 overall since starting its football program and Year 6 at the FBS level as a member of Conference USA. Charlotte joined the FBS and C-USA in 2015 after spending two years (2013; 2014) as an FCS independent.
The 49ers advanced to their first bowl game, last year, under first-year head coach Will Healy. The seven wins overall and five within C-USA play set school records for wins and league wins.
Charlotte QB Chris Reynolds had a big game last year against the Mountaineers, so Appalachian State knows first-hand just how dangerous he can be. Reynolds passed for 296 yards and four touchdowns in the 56-41 loss. He also has the ability to keep plays alive with his feet.
Reynolds' top target a year ago was Victor Tucker but also has several other starters returning that can catch the ball.
Northern Illinois transfer Tre Harbison, who had back-to-back 1,000-
yard seasons for the Huskies, along with Aaron McAllister will be the two running backs for Charlotte.
While the offense is very experienced, the 49er defense is not so much. Charlotte will be breaking in two new cornerbacks while trying to gear up a pass rush that lost NFL Pittsburgh Steelers draft pick Alex Highsmith.
Key Player: QB Chris Reynolds
Reynolds as mentioned had a great game albeit in a losing cause against App State last year. He will have to have this kind of performance again for the 49ers to stay close with the Mountaineers. He will also need to be turnover free to pull off the upset in Boone. He had an interception last year and his team also lost a fumble a year ago while not getting any turnovers from App State.
App State Mountaineers (13-1 overall, 7-1 SBC) in 2019
QB Zac Thomas is a strong veteran passer and he has most of his receiving corps back this year. One that will be missed is Cory Sutton, who missed much of 2019 and has opted out for the 2019 season due to the COVID 19 pandemic.
But the Mountaineers will still have many receiving weapons including seniors Thomas Hennigan, Malik Williams, and Jalen Virgil.
This will be new Head Coach Shawn Clark's first game at home. Clark, who played at App State from 1994-1998 and was App State's offensive line coach
from 2016-19, was named the third headman in as many years last December and he helped lead the Mountaineers to that bowl win over UAB in New Orleans.
While coach Clark looks primed for the passing game this year, the running game took a hit after Darrynton Evans left for the NFL last year. The battle may continue into the season between a trio including Marcus Williams Jr., Daetrick Harrington, and Cam Peoples.
Both the running and passing game should be fine behind a very experienced offensive line with four starters back including C Noah Hannon, LG Ryan Neuzil, RG Baer Hunter and RT Cooper Hodges. Cole Garrison.
The Mountaineer defense should also be good again. The game last year was an anomaly for the Mountaineers as the team led the Sun Belt in total defense by allowing just 336.1 yards per game.
The defense will be headed by DE Demetrius Taylor and CB Shaun Jolly. Taylor finished 2019 with 44 tackles, 13.0 tackles for loss, and 7.0 sacks, while Jolly recorded five interceptions to tie for the Sun Belt lead and tied for first place nationally with two pick-six touchdowns.
Key Player: RBs Marcus Williams Jr., Daetrick Harrington, or Cam Peoples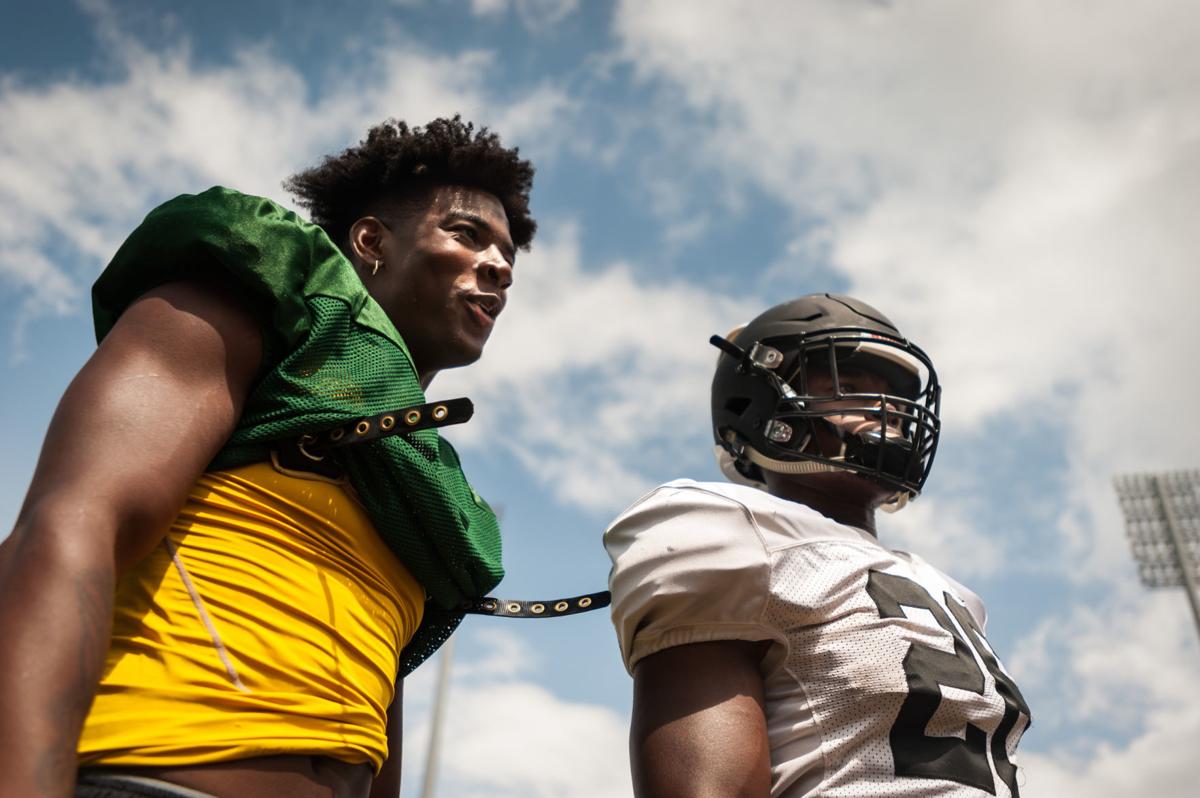 The new running back for the Mountaineers will need to emerge in this game and keep the Charlotte defense honest to open up Zac Thomas and the passing game. Expect the 49ers to start the game in trying to defense the pass out-of-the gate and force App State to use its inexperienced running game to beat them. One or all of these running backs will need to play a key role in a balanced offensive attack.
Fearless Prediction:
Appalachian State was forced to shut down practices in recent weeks with positive COVID 19 tests. This could make for a slightly disjointed effort for the Mountaineers. Also, the state of North Carolina is not allowing any fans in attendance in their sporting venues so there will really be no home field advantage. But I think Zac Thomas after a slow start in the game, will be able to get things going. I don't think we will see the shootout type score this year and I think App State will be able to win a little more handedly. App State 38 Charlotte 21
Originally from LaMoure, North Dakota, Kent is a 1996 graduate of North Dakota State University. His prior writing experience is over 15 years having previously worked with D2football.com, I-AA.org, and College Sporting News before coming to College Sports Journal in 2016. His main focus is college football is the Missouri Valley Football Conference within the Division I FCS. And in 2017, he began also to look at the FBS Group of Five conferences of the American Athletic, Conference USA, Mid-American, Mountain West, and Sun Belt.
Reach him at this email or click below: