Coastal Carolina at Louisiana
When: Wednesday, Oct. 14th, 7:30 PM EDT
Where: Cajun Stadium, Lafayette, La.
TV/Streaming: ESPN/WatchESPN (subscription req'd)
Two 3-0 undefeated Sun Belt squads meet in this Wednesday night affair. One of those teams was expected to be atop of their division but the other is surprisingly there.
This game finally found a landing spot after initially being moved up to this past Saturday to fill the void by Louisiana originally losing its game last week but Hurricane Delta forced it to move out to this week.
The Sun Belt Conference previously had Georgia Southern and Appalachian State slated for this mid-week game but an outbreak of COVID-19 cases at App State forced them to first cancel last Wednesday's game with Louisiana and this week's game for the Mountaineers.
Louisiana was predicted to win the Sun Belt West Division after capturing that division the last two seasons and with a load of talent coming back from last year's team. Louisiana has had some close calls to get to 3-0 including a last second field goal to defeat Georgia Southern in their last game and an overtime win at Georgia State.
Coastal Carolina is the other team at 3-0 in the Sun Belt East Division. The Chanticleers were expected to contend possibly for their first bowl bid in their brief FBS history (moved up in 2017 from the FCS ranks) but not for a conference title just yet. Coastal so far has won each game rather easily with closest game being the Kansas win at 38-23.
Both teams had Big 12 upset wins with Louisiana at Iowa State and Coastal at Kansas. Both teams have high powered offensive attacks and have shown defenses that can make stops when they need to.
This will be the third meeting between Coastal Carolina and Louisiana. The Chanticleers won in 2018 (30-28), while the Ragin' Cajuns won 48-7 last fall. Below are some highlights from the two other meetings:
2019:
2018:
This all makes for a fun national spotlight game on national TV with the only college football game of the night.
Coastal Carolina Chanticleers (3-0 overall, 1-0 SBC)
The Coastal offense has been very good to start the season and big part of the reason is its,offensive line being able to both run and pass block. The line has given up just one sack thus far and are the big reason the Chanticleers are ranked atop the Sun Belt in offense in averaging 44.3 points a game and 6.9 yards per snap.
RB CJ Marable and the rest of the running game are averaging around 200 yards per game.
At the same time, QB Grayson McCall has averaged over 11 yards per throw with nine touchdowns and just one interception. Quite honestly, he is the biggest reason why the Chanticleers are in this position right now. The redshirt freshman has played unbelievably and knows when to tuck it and run.
His top receiver is Jaivon Heiligh (12 catches) but TE Isaiah Likely is averaging a healthy 30.7 yards per reception with seven catches thus far. Kameron Brown and Sam Denmark have also combined for 12 catches so far as well so McCall should have plenty of trustworthy targets to pick from.
The Coastal defense has done its part so far too. It currently ranks first in the league with 13 sacks to go along with 26 tackles for loss. It also ranks second in the Sun Belt in rush defense after three contests and has given up under 200 yards passing to each of this first three opponents.
Key Player: QB Grayson McCall
McCall will get his first true road game as Coastal's first game at Kansas was played in front of just a few hundred fans and Coastal's other two games were at home. Louisiana's COVID-19 attendance rules have Cajun Field at 25% capacity so this means there should be just over 10,000 fans in the stands. He will need to make the right reads and be able to audible at the line to get the right play calls against a stingy Cajun defense.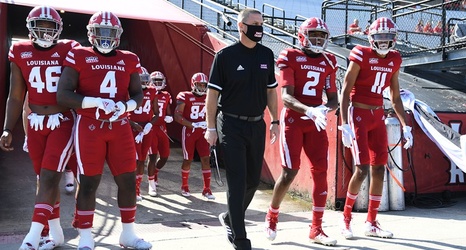 Louisiana Ragin' Cajuns (3-0 overall, 2-0 SBC)
The Cajuns to be quite honest have really not played yet to their potential. Its talent in the kick return game and turnovers really won the season opener at Iowa State and the other two games had some lackluster play but still Louisiana found a way to pull out a victory.
Louisiana has not played a game since Sept. 26th and the school had to deal with Hurricane Delta last week. But Cajun Field is ready to host this contest in what should be a very good and close contest.
Senior QB Levi Lewis connected on 64.3 percent of his throws last season and has seen a drop this year so far in connecting on just 57.8 percent through three games. Lewis started slow against Iowa State but did connect on the biggest offensive play in that win on a long pass play and has thrown for more than 275 yards in back-to-back contests so he is starting to look like the player he was a year ago.
While Lewis has been efficient with the passing game, it really has been the Ragin' Cajuns running game that has delivered for the team offensively so far. RB Elijah Mitchell missed the win over Georgia Southern but leads the team with 210 rushing yards. Fellow RBs Trey Ragas (143 yards) and Chris Smith (105 yards) give Louisiana plenty of depth in the backfield.
To go with the running game, the Cajun offensive line is one of the most experienced and possibly one of the best in all of the Group of Five. This group has led the charge in cleared the way for rushers to average 5.1 yards per snap.
The Louisiana defense was the top defense in the Sun Belt last year but this year has shown some vulnerability, especially in the run game. The Ragin' Cajuns have allowed 191.0 rushing yards per game) and ranks near the bottom of the conference in sacks (three).
Key Player: QB Levi Lewis
In last year's game, Lewis torched the Chanticleers for 296 yards and three touchdowns. Coastal looked like it wanted to stop the run first with the Cajun strong running game but Lewis showed he was capable of using his arm to get the blowout win. This year's game should see a vast improvement on the Coastal defense especially in the passing game so Lewis will need to make the right reads at the line of scrimmage. I would expect Coastal to play the pass first part of the game so he will need to use the running game when he sees these kinds of defensive fronts.
Fearless Prediction
One thing that I believe will happen is this game will not end in a 41 point margin. These two teams look much closer on paper and I expect a very tight game. Coastal has yet to play really in a tight game but Louisiana already has three such contests this year. Louisiana has the home field and at least some fans in the stands to cheer them on. I think it will come down to another late game score with Louisiana picking up the victory. Louisiana 31 Coastal Carolina 27
Originally from LaMoure, North Dakota, Kent is a 1996 graduate of North Dakota State University. His prior writing experience is over 15 years having previously worked with D2football.com, I-AA.org, and College Sporting News before coming to College Sports Journal in 2016. His main focus is college football is the Missouri Valley Football Conference within the Division I FCS. And in 2017, he began also to look at the FBS Group of Five conferences of the American Athletic, Conference USA, Mid-American, Mountain West, and Sun Belt.
Reach him at this email or click below: