TV/STREAMING: BALLY SPORTS AZ/KVIA-ABC 7 (EL PASO)/FLOSPORTS
The last game of Week 0 is one with the longest rivalries in the southwest. UTEP travels to New Mexico State in the Battle of I-10. These two schools first started playing each other in 1914 and have had a few seasons missed over the years including the 2020 season a year ago.
Overall, UTEP leads the series 57–38–2, but New Mexico State has won the last three meetings including a 44-35 win in 2019 in their most recent clash.
The two teams have their campuses meet each other on Interstate 10 and are separated by just 41 miles from El Paso, Texas to Las Cruces, New Mexico.
The winner of the annual matchup receives a pair of traveling trophies. The older of the two is known as the Silver Spade and dates to 1955. The trophy is a replica of a prospector's shovel from an abandoned mine in the Organ Mountains. The Mayor's Cup was added added in 1982 and is nicknamed the Brass Spittoon.
UTEP MINERS (3-5, 0-4 C-USA) IN 2020
UTEP flashed signs of life in 2020 (this after a total of three wins the prior three seasons), especially in winning three of its first four games but two were against FCS opponents by a combined 14 points and the lone FBS wins was over a winless Louisiana-Monroe. However, there is a lot of talent back from that roster as well, including leaders at every skill position on offense and has a strong front four to work with on its defense.
RB Deion Hankins averaged 4.9 yards per carry and generated nine rushing touchdowns in just eight games last season. Fellow RB Quardraiz Wadley joins Hankins in the backfield, and Wadley was the team's leading rusher (627 yards, seven touchdowns) in 2018.
UTEP also has its top two pass-catchers returning in WR Jacob Cowing, who led the team with 16.9 yards per catch on the way to 691 yards and three touchdowns in 2020 and Justin Garrett who added 510 yards and three touchdowns.
QB Gavin Hardison averaged 7.1 yards per attempt last season. He also threw for just 1,419 yards with five touchdowns and five interceptions so these numbers will likely need to improve for the Miners to improve the win total.
The Miners' defense has its strength upfront with DE Praise Amaewhule and DT Keenan Stewart and Kelton Moss. Those two helped generate sacks last year and helped where blitzes were not always required to get pressure on passing downs.
The secondary has not generated many interceptions in the past few years and 2020 was no different. The Miners only had two picks a season ago so this is an area the two leaders of FS Justin Prince and CB Dennis Barnes will need to help lead more.
KEY PLAYER: WR Jacob Cowing
I believe the running game will get enough energy to force the Aggie defense to play more for the run so Cowling and the other UTEP receivers will need to break their one-on-one match-ups. The NMSU defense has shown a tendency this past spring in their lone two games to give up some high scoring games so it will be key for UTEP to also exploit this to have the I-10 trophies coming back with them to El Paso.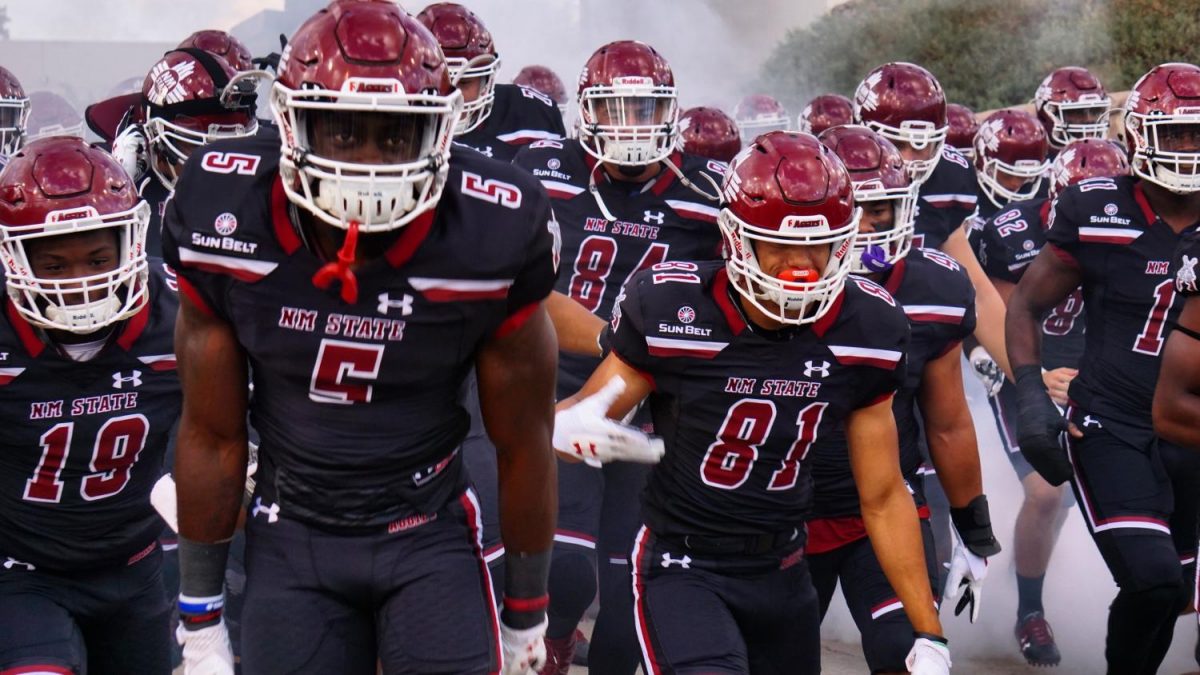 NEW MEXICO STATE AGGIES (1-1) IN SPRING 2021
The Aggies have legitimate strength along the offensive line that physicality can be crucial in setting the tone, particularly early in the season. This group is headed by OT Sage Doxtater, who is arguably New Mexico State's best offensive player. He was already drafted by the CFL (he is from London, Ontario in Canada) in 2021. He has started games across four different seasons and will be joined by an Ole Miss transfer on the line in OC Eli Johnson. He started 12 games at Ole Miss in 2019 before transferring.
The Aggies will likely like to use that offensive line to run the ball first. RB Juwaun Price led the Aggies with 196 rushing yards in the spring, and he scored once on the ground and once on a kick return. Price had a heavy workload with Michigan transfer O'Maury Samuels sidelined by injury in the spring but he is now healthy so the two will likely share the load in this game.
QB Jonah Johnson had two rushing touchdowns in the spring, which led the team. Johnson threw for 358 yards and one touchdown in the two games, but also threw three interceptions. His backup Weston Eget impressed in a small sample, going 6-for-8 for 60 yards and a touchdown in NMSU's final spring game before he was injured. Both likely will play against UTEP with Coach Doug Martin going with the hot hand.
The receivers are experienced with all that caught a ball in the Aggie spring games are back this fall. New Mexico State also added Missouri transfer Dominic Gicinto and several junior college signees to the mix. Terrell Warner led with eight receptions and 105 yards in the spring, and Andre Bodison and Robert Downs each had a touchdown catch.
While the offense should be able to move the ball against UTEP, the biggest question will be if the Aggies can stop the Miner offense. New Mexico State's defense was to put in bluntly a disaster in 2019 and the Aggies also struggled against FCS teams in its modified spring season, allowing over five yards per carry with five touchdowns in the two games. And the Aggies gave up nearly 900 yards in just two spring games against FCS foes. NMSU also surrendered an average of 313 rushing yards in these contests, which was more than any FBS unit surrendered in the fall. This will need to change in a big way if the Aggies hope to keep the I-10 trophies.
KEY PLAYER: RB Juwaun Price
Price and his backup O'Maury Samuels will need to keep the ground game going and try to limit the number of drives for UTEP by running the ball to keep the clock going. Both will have the Aggie strength in front of them so they should be able to keep the drives going in the old Big 10 way (3 yards and a cloud of dust).
FEARLESS FORECAST:
I think this game will be fairly high scoring as neither defense has shown it can stop the opposing offense much (at least what was seen in the last season for both). The home field should be a help for NMSU as they were not able to play their two spring games at home and instead played at UTEP's Sun Bowl instead. That might be just enough for the Aggies to keep the traveling trophies from going back with UTEP. This game will be close and likely will come down to the last possession of the game to determine the winner. I think the Aggies will have that drive and start this season out with a win. New Mexico State 41 UTEP 35
Originally from LaMoure, North Dakota, Kent is a 1996 graduate of North Dakota State University. His prior writing experience is over 15 years having previously worked with D2football.com, I-AA.org, and College Sporting News before coming to College Sports Journal in 2016. His main focus is college football is the Missouri Valley Football Conference within the Division I FCS. And in 2017, he began also to look at the FBS Group of Five conferences of the American Athletic, Conference USA, Mid-American, Mountain West, and Sun Belt.
Reach him at this email or click below: