This has certainty been the wildest Group of Five season since I started covering this level of the FBS. Every prior year, there has has been a dominate team or teams each year that seemed to separate themselves going into the last regular season game.
This year, it will be wild to the finish to know which team will be ranked as the highest G5 confernce champion.
A week ago, UCF looked to take the reigns on the best spot as it ranked #20 in the College Football Playoff rankings as the top G5 squad. The Knights had just defeated the second ranked (#21 in CFP rankings) Tulane on the road.
The only other G5 school ranked was a third American Athletic Conference school in Cincinnati at #25 in the CFP ratings. And it looked like next week's game between Cincinnati and Tulane in the AAC would determine who would play at UCF for the AAC crown.
But the Knights were upset 17-14 at home by Navy. It was a peculiar 11 a.m. start in Orlando, and only one team looked ready to play. Navy jumped out to a 14-6 halftime lead and ended up holding on in a low-scoring second half. The Midshipmen limited UCF to just 84 rushing yards. By comparison, UCF had 336 rushing yards in the Tulane victory. A win would have put UCF in a great position to host the AAC title game. See highlights of this game below:
Tulane took care of business in its Thursday night game at home over SMU, while Cincinnati did the same on Saturday on the road over Temple. See highlights of these games below:
Now UCF needs to beat USF next week and hope for some help just to get to the AAC title game. That help would be having Houston lose to then travel to the winner of Cincinnati and Tulane for the title. Should Houston and UCF win, the Cincinnati/Tulane loser would have a three-way tie for the second spot. The three-way tie breaker would include the CFP rankings and come down to where the committee has UCF and the Cincinnati-Tulane loser. Houston did not play either UCF or Cincinnati.
And now there is now guarantee that the AAC champion would get the spot in the New Year's Six bowl game. We know that the Mountain West will have Boise State hosting Fresno State regardless of what either does in the final weekend of play. I feel Boise State will likely be ranked the CFP Top 25 next week following its narrow win in the pseudo MWC Mountain Division championship game at Wyoming. Fresno State also took care of Nevada to set the MWC title tilt. See highlights below of these two games:
And the Sun Belt Conference could also play a role in this. Coastal Carolina already knows it will be host the title game and despite not playing Virginia (game was cancelled due to the murders of the former Virginia player).
Although Coastal Carolina has not clinched the SBC East division as it will play at FCS move-up James Madison next weekend for the crown. JMU though is not eligible this season to play in any postseason games including the SBC title game due to its transition. JMU took care of Georgia State narrowly at home to set the table for the East title next week in Harrisonburg. See highlights of this game below.
The SBC West crown is also not known yet but Troy has the inside track to that berth. The Trojans beat South Alabama earlier in the year and just needs a win over Arkansas State to clinch the West. If Troy is upset, South Alabama needs a win over Old Dominion to see another game. Where the game will be played will be determined by the outcomes in both divisions yet. Both Troy and USA won their games over ULM and Southern Miss to set-up the last weekend's games as the title breakers. See highlights of these game below:
https://www.wdam.com/2022/11/20/usm-loses-2nd-half-27-20-loss-south-alabama/#:~:text=1%3A36,13%20hours%20ago
Other G5 Conference Races
The other two leagues likely will not play a role in the G5 New Year's Six Bowl game but the MAC and Conference USA games are starting to get settled.
In the MAC, we already know that Toledo will be heading to Detroit for the title. This was a good thing that the Rockets clinched before this past weekend as Toledo lost to Bowling Green in a mid-week game. So the West Division is known. See highlights of this game below:
But in the East Division, there are several scenarios that did not help that the Buffalo-Akron game was postponed this past weekend due to the record snow storm in western New York state.
The MAC has set-up a tie-breaker scenario. But that tie-breaker scenario would only be needed if Ohio losses to Bowling Green. If the Bobcats win that game, they will be the outright East Division champions and will join Toledo in Detroit.
However, if Bowling Green wins then the following tie-breaker would be used with this scenario that is complicated by Buffalo not playing as many conference games. Of course, the Bulls would also need to defeat Kent State to get into this scenario:
With a Bowling Green win over Ohio + Buffalo win over Kent State
Bowling Green 6-2 (.750)
Ohio 6-2 (.750)
Buffalo 5-2 (.714)

First tiebreaker: Head-to-Head record amongst tied teams
All three teams split the head-to-head series during the regular season (1-1)
Second tiebreaker: Winning percentage vs. ranked division opponents (top to bottom vs. East Division common opponents)
Bowling Green, Buffalo and Ohio each defeated Miami (1.000)
Bowling Green & Ohio lost to Kent State (.000), while Buffalo would have defeated Kent State (1.000) in this tiebreaker scenario.
Buffalo wins tiebreaker and will advance to MAC Football Championship Game
Conference USA is not as complicated as we know that UTSA will host the title game as the Roadrunners have a two-game lead over Western Kentucky and North Texas. WKU hosts Florida Atlantic while North Texas hosts Rice. The Mean Green are in the title game with a win over the Owls or a loss coupled with a WKU loss. North Texas has the tiebreaker thanks to a 40-13 win over WKU.
Bowl Eligible Teams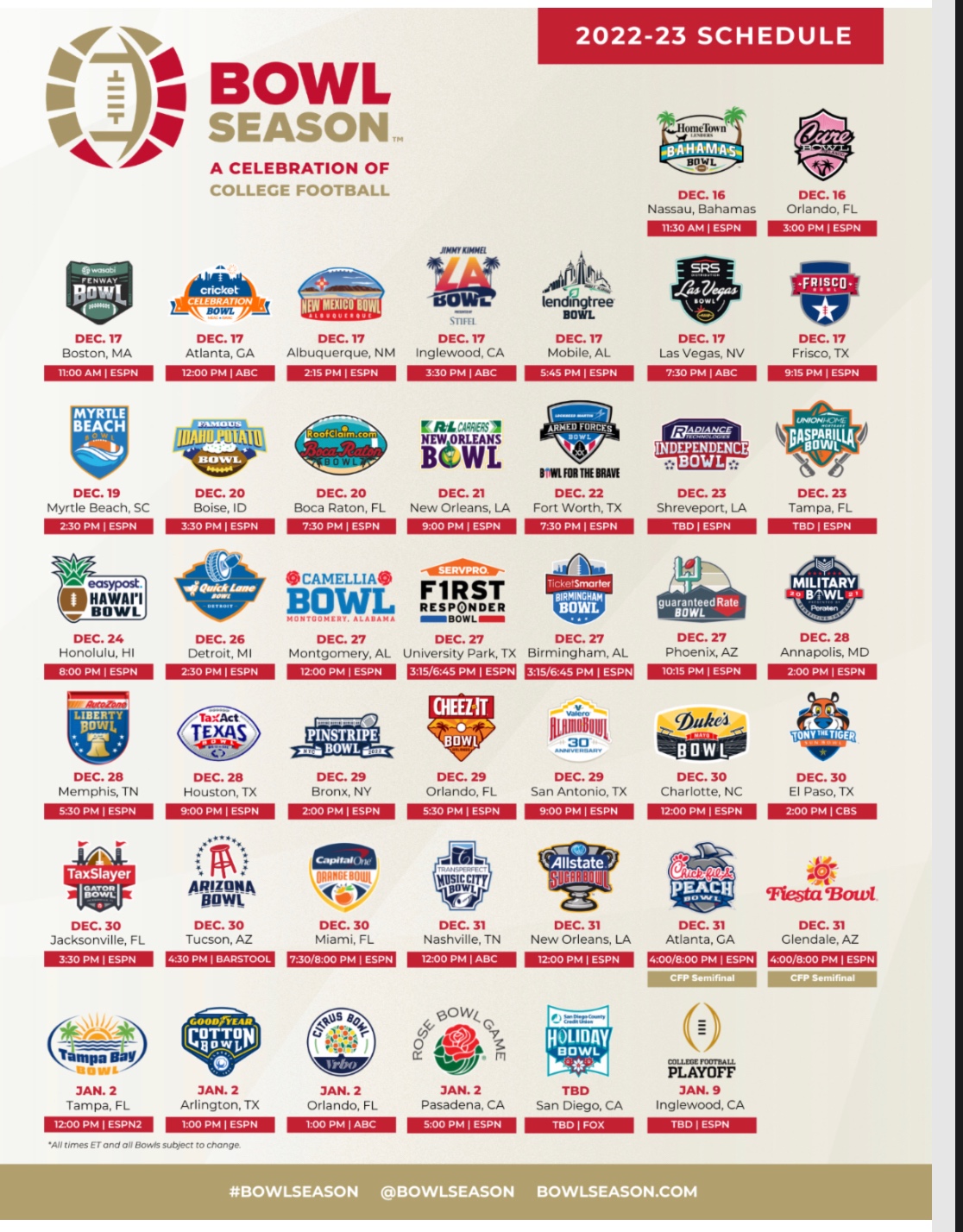 Going into the last weekend of play, there are currently 30 Group of Five schools with six wins to get to bowl eligible for one of the 82 spots available for the 41 bowls for all of the FBS. There are 10 other G5 schools that could get to the six win total with a win this upcoming weekend.
AAC
Bowl Eligible
Cincinnati, East Carolina, Houston, Memphis, SMU, Tulane, UCF
Who Isn't Bowl Eligible
Navy, Temple, Tulsa, USF
Bowl Bubble
None
Conference USA
Bowl Eligible
Middle Tennessee, North Texas, UTSA, WKU
Who Isn't Bowl Eligible
Charlotte, FIU, Louisiana Tech
Bowl Bubble
Rice (5-6): at North Texas
UTEP (5-6): at UTSA
Florida Atlantic (5-6): WKU
UAB (5-6): at LSU, at Louisiana Tech
Independents
Bowl Eligible
BYU, Liberty, UConn
Who Isn't Bowl Eligible
Army, UMass
Bowl Bubble
New Mexico State (4-6): at Liberty (also has a possible make-up game vs. San Jose State)
MAC
Bowl Eligible
Bowling Green, Eastern Michigan, Ohio, Toledo
Who Isn't Bowl Eligible
Akron, Central Michigan, Kent State, Northern Illinois, Western Michigan
Bowl Bubble
Ball State (5-6): at Miami University
Buffalo (5-5): Kent State, (Akron game postponed indefinitely)
Miami University (5-6): Ball State
Mountain West
Bowl Eligible
Air Force, Boise State, Fresno State, San Diego State, San Jose State, Utah State, Wyoming
Who Isn't Bowl Eligible
Colorado State, Hawaii, Nevada, New Mexico, UNLV
Bowl Bubble
None
Sun Belt
Bowl Eligible
Appalachian State, Coastal Carolina, Marshall, South Alabama, Troy
Who Isn't Bowl Eligible
Arkansas State, Georgia State, James Madison (isn't eligible because it's the first year in the FBS, not because of record), Old Dominion, Texas State, ULM
Bowl Bubble
Georgia Southern (5-6): Appalachian State
Southern Miss (5-6): at ULM
TOP 5 GAMES
Here are my top five games outside of what I showed earlier. Some of these games involved teams getting to bowl edibility but others are just playing until the season's end even if they are not bowl eligible.
Originally from LaMoure, North Dakota, Kent is a 1996 graduate of North Dakota State University. His prior writing experience is over 15 years having previously worked with D2football.com, I-AA.org, and College Sporting News before coming to College Sports Journal in 2016. His main focus is college football is the Missouri Valley Football Conference within the Division I FCS. And in 2017, he began also to look at the FBS Group of Five conferences of the American Athletic, Conference USA, Mid-American, Mountain West, and Sun Belt.
Reach him at this email or click below: