Highlights: CSJ FBS Group of Five Top Five Games and Recap of Week 13
The regular season has come to an end. And with the end there is now just one undefeated team left in the Group of Five. And that one team is a big one in Cincinnati, who with a win in its conference title game should be going into the College Football Playoff. The Bearcats started slowly in its road game American Athletic Conference finale at East Carolina Friday but turned it on in the second quarter.
After trailing through one quarter 3-0, the Bearcats ignited with a three touchdown second frame to nearly put the game out of reach at the halftime intermission.
In a matter of four Cincinnati snaps early in the second quarter, the Bearcats went from down 3-0 to up 14-3.
QB Desmond Ridder connected with TE Leonard Taylor on a 44-yard touchdown play. Cincinnati got the ball back and went 58 yards in three plays, with Ridder's 53-yard throw to WR Alec Pierce setting up RB Jerome Ford for a 2-yard scoring run.
Then Cincinnati drove 88 yards on seven plays with Pierce snagging a 28-yard touchdown catch.
After building that 21-3 lead, Cincinnati botched another chance on Ford's fumble at the East Carolina 3 on its final drive of the first half.
East Carolina closed within 21-6 and then drove to the Cincinnati 5 early in the fourth quarter. But after a penalty, the Pirates were ready to settle for Owen Daffer's third field goal before CB Arquon Bush disrupted those plans in what seemed like a game-clinching sequence with 11:07 remaining with a blocked kick attempt.
The All-America CB Ahmad Gardner grabbed the bouncing ball and was way out in front of the pack for a score to really put the game out of reach. The final score would be 35-13.
Ridder finished 17-for-28 for 301 yards with two interceptions. WR Alec Pierce caught eight passes for 136 yards. Ford rushed for 85 yards and a touchdown.
Cincinnati also clinched home field advantage in the AAC Championship game against Houston.

See full highlights of this game below:
Cincinnati stayed at the #4 spot in the College Football Playoff rankings this past week but will likely move up at least stay in that spot this week after #2 Ohio State lost to #5 Michigan. #3 Alabama narrowly escaped a triple overtime win at its rival Auburn. The only other FBS undefeated team in #1 ranked Georgia won its rivalry game with Georgia Tech easily. Georgia and Alabama will play for the SEC championship, while Michigan will play Iowa for the Big 10 championship.
See the full rankings below with five G5 in the Top 25: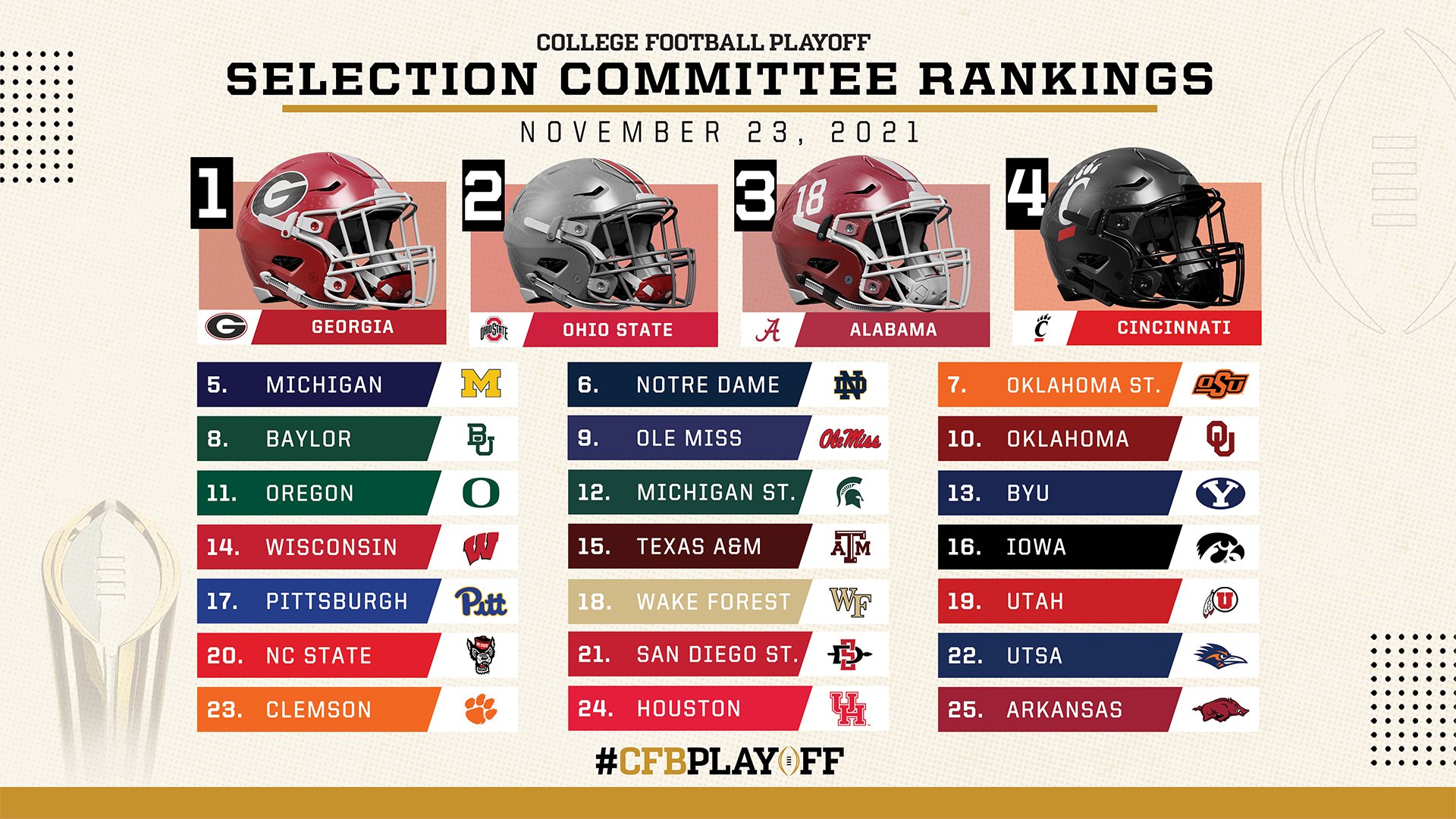 Houston won its last game—a non-conference affair at former AAC member Connecticut easily 45-17 to set-up this Top 25 match-up in the AAC. The Cougars were ranked #19 in the latest CFP rankings. See highlights of this win over UConn below:
Not Two Be
UTSA had a chance to be the second undefeated team in the Group of Fvie with a road game at North Texas in Conference USA action.
UNT RBs DeAndre Torrey and Ikaika Ragsdale combined for five touchdowns in a 45-23 rout of the Roadrunners to get UNT to that sixth win total and possible bowl bid.
UTSA QB Frank Harris had two of UTSA's three lost fumbles among six overall before sitting the second half.
See highlights of both of this below:
UTSA will still play in the C-USA title game but its winner was to be determined with Western Kentucky traveling to Marshall for the East Division crown on the line for the winner. The Hilltoppers left little drama as the easily won this road game 53-21. See highlights of this game below:
Mountain West Drama
Coming into the final weekend the Mountain West Conference was the only one in the Group of Five that did not know at least one of its teams being in its conference championship game.
The biggest game of the weekend was an early Friday game (9:00am start in Carson, California) between San Diego State and Boise State. Both teams had a chance to get a spot in the championship game despite being in the opposite divisions in the conference.
The Broncos jumped out to an early 16-3 lead in the first half but would not score again in the game.
The Aztecs turned to prior benched QB Jordon Bookshire after SDSU had fallen behind and the prior starter ignited the offense push. Brookshire came in after starter Lucas Johnson suffered a right knee injury
SDSU scored the next twenty points and took the lead for good early in the third quarter and added another score later in the frame to go up 27-16.
Brookshire went 11-of-15 passing for 192 yards and two touchdowns in the relief role.
See highlights of this game below:
The Aztecs will host Utah State, who were coming off an upset loss at home to Wyoming a week ago but still still had a chance with a win to get to the MWC title game. The Aggies did not let this next game go and blew out host New Mexico to get its chance at the title.
Utah State needed Boise State to lose to get its chance and with SDSU's win, the Aggies will get a berth in the MWC title game for the first time since 2013.
QB Logan Bonner went 16-of-23 passing for 312 yards and career best five touchdowns in the Aggies easy 35-10 win on the road.
Utah State improved to 6-0 on the road this year and will try to stay perfect on the road next week when it travels to California for the title game.
See highlights of this game below:
MAC-ACTION
The MAC title game already knew that Northern Illinois would be going to Detroit for the MAC title game after the Huskies had clinched the MAC West Division last week. The Huskies though would fall this week to Western Michigan at home 42-21.
Bronco WR Skyy Moore put himself in elite company and helped the Western Michigan football team secure a bowl bid. The sophomore tied a WMU single-game record with four touchdown catches and finished with 12 grabs for a career-high 206 yards. See highlights of this game below:
The East Division had a de facto championship game with the winner to face NIU in Detroit. This game would be an instant classic between Kent State and Miami of Ohio. The game would live up to the billing as the two teams fought and were tied at 41-41 after regulation.
Miami had immediately struck back after the Kent State overtime touchdown on a booming throw from sophomore quarterback Brett Gabbert to redshirt junior wide receiver Jalen Walker for a 25-yard touchdown to make it 48-47 KSU.
Pending the extra point, the MAC East Division title game was heading to a second overtime.
But Redhawks' coach Chuck Martin didn't send out his field goal unit. He kept his offense on the field, and he stuck with the decision following the Flashes timeout.
Gabbert snapped the ball, faked the end around to his receiver, and threw it to redshirt senior wide receiver Jack Sorenson, the MAC's second-best receiver.
Redshift junior cornerback Montre Miller stepped in front of the ball, knocking it to the ground and thwarting Miami's attempt to steal the win from the Flashes.
See full highlights of this game below:
Sun Belt No Drama
The Sun Belt Conference had no drama as it already knew that Louisiana would play Appalachian State in its title game.
Those two teams took care of business this last weekend as well to set-up next week's title clash in Lafayette.
Louisiana had its hand full with rival ULM but in the end, won 21-16. See highlights of this game below:
Appalachian State had no problems with Georgia Southern as the Mountaineers won its last home game 27-3. See highlights of this game below.
Bowl Eligibility
Overall, the FBS will have 82 spots open for its 41 bowls and there are now 83 teams eligible. This likely means that one of the six-win G5 squads will be left out of a bowl game. Here is the full list of all FBS bowl eligible teams below with the G5 teams in bold:
ACC (10): Boston College, Clemson, Louisville, Miami, North Carolina, NC State, Pittsburgh, Virginia, Virginia Tech, Wake Forest
American (7): Cincinnati, East Carolina, Houston, Memphis, SMU, UCF, Tulsa
Big Ten (9): Iowa, Maryland, Michigan, Michigan State, Minnesota, Ohio State, Penn State, Purdue, Wisconsin
Big 12 (7): Baylor, Iowa State, Kansas State, Oklahoma, Oklahoma State, Texas Tech, West Virginia
C-USA (8): Marshall, Middle Tennessee, North Texas, Old Dominion, UAB, UTEP, UTSA, Western Kentucky
MAC (8): Ball State, Central Michigan, Eastern Michigan, Kent State, Miami (OH), Northern Illinois, Toledo, Western Michigan
Mountain West (7): Air Force, Boise State, Fresno State, Nevada, San Diego State, Utah State, Wyoming
Pac-12 (6): Arizona State, Oregon, Oregon State, UCLA, Utah, Washington State
SEC (13): Alabama, Arkansas, Auburn, Florida, Georgia, Kentucky, LSU, Mississippi State, Missouri, Ole Miss, South Carolina, Tennessee, Texas A&M
Sun Belt (4): Appalachian State, Coastal Carolina, Georgia State, Louisiana
Independent (4): Army, BYU, Liberty, Notre Dame
The bowl bids will be announced next Sunday after the final College Football Playoff rankings. But there are a few bowl games that have already made their selections. East Carolina accepted a bid to the Military Bowl, while BYU has a bid to the Independence Bowl but could forgo that bid if it receives a New Year's Six Bowl bid instead.
Group of Five Conference Championship Game Schedule
Below is the schedule of the five G5 conference championship games with the date, times and television network.
Friday, Dec. 3 – Conference USA – Western Kentucky at UTSA, 7:00pm EST, CBS Sports Network
Saturday, Dec. 4 – MAC – Kent State vs. Northern Illinois (at Detroit), 12:00pm EST, ESPN
Saturday, Dec. 4—MWC—Utah State at San Diego State, 2:00pm EST, Fox
Saturday, Dec. 4—Sun Belt—Appalachian State at Louisiana, 3:30pm EST, ESPN
Saturday, Dec. 4—AAC—Houston at Cincinnati, 4:00pm EST, ABC
Top Five Games of the Week
Outside of the games already mentioned above, here are my top five games of this final weekend.
1. UCF 17 South Florida 13 (Orlando, Fla.)
2. BYU 35 USC 31 (Los Angles, Calif.)
3. Rice 35 Louisiana Tech 31 (Houston, Tex.)
4. Tulsa 34 SMU 31 (Dallas, Tex.)
5. Memphis 33 Tulane 28 (Memphis, Tenn.)
Originally from LaMoure, North Dakota, Kent is a 1996 graduate of North Dakota State University. His prior writing experience is over 15 years having previously worked with D2football.com, I-AA.org, and College Sporting News before coming to College Sports Journal in 2016. His main focus is college football is the Missouri Valley Football Conference within the Division I FCS. And in 2017, he began also to look at the FBS Group of Five conferences of the American Athletic, Conference USA, Mid-American, Mountain West, and Sun Belt.
Reach him at this email or click below: