This season, I had the pleasure to be included by Craig Haley as a voter in the STATS FCS Top 25 for the first time. Along with the Top 25 vote comes the opportunity to vote for the FCS Legacy Awards: Walter Payton, Buck Buchanan, Eddie Robinson and Jerry Rice.
As a voter, I believe integrity and transparency are very important. I have made sure to post my ballot for all to see and respond to each and every week. That is no different for the awards ballot I cast last week. I have always welcomed the respectful feedback. It makes me a better voter.
Without further ado, here are my top five for each award.
Jerry Rice Award (Top Freshman in the FCS)
Trey Lance, QB, North Dakota State
Jeff Undercuffler, QB, Albany
Javon Williams Jr., RB, Southern Illinois
Aylim Ford, RB, Chattanooga
Xavier Gipson, WR, Stephen F Austin
Explanation: This was the easiest of the awards to vote for. Lance is a dynamic player and hands down the best freshman in the country. The most impressive Lance stat to me was zero interceptions. Lance stepped in for the winningest quarterback in FCS history and just kept the Bison train rolling to another unbeaten season. NDSU is loaded at many positions, but Lance did the job he was asked to do. More on him later.
In any other season, this award may have been a tight ballot between Undercuffler and Williams. Both play in FCS power conferences and had success. Undercuffler took Albany from a team that was projected to finish last in the CAA to an 8-4 record and a playoff appearance. Williams was the motor behind Southern Illinois being one of the last four out of the playoff bracket. Both of these young men have bright futures in front of them.
Eddie Robinson Award (Top Coach in the FCS)
Troy Taylor, Sacramento State
Greg Gattuso, Albany
Matt Entz, North Dakota State
Curt Cignetti, James Madison
Mark Hudspeth, Austin Peay
Explanation: Both Taylor and Gattuso took teams from the bottom of their conferences to the playoffs. The deciding factor for me to give the nod to Taylor is that he is in his first year at Sacramento State and he helped lead the Hornets to a playoff seed. That gave him the slight edge over Gattuso who is in his seventh season after taking over for the great Bob Ford.
Entz and Cignetti both deserve a ton of credit for keeping their teams at the top of the FCS. Entz gets the third place nod because the Bison lost so many seniors after last year and they didn't miss a beat. Cignetti came in and fixed a lot of what ailed James Madison last year to return them to the top two.
Mark Hudspeth led Austin Peay to an OVC title in his first year in the program and deserves recognition as well.
Buck Buchanan Award (Top Defensive Player in the FCS)
John Daka, DE, James Madison
Dante Olson, LB, Montana
Christian Rozeboom, LB, South Dakota State
Ron'Dell Carter, DE, James Madison
Sully Laiche, DL, Nicholls
Explanation: If you have seen James Madison's defense play at all, you see immediately that their success is predicated on their two ends getting in the backfield. Both of them are up for this award, and quite frankly, both have a strong case. I went with Daka at the top of my crowded ballot by the slimmest of margins. His 12.5 sacks and 20.5 TFL give him the edge over the other candidates.
Next came the two tackling machines, Olson and Rozeboom. Olson was runner up for this award last year and is definitely a top contender again this year. Rozeboom sets the tone on an excellent South Dakota State defense.
Sully Laiche has numbers comparable to Daka and Carter as defensive linemen. Laiche recovered the fumble at the end of Nicholls game against SLU that gave the Colonels the Southland title.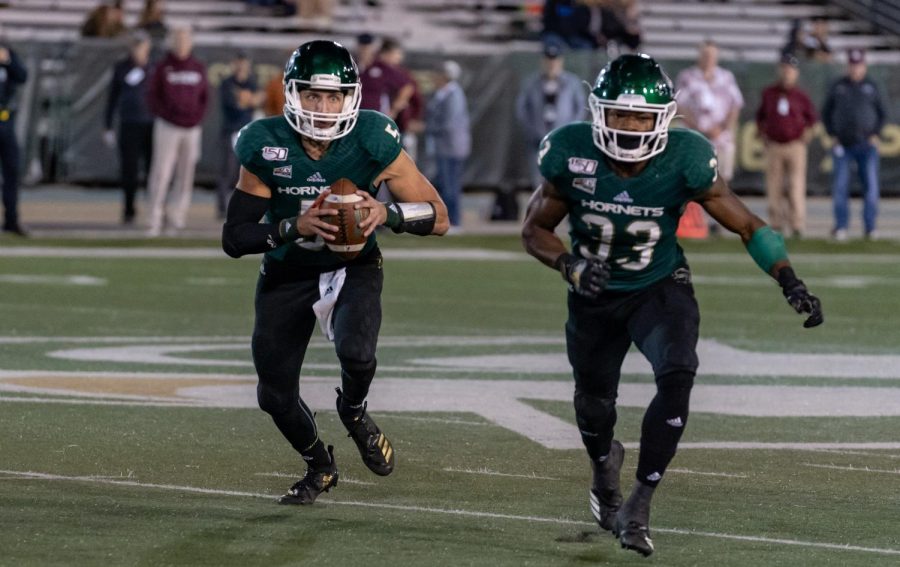 Walter Payton Award (Top Offensive Player in the FCS)
Kevin Thomson, QB, Sacramento State
Eric Barriere, QB, Eastern Washington
Pete Guerriero, RB, Monmouth
Bailey Zappe, QB, Houston Baptist
Aaron Parker, WR, Rhode Island
Explanation: There were a lot of worthy candidates for this award this year. There were another 4 to 5 candidates I considered for my top five, but this is where I landed. In determining who to put at number one, I settled on Thomson even though he missed a game and a half due to injury. He helped lead Sacramento State to a shared Big Sky title and top four seed in the playoffs. Thomson had his two best games in the two biggest games for the Hornets against Montana and Montana State. In those two games he threw for 629 yards and seven touchdowns. Those numbers were enough to push him over the rest of the candidates in my eyes.
The rest of my ballot tended to lean towards players who were at the top of multiple statistical categories in the FCS. I tended not to lean as much on wins as some other voters may have done.
Barriere was third in passing yards and 7th in touchdowns. He only threw four interceptions in 438 attempts. Guerriero led the nation in rushing yards and was sixth in rushing touchdowns. Zappe second in passing yards and first in regular season touchdown passes but his higher interception total held him down in the voting. Parker was fifth in receiving yard and sixth in receptions
Now, I will go ahead and address the Trey Lance omission. Lance had a great season. As you can see above, I voted him first for the Rice. This has zero to do with him being a freshman. But from a top FCS player standpoint, I felt like NDSU leaned more on the run game with their backs, especially in the games where NDSU did receive a challenge. Lance's worst passing games came in their three tightest games. I wouldn't argue with any other voter who had Lance on their ballot one through five. And I wot be shocked or upset of Lance wins the award. But I could not include him in my ballot.
Jamie is a proud 2002 graduate of James Madison University. He's witnessed the growth of the program from no one in the stands in 1998, to the hiring of Mickey Matthews, to the 2004 National Championship, to the 2008 team, to the struggles in the early 2010s, and finally the rebuild under Mike Houston. He also allegedly really enjoys Washington, DC-based Stanley Cup winners.
Reach him at: