WORCESTER, MA – Watching last week's thrilling Holy Cross/Fordham game as someone who's watched a lot of Lehigh football in my life, it was hard to not get flashbacks.
The thrilling 53-52 win by Holy Cross (8-0, 4-0) over Fordham (6-2, 2-1) was unquestionably the game of the year in the Patriot League, if not the entire FCS. Holy Cross head coach Bob Chesney proved conclusively, with his 2 point try to win or lose the game in the first overtime, that he is a coaching savant with a pair of brass balls, somewhere, on his desk in Worcester.
These types of games, though, used to involve Lehigh (1-7, 1-2).
There was a time when Lehigh, every preseason, was expected to contend for the Patriot League Championship. No more.
There was a time when the Mountain Hawks played in these shootouts for Patriot League titles, like 2016, where Lehigh out-duelled Fordham 58-37 on their way to a title season, No more.
Even before the FCS Playoffs weren't in the picture, early in the history of Murray Goodman Stadium, shootouts and titles were the stuff of legends, as folks in Worcester and Bethlehem still talk about Holy Cross' epic 43-42 win over Lehigh in front of a near-sellout crowd.
No more – at least on the Lehigh side.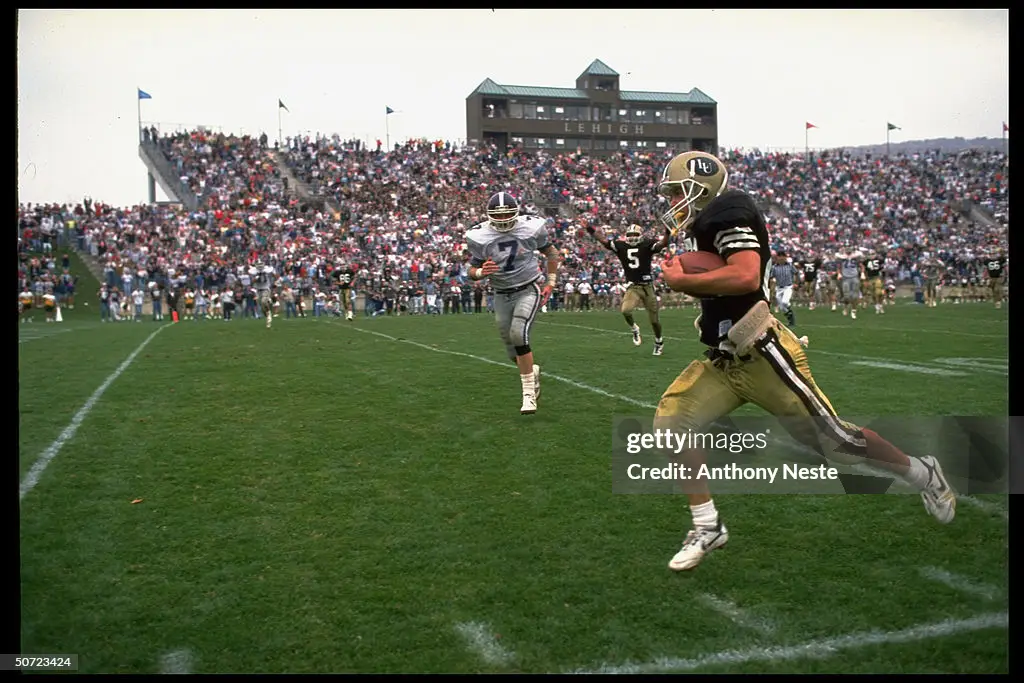 Watching the raucous Holy Cross crowd, it was impossible not to think that within my memory, certainly, Lehigh had crowds like this watching the Mountain Hawks play games like this – games where championships are made, where the stakes about as high as they get during the regular season at this level.
I think a lot about that 43-42 game in 1991, one of the best games I ever attended in person. Both teams were nationally-ranked, and what most people don't remember is that the game was tied at 7 at halftime. Both teams exchanged leads seemingly every possession in the second half, with Lehigh executing a now-illegal "fumblerooski" play to take a temporary lead and just missing a two-point conversion pass in the final minute that would have had our student section storm the field. (I can point to the exact location where I was sitting in the stadium when I watched the game – right next to where the Marching 97 plays.)
Back then, Murray Goodman was one of the hottest tickets in town. With the caveat that college football wasn't on TV, mostly, taking in a Lehigh game was seen as a fun use of one's time in Bethlehem, even if you weren't tied to Lehigh in any other way. It helped that Lehigh was a program that had had national success – a Division II National Championship in 1977 – and an offense that was very entertaining.
There were more fans at Holy Cross this weekend – 17,592 of them, to be precise – than there were at this matchup at Murray Goodman stadium, which approached, but did not exceed, the 16,000 capacity at the time.
And the highlights of the game – which you can see below – are worth it.
If you're my age, you end up asking yourself questions like: What happened? Why isn't Lehigh rocking like Fitton Field was last week?
Sure, some of it has been the fact that Holy Cross, who has won the last three Patriot League titles and has won FCS Playoff games, has been successful – the best way to get fannies in the seats is to have a great football team that wins football games. But that's clearly not the only thing going on in Worcester. Holy Cross has put in the time, and the effort, to get the entire Worcester community to go to the games, and it shows.
But for Lehigh, the story has to be: Not on my watch. The season hasn't gone the way they, or any Lehigh football fan, has hoped. But this team can do one thing, one precise thing, to start the build towards having Lehigh be a near-sellout destination for football, and that's to shock the world on Saturday.
Nobody gives Lehigh football a chance this weekend. Everyone expects a coronation – for Holy Cross to show up, have a practice, win by more than three touchdowns, and collect their Patriot League Championship trophy.
The Patriot League commissioner, Jen Heppel, is going to be in Worcester this weekend, ready to crown their asses – to hand Bob Chesney the championship trophy, in a carefully staged ceremony that they've probably been working on all week.
Lehigh can stop this process. They can win this game – and force the trophy to come back to the Lehigh Valley, where it sat this week, in the Patriot League offices. They can throw a monkey wrench in Holy Cross' plans to have their asses crowned, Bob Chesney's final Patriot League trophy before Auburn, or some other FBS team, comes calling.
In doing so, they can change the course of the program. They can stop this slow descent where they've seen the season go, change the course and change the culture. A game like this – one of the most unlikely wins in FCS this season, if it happens – would be transformative.
Only Lehigh can prevent a coronation this weekend. That's what's at stake for the Mountain Hawks this week.
Announcers: Kevin Gehl (PxP), Kevin Shea (Analyst), Andy Lacombe (Sideline)
Unofficial Live Statistics: goholycross.com
Lehigh Game Notes | Holy Cross Game Notes