BETHLEHEM, PA – Will Lehigh be able to keep this game competitive?
It's not a question that has been too very often asked about the Mountain Hawks (0-6, 0-1) over the years.
Perhaps back in 2018, when Lehigh played an FBS team in Navy in Annapolis, an understandable challenge that ended up 51-21 in favor of the Midshipmen.
In 2019 there was a trip to nationally-ranked UC Davis, a rare trip to California for Lehigh, which ended in a 41-13 win for the hometown Aggies.
There have been other tough games this season too – versus nationally ranked Villanova and nationally-ranked Princeton. Against Lehigh's young team trying to find itself, the results were predictable: 47-3 Wildcats, 32-0 Tigers.
But through it all, Lehigh had always been able to count on Patriot League play to be able to get wins. Even if the team struggled against the best FCS had to offer, when they came back to league play, they always had a shot to win games – even possibly run the table, and make the playoffs.
It is in that context that Lehigh travels to the Bronx to take on a Fordham (4-3, 2-0) team that is daunting in the same way those games against Villanova, Princeton, UC Davis and Navy were.
Don't look at the Rams' record, who have two losses against FBS teams (Florida Atlantic and Nebraska) and another narrow loss against a title contender in the Big South (Monmouth).
Instead look at the points scored in their last four games, all Ram wins: 31 against Stony Brook of the CAA. 42 against Lafayette in a 42-41 shootout victory in Easton. 55 points against Wagner. 66 points against Bucknell.
"It's going to be a big challenge," head coach Tom Gilmore said this week. "They're very explosive on offense, and they can score at any time. They pose a lot of challenges with their scheme and their personnel."
If Lehigh is to keep this game close – and get a stunning victory to get the ship pointed in the right direction – it will require the offense to finally break out of its Sierra Madre-sized drought, which has seen the Mountain Hawks not score a touchdown in their first six games of the year.
That's not to say there haven't been some bright spots on offense – the play of WR Dajuan Fields, who came a shoestring tackle away from breaking the drought at Penn on a 50 yard catch, has revealed some hints that things might be improving for now and into next year.
But they'll need Fields, and a lot more, to keep this game within striking distance and to get the sort of signature win that would make people talk all though FCS.
The game is taking place at Coffey Field in the Bronx, and kickoff is at 1pm. If you can't make it to the Bronx, it is going to be streamed on ESPN+ with Emmanuel Barberi and Andrew Posadas calling the game. The Lehigh radio call will be available on Fox Sports Radio 1230/1320 AM and 94.7 FM Allentown, with Matt Kerr, Matt Markus and Steve Lomangino on the call (and also available on LVFoxSports.com).
LFN's Drink of the Week
During the bye week, coach Gilmore said that he and the staff were making some "refinements and some flat-out changes" in an effort to break out of their long losing slump. I felt, too, that it was time to do the same with my "Drink of the week." No more cribbing from a prior week, or year. Time to do something completely new.
It is with that that I went completely off theme, completely away from Lehigh, Bethlehem and the New York City area to go to a drink that I just wanted to make for the hell of it – a Maple Margarita.
It was one of those cases where I just went into the liquor cabinet, took everything out, and tried to figure out something – anything – to break out of the rut. In the "Drink of the Week" department, I think I succeeded, running a slight modification of this recipe.
3 oz tequila
1/2 oz whiskey
1/2 oz Oh Canada! Maple Flavored Whiskey
2 oz maple syrup
juice of 1 lime (probably could have used two
1 oz water
Throw it in the shaker with ice, shake and mix. It can be rimmed with salt and maple sugar, but trust me when I say it's also good just the way it is.
LFN's Drinks of the Week are meant to be enjoyed in responsible tailgates, meaning everyone is over 21, nobody is driving while impaired or under the influence, and Ubers are lined up if necessary. Only enjoy these things responsibly.
Injury Report
Listed first on the depth chart is QB Dante Perri, though I'm hearing that Perri, QB Nigel Summerville, and QB Cross Wilkinson all worked out at QB this week in the run-up to the game.
Some possible good news, too, on the defensive front as LB Pete Haffner and DL Michael Callahan could be playing this Saturday – I'm hearing a 50/50 shot for both of them. Lehigh can use all the help they can get to slow down Fordham's offense.
Scouting Fordham
"Fordham scored on all six of its possessions in the first half and was in command from start to finish en route to a 56-7 win over the Seahawks in a non-conference tilt at storied Jack Coffey Field," CSJ's report on the Wagner game starts.
QB Tim DeMorat and RB Trey Sneed led the Rams in passing and rushing, respectively, in that game. DeMorat was impressive in completing 19 of 23 passes for 339 yards and Sneed ended with a game-high 70 yards on 11 carries. That was only one half of work – neither played in the second half against the Seahawks.
Sneed didn't play in Fordham's first four games, but his presence has what has really turbocharged Fordham's offense. In 3 games he's averaged more than 118 yards per game and had 4 TDs – and in his last two games, he hasn't needed to play much beyond halftime. Though it's early , it's reminiscent of another pretty good Fordham running back – RB Chase Edmonds, who's now playing on Sundays with the Arizona Cardinals.
DeMorat has also looked like a guy who will get a look to play on Sundays, and might, if people start paying closer attention, be a candidate for the Walter Payton award this December. A four-time winner of Patriot League Offensive Player of the week, he'll look to make it a fifth this time out.
Fordham plays fast. If you can't slow them down or stop them on consecutive drives it's going to be a very long afternoon.
On defense is another NFL prospect in LB Ryan Greenhagen, who made headlines a few weeks ago when he notched 31 tackles against Nebraska, a Division I record. He already has over 100 tackles on the season, and it stands to reason wherever the ball is going, he'll find a way there.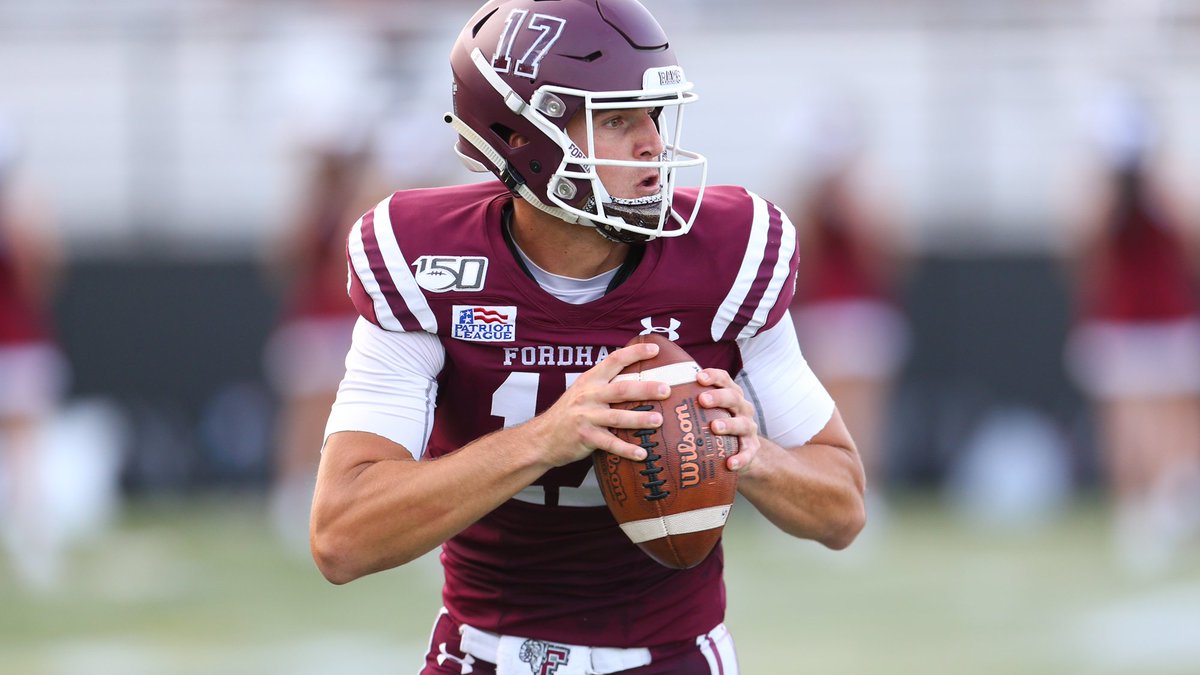 Keys for Lehigh
Establish The Run. This simply has to be done to make this game competitive. Establishing the run and some time of possession will not only build offensive confidence but it will also give the defense a rest.
Prevent Big Plays. Lehigh actually did a pretty good job, for most of the game, against Penn to prevent the Quakers from breaking off big runs for scores. They might give up some yards between the 20s, but if they can keep their gains short – and maybe force some mistakes – they can keep it close.
Simplicity. Football doesn't need to be complicated. With a young team still trying to find its way and finding out how to win football games, doing the simple things right can lead to more and more good things to happen. Do the simple things right, get better and see what happens.
Fearless Prediction
Fordham 37, Lehigh 10