Southland Conference Game of the Week
GAME PREVIEW: #16 Incarnate Word vs. McNeese
When: Saturday, October 23 at 12PM CST
Where: Cowboys Stadium; Lake Charles, Louisiana
TV/Streaming: ESPN3
The Cardinals beat Nicholls 38-21 last Saturday behind a record-setting performance from wide receiver Taylor Grimes – Grimes set a program record with four receiving touchdowns in one game. Grimes finished with nine receptions for 182 yards. Cameron Ward passed for 388 yards, marking his fourth game in a row of throwing for over 300 yards. Ward is now second in program history with 40 career touchdown passes – he needs four more to tie the current leader. Kevin Brown rushed for 80 yards and one touchdown. Linebacker Kelechi Anyalebechi led the Cardinal defense with 12 tackles, bringing his season total to 64.
McNeese was hoping to get the fast start it has been looking for all season heading into last Saturday's Southland Conference game against Northwestern State. The Cowboys put up 21 points in the second quarter, which proved to be sufficient in their 35-17 win over the Demons. It was their first league win of the season. McNeese produced big plays in all three phases of the game, holding back any chance for the Demons to mount a rally. Cody Orgeron completed 16-of-25 passes for 176 yards and two touchdowns. Wide receiver Mason Pierce, who scored his fourth touchdown in the last two games, caught three passes for 66 yards and a touchdown.
Incarnate Word Cardinals (5-1, 3-0 in Southland)
The Cardinals are explosive offensively – they're averaging 453.3 yards per game, with 338.8 of those yards coming through the air and 114.5 on the ground. The UIW offense scores 38.3 points per game. Quarterback Cameron Ward has completed 159-of-254 passes (62.6 % completion pct.) for 2,024 yards, 20 TDs and three interceptions. Running back Kevin Brown has carried the ball 80 times for 400 yards (5.0 yards per carry) and six rushing TDs. Wide receiver Taylor Grimes has 41 receptions for 520 yards (12.68 yards per catch) and eight receiving TDs. Defensively, the Cardinals have improved tremendously from the spring season of 2021 – they're allowing 22.5 points per game.
McNeese Cowboys (2-4, 1-2 in Southland)
The Cowboys have struggled in all three phases this season – their offense is only averaging 24 points per game while the defense is allowing 31 points per game. Offensively, they're producing 314.8 yards per game – 200.3 through the air and 114.5 on the ground. Quarterback Cody Orgeron has completed 100-of-167 passes (59.9 % completion pct.) for 1,170 yards (195 ypg) with nine TD passes and two interceptions. Orgeron has been sacked an astounding 24 times behind an injury-riddled offensive line. Running back Stephon Huderson has carried the ball 78 times for 308 yards (3.95 ypc) and three TDs.
Fearless Prediction
The Cowboys will be tough at home, but the Cardinals will stay undefeated in conference play.
Incarnate Word 34 McNeese 27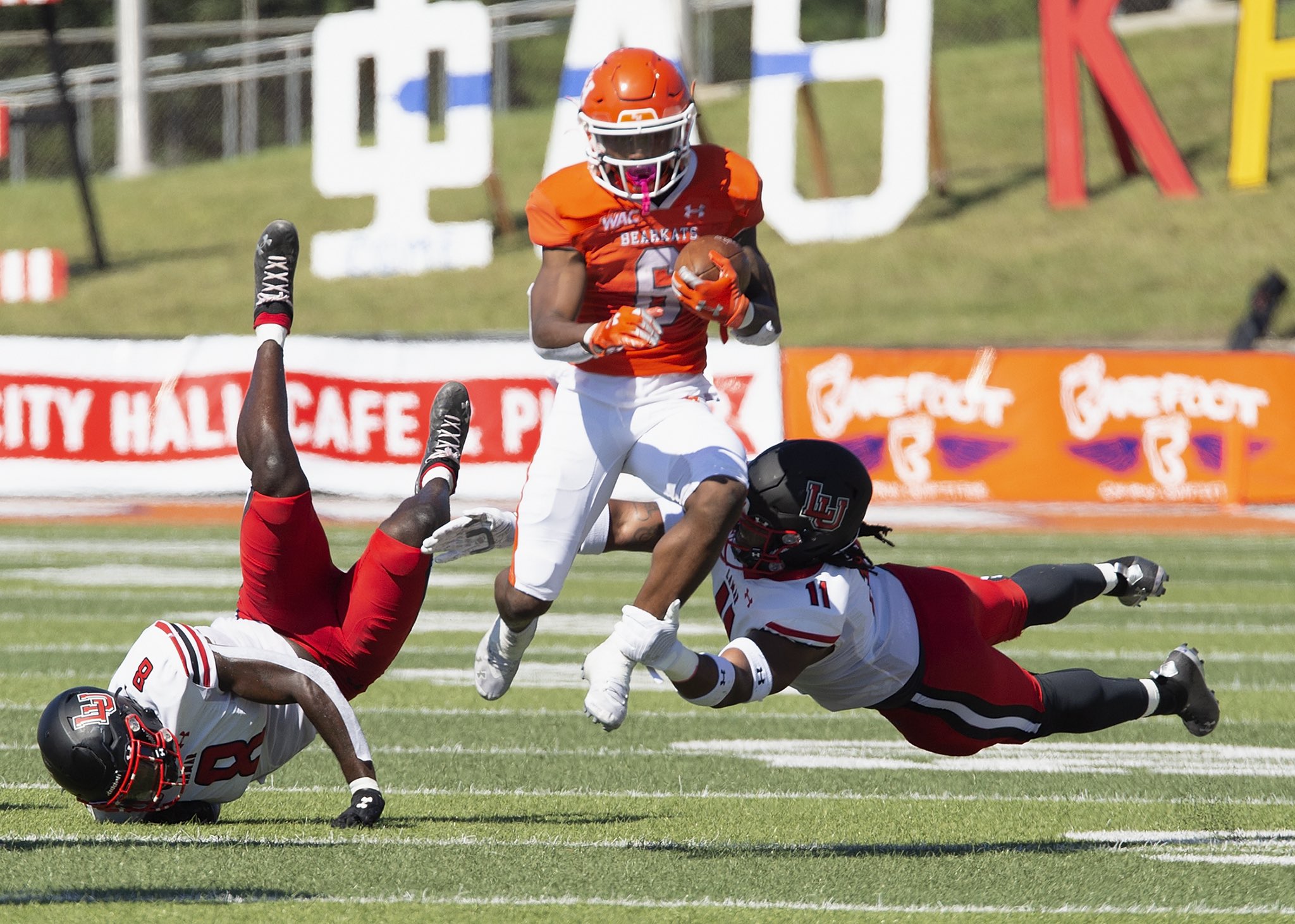 Western Athletic Conference Game of the Week
GAME PREVIEW: Jacksonville State vs #1 Sam Houston
When: Saturday, October 23 at 2PM CST
Where: Bowers Stadium; Huntsville, Texas
TV/Streaming: ESPN+
Jacksonville State stormed back late to claim a 28-24 homecoming victory over Stephen F. Austin on October 9. The Gamecocks snapped a two-game skid and improved to 3-3 overall with a win in their AQ7 debut. Quarterback Zerrick Cooper had 11 completions for 153 yards and a touchdown in the victory. Running back Josh Samuel had 104 yards rushing, averaging 6.1 yards per carry to go along with a rushing TD. Wide receiver P.J. Wells had four receptions for 71 yards, and Ahmad Edwards had three receptions for 40 yards and a TD.
Sam Houston's defense turned in a dominating performance to lead the No. 1 Bearkats to a 41-7 victory over Lamar at Bowers Stadium on October 9. Sam Houston held the Cardinals to just 154 yards of total offense – the Bearkats finished with five sacks, 11 tackles for loss, and two interceptions by Braiden Clopton and Kameryn Alexander. Running back Noah Smith rushed for 119 yards and a score, and quarterback Eric Schmid threw for 159 yards and two touchdowns. Wide receiver Cody Chrest led the Bearkats with four catches for 81 yards and a score.
Jacksonville State Gamecocks (3-3, 0-0 in Atlantic Sun)
This season has been a roller coaster for Jacksonville State – they were destroyed by UAB 31-0 in the opener, then upset Florida State 20-17 ten days later. The Gamecocks have struggled offensively, averaging 18.7 points per game and 305.8 yards per game – 185.7 through the air and 120.2 on the ground. Quarterback Zerrick Cooper has completed 89-of-165 (53.9% completion pct.) for 1,016 yards, 6 TDs and two INTs. Running back Josh Samuel has carried the ball 63 times for 343 yards (57.2 ypg and 5.4 ypc) and two TDs. Wide receiver P.J. Wells has 18 catches for 296 yards (59.2 ypg and 16.4 ypc) and two TDs. Defensively, the Gamecocks are allowing 26.83 points per game and are led by linebacker Stevonte Tullis.
Sam Houston Bearkats (5-0, 2-0 in WAC)
The Bearkats have been nearly unstoppable on offense – they're scoring 40.2 points per game and averaging 465.2 yards per game, with 241.6 through the air and 224 on the ground. Quarterback Eric Schmid is 69-of-133 (51.9% completion pct.) for 953 yards (283.3 ypg), 12 TDs and four interceptions. Running back Ramon Jefferson has carried the ball 66 times for 472 yards (94.4 ypg and 7.2 ypc) with five touchdowns. Wide receiver Cody Chrest has 24 catches for 324 yards (64.8 ypg and 13.5 ypc) with four touchdowns. Ife Adeyi has 15 catches for 189 yards (37.8 ypg and 12.6 ypc) with two scores. Defensively, the Bearkats are giving up only 18.4 points per game – defensive back Jaylen Thomas has three interceptions and one pick-six (interception returned for a touchdown).
Fearless Prediction
The Bearkats will stay undefeated and show why they're the best team in the country.
Sam Houston 34 Jacksonville State 20
Other games of interest
Central Arkansas (2-4) at Lamar (2-4), 6PM CST, ESPN+
The Bears were on the wrong end of a second-half comeback last Saturday as Eastern Kentucky rallied for a 38-35 victory at Estes Stadium. Lamar proved that they could throw the ball with Mike Chandler at QB – the Cardinals were within one possession of tying the game in a 24-17 loss at Abilene Christian.
Central Arkansas 38 Lamar 20
Midwestern State (5-1 in Division II) at Tarleton (3-3), 6PM CST, ESPN+
Midwestern State is a formidable opponent from the Lone Star Conference of Division II. The Tarleton Texans had several big performances in last week's 41-20 win at Dixie State.
Tarleton 28 Midwestern State 24
Stephen F. Austin (3-3) at Dixie State (0-6), 8PM CST, WAC Digital Network & ESPN+
Trae Self threw for 305 yards while Xavier Gipson had eight catches for 84 yards in the Lumberjacks' loss to Jacksonville State on October 9. Drew Kannely-Robles rushed for a career-high 81 yards and tied a career-high with two touchdowns in the Trailblazers' loss to Tarleton.
SFA 38 Dixie State 17
# 9 Southeastern Louisiana (5-1) at Northwestern State (1-5), 3PM CST, ESPN+
The Lions rolled to a 61-24 victory over HBU last Saturday evening in Hammond. The Demons imploded in the second quarter of their 35-17 loss to McNeese last Saturday at Turpin Stadium.
Southeastern 48 Northwestern State 28
Nicholls (2-4) at Houston Baptist (0-6), 6PM CST, ESPN+
The Colonels were unable to get anything going in the second half of their 38-21 loss to Incarnate Word last week. Freshman QB Orion Olivas completed 23-of-42 passes for 239 yards, three TDs and two INTs for the Huskies in their loss to Southeastern.
Nicholls 45 HBU 17
Rob Butler is a lifelong Texas A&M football fan – his family is full of A&M graduates. He graduated from Lamar University in Beaumont, Texas with two degrees – a BBA in Finance and an MBA. His hobbies include jogging and reading books pertaining to college football.