Several Interesting Games on Tap in OVC
The meat of the Ohio Valley Conference season begins this weekend and despite some unique scheduling, the results involving all seven league members should provide a glimpse of what to expect as the season continues to draw to a close in less than one month.
Tennessee Tech, which has played three conference games so far this season, steps out of conference one final time when the Golden Eagles entertain Virginia-Lynchburg while the other six OVC squads will be competing against fellow league members. The matchup between current league leader UT Martin and second-place Southeast Missouri will not count in the league standings. The two teams will play on the final weekend of the season in a game that could determine the OVC champion and a berth in the FCS playoffs.

Virginia-Lynchburg (0-7 Overall) at Tennessee Tech (1-2 OVC/2-5 Overall)
When: Saturday, Oct. 23 (1:30 p.m. CT)
Where: Cookeville, Tenn., Tucker Stadium (16,500)
TV/Streaming: ESPN+ (subscription req'd)
Radio: KISS 98.5 FM (Cookeville)
First Meeting: This marks the first-ever game between the two schools.
SCOUTING THE DRAGONS
Virginia-Lynchburg, which competes in the National Christian College Athletic Association (NCCAA), will be facing an Ohio Valley Conference foe for just the second time in school history. The Dragons lost to Tennessee State 60-0 during the 2017 season.
V-L enters Saturday's contest looking for its first win of the season after dropping all seven games already this season, including a 42-14 loss last week at Norfolk State. The Dragons have been outscored 366-62 this season and have already faced FCS foes Duquesne and Delaware State prior to last week's setback against NSU.
The Golden Eagles
Tennessee Tech steps out of conference for the final time this season when the Golden Eagles play host to Virginia-Lynchburg on Saturday. And a win should give TTU plenty of optimism heading into a stretch of games that will prove critical to whatever OVC championship hopes remain in Cookeville.
Quarterback Willie Miller (6-0, 178, So.) has emerged as the No. 1 signal caller for Tennessee Tech. He has completed 36 of 83 passes this season for 404 yards and four touchdowns (3 interceptions) and is second on the team with 194 rushing yards on 54 carries (3.6 ypc) and one touchdown.
David Gist (5-11, 190, Jr., RB) leads the Golden Eagles in rushing. He has carried the ball 116 times for 570 yards (4.9 ypc) and four touchdowns. His 81.4 yards per game on the ground accounts for more than 70 percent of TTU's 113 yards per game on the ground. Gist has also caught 23 passes for 159 yards and another score.
Quinton Cross (5-11, 175, RS-So., WR) leads the team in receiving with 31 catches for 399 yards and a pair of touchdowns.
Josh Reliford (5-10, 200, RS-Jr., DB) leads TTU with 54 (29 solo) tackles on defense, including four tackles for loss. Linebacker Seth Carlisle (6-0, 225, Jr.) who had nine tackles in last week's game, now has 44 (20 solo) tackles on the season and picked up his first interception on the season a week ago.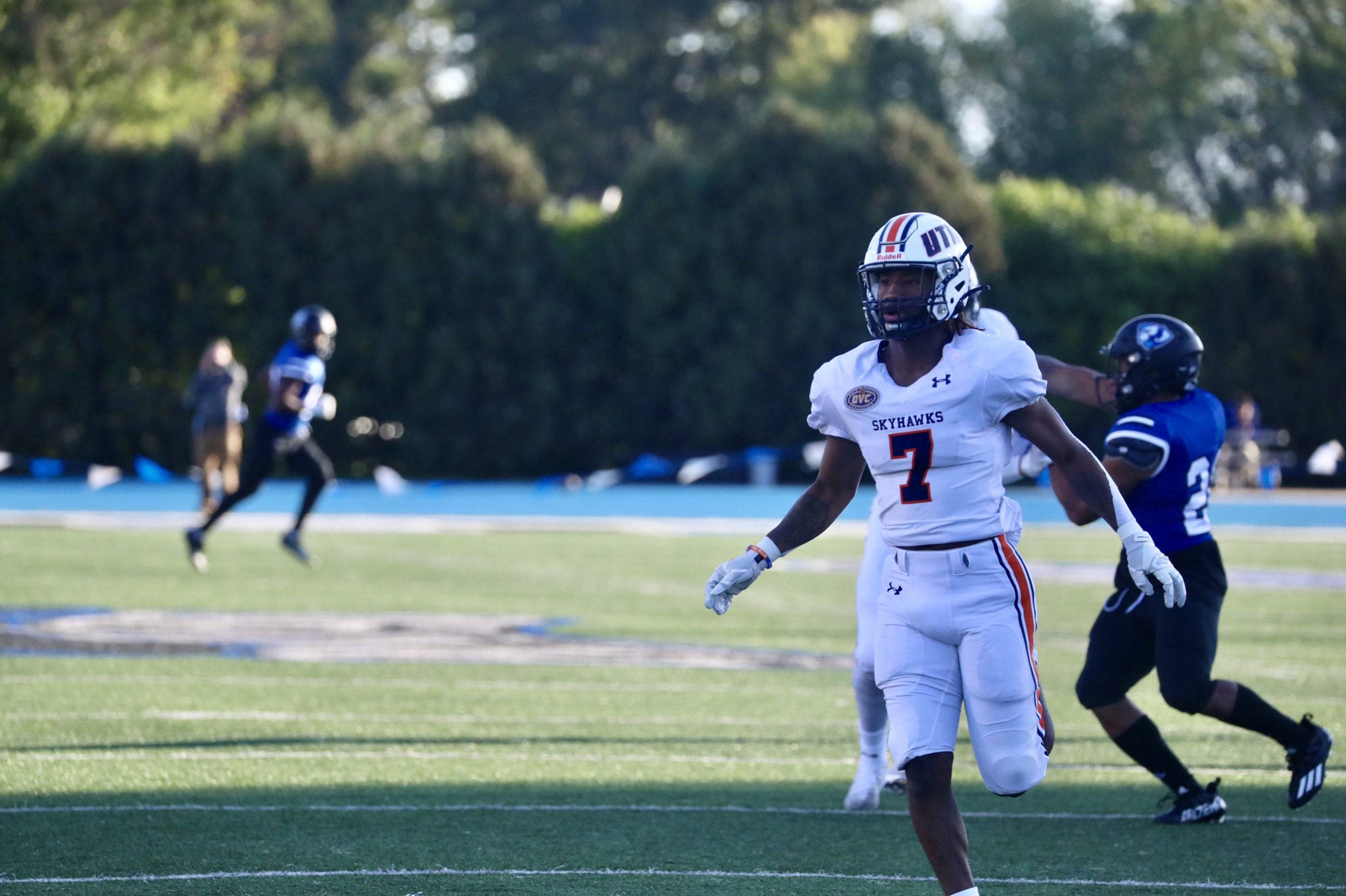 Southeast Missouri (2-1 OVC/2-5 Overall) at UT Martin (2-0 OVC/5-1 Overall)
When: Saturday, Oct. 23 (2 p.m. CT)
Where: Hardy Graham Stadium (7,500), Martin, Tenn.
TV/Streaming: ESPN+ (subscription req'd)
Radio: Real Rock 99.3 FM (Cape Girardeau), WCMT 1410 AM/100.5 FM (Martin)
First Meeting: 1966 (UTM 17, SEMO 14
All-Time Series: Series tied 18-18
Last Meeting: SEMO 21, UTM 16 (spring 2021)
Overview
The first of two meetings this season between SEMO and UTM has the potential to become one of the biggest games of the season. Although the game will not count in the OVC standings, the winner of the game will get a big dose of optimism heading into the homestretch of the conference season. The Redhawks will entertain the Skyhawks on Nov. 20 in the regular-season finale in Cape Girardeau in a game that will count toward the conference standings.
And it's a part of a series that is now tied with both schools claiming 18 wins in the previous 36 meetings. Each of the last two times, and four of the last six times. the two teams have clashed the outcome has been decided by one touchdown or less.
The Redhawks
Geno Hess (5-8, 209, Sr., RB) had a huge day last week in his team's last-second loss to Murray State by rushing for 176 yards and a pair of touchdowns to up his season totals to 762 yards on 137 carries (5.6 ypc) and 11 touchdowns. The leader in rushing touchdowns last season with 12, Hess is leading the nation this fall with 11 TDs already.
He ranks fourth national in rushing yards and his 108.9 yards per game in the eighth-most in the nation. He became the 10th player in SEMO history to surpass the 2,000-yard rushing plateau with his performance last week and now has 2,067 for his career with the Redhawks.
CJ Ogbonna (6-2, 215, Jr., QB), a transfer from Hutchinson Junior College, is also having a solid season. He has completed 60 of 126 passes for 691 yards and five touchdowns (5 interceptions) and has added 216 yards on 61 carries (3.5 ypc) and one additional score for the Redhawks.
SEMO has a bevy of players who have proven to be reliable when catching the football. Johnny King (6-4, 180, Sr., WR) is tied for the team lead with 14 receptions for a team-best 169 yards and two touchdowns. Teammate Zack Smith (5-9, 200, Grad., WR), who missed several games earlier this season because of an injury, also has 14 catches on the season and is right behind King with 158 yards and two scores. Smith has 11 receptions over the past two games for the Redhawks.
Terrell Jester (6-0, 190, So, WR), Aaron Alston (6-4, 210, Sr., WR) and Rashaan Palmer (6-4, 217, Jr., WR) have combined for 28 receptions and 418 yards for SEMO. Jester is leading that trio with 12 catches for 128 yards while Alston has caught nine passes for 160 yards and Palmer has chipped in with seven receptions for 130 yards. What is most impressive are the 17.8 and 18.6 yards, respectively, Alston and Palmer are averaging each time they catch the football.
Bryce Norman (6-0, 220, Fr., LB) had a team-high 10 tackles in last week's loss to Murray State. SEMO's top tackler in three of the last four games, Norman reached double-digits in tackles for the first time in his young collegiate career a week ago. He now has 41 (23 solo) tackles this season to lead the Redhawks. Seven of those stops have resulted in negative yardage for the opposition.
Brandon Mincey (6-0, 242, Sr., LB) ranks second on the team with 34 (15 solo) tackles. Including an impressive 7.5 tackles for loss, while Omardrick Douglas (6-3, 234, Grad., LB) is now far behind with 29 (11 solo) tackles of his own. Jacob Morrissey (6-0, 205, So.) is another member of SEMO's outstanding linebacking unit and has 27 (16 solo) tackles on the year. Douglas and Morrisey both have tallied two sacks on the season.
The Skyhawks
Over the next three weeks UT Martin is going to learn whether a home-field advantage truly exists in college football. Saturday's game against the visiting Redhawks will be the first of three straight games for the No.13-ranked Skyhawks on the familiar turf at Hardy Graham Stadium. The current national ranking is the highest UTM has been ranked since the 2006 season.
Keon Howard (6-1, 215, Grad,, QB) has stepped in after transferring from Tulane to spearhead the UTM offense this season. He has completed 97 of 159 passes for 1,188 yards and nine touchdowns and has tossed just one interception on the year. Howard has also added 319 rushing yards on 63 carries (5.1 ypc) and six more scores for the Skyhawks.
Peyton Logan (5-8, 190, Sr., RB) has proven to be one of the most versatile offensive weapons in the entire Ohio Valley Conference. He has rushed for a team-best 504 yards on 72 carries (7.0 ypc), but somehow has found the end zone just once so far on the ground. He has added 173 receiving yards after hauling in 14 passes and has tallied three TDs through the air.
Zak Wallace (6-0, 220, RS-Fr., RB) has chipped in with 347 yards rushing and scoring eight touchdowns. He is averaging a solid 4.8 yards per carry so far this season. He rushed for a career-high 125 yards and two touchdowns in the win over Eastern Illinois last weekend. His eight touchdowns ranked 11th in the nation heading into Saturday's game and five of those scores have come in the last two games.
Colton Dowell (6-3, 215, RS-Jr., WR) is the team's top pass receiver. He has 22 catches for 398 and a pair of scores. Teammate Zoe Roberts (5-11, 185, Fr., WR) has contributed 166 yards on 12 catches and three scores. Logan, Dowell and Roberts have combined for seven of UTM's nine TD receptions.
Deven Sims (6-2, 200, RS-Jr., FS) leads the Skyhawks with 42 (21 solo) tackles this season while linebackers John Ford (6-3, 230, Grad.) and D'Carrious Stephens (6-0, 225, Grad.) are not far behind. Ford has tallied 40 (20 solo) tackles, including 3.5 tackles for loss, while Stephens, who had six tackles and two pass breakups while returning a blocked punt for a touchdown last week against Eastern Illinois, was voted the OVC defensive player of the week earlier this week. He now has 32 (15 solo) tackles on the year. He has 3.5 TFLs to his credit along with one interception.
Austin Peay (0-1 OVC/2-4 Overall) at Murray State (0-1 OVC/3-3 Overall)
When: Saturday, Oct. 23 (2 p.m. CT)
Where: Roy Stewart Stadium (16,800), Murray, Kent.
TV/Streaming: ESPN3
Radio: ESPN 540 AM/104.1 FM (Clarksville), Froggy 103.7 FM (Murray)
First Meeting: MSU 38, APSU 13 (1953 in Clarksville)
All-Time Series: Murray State leads 36-18
Last Meeting: APSU 34, MSU 31 (spring 2021 in Clarksville)
Overview
Saturday's game between Austin Peay and Murray State will be the first of what could be the biggest game of the season for both the Governors and Racers if either are to remain in the hunt for the Ohio Valley Conference title and the league's automatic berth into the FCS playoffs.
The winner will get a much-needed boost of confidence with its first conference win of the season. To the loser goes at least another week in the cellar of the league standings while still in search of its first conference victory of the season.
The Governors
Austin Peay was garnering plenty of national attention earlier this season by starting the season with a 30-20 win over nationally ranked Chattanooga and an impressive 59-35 win over Morehead State and improving to 2-1 on the season following that win.
But the Govs have fallen from the national rankings by losing each of their last three games, including a 30-14 setback last week at home against Southeast Missouri.
Draylen Ellis (6-0, 175, So., QB) has cooled off in recent weeks after a torrid start to the 2021 season. He has completed 147 of his 242 pass attempts for 1,708 yards and 10 touchdowns through six games. He has also been intercepted eight times on the season for the pass-happy Governors. APSU is averaging 295.6 yard per game this season through the air and just 136.2 yards on the ground.
Ahmaad Tanner (6-0, 205, Grad., RB) is atop the team's rushing charts. He has carried the ball 87 times for 391 yards (4.5 ypc) and has scored four touchdowns to lead the team by a wide margin. His nearest teammate is CJ Evans (5-8, 180, So., RB) who has 126 yards on 22 carries (5.7 ypc) and just one touchdown.
The passing attack is also being led by a pair of receivers who any sort of solid numbers and have combined for more than half of the team's 11 aerial touchdowns. Baniko Hartley (6-0, 227, Grad., WR) is leading the team with 482 receiving yards on 27 catches (17.9 yards per catch) and five touchdowns. Teammate Drae McCray (5-8, 176, Fr., WR) has a team-high 28 catches for 371 yards and one touchdown.
Jack McDonald (6-0, 210, Grad., LB) is the team's leader on defense. He has 41 total tackles on the season, including 3.5 tackles for loss and four QB pressures, along with one interception.
Jonathan Edwards (6-2, 192, Grad., DB) has four interceptions already this season. He leads the OVC and is ranked third in the nation in that department. Terrell Allen (6-0, 275, So., DL) has record a team-leading 5.5 TFLs and eight hurries on the season.
The Racers
In a bit of a quirk in the scheduling, Murray State will be facing the Govs who are fresh off a bye week. The game is one of six the Racers will have this season against a league foe that was idle the week prior to facing MSU.
Murray State will also be looking to snap a four-game losing skid at the hands of the Govs when the two teams take the field on Saturday.
The Racers used a 16-point fourth quarter rally to overtake Southeast Missouri when Aaron Baum (6-2, 250, RS-Jr.) booted a field goal as time expired to give Murray State the win. It was MSU's largest comeback during Dean Hood's tenure as coach at the school and the biggest comeback since rallying from 31 points down to defeat SEMO 40-38 in 2018.
DJ Williams (6-2, 202, RS-Fr.) stepped in at quarterback for the Racers in his first collegiate start and responded by racking up 321 yards of total offense to lead the MSU attack last week. He passed for 240 yards and ran for 81 more yards and was responsible for three TDs in the game. He guided the Racers 57 yards in 1:02 with no timeouts to set up Baum's game-winning kick. Williams' efforts earned him the conference honors for co-offensive and co-newcomer of the week which was announced earlier this week.
Williams replaced former starter Preston Rice (6-2, 227, RS-Jr.) who has struggled much of the season and completed just 59 of 112 passes for 630 yards. He was held without a touchdown pass and was intercepted 10 times before the decision to start Williams.
Williams was not the lone key performer for the Racers in their win over the Redhawks. Malik Honeycutt (5-10, 177, RS-Sr., WR), the OVC specialist of the week, had a 52-yard punt return for a touchdown just after the start of the fourth quarter to begin the MSU comeback. His 19-yard punt return later in the period set up the final drive for Williams, Baum and the rest of the Racers.
Honeycutt leads the Racers with 226 receiving yards this season on 12 catches and is averaging 18.8 yards per catch.
He has a unique stat line during his time at Murray State. During his career he has accounted for 1,462 all-purpose yards and has 200 or more yards in three different categories. He has 883 receiving yards during his career while adding 375 punt return yards and 200 kickoff return yards.
Teammate LaMartez Brooks (6-1, 192, RS-Jr., WR) tops the team with 19 receptions that have covered 219 yards.
Damonta Witherspoon (5-10, 206, RS-Fr., RB) is the top ground gainer for Murray State this season. He has gained 425 yards on 110 carries (3.9 ypc) and has four touchdowns on the ground to his credit. He has added 144 yards through the air on 11 catches has one of just two scoring passes thrown by the Racers in 2021.
Eric Samuta (5-10, 215, RS-Jr., LB), Levi Metheny (6-0, 233, RS-Sr., LB) and Cortez Roberts (5-11, 198, RS-Jr., FS) continue to lead the MSU on defense as they have done all season. Samuta leads the team with 39 (12 solo) tackles, including 3.5 tackles for loss, while Metheny has 26 (14 solo) stops to his credit. Roberts, meanwhile, has accounted for 26 (16 solo) tackles so far this season.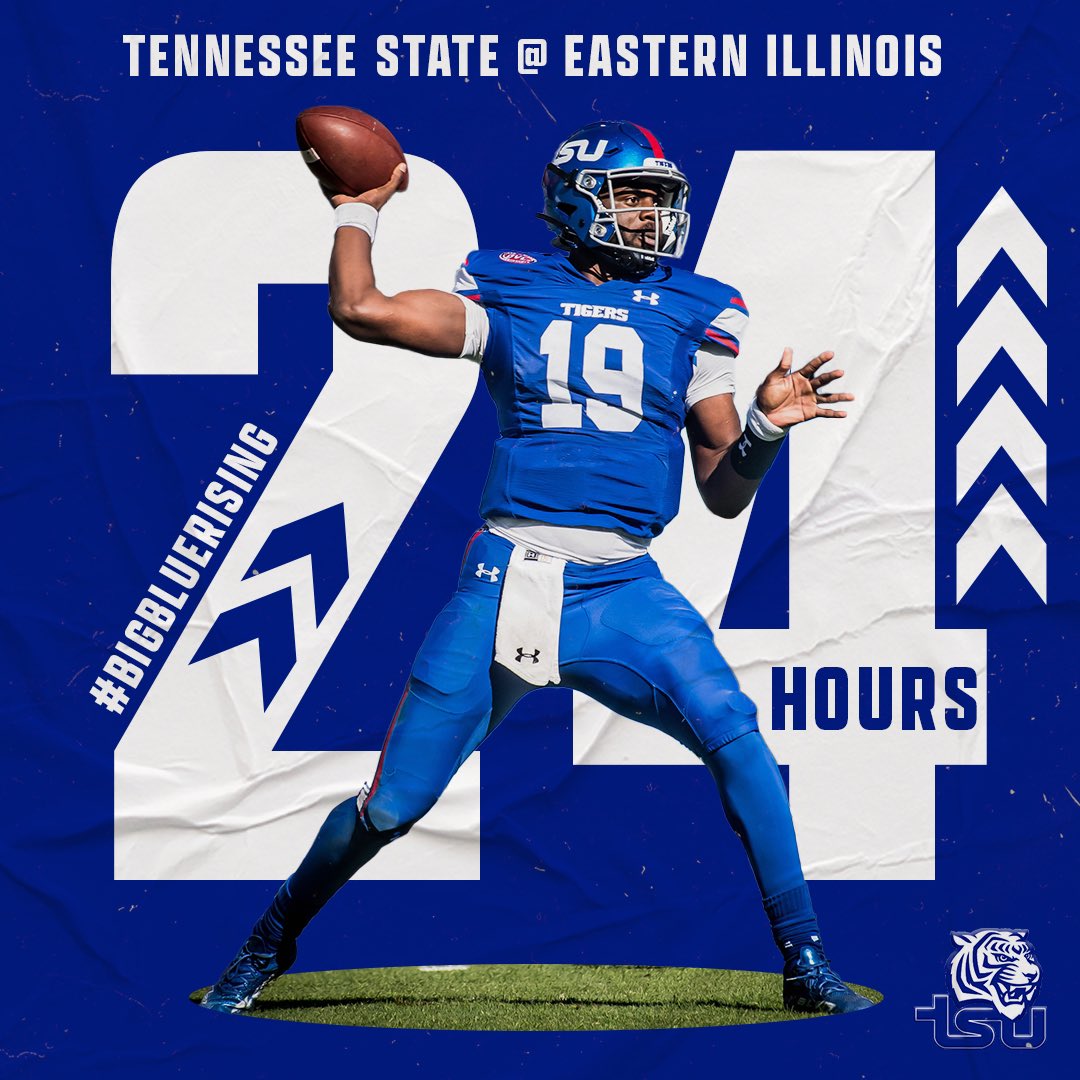 Tennessee State (1-1 OVC/3-3 Overall) at Eastern Illinois (1-1 OVC/1-6 Overall)
When: Saturday, Oct. 23 (2 p.m. CT)
Where: Charleston, Ill., O'Brien Field (10,000)
TV/Streaming: ESPN+ (subscription req'd)
Radio: 102.1 FM (Nashville), WEIU 88.9 FM (Charleston)
First Meeting: TSU 42, EIU 28 (2007)
All-Time Series: EIU leads 15-9-0
Last Meeting: TSU 21, EIU 20 (spring 2021)
Overview
Believe it or not, despite having six losses already on the season, Eastern Illinois still has a chance to finish atop the OVC standings and earn a berth in the FCS playoffs.
Visiting Tennessee State, which currently shares third place in the conference standings with the Panthers, will have plenty to say about that.
Whichever teams emerges on the right side of the scoreboard will keep pace with UT Martin to the league lead. UTM and Southeast Missouri, which sits second in the OVC, tangle in Martin in a game that will not count in the league standings.
The Tigers
Tennessee State is coming off a 20-13 win in overtime last week against Tennessee Tech as the Tigers improved to 3-3 on the season and win back-to-back games for the first time since defeating Bethune-Cookman and Eastern Illinois to open the 2018 season.
The Tennessee State offense is being led by quarterback Geremy Hickbottom (6-4, 210, Sr., QB) who completed 20 of 34 passes for 256 yards and two touchdowns in last week's win. He added 52 yards rushing on eight carries in the game to finish with 308 yards of total offense on the afternoon.
Hickbottom engineered a fourth-quarter drive that lifted his team from a 13-10 deficit to set up the game-tying field goal to help send the game to overtime. He passed for 56 yards and ran for 11 more on the drive that covered 81 yards in 12 plays.
Devon Starling (6-1, 200, So., RB) finished with a game-high 65 yards rushing on 15 carries in the game and added 58 yards through the air after catching four passes. Rodell Rahmaan (6-4, 230, Sr., TE) led the Tigers with 106 receiving yards, including one of his four receptions covering 56 yards in the game,
Cory Rahman (6-2, 195, Sr., S) had a huge day for TSU by compiling 11 (7 solo) tackles in the game and two key plays. The first big play came when he tackled a Tech player for a loss on a fourth-and-two at the TSU 29 early in the fourth quarter and set the Tigers for a touchdown just two plays later. He also intercepted a pass on the final play of overtime to preserve the win over the Golden Eagles.
Kicker Antonio Zita (5-9. 175, Jr., P/K) who booted the game-tying field goal to force the extra session, ended the day with a pair of 24-yard field goals. He now has 53 field goals in his career and stands third in OVC history in that department. He needs just six more to take over the conference lead in that category.
The Panthers
Eastern Illinois let a 17-7 lead late in the first half to dwindle to a 17-14 advantage early in the fourth quarter before letting the lead slip away by allowing a pair of fourth-quarter touchdowns in its loss to national-ranked UT Martin last weekend.
But, despite its 1-6 overall record, Eastern Illinois has been much improved compared to recent seasons and being competitive in most of its games this season.
Otto Kuhns (6-3, 205, Fr., QB) completed 13 passes last weekend for 145 yards and one touchdown for the Panthers. He now has completed 67 of 138 passes this season for 846 yards and five touchdowns. He has thrown just as many interceptions.
Four receivers have combined for 50 receptions and nearly 800 yards for Eastern Illinois this season. Aaron Foulkes (5-7, 165, Fr., WR) leads the team in receptions (17) and yards (246) while scoring one touchdown on the year. Teammate Robbie Lofton (6-3, 185, R-Sr., WR) is right behind with 15 receptions which have gone for 128 yards and a pair of scores. De'Airious Smith (5-11, 175, Sr., WR) has added 12 catches for 187 yards and Tyler Ringwood (6-2, 215, RS-Sr., WR) has chipped in with eight receptions for 133 yards for the Panthers.
Harrison Bey-Buie (5-10, 205, Fr., RB) rushed for 99 yards, 90 of which came in the first half, last week and has increased his season total to 348 yards on 86 carries (4.0 ypc) and a pair of touchdowns for EIU.
Eastern Illinois has five standouts on defense who are a big reason the Panthers are leading the OVC in pass defense (158.7 ypg) and sixth nationally in that department.
Jason Johnson (6-2, 200, So., CB) leads the team with 71 (42 solo) tackles already this season. Included in his total are 5.5 tackles for loss. Colin Bohanek (6-0, 210, Fr., LB) has tallied 55 (25 solo) tackles, including 6.5 TFLs, and Jordan Vincent (5-10, 185, Fr., S) has posted 40 (32 solo) tackles, including 3.5 stops for negative yardage.
Tim Varga (6-3, 240, So., DL) has registered 35 (24 solo) tackles and has 5.5 TFLs to his credit. Teammate Jordan Miles (6-2, 215, Fr., DE) has an impressive 9.5 tackles for loss already this season as a part of his 31 (17 solo) tackles.
Current OVC Standings
(thru games of Oct. 16)
1 – UT Martin 2-0 5-1
2 – SE Missouri 2-1 2-5
3 – Tennessee State 1-1 3-3
Eastern Illinois 1-1 1-6
5 – Tennessee Tech 1-2 2-5
6 – Murray State 0-1 3-3
7 – Austin Peay 0-1 2-4
Last Week's Results
(Oct. 16)
Murray State 32, SE Missouri 31
Tennessee State 20, Tennessee Tech 13 (OT)
UT Martin 28, Eastern Illinois 17
Next Week's Games
(Oct. 30)
Eastern Illinois at SE Missouri
Austin Peay at UT Martin
Murray State at Tennessee State
A native of Bismarck, N.D., Ray is a graduate of North Dakota State University where he began studying athletic training and served as a student trainer for several Bison teams including swimming, wrestling and baseball and was a trainer at the 1979 NCAA national track and field championship meet at the University of Illinois. Ray later worked in the sports information office at NDSU. Following his graduation from NDSU he spent five years in the sports information office at Missouri Western State University and one year in the sports information at Georgia Tech. He has nearly 40 years of writing experience as a sports editor at several newspapers and has received numerous awards for his writing over the years. A noted sports historian, Ray is currently an assistant editor at Amateur Wrestling News.