(To listen to Chuck's free Twitter Space/Podcast on the upcoming Lehigh 2022 football season, clicck here).
BETHLEHEM, PA – In every football preseason camp across the country, there's optimism before the season starts. Everyone is undefeated, all teams have to potential to win the championship, and all the ills of the prior year have all been "solved" – at least until the first actual game.
In Bethlehem this year, this generalized optimism hasn't escaped the Mountain Hawk football program and their fans.
But there is also something that feels different about this group than those of the last few years – a feeling that maybe, just maybe, the program is on the verge of turning a corner.
In years past, and especially in the short spring 2021 COVID season, the number of players in Lehigh football camp had been down as head coach Tom Gilmore made a multi-year effort to build back up the roster. Injuries to the offensive lines in the preseasons of 2019, spring 2021 and fall 2021 made it an adventure for the staff at times to even conduct full practices.
But attending a Lehigh spring scrimmage this August featured something different – a near-full roster of 90 players, including, for a chance, a balance of underclassmen and upperclassmen.
It has also meant that there's an excitement level for the Mountain Hawk fans has been coming from an area that sometimes casual fans forget about: the offensive line.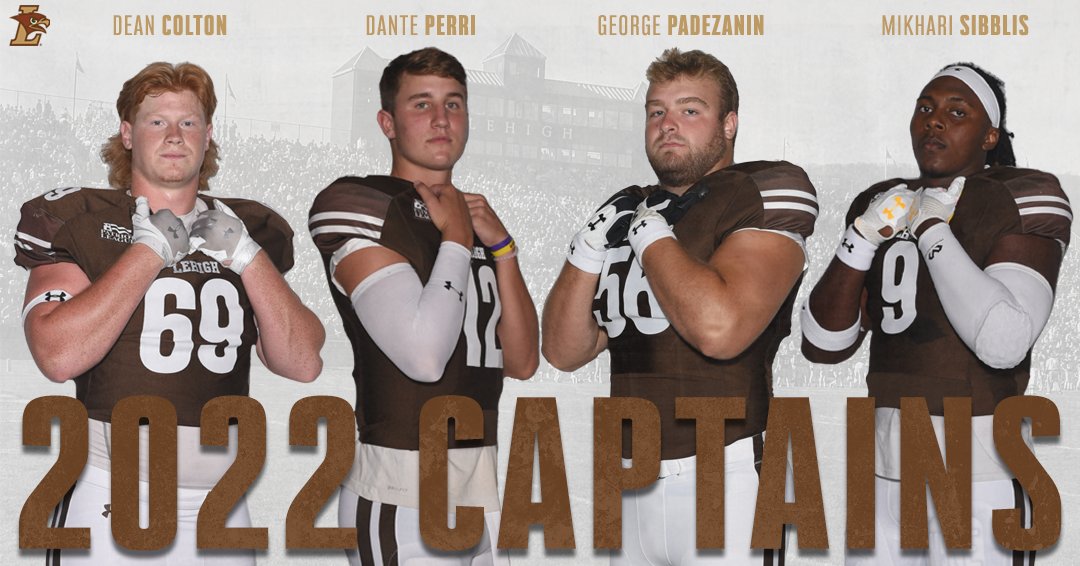 Putting Bricks In The Wall
"We've have more than two full groups on the offensive line," head coach Tom Gilmore told me. "Every other year, spring and fall, we've had to modify scrimmages due to depth on the offensive line. This August, we've had enough depth to conduct scrimmages and practices the way you normally would, and that's been great, because that's meant more reps for everyone."
You could argue last year that the genesis of much of Lehigh's struggles on offense early last year came from a young offensive line having to figure things out on the fly. Graduating senior OL Jack Fris started all 11 games at left tackle, but the only other graduating senior on the line, OL Justin Gurth, played six games on and off due to injury.
That provided a mountain of experience for junior OL Jackson Wiles, junior OL Charlie Aberle, and others, and that experience, along with a three game winning streak to end 2021, seem to have given Lehigh's offense a great boost going into the fall and the 2022 season.
"From the O-line, I just want those guys to play nasty," team captain junior OL George Padezanin said to Lehighsports.com. "Expectations are high. We want to be the best we can be. It's been good to finally be comfortable and attack it."
As any offensive lineman will tell you, it is the little things they do over the course of the year – lifting, preparation – that sets the stage for their success and failure on Saturdays, perhaps more than any other group on the field. Padezanin called it "camaraderie".
Going to a scrimmage this fall, the play of the offensive line really stood out, as RB Jack DiPietro, RB Gaige Garcia and RB Zaythan Hill were able to carve out some impressive runs behind that "brick wall", as QB Dante Perri called it.
"These are great guys, the toughest guys on the team," Gilmore told me. "You see it. They take a lot of pride in what they're doing out there, and they've been really toughing out those minor injuries because they don't want to leave their teammates shorthanded."
In fact, its easy to fall into the cliche "bigger, faster and stronger" when talking about the preseason, but it Lehigh's case it does honestly feel that way. Not only on the offensive line, but running backs DiPietro, Garcia and Hill seemed like they had an improved physicality that they didn't have as freshmen or sophomores.
"We're getting preached the same thing, play hard, play physical, play fast," DiPietro told me. "Putting more weight on just means I'm doing it at a higher level. It feels good. It's pretty much the same."
Dante's Inferno
There was little question this offseason that junior QB Dante Perri, who had to battle his way to earn the starting job in the middle of last fall, would be the starter going into the Villanova game, if healthy.
Dante was handed nothing in the spring and fall of 2021 and earned the respect of the fans and his teammates by the end of the season, leading the Mountain Hawks to three straight wins and a huge win over Lafayette, 17-10.
When he was selected as one of four team captains for the 2022 season, it frankly wasn't much of a surprise.
"It's a tremendous place to be, just because we have so many great leaders in our team and I feel like a lot of guys were able to take this captaincy and roll with it," Perri said on Patriot League media day. "Four of us were selected, and I and think we've been doing a good job, but we have lot of guys on our team now who could, you know, step in and just go as we are."
Perri isn't a guy who's going to throw the ball 50 times a game consistently, but he's a great game manager who got better and better as the season went along last year. And his top three targets from last year – WR Eric Johnson, WR Jalen Burbage, and WR Romelo Miner – all return, as well as 5th year senior TE Alex Snyder.
"We got a lot older at a lot of positions and with that comes experience," Perri said. "We were all up here, and guys took major roles in terms of leadership and taking things upon themselves and, putting in an active effort. I think last season we were kind of waiting around for things to happen, and waiting until things got bad to take action. And I think now we're kind of being preemptive and really attacking the summer, and realizing that this is a great opportunity."
Experienced D
In the scrimmage I watched, during a red zone drill, it was a very hot morning, near the end of practice. During the play, junior CB LaTreil Wimberly got a perfect jump on the ball, elevated, and made the red zone interception.
It was only one play of a long preseason, but it was a welcome scene.
One of the more underreported aspects of Lehigh's three-game win streak at the end of the season was how the defense gave up only 6, 9, and 10 points, respectively, to Bucknell, Georgetown, and Lafayette. The defense stood up in order to earn those wins.
But one aspect that has been a point of emphasis this preseason camp was forcing turnovers, something that the Mountain Hawk defense didn't do frequently enough last year. The unit only forced 11 turnovers, only averaging 1 a game.
"It's at that time, during overtime, where you have to step up, stand your ground, hold your ground and say 'this is for the game,'", LaTriel told me after the scrimmage. "That's from watching film and learning from coach. We went over that play a couple of times. That's just mental reps and locking in."
It's exciting to think that the Mountain Hawks return 10 of 11 starters from last season's defense, including 6th year senior LB Nate Norris, senior DE Mihkari Sibblis, senior S TyGee Leach and a litany of other defensive players.
Sibblis, a team captain, is a dynamic pass rusher who led the Mountain Hawks in sacks last year with 4 1/2. He, along with Leach and Wimberly, were members of the Patriot League preseason all-conference team.
"Having everybody return, only having five freshmen in our group, we're trusting each other more," Leach said. "I see everyone from top to bottom making a lot of plays. The seniors are stepping up even more. Iron sharpens iron."
The experience and maturity is great, but the depth that a mostly full preseason roster has provided seems to have made a noticeable difference in the conditioning and feel to the preseason camp as a whole. Still, nobody is under any illusions that a lot needs to improve from a 3-8 season last year.
"We've performed well in the majority of situations on defense, but we've had some breakdowns," Gilmore said. "Consistency is really the key to our success this year. I know we're more than capable, we have the talent and the experience now on defense, we just have to be consistent, especially in one regard – not giving up the big play. If we can force other teams to drive the length of the field, we have the people to stop them."
It Starts With Villanova on Friday
Like the past few years, Lehigh's early season schedule will do them no favors.
The Mountain Hawks kick off the season traveling to the No. 6 team in the country, Villanova, to start the season, followed by an absolutely critical conference game at Georgetown the following week.
Then it's No. 24 Richmond at home for Parents' weekend (and the home opener), followed by two other teams receiving votes in the Preseason STATS Top 25 Poll – Ivy League championship contender Princeton, and longtime Lehigh nemesis Monmouth.
Playing three CAA teams and an Ivy League title contender in the span of five weeks will be a daunting task.
But this clearly isn't the same team that entered the fall of 2021 banged up and in disarray. All I know is that this team will be much different than that of last year. How different remains to be seen.
Lehigh – 2022 Season
TV/Streaming:
FLO Football
TV/Streaming:
ESPN+/Lafayette Sports Network/SE2