CSJ's Predicted Order of Finish
1. North Dakota State
2. South Dakota State
3. Missouri State
4. Southern Illinois
5. Northern Iowa
6. South Dakota
7. North Dakota
8. Illinois State
9. Indiana State
10. Youngstown State
11. Western Illinois
2021 (Fall) MVFC NCAA Division I FCS Playoff Results
First Round
UT Martin 32 Missouri State 31
South Dakota State 58 UC Davis 24
Southern Illinois 22 South Dakota 10
Eastern Washington 19 Northern Iowa 9
Second Round
#2 North Dakota State 38 Southern Illinois 7
South Dakota State 24 #4 Sacramento State 19
Northern Iowa 13 #7 South Dakota State 10
Quarterfinals
#2 North Dakota State 27 East Tennessee State 3
South Dakota State 35 #5 Villanova 21
Semifinals
#2 North Dakota State 20 #3 James Madison 14
#8 Montana State 31 South Dakota State 17
National Championship
#2 North Dakota State 38 #8 Montana State 10
The 2021 year was like no other in the history of college football for the FCS level. The division actually played two seasons in the calendar year–there was a spring champion and a fall champion. The fall champion was one that is used to winning the title in North Dakota State. The Bison lost in the playoff quarterfinals in the spring season to eventual national titlist Sam Houston but used that spring season as experience for their ninth national title in the last 11 years.
The league will remain at 11 members for this year but will grow to 12 next season as Murray State, which joined the Missouri Valley Conference for its other sports this year but will play one last season in the Ohio Valley Conference for football this fall before joining the MVFC.
NDSU will be the frontrunner to win the league again but will face some tough challenges from the 2021 spring national runner-up South Dakota State, as well as Missouri State, Southern Illinois, and Northern Iowa.
This league looks poised to have at least five FCS playoff teams again this year and could be up to six if the cards fall right just like it did a season ago.
FBS GAMES
Here is the list of all the FBS games for the MVFC this fall. All MVFC teams this year will each play one game against a FBS opponent.
Sept. 3 – South Dakota State at Iowa
Sept. 3 – Northern Iowa at Air Force
Sept. 3 – North Dakota at Nebraska
Sept. 3 – South Dakota at Kansas State
Sept. 3 – Illinois State at Wisconsin
Sept. 10 – Western Illinois at Minnesota
Sept. 10 – Indiana State at Purdue
Sept. 17 – Youngstown State at Kentucky
Sept. 17 – Southern Illinois at Northwestern
Sept. 17 – Missouri State at Arkansas
Sept. 17 – North Dakota State at Arizona
Top Non-Conference Games (FCS opponents)
Sept. 1 – Missouri State at Central Arkansas
Sept. 3 – Southern Illinois at Incarnate Word
Sept. 8 – UT Martin at Missouri State
Sept. 10 – South Dakota at Montana
Sept. 10 – North Carolina A&T at North Dakota State
Sept. 10 – UC Davis at South Dakota State
Sept. 17 – Montana at Indiana State
Sept. 17 – Cal Poly at South Dakota
Sept. 17 – Southern Utah at Western Illinois
Sept. 17 – North Dakota at Northern Arizona
Sept. 17 – Sacramento State at Northern Iowa
Sept. 17 – Eastern Illinois at Illinois State
Oct. 29 – Abilene Christian at North Dakota
Top Conference Games
With eleven schools in the league, this means that two opponents for each team will not meet in the regular season. For example, NDSU will not play Northern Iowa and Missouri State and SDSU will not play Southern Illinois and Youngstown State. Below are my weekly top games per week going into the season.
Sept. 10 – Northern Iowa at North Dakota
Sept. 24 – South Dakota State at Missouri State
Oct. 1 – Southern Illinois at Illinois State
Oct. 8 – Southern Illinois at Missouri State
Oct. 15 – South Dakota State at North Dakota State
Oct. 22 – Missouri State at Northern Iowa
Oct. 29 – Northern Iowa at Southern Illinois
Nov. 5 – South Dakota State at Northern Iowa
Nov. 12 – North Dakota State at Southern Illinois
Nov. 19 – North Dakota at North Dakota State
Here is the countdown my MVFC teams' predictions:
11. Western Illinois Leathernecks
Coach: Myers Hendrickson (First Season, 0-0 @ WIU 31-5 overall)
Offensive Coordinator: None
Defensive Coordinator: Todd Drury
Stadium: Hanson Field (16,368 capacity)
Location: Macomb, Illinois
2021 Record: 2-9 (1-7 MVFC)
Western Illinois is coming off a 2-9 campaign and is breaking in a brand new coaching staff after WIU let prior coach Jared Elliot, who over his tenure only had a 9-30 record overall. Coach Myers Hendrickson was hired and comes back to a familiar home in Macomb where he was a WIU star WR/PR from 2009-2011. Hendrickson is back at WIU after previously being the head coach at NAIA Kansas Wesleyan University, where led the team to an overall record of 30-4. Over that span, he guided KWU to two Kansas Collegiate Athletic Conference championship titles in 2019 and 2021 and NAIA playoff quarterfinal appearances after both of those seasons.
On the field, WIU does not boast a lot of All-MVFC talent returning and will need to replace two top players that garnered All-American honors from various publications in S Darius Joiner and WR Dennis Houston.
The quarterback position looks to be a battle between Henry Ogala and Nick Davenport. Ogala has started in the past but sat out all of the 2021 season but started all of the 2018 season as a freshman where Davenport has not taken a snap in college but showed some promise in spring practices.
The running back looks to be versatile Ludovick Choquette, who has shown he can do things both in the running and passing game in the past. He had 145 rushing yards and totaled 48 catches, 390 yards, and five touchdowns threw the air a season ago.
The defensive side looks to be led by LB Juan De La Cruz who emerged as a play maker late last year. He . posted eight and nine tackles in back-to-back home contests against Illinois State late last year. The junior will be look to be the leader on this young squad.
The kicking game should be just fine with PK Mason Laramie where he showed his range with a 50-yard FG last year and also was keen under pressure as he kicked the game winner against Youngstown Statet in one of the two MVFC wins WIU had.
Western Illinois – 2022 Season
TV/Streaming:
ESPN+/Marquee
10. Youngstown State Penguins
Coach: Doug Phillips (Third Season, 4-13 @ YSU & overall)
Offensive Coordinator: Troy Rothenbuhler
Defensive Coordinator: Joe Schaefer
Stadium: Stambaugh Stadium (20,630 capacity)
Location: Youngstown, Ohio
2021 Record: 3-7 (2-6 MVFC)
Youngstown State has not sustained the height of success it had in the 1990s and early 2000s when YSU won two national titles and had another two title appearances. The Penguins have not qualified for the FCS playoffs since losing the 2016 national championship game under Bo Pelini and he left following the 2019 season. YSU finished just 3-7 under Doug Phillips in 2021 and will look to grow the Penguins back into the playoff caliber team it historically has been now in his third season at the helm.
The Penguins improved from the spring last year to the fall season with three wins last fall versus just a single win in the spring. To go even further though, the Penguins need to likely get a little better play overall especially in the passing game.
The running game has been great with All-MVFC RB Jaleel McLaughlin leading the way. He rushed for 1,139 yard in 10 contests and scored 12 touchdowns a year ago and his 113.9 yards per game average ranked fourth in the FCS in 2021.
The Penguins do have MVFC Freshman of the Year QB Demeatric Crenshaw back under center this year for his sophomore season. Crenshaw was more of the running signal caller a year ago as he threw for just 791 yards and six touchdowns but showed he can use his feet in rushing for 599 yards and seven scores. The better threat as a passer will be needed to keep opposing defenses honest.
Crenshaw will miss a key receiving target in TE Andrew Ogletree, who was drafted by the NFL's Indianapolis Colts but he does have WR Bryce Oliver (24 catches, team high 8 TDs) back to be his main receiving threat.
The Penguin offensive line is entirely back from a year ago and led by All-MVFC OG/OT Jaison Williams.
The Penguin defense is another area that will need to improve as YSU gave up over 35 points per game a season ago. There is plenty of talent though that came from the transfer ranks. An All-MVFC performer in LB Greg Benton Jr. comes to Youngstown after transferring from Western Illinois. He and returning starter Griffin Hoak should head the linebackers this season.
The defensive line should also be a strength with James Jackson and Dylan Wudke leading the way upfront. The secondary also has an up and coming performer in S Troy Jakubec to head this group, along with FBS Ohio State transfer S Marcus Hooker.
Youngstown State – 2022 Season
9. Indiana State Sycamores
Coach: Curt Mallory (Fifth Season, 17-28 @ ISU & overall)
Offensive Coordinator: Mike Bath
Defensive Coordinator: Brad Wilson
Stadium: Memorial Stadium (12,764 capacity)
Location: Terre Haute, Indiana
2021 Record: 5-6 (3-5 MVFC)
Indiana State went a respectable 5-6 last year after not playing in the spring 2021 season because of the COVID-19 pandemic. The Sycamores basically won the games against the lower half but could not break through in the upper half of the MVFC last year. ISU wen 0-5 against the playoff teams from the Valley last year. This included blowout losses to NDSU (44-2) and SDSU (44-0).
Overall. Indiana State's offense was a big reason it did not get over the five win total a season ago. They averaged just 15.9 points per game and they did not even hit 2,000 yards passing as a team. They averaged just 291 yards per game and they need a new starting quarterback, as starter Anthony Thompson is gone.
The new quarterback likely for the Sycamores this year will be redshirt freshman Cade Chambers, who saw limited playing time in two games last year. But the bigger news is a high school teammate (from Marysville, Tenn.) in RB Tee Hodge coming to Terre Haute from FBS Tennessee, where he say limited playing time in his freshman season a year ago. The pair though won a two state titles with Maryville and the Sycamores hope they can duplicate that kind of effort in MVFC play.
Hodge though will have some competition at RB with another redshirt freshman in Omarion Dixon, who played in three games for ISU last year but did not record any statistics.
The lone experienced skilled offensive player will be WR Dante Hendrix, who finished the 2021 season with a team-high 42 catches and 447 yards, while adding three touchdowns. Another receiver in WR Harry Van Dyke is another FBS transfer from Minnesota. He played in all 11 games last season for the Gophers, but only had one catch for 15 yards but should give the Sycamores another key treat opposite of Hendrix.
Michael Haupert, who is listed as a QB on the roster is a wild card player for ISU. He plays as a wildcat QB and is the primary return man on special teams. He can line up all over the field and is one of those guys they want to get the ball in his hands and will play at receiver at times as well.
The Sycamore offensive line has some good size in Jose Vazquez IV, Carter Herrin, and Joel Stevens as returning starters and will likely be the keys to a young group of skill players on this offense.
The Indiana State defense gave up over 30 points per game last year, and they lose may of their top defenders aside from LB Geoffrey Brown and DE Kris Reid.
Brown though is a key returning player coming into his sophomore season this year as he lead the team in tackles (61), and also added 8.5 of those for a loss. Reid was the top Sycamore defender for sacks as he led the team with four last year. He will likely be a defensive leader as a fifth-year senior.
Indiana State – 2022 Season
Memorial Stadium (Indiana State)
Memorial Stadium (Indiana State)
Memorial Stadium (Indiana State)
Memorial Stadium (Indiana State)
Memorial Stadium (Indiana State)
Memorial Stadium (Indiana State)
8. Illinois State Redbirds
Coach: Brock Spack (14th Season, 89-60 @ ISU & overall)
Offensive Coordinator: Tony Peterson
Defensive Coordinator: Travis Niekamp
Stadium: Hancock Stadium (13,391 capacity)
Location: Normal, Illinois
2021 Record: 4-7 (2-6 MVFC)
The Redbirds have had a history of success but the 2021 season was a roller coaster ride to put it mildly. ISU started off winning two of its first three games with the loss coming to FBS Western Michigan. But the Redbirds lost three straight in MVFC to playoff teams (SIU, MSU, & NDSU) but then spattered wins over MVFC playoff teams in South Dakota and Northern Iowa but lost to non-playoff teams in Western Illinois, Indiana State and North Dakota.
The Redbirds showed last year that it can compete and defeat caliber teams but showed that inconsistency in the losses. This year's team is very experienced and very well could turn some of those losses into wins.
ISU offensively returns their leading rusher, leading passer and three of their top four leading receivers from last season. However, former FBS Minnesota QB, Zach Annexstad likely will be the starter this fall in Normal and displace Jackson Waring as the starter. The transfer signal caller was named the Offensive Newcomer of the Year by the coaching staff after spring practices and very well could upgrade that position this fall for the Redbirds.
The new signal caller should have an experienced offensive line with five players that started last year back including OC Drew Bones.
RB Cole Mueller, who had a solid season last year after rushing for 977 yards and six scores. If Annexstad makes the aerial attack, at a minimum, a viable threat, Mueller should only improve on these numbers.
The Redbird defense was stout last season in giving up just over 22 points per game and return a veteran linebacking corps, which includes two of their top three tacklers from last year in Zeke Vandenburgh and Kenton Wilhoit. Vandenburgh had 73 tackles and four sacks, while Wilhoit had 67 tackles and 4.5 TFLs.
Upfront, ISU should have two seniors in Braydon Deming and Jason Lewan to cause havoc in both the running and passing games. The secondary did lose some starters but returning starter Braden Price (34 tackles, 2 TFL) as well as Central Arkansas transfer Deandre Lamont, who has five INTs in this career could help with those losses.
Illinois State – 2022 Season
Memorial Stadium (Indiana State)
TV/Streaming:
ESPN+/Marquee
7. North Dakota Fighting Hawks
Coach: Bubba Schweigert (Seventh Season, 37-32 @ UND, 59-52 overall)
Offensive Coordinator: Danny Freund
Defensive Coordinator: Brett Holinka
Stadium: Alerus Center (12,283 capacity)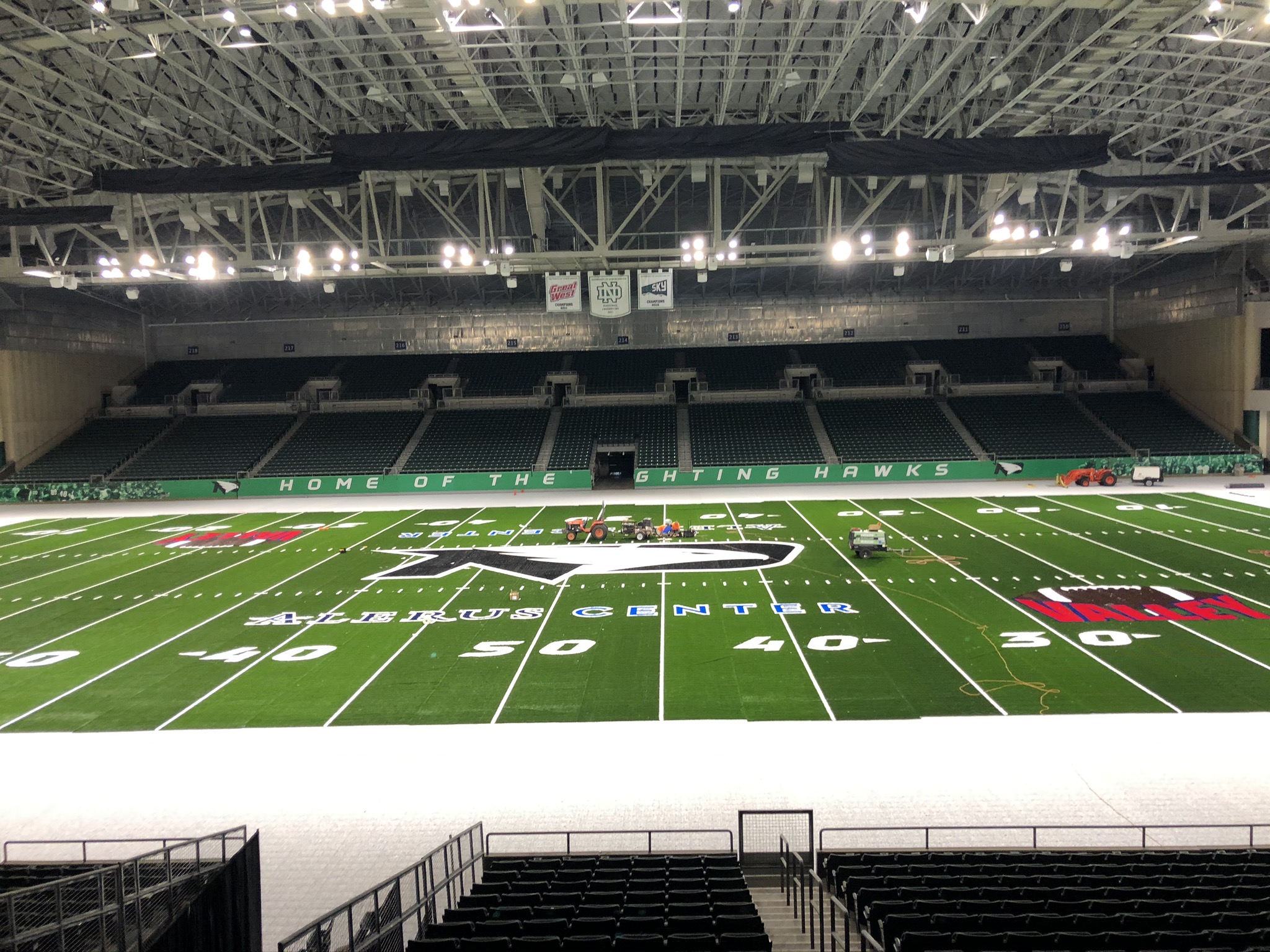 Location: Grand Forks, North Dakota
2021 Record: 5-6 (3-5 MVFC)
North Dakota is coming off a 5-6 season, which was UND's first losing season since 2017. This year, the team has 12 returning starters (eight on offense) so the Fighting Hawks will look to get back to a playoff spot like it did in the spring 2021 season.
As mentioned, the offense should have a wealth of experience and is headed by QB Tommy Schuster, who is a two-year starter in Grand Forks. He completed 65% of his passes last season for 2,493 yards and 13 touchdowns with six interceptions.
He will have a number of targets that he saw last year to again find this year. WR Bo Belquist led the Hawks with 52 catches for 535 yards and five touchdowns last season. TE Adam Zavaleny had 20 catches for 303 yards and four touchdowns. WR Garett Maag is a three year starter who caught 21 passes for 266 yards and two touchdowns.
The offensive line will have two key players in Donny Ventrelli and Easton Kilty to protect the passing game and to open up running room for RB Luke Skokna. Skokna was a back-up in the backfield last year but still rushed for 221 yards and a score. However, Skokna might be a bigger weapon in the kick returning game where he averaged 24.8 yards per return.
The UND defense ranked 22nd in scoring defense (allowing 20.27 pts./game) and 30th in total defense (336 yds/game) a year ago but will need to replace several starters this season.
NT Jalen Morrison (6'2' 290 lbs.) is a three-year starter along with fellow senior DE Jaelen Johnson to head the line in the Fighting Hawks 3-4 alignment. Both Morrison and Johnson had their 2021 seasons shortened by injury but were back for spring football. Fellow DE Ben McNaboe (19 tackles, 2 TFL, 1 INT) came in for the inquired Johnson last year and should be the other side of the line this year after he started the last five games for UND in 2021.
MLB Devon Krzanowski has led the Hawks the last two seasons in tackles, earning him second team All-MVFC honors in the spring 2021 season and honorable mention honors last fall. He will have to be the leader in this defensive area as the other three linebackers are gone.
Only CB C.J. Siegel returns in the secondary this year as a starter. Siegel has 78 tackles, three interceptions and 15 pass breakups in his career. S Jayson Coley has been a key reserve and spot starter in his North Dakota career and will likely fit in a full-time starting spot this year.
North Dakota – 2022 Season
Memorial Stadium (Nebraska)
Memorial Stadium (Indiana State)
TV/Streaming:
ESPN+/ABC North Dakota/Midco2
6. South Dakota Coyotes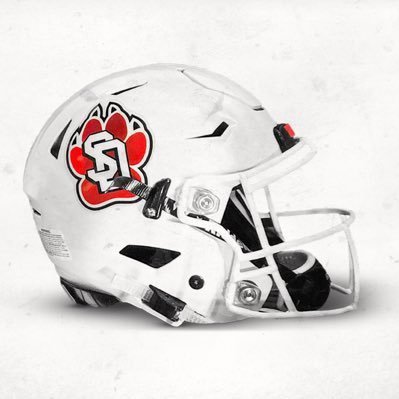 Coach: Bob Nielson (Seventh Season, 29-34 @ USD, 215-114-1 overall)
Offensive Coordinator: Ted Schlafke
Defensive Coordinator: Travis Johansen
Stadium: DakotaDome (9,100 capacity)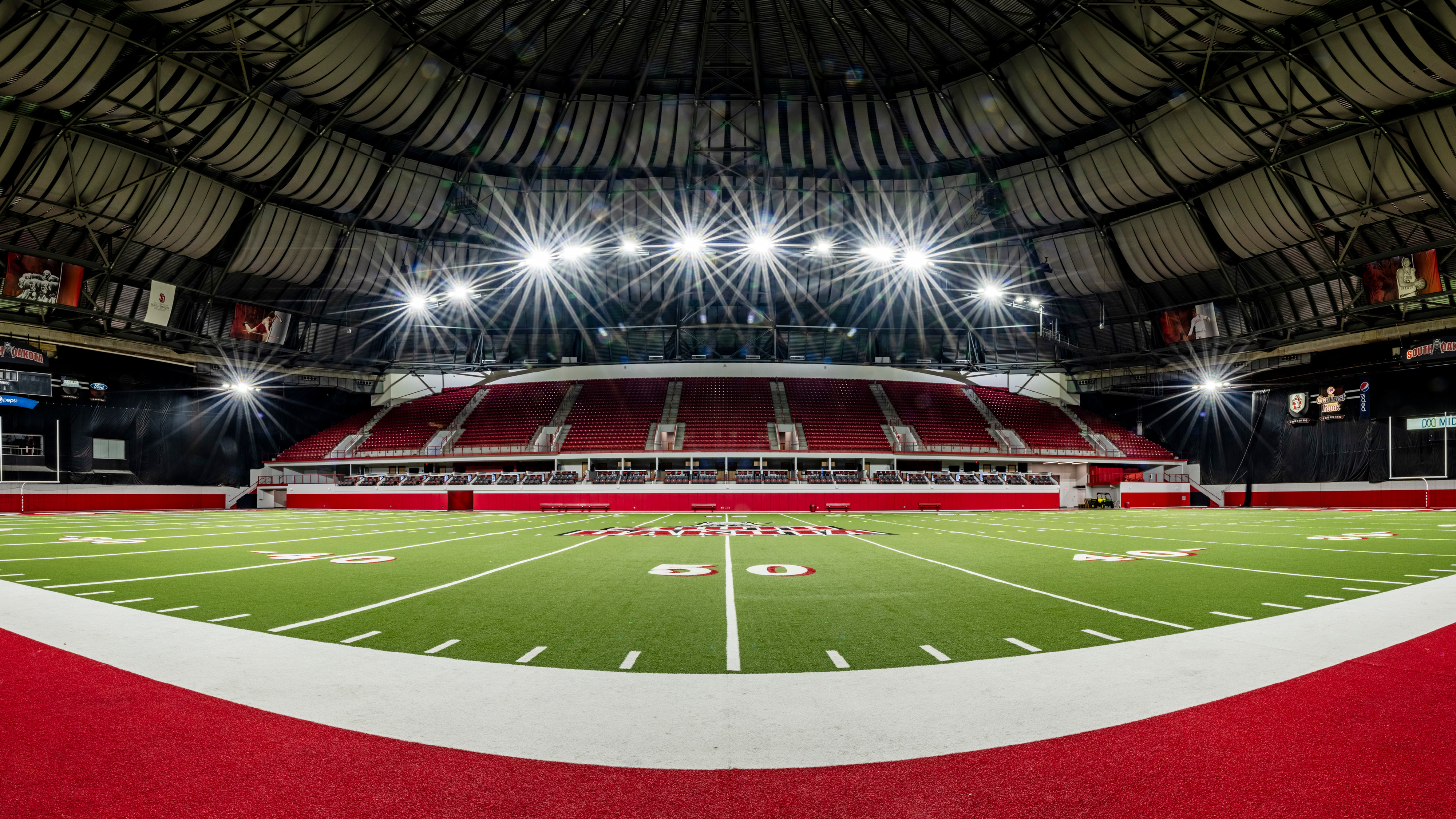 Location: Vermillion, South Dakota
2021 Record: 7-5 (5-3 MVFC)
South Dakota made the FCS playoffs for the second time in its Division I history and hosted a playoff game for the first time at home. Unfortunately, the Coyotes would lose that playoff game to MVFC rival Southern Illinois. But the Coyotes seven win season was a sharp uptick from the 2021 spring season where USD only won once in four games played.
For this season, USD lost just 12 seniors from last year's team, though 9 of those were starters a year ago for the Coyotes.
QB Carson Camp is back under center for the 3rd consecutive season after throwing for 2,252 yards and 17 TDs. He will have some new targets to throw to as both WRs Caleb Vander Esch and Brett Samson graduated. However, he will still have WR Carter Bell back after he led the Coyotes in receiving a year ago with 41 catches for 673 yards and five touchdowns. Bell is also a threat on punt returns as he returned a punt a year ago for a score.
USD returns its entire offensive line headed by All-MVFC OT Alex Jensen so this will again be a strength for the offense. They will also be opening up holes for All-MVFC Newcomer RB Nate Thomas, who led the Coyotes in rushing last year with 717 yards and ranked sixth in the Valley with 71.7 yards per game.
The Coyote defense thought has some losses to fill as it lost two starters on the defensive line, two starting linebackers and a starting safety. But not all is lost as All-MVFC LB Brock Mogensen is back after he was the team's second-leading tackler with 86 tackles.
The defensive line will see All-MVFC Freshman team member in DE Nick Gaes return after he led the conference with seven solo sacks in Valley play and totaled 10 tackles-for-loss in 2021.
The secondary has three starters back and should be headed by 2021 All-MVFC Newcomer S Josiah Ganues, who started the first 10 games last year before being sidelined by injury in the final two contests. Overall, he tallied 31 tackles and had a key fumble recovery in a USD victory last year against WIU.
South Dakota – 2022 Season
Bill Snyder Family Stadium
Washington-Grizzly Stadium
TV/Streaming:
ESPN+/Midco
5. Northern Iowa Panthers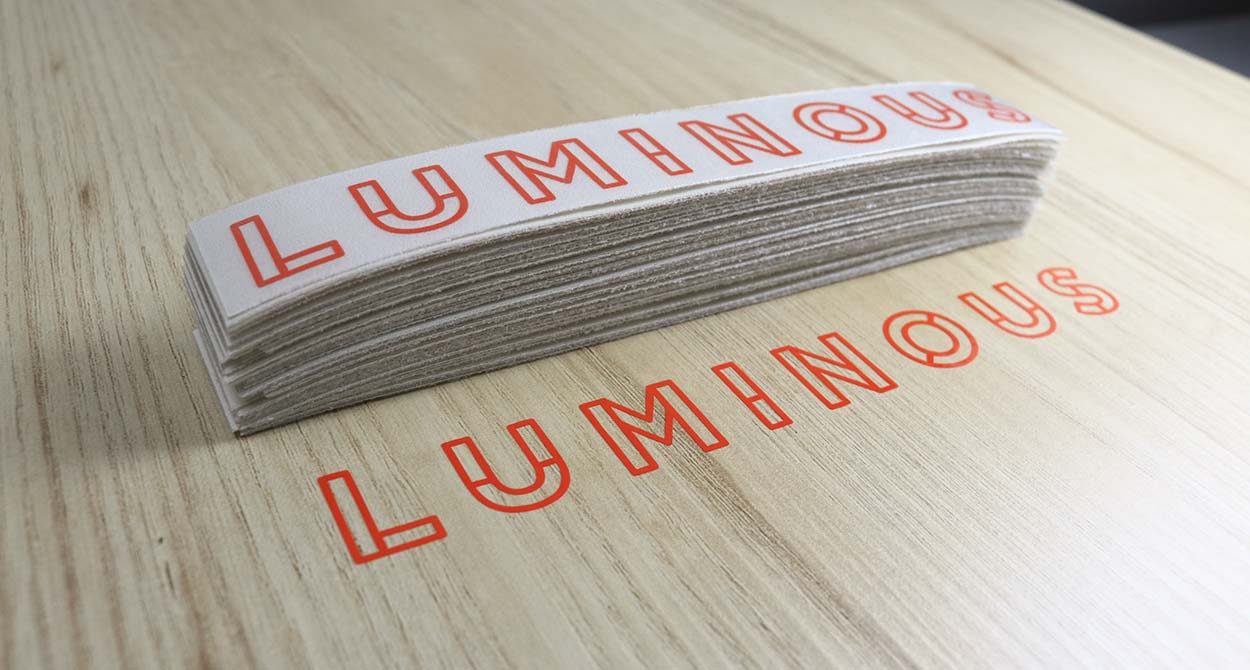 Coach: Mark Farley (22nd Season, 167-92 @ UNI & overall)
Offensive Coordinator: Ryan Clanton
Defensive Coordinator: Randall McCray
Stadium: UNI Dome (13,391 capacity)
Location: Cedar Falls, Iowa
2021 Record: 6-6 (4-4 MVFC)
Northern Iowa was considered the last team in the FCS playoffs a year ago and the Panthers got a road trip to Eastern Washington in the first round. UNI would fall 19-9 in that contest but the season still resulted in the program's 22nd overall playoff season–second most only to Montana all-time at the FCS level.
To get back to the playoffs again this season, UNI does avoid playing NDSU this year in the MVFC schedule rotation so the Panthers will have a slightly easier schedule than they did last year and will have 21 starters back this fall.
The top loss though has to be OT Trevor Penning, who was UNI's first ever NFL Draft First Round selection when he was selected by the New Orleans Saints. But all four other starters are back this fall on the line and should be headlined by OC Erik Sorensen.
That line should be a strength and help All-MVFC Newcomer Team QB Theo Day, who threw for 2,316 yards and 16 scores. Day, though is battling for the QB spot this fall yet with some younger signal callers waiting for the reigns.
Whichever QB that throws passes, he will have eight of the top 10 receivers back from a year ago and will be headlined by WR Quan Hampton, who led the team in receiving with 430 yards before a season-ending injury last fall. He had 39 receptions and two touchdowns and was also a threat in both punt and kick returning.
RB Dom Williams led the Panthers in all-purpose yards a year ago and in rushing with an average of more than 60 yards a game. He joins running back veteran Vance McShane and Terrance Kamara.
While the offense sees a number of key returnees, the Panther defense also has a good number of key players back. The 2021 defense was really the better side of the ball a year ago and again should be strong in 2022. The key was generating turnovers–something UNI was fourth in the FCS in turnovers gained with 27.
DE Caden Houghtelling finished last fall ranked third in the nation and second in the MVFC for fumbles recovered with three. He will be joined on the line by Khristian Boyd, Jack Kriebs, Devin Rice, Reed Snitker and Sean Wendel, who all got playing time last year.
Returning LB Spencer Cuvelier was right behind Houghtelling with two fumbles recovered. Last fall, Cuvelier was third among Panthers for total tackles, despite missing part of the season for injury.
The secondary is headed CB Benny Sapp III, who was the interception leader for the team with four picks. He is joined by fellow seniors Korby Sander and Jevon Brekke in a loaded secondary.
The kicking game should be great again for the Panthers especially playing close games. All-American PK Matthew Cook is back after ranking seventh in the nation for field goals per game with 1.58. He also showed his range as the only FCS kicker to get two field goals over 50 yards.
Northern Iowa – 2022 Season
TV/Streaming:
ESPN+/Midco
4. Southern Illinois Salukis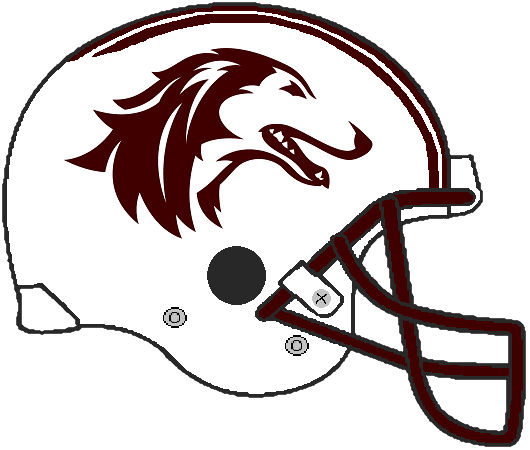 Coach: Nick Hill (Seventh Season, 31-37 @ SIU & overall)
Offensive Coordinator: Blake Rolan
Defensive Coordinator: Jason Petrino
Stadium: Saluki Stadium (15,000 capacity)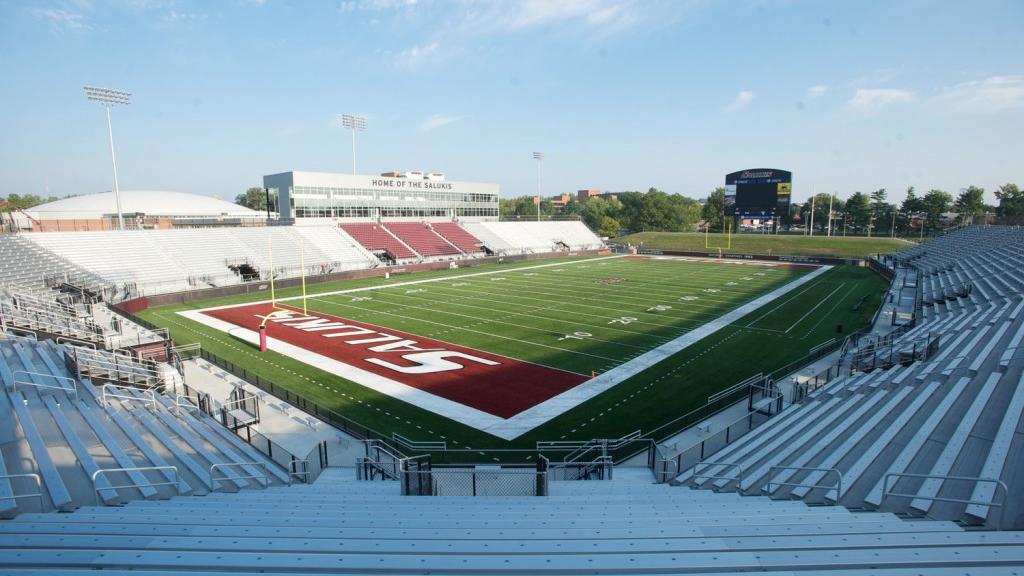 Location: Carbondale, Illinois
2021 Record: 8-5 (6-3 MVFC)
Southern Illinois qualified for the playoffs for the two seasons played in 2021 and won a game in each season before falling to MVFC foes in both playoffs (SDSU-spring, NDSU-fall). SIU will look to again get to the postseason this year and returns nine starters on offense and five starters on defense.
Starting QB Nic Baker returns and is coming off a break-out season in which he set the school record for passing yards (3,231) and had the second-most passing TDs (27) in school history. He will have a number of key skill position players around him including WR Avante Cox, AP Javon Williams Jr., and FB Jacob Garrett having garnered All-MVFC honors.
Cox missed three games to injury last year but still totaled 43 catches for 739 yards and 5 TDs with one of those scores being a school record 99-yarder versus out-of-conference rival Southeast Missouri.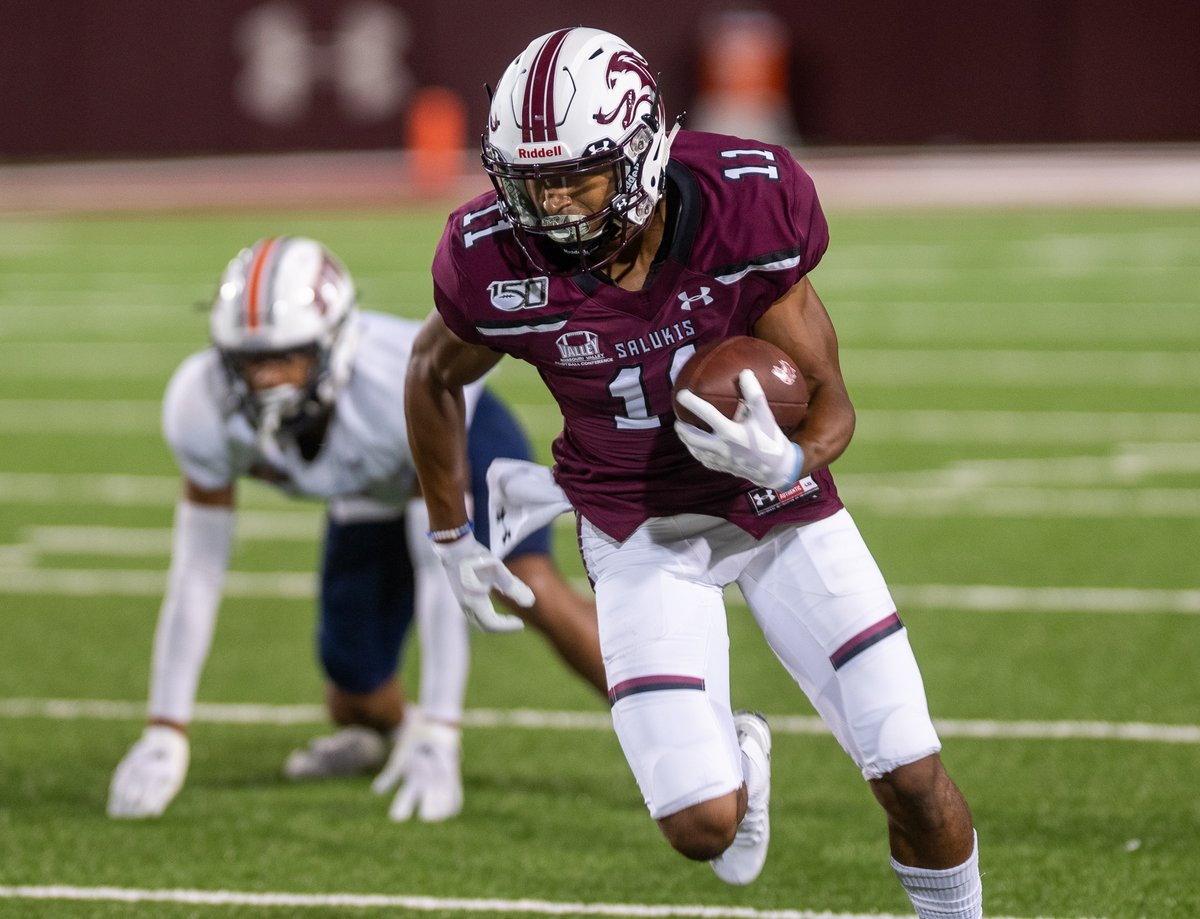 Williams led the team in rushing yards (564) and rushing touchdowns (9) and was a threat as a receiver as well where he hauled in18 passes for 115 yards. Williams was also the punt returner and between all three areas had 905 total yards.
Garrett was hurt most of the early part of the season but returned from injury to play the final four games. Garrett has not have the gaudy statistics in his career but is a key lead blocker in the Saluki offensive attack.
The Saluki offensive line losses possibly its top man from a year ago in OG ZeVeyon Furcron but does return all four other starters upfront so there should be few question marks in this area.
The SIU defense has more question marks after losing All-MVFC performers of S Qua Brown, LB Bryce Notree, and DE Anthony Knighton but still has some talent back this fall.
Two stars in CB PJ Jules and S Clayton Bush should be headliners in the secondary. Jules was third on the team in tackles (74) last year, while Bush was just behind with 63 tackles and had two interceptions returned for touchdowns.
Two other players to watch include DE Richie Hagarty (4.5 sacks, 7.5 TFL)and LB Makel Calhoun (66 tackles, 4 sacks) in this revamped defense that hopes to replicate a third straight playoff bid.
Southern Illinois – 2022 Season
3. Missouri State Bears

Coach: Bobby Petrino (Third Season, 13-9 @ MSU, 132-65 overall (college))
Offensive Coordinator: Nick Petrino
Defensive Coordinator: Ryan Beard
Stadium: Robert W. Plaster Stadium (17,500 capacity)
Location: Springfield, Missouri
2021 Record: 8-4 (6-2 MVFC)
Missouri State has turned things around majorly under Coach Bobby Petrino who inherited a one-win team before he arrived. The Bears have made the FCS postseason two seasons in a row–something that had not happened in Springfield since 1989-1990, which were the only two prior playoff berths for the Bears in their Division I history. Of course, Missouri State has some work to do as it exited out after their first playoff games the past two seasons including last season losing at home to UT Martin and a road loss to North Dakota in the spring.
The Bears though should have possibly an even better team that the past two seasons with 17 starters back, including QB and reigning MVFC Offensive Player of the Year Jason Shelley.
Shelley shattered club single season records for passing yards (3,347), total offense (3,789) and completions (235) in also being named the MVFC Newcomer of the Year. He will have his top WR and fellow All-MVFC member in Ty Scott, who was also a season record breaker after he claimed records for receptions (66), receiving yards (1,110) and receiving touchdowns (8).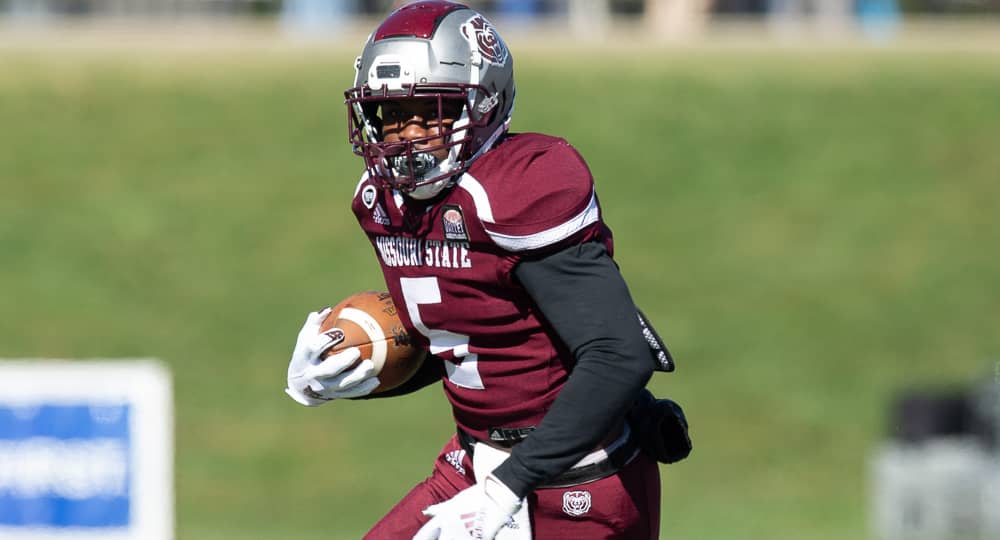 The Bear offensive line should again be a strength with All-MVFC OT Brandon Bebee heading the group. This group should be able to protect Shelley and help open holes for a new lead RB as Tabias Little has used his eligibility. However, while Little was the most used back last year for the Bears, he was not the leading ground gainer. That honor went to RB Kevon Latulas, who had 90 rushes for 625 yards and 3 touchdowns. He will be asked to be the lead back this fall so the Bears should be just fine in the running game.
The Bear defense was a middle of the pack statistically in the MVFC last year in giving up over 26 points per game. The Bears have three All-MVFC performers thought work with this year in DE Kevin Ellis, S Kyriq McDonald, and CB Montrae Braswell to head this side of the ball.
Ellis finished the 2021 season with 59 total tackles, 13 tackles for loss, and 6 sacks. McDonald finished the season fourth on the team with 64 total stops, 9.5 tackles for loss, and 10 passes defended. Braswell totaled 44 tackles, 2.5 sacks, 4 interceptions, and 13 pass break-ups. He was also a key special teams performer as he had a 29.45 kickoff return average, which was fifth in all of FCS and tops in the MVFC.
The Bears also boost possibly the best kicking tandem in the conference with P Grant Purkett and PK Jose Pizano. Purkett ranked second in the FCS with a school-record punting average of 46.2 per attempt last season, while helping the Bears rank second nationally as a team in net punting (42.81). Pizano ranked third in the nation in field goals per game (1.75), seventh in scoring (9.1), and ninth nationally in field goal percentage (.875), all of which led the MVFC.
Missouri State – 2022 Season
Memorial Stadium (Indiana State)
2. South Dakota State Jackrabbits
Coach: John Stiegelmeier (26th Season, 184-111 @ SDSU & overall)
Offensive Coordinator: Zach Lujan
Defensive Coordinator: Jimmy Rodgers
Stadium: Dana J. Dykhouse Stadium (19,340 capacity)
Location: Brookings, South Dakota
2021 Record: 11-4 (5-3 MVFC)
South Dakota State has made the FCS postseason for the last 10 seasons in a row and the last two seasons have been possibly the best teams in that span that the Jackrabbits have had. In the 2021 spring season, the Jacks made it to their first ever national title game but lost to Sam Houston. And last fall, SDSU made it the hard way through the FCS playoffs without a seed so the team had to win road games at Sacramento State and Villanova to make the semifinal round. SDSU would run out of gas in their third straight playoff road game at Montana State.
This year's team should be just as strong as these past two seasons. SDSU does need to replace two key members in QB Chris Oladokun and RB Pierre Strong on offense that were both NFL draft picks this past spring.
However, SDSU should be just fine for 2022 even with these key losses on offense.
At the QB position, the Jacks get Mark Gronowski back after he led SDSU to the national title game in the 2021 spring season in his true freshman season. He had a significant knee injury in that national title game that caused him to have to sit out last fall but is back fully healthy for this season. In his first season, he was named the MVFC Offensive Player of the Year after throwing for 1,565 yards and rushing for another 577 yards and had a combined touchdown total of 23 touchdowns in the ten games played.
Isaiah Davis will be the lead RB after being the backup to Strong the past two seasons. Davis though put up 701 yards despite an injury which kept him out of eight games in the middle part of the season and led the Jacks in the 2021 spring season in rushing with 818 yards and ten scores while Strong was injured.
The Jacks should also have a the receivers for Gronowski with the two Janke twins (Jaxon & Jadon) at WR, as well as two TEs in Tucker Kraft and Zach Heins to give threats all over the field in the passing game.
The Jacks also are strong upfront with two All-MVFC performers in OT Garret Greenfield and OG Mason McCormick after helping pave the way for a Jackrabbit offense to average 36.1 points and 441.1 yards of total offense a season ago.
The SDSU defense should be just fine as well after this group garnered 27 turnovers a season ago and averaged giving up just 19.7 points per game. However, this unit will need to find replacements for a few key contributors in LB Logan Backhaus, CB Don Gardner, and S Michael Griffin.
That group should be led by LB Adam Brock after he led the team in tackles with a whopping 115 stops a year ago. The Jacks also has two the leagues best upfront in DE Reece Winkelman and DT Caleb Sanders. Winkelman posted a team-best 13.5 tackles for loss to go along with 5.5 sacks and 34 total tackles, while Sanders had a team high 6.5 sacks a season ago and ranked second with 13 tackles for loss among his 34 total tackles.
The Jacks secondary might be the weakest part of the defense but should be headed by CB Dalys Beanum, who returned two of his four interceptions a season ago.
South Dakota State – 2022 Season
1. North Dakota State Bison
Coach: Matt Entz (Third Season, 37-4 @ NDSU & overall)
Offensive Coordinator: Tyler Roehl
Defensive Coordinator: David Braun
Stadium: Fargodome (18,700 capacity)
Location: Fargo, North Dakota
2021 Record: 14-1 (7-1 MVFC)
NDSU got back to its national championship caliber last season after posting its worst playoff output in the past 11 years in the 2021 spring season where it lost in the quarterfinal round to eventual national titlist Sam Houston, who after last season is moving out of the FCS to the FBS. NDSU garnered the #2 seed in the playoff last year so it played all of its playoff games in the friendly confines of the Fargodome.
The Bison cruised through its first playoff vicotries over SIU and East Tennessee State to set-up what has been a top recent rivalry in all the FCS in the semifinal round against James Madison, which the Bison eked out a 20-14 win over the Dukes, who are also moving up to the FBS ranks this year.
After that close contest, NDSU dominated Montana State in the national title game 38-10 to win the program's ninth national title at the Division I level and 17th overall. The Bison have won nine of the last eleven FCS titles so the questions for many fans should NDSU follow James Madison and Sam Houston to the FBS ranks but for now, NDSU is content to challenge for its tenth DI national title.
The Bison have a roster coming into this season that may rival any of its past national title teams. In fact, NDSU has 13 full-time starters back and a number of others that also have seen much playing time.
The Bison did lose its top WR in Christian Watson and top OT Cordell Volson to the NFL draft. Watson was a second round draft pick of the Green Bay Packers, while Volson was a fourth round selection of the Tennessee Titans. It is the second NFL draft in a row that saw two Bison players selected after QB Trey Lance and OT Dillion Radunz were selected in the 2021 draft.
While losing NFL caliber talent is tough, NDSU still has a plethora of talent still on this year's squad on both sides of the ball.
On offense, the run first set is highlighted with big backfield that is highlighted by FB Hunter Luepke and RBs TaMerik Williams and Kobe Johnson. This trio combined for over 2,000 yards on the ground last year.
The quarterback situation last year for the Bison was starting Quincy Patterson to begin the season and turned to Cam Miller later. Patterson came in in special run packages but he decided to transfer to FBS Temple. The Bison likely will still run the two quarterback system with Miller and likely redshirt freshman Cole Peyton being in that role.
While whichever QB is behind center, he will need to find a new number one receiving target with the departure of Watson. Phoenix Sproles was the #2 pass catcher a season ago and will look to be the top man when the Bison pass the ball. TE Noah Gindorff was the #3 receiver last year and is returning to Fargo following a leg injury in the playoffs last year. He had been selected to the NFL Collegiete All-Star game but decided to use his fifth year due to the COVID-19 season to play one last season for the Thundering Herd.
The NDSU offensive line, which has really been the strength to the team throughout its national champions run, has another couple NFL hopefuls manning the line of scrimmage. OT Cody Mauch and OG Nash Jensen are two that should get that chance after this season and will headline this year's NDSU named the 'Rams'.
While NDSU has some stars on offense, it is really the defense that has proven to be the key area to winning titles. Last year's team gave up the fewest points per game at 11.1 and was the third best in total defense with just under 265 yards allowed per game. This year's team should be no different with talent returning.
DT Eli Mostaert and DE Spencer Waege are All-MVFC performers that both stop the run and get after a passing quarterback. The linebacker group is headed by James Kaczor, while the secondary has three standouts in S Michael Tutsie, CB Destin Talbert and S Dawson Weber. With this group and a number of other younger players, the Bison defense should again rank near the top statistically again.
North Dakota State – 2022 Season
Memorial Stadium (Indiana State)
TV/Streaming:
ESPN+/ABC North Dakota/Midco2
CSJ 2022 Preseason MVFC Players of the Year
Offense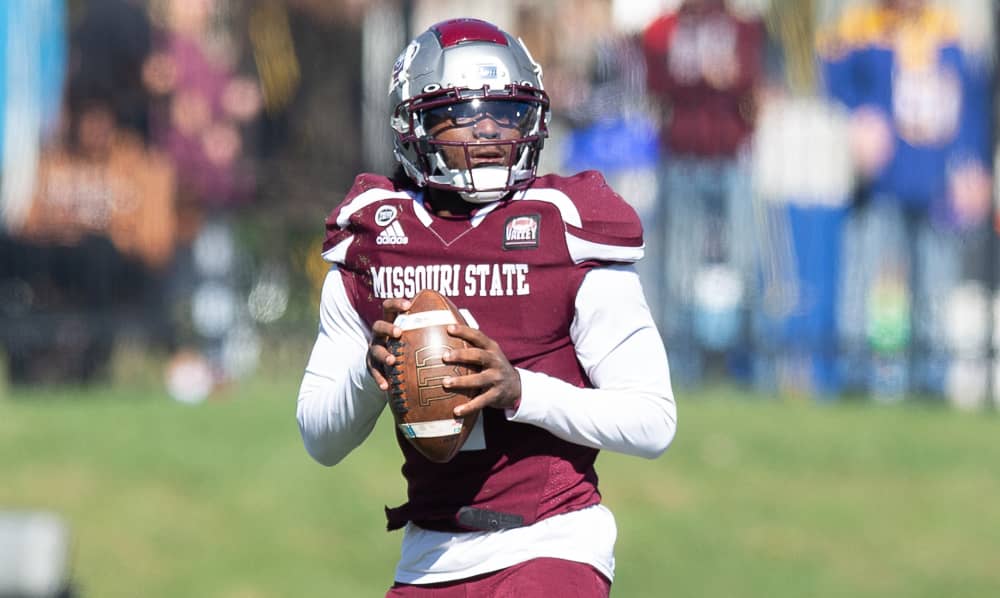 Jason Shelley, QB, Missouri State, Sr.
Defense
Adam Bock, LB, South Dakota State, Jr.
Special Teams
Montrae Braswel, RS, Missouri State, Sr.
CSJ 2022 Missouri Valley Football Conference Preseason Team
Offense
QB Jason Shelley, Missouri St, Sr.
RB Jaleel McLaughlin, Youngstown St, Sr.
RB Isaiah Davis, South Dakota St, Jr
FB Hunter Luepke, North Dakota St, Sr
WR Tyrone Scott, Missouri St, Sr
WR Jaxon Janke, South Dakota St,
WR Avante Cox, Southern Illinois, Sr.
TE Tucker Kraft, South Dakota St, Jr.
OL Garret Greenfield, South Dakota St, Sr.
OL Cody Mauch, North Dakota St, Sr
OL Alex Jensen, South Dakota, Sr.
OL Mason McCormick, South Dakota St, Sr
OL Nash Jensen, North Dakota St, Sr.
Defense
DL Caleb Sanders, South Dakota St, Sr.
DL Reece Winkelman, South Dakota St, Sr.
DL Eli Mostaert, North Dakota St, Jr
DL Spencer Waege, North Dakota St, Sr.
LB Adam Bock, South Dakota St, Jr.
LB Spencer Cuvelier, Northern Iowa, Sr.
LB James Kaczor, North Dakota St, Sr.
LB Brock Mogensen, South Dakota, Sr.
DB Michael Tutsie, North Dakota St, Sr.
DB Benny Sapp III, Northern Iowa, Sr.
DB Montrae Braswell, Missouri St, Sr.
DB Destin Talbert, North Dakota St, Sr.
Special Teams
K Matthew Cook, Northern Iowa, Jr.
P Grant Burkett, Missouri St, Soph.
KR Montrae Braswell, Missouri St, Sr
PR Jayden Price, North Dakota St, Sr.
AP Javon Williams Jr., Southern Illinois, Jr.
LS Dalton Godfrey, South Dakota, Sr.
Originally from LaMoure, North Dakota, Kent is a 1996 graduate of North Dakota State University. His prior writing experience is over 15 years having previously worked with D2football.com, I-AA.org, and College Sporting News before coming to College Sports Journal in 2016. His main focus is college football is the Missouri Valley Football Conference within the Division I FCS. And in 2017, he began also to look at the FBS Group of Five conferences of the American Athletic, Conference USA, Mid-American, Mountain West, and Sun Belt.
Reach him at this email or click below: