BETHLEHEM, PA – On November 23rd, 2019, Princeton took a quick business trip to Philadelphia to close out their football season, a 28-7 win over Penn. When the Tigers travel to Lehigh this weekend, it will have been 665 days – almost two full years – since they have experienced live football game action.
Playing against Ivy League teams is always a unique sort of challenge for Patriot League schools for a variety of reasons. But facing off against a team that hasn't generated any sort of game film since 2019 – that's getting into "unprecedented" territory.
"Offensively they have a lot of weapons, but they'll have a new quarterback," head coach Tom Gilmore told Dave Leszco of WMFZ 69 this week. "The quarterbacks they have on their roster are very talented, but we don't have an opportunity to look at them on film. But their weapons are really good."
Lehigh arguably has faced the toughest, brutal opening three-game stretch in their history.
In facing nationally-ranked Villanova, nationally-ranked Richmond, the Mountain Hawks have played two teams that are loaded with 4th- and 5th- year talent that are built to make a run in the FCS Playoffs.
Princeton will be no easier.
The Tigers were picked to finish 1st in the Ivy League and are receiving votes in the FCS Top 25 as well. Like Richmond and Villanova, they are going to be lining up against a large number of players that were freshmen in 2017.
"Their staff has been in place for ten years now, so they have an established roster and have many seniors taking advantage of the extra year that the NCAA granted due to COVID (and, in the case of the Ivy, getting their final year of eligibility since they didn't play last season)," Lehigh head coach Tom Gilmore told me this week. "They have a high level of talent across the board on their roster and a ton of seniors and returning starters."
For a young team without a ton of game experience, the challenge is great, but it's an experience all of Lehigh Nation is ultimately hoping will make them prepared for Patriot League play coming up later in the month.
By all measures, the last time Lehigh played Princeton it was not so much a learning experience as it was a humiliating, humbling defeat.
In that game in 2018 – a 66-7 shellacking – the Mountain Hawk defense yielded 773 yards of offense to the Tigers – a Princeton record – allowing starting QB John Lovett to rush for 111 yards and pass for 288 more, making him responsible for 4 touchdowns, three through the air and one on the ground.
It was the most points scored by a Princeton football team since Princeton's 1950 team, led by eventual Heisman Trophy winner Dick Kazmeier. That year they opened their season by beating Williams College 66-0.
Gilmore and DB Jack Bush are under no illusions about the challenge their team is facing this Saturday, but they feel there's a way forward on Saturday.
"I think that first game (for Princeton) is really tough," Bush said. "and there's a lot of energy and jitters to get out of your system. So we definitely need to take advantage of that and just take care of what we can."
This is the 61st meeting in the series, with Princeton leading 41-17-2. The Mountain Hawks have won 13 of the past 18 matchups, including five of the last seven. Lehigh has won the last three games in the series played at Goodman Stadium.
"We're not going to lay down and die," Bush said.
The game is taking place at Murray Goodman Stadium, and kickoff is at Noon. If you can't make it to the stadium, it will be available to stream on ESPN+ with Steve Degler, Doug Heater and Kristi Fulkerson on the call. The radio call will be available on Fox Sports Radio 1230/1320 AM and 94.7 FM Allentown, with Matt Kerr, Lance Haynes and Matt Markus on the call (and also available on LVFoxSports.com).
LFN'S Drink of the Week
Some weeks are just crappy, and this week for me has been extremely crappy (for non-football-related reasons). So when I tackled the task of this week's "Drink of the Week", I wasn't going to mess around. The drink was going to be a concoction designed to put the past week behind me, and in that vein I had one thought that wouldn't go away: making a Harvey Wallbanger.
I looked at a recipe for it, however, and saw that we were missing two ingredients: the expensive Italian liqueur Galliano, which I could work around, and (surprisingly) vodka, which I couldn't. So short on time and temper I did what I frequently do in times like these: I gutted it through and improvised.
Galliano is an Italian liqueur with anise and vanilla flavor. I thought vanilla extract, ouzo and an alternative liquor would be a decent alternative that might, just might, make the grade. I mixed this myself, and – it seems like it was… pretty close to a real one.
1 part Whiskey
3 parts orange juice
Ouzo
Vanilla Extract
Ice

Mix the Whiskey, orange juice and ice in a glass (I use a chopstick). When it's all mixed, float on top about 1/2 ounce of ouzo (which will turn white when it gets cold) and put in 1 or 2 drops of vanilla extract.
I tried it – and it was good! I thought I'd just go ahead and name it the Harvey Fauxbanger and leave it to you, dear Reader, to try on your own.
(NOTE: This drink is very potent. Please, please enjoy it responsibly, and for Gods sakes call an Uber if you have to after drinking this.)
Injury Report
Lehigh has three injury concerns from the Richmond game: LB Pete Haffner, DL Dean Colton, and DL Michael Callahan. All are considered questionable vs. Princeton.
Scouting Princeton
So how do you go about scouting a team that hasn't played in over two years? It's not easy, but here's what I've been able to discover, mostly by going through Princeton's releases in the run-up to their game this week.
If there is one word to describe the coaching philosophy of Princeton head coach Bob Surace and his staff, it is "complexity". The Tigers excel at the act of doing things you aren't expecting on offense and defense.
Going back to 2019, we see QB Kevin Davidson was the starter. In many ways Princeton has a "type" of quarterback that is very athletic – they can take off with the ball when necessary, become receivers, or do whatever is needed. Surace in the past has trotted out plays involving 2 QBs on the field on the same time or (on at least one occasion that I witnessed in person) 3 QBs.
This week, Surace announced his team captains, and one of those players was QB Cole Smith, a 6'1, 210 lb senior (with an extra year of eligibility). Befitting a QB in Surace's system, he started his career as a WR on the JV team, and also has gotten in a handful of games to mop up in 2019. Don't be surprised to see QB Brevin White or QB Blake Strenstrom on the field at different times, too – maybe even all three at the same time.
For those hoping for rust, Princeton has an enormous senior class – many of them essentially fifth-year players, since they were playing as freshmen in 2017.
At the skill positions are some players that are names that brave Lehigh fans might remember from the last time the Mountain Hawks played the Tigers, the 66-7 blowout loss – RB Colin Eaddy, TE Carson Bobo, and WR Jacob Birmelin. Eaddy is about to enter Princeton's Top 10 rushing yardage list. Bobo, a 6'5, 250 lb player with NFL aspirations, will be looking to break out after sitting behind a couple of great TEs on the roster in 2019 (Graham Adomitis and Sam Johnson) while the 5'9, 170 lb Birmelin, who caught 60 passes for 767 yards in 2019.
Princeton will likely rotate running backs and spread the ball around on offense, so RB Trey Gray, WR Alex Cherry, and WR Dylan Classi will likely hear their names called. Lehigh's defense is going to have to do a lot of elite reading and reacting to slow this group down.
Defensively they are just as tricksy as on offense, with a 3-4 that does a lot of movement and disguising of coverages.
"They're the most multiple defense we've seen, so that presents some different challenges," Gilmore said.
More 2019 defensive starters that feature are DE Sam Wright, DT Uche Ndukwe, LB James Johnson, LB Jeremiah Tyler, and CB Delan Stallworth. There will be no learning curve for these defensive players – they know the defense backwards and forwards. They should be able to hit the ground running.
Keys for Lehigh
Start fast. Perhaps the one thing that Lehigh definitely has on Princeton is that they have two games under their belts against the best FCS has to offer. They need to bring speed, preferably of the RPO variety, to the Tigers right away before they even know what hit them.
Read and React. About the only thing predictable about Princeton's offense is that it will be unpredictable. The importance of the defense in reacting to what the Tigers are doing is going to be critical.
Keeping it together for all four quarters. This team has showed that, at times, they can hang with these good teams defensively. The key going forward is to show that they can bring this level of excellence to all four quarters, win or lose. In both the Richmond and Villanova games, one quarter really is what did the Mountain Hawks in. If they can prevent that from happening, Lehigh might keep themselves in the game and have a chance.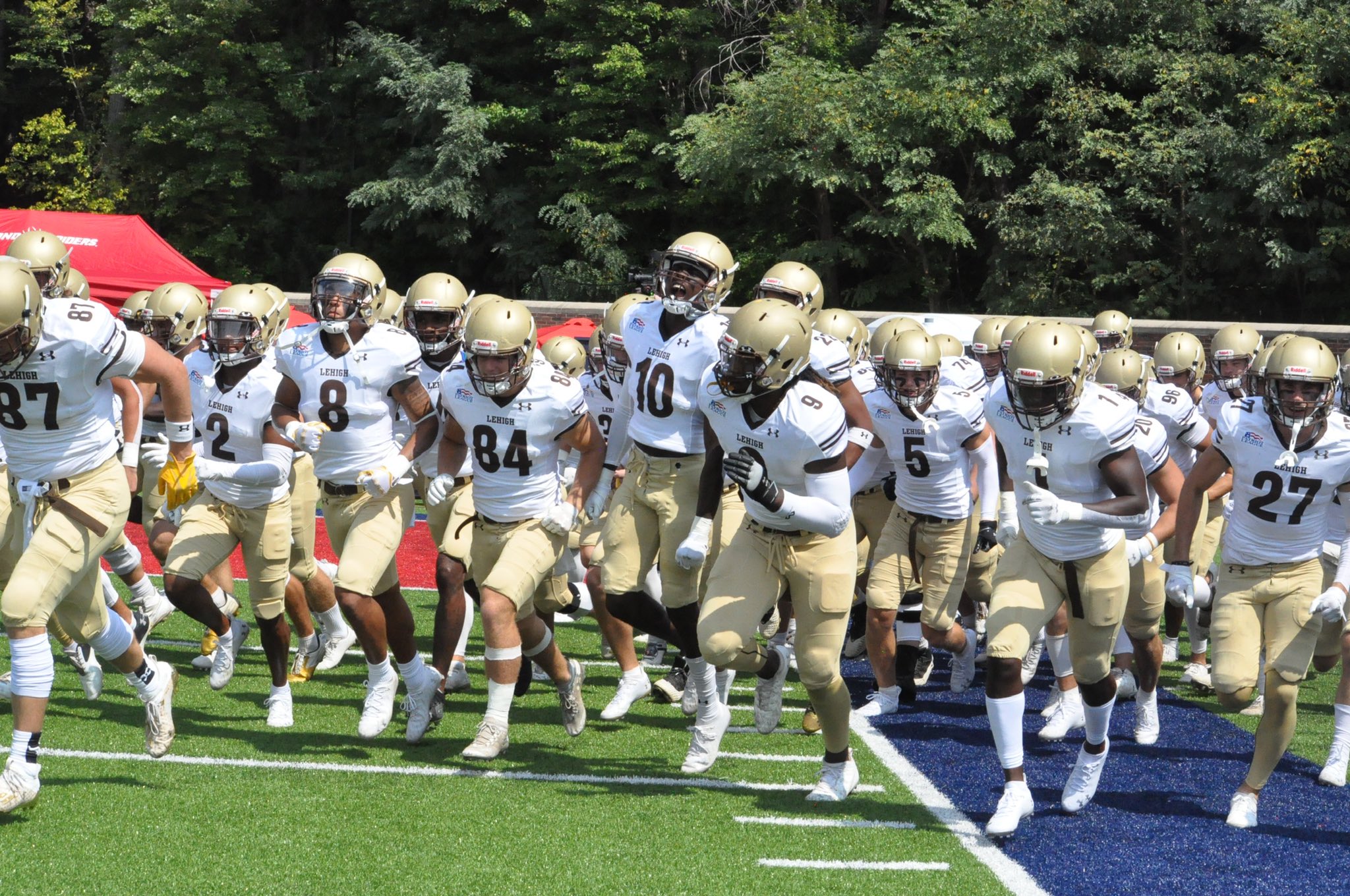 Fearless Prediction
Lehigh is a young team, still unquestionably trying to figure itself out. This makes the task ahead of them today – facing off against the third-straight squad that could distinctly be in the FCS Top 25 this year – especially daunting.
The key for Lehigh fans has to be to see improvement on the field (re: Touchdowns, however they get them) and a final result that demonstrates that they are ready for Patriot League play, which is what really the tablet on which Lehigh's success will be written this season.
Like the last few weeks, a win here would show the rest of the world that they are a force to be reckoned with the rest of the way. But for most fans, they'd settle for a good battle for four quarters and plenty of signposts that show that they can beat anyone else left on the schedule.
This team is trying to figure out the chemistry that will carry them through this season. Here's hoping that they will figure some of this out this Saturday.
Princeton 37, Lehigh 6