Lehigh Signs A Grand Total of 17 Through 2021 Signing Day Periods
Everyone is happy that the regular ebb-and-flow of football is back on its regular schedule. These days that means football played in the fall, two well-defined signing periods, and an upcoming regular spring season.
For Lehigh that meant finishing their regular fall 2021 season strong, with three straight wins (including one against their long-time Rivals Lafayette), and then leaping right into recruiting.
That has led to an impressive recruiting haul of 17 incoming athletes, including nine from the early signing period and eight during the regular signing period.
"We landed some very good talent and some are capable of helping early," Lehigh head coach Tom Gilmore told me by email. "Others will need to work really hard to get legitimate playing time as freshmen, but they have the potential to be very good players here. It will come down to them truly understanding what they need to do and beginning to work hard at it now without delay."
Back To Normal
Last year, Lehigh coaches in many cases weren't able to meet prospects in person and weren't able to bring them to campus, since it was in lockdown for much of the year.
This fall, however, there was a much more normal recruiting flow, including recruiting visits to multiple states. All eight recruits signed this month came from outside of Pennsylvania: Georgia and Ohio both produced two signees, while Arizona, Florida, Maryland and Texas provided one each.
"There were a lot of talented guys who chose to wait until this February signing day," Gilmore told Lehighsports.com. "We also had some guys that went deep into their state playoffs and even the state championship in some cases and couldn't visit until January. Everyone was on a different timetable, but it all worked out really well for us."
The regular signing period was clearly focused on getting some big bodies on both the offensive and defensive lines, with four OL and two DL.
"The thing that jumps out is getting the four big offensive linemen," Gilmore said "It was a big area of need and we didn't get any commitments at that position during the early period, so getting the O-line slots filled covers an enormous need. There's always a lot of attention on the quarterback position, for good reason, and we felt like a very good quality player there as well. "
One of the recruits, 280 lb OL Aidan Palmer out of Copley, Ohio (Revere HS), had quite a few offers from other Patriot League schools but chose Lehigh.
Big Names From Arizona and Texas
Not to be overlooked, however, are the non-linemen in the group, inlcuding a 3* QB from Arizona and a DB from Texas who, according to 247 Sports, picked Lehigh over Army, Air Force, Columbia and Grambling State.
QB Brayten Silbor originally planned to stay closer to home at New Mexico, but when the new Lobo head coach declared he was going to a triple-option offense, Silbor re-opened his recruiting and he decided on Lehigh.
Before he opened up his recruiting, Mike Giovando, Silbor's personal quarterback coach, told the local paper that he believed the last two spring football seasons hurt Silbor because college coaches weren't able to come out and see him practice in person.
"I definitely think New Mexico got themselves an FBS (top NCAA I division) quarterback for sure," Giovando said at the time. "I feel bad for him because a lot of the 2022 quarterbacks really didn't get the opportunity to get recruited for the pure fact that these coaches weren't allowed to come out here and see them last spring and this spring."
Lehigh had talked to Silbor even before he committed to New Mexico, and another player from the Scottsdale area (rising junior OL Jackson Wiles) was already going here, so "I had already heard of it," he said.
"I had a couple of opportunities to play FBS football, big stages, walkon," Silbor told his local paper. "But I really want to take into account everything. Football is just part of it. Academics. And there is no better place to go than Lehigh for me. It's Division I football. I'm so happy for it."
Silbor credited a visit to Lehigh's campus sealing the deal for him and his family.
"After seeing the campus, it would have been hard to turn down a full-ride scholarship to a prestigious university," Silbor added. "My parents encouraged me to think about the next 40 years and not just the next four. I believe I will have the best of both with my choice."
And at DB, Lehigh commit Michael Jordan, Jr. committed to Lehigh after de-committing from Air Force this December.
From Paetow high school in the Houston area (Katy, Texas), he had originally committed to the Falcons back in June, and the Mountain Hawks beat out Colgate and defending champions Holy Cross for the prized CB after he opened up his recruitment again.
Jordan had a multitude of FCS and FBS offers before settling on Lehigh.
"I was 4 years old when I started playing football," he told a local Houston newspaper last June. "My dad is an alumnus for Tulane University football, so I always grew up watching football and being around the sport. As years just went by, I fell more in love with the sport, and coming from a football family, I just knew from day one this was the sport I wanted to play for a long time."
What jumps off the page when you read his interview is his athletic commitment to work hard for continuous improvement – and the importance of superior academics to his college experience.
"I knew committing to the Air Force Academy, I would get a high level of academics, as well as playing an elite level of football," Jordan said back in June after committing there. "I would be in a good position for life after football."
Those two signees vaulted Lehigh to the top of 247's ranking of Patriot League recruiting classes, mostly thanks to the 3* rating of Silbor.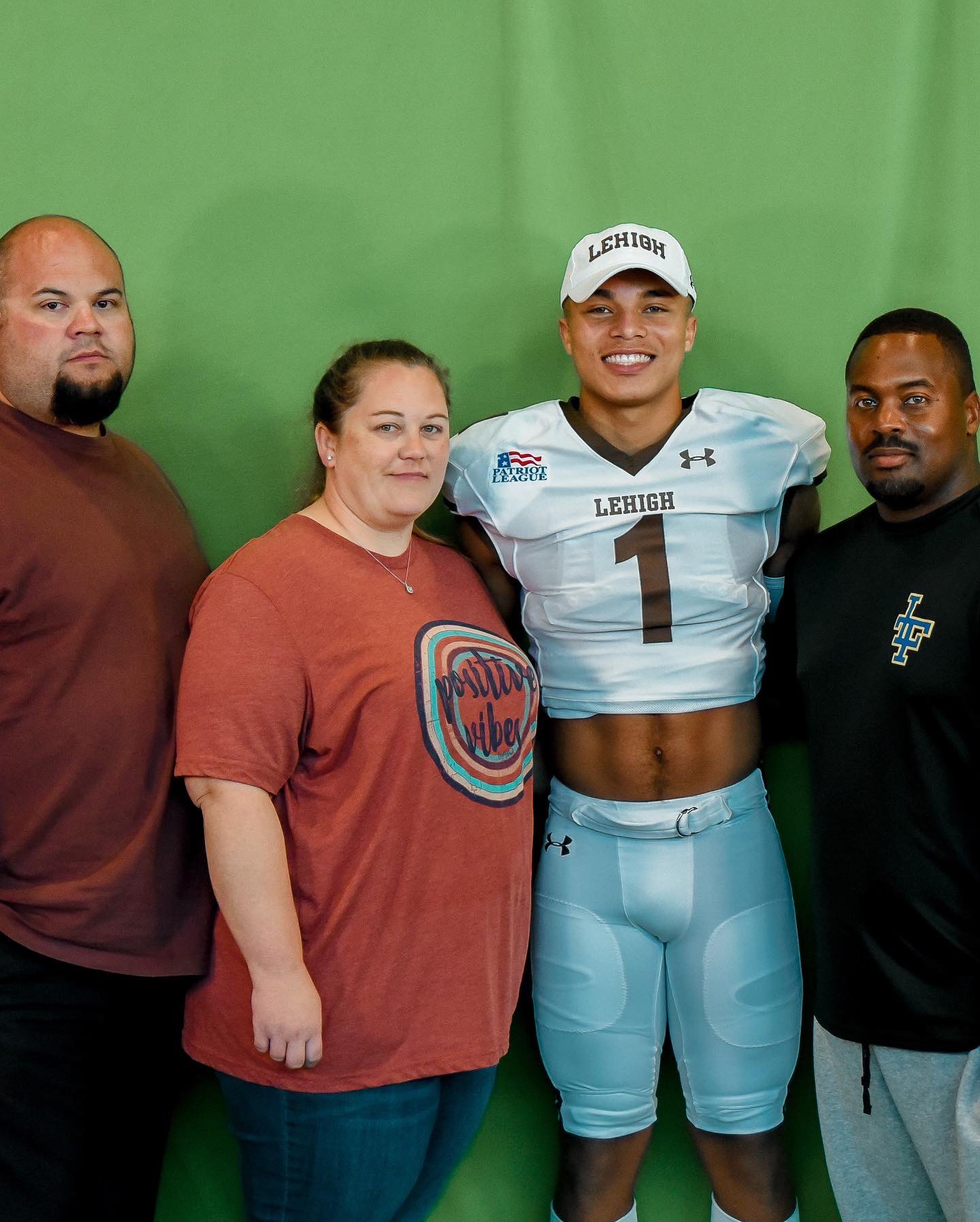 Joining The Early Signees
This talented group joins the eight early signees, which include one running back, two receivers and a tight end, plus two defensive linemen, two linebackers and a defensive back.
Overall, with the exception of kicker, every position group was represented in the class, with four offensive linemen and four defensive linemen. Though Lehigh's football graduating class of 2022 is small, with a significant number of players and returning upperclassmen returning, one of the few areas where there were significant graduations was the offensive line.
"There is a good vibe around the team but realistically, we have a lot of work to do to get ready for the season," Gilmore told me. "That actually excites me and the staff is looking forward to our first true off-season with this roster, except the two fifth-years that got a full off-season in before the pandemic. There is a lot of physical development along with team and culture building that we need to accomplish this semester. I believe the players all realize this too and I know many of them are anxious to make the significant improvements we need to in order to compete at a higher level this fall. Now that recruiting is mostly complete, we can focus our attention to that work with our returning players this spring."
2022 Lehigh Football Incoming Recruits (could be updated)
C.J. Abell – OL; 6-5/305; Douglasville, Ga./Alexander
Damien Jay Brown – RB; 5-9/190; Leonard, Texas/Leonard
T.J. Burke – DL; 6-2/290; Selbyville, Del./Indian River
Brycen Edwards – LB; 6-0/195; Fredericksburg, Va./Chancellor
Geoffrey Jamiel – WR; 5-8/175; West Yarmouth, Mass./Deerfield Academy
Langston Jones – OL; 6-3/295; Lawrenceville, Ga./Brookwood
Mike Jordan, Jr. – DB; 5-11/175; Katy, Texas/Paetow
Quentin Joyner – DL; 6-3/260; Orlando, Fla./Sebring
Tyler Ochojski – LB; 6-2/215; Freehold, N.J./Freehold Boro
Aidan Palmer – OL; 6-4/280; Copley, Ohio/Revere
Nick Peltekian – DB; 6-0/195; Mahwah, N.J./Deerfield Academy
Jasuah Philemon – DL; 6-4/265; West Orange, N.J./West Orange
Christian Richter – OL; 6-7/295; Baltimore, Md./St. Paul's School for Boys
Brayten Silbor – QB; 6-3/205; Scottsdale, Ariz./Chaparral
Matt Spatny – DL; 6-2/245; Medina, Ohio/Medina
Nick Williams – TE; 6-4/225; Livonia, Mich./The Hotchkiss School
Jaden Wimberly – WR; 6-0/175; Paterson, N.J./Saint Joseph Regional