Week 6 saw four of the five games won by the road team this week with a few surprising results.
South Dakota State defeat in-state rival South Dakota in what will lead into this week's likely bigger rivalry with North Dakota State. The Jackrabbits last week used a ball-control offense and a stifling defense that registered seven sacks lifted South Dakota State to a 28-3 victory in Brookings.
The game with USD though was not easy to begin the game like the final score might indicate. SDSU after spotted USD an early 3-0 lead and being in danger of going down two scores. The Coyotes took the opening kickoff and marched 50 yards on eight plays before settling for a 37-yard field goal by K Eddie Ogamba four minutes into the contest. A 29-yard run by RB Travis Theis on third-and-3 on the first set of downs put USD in field goal position.

The Jackrabbits came up empty on their first three possessions, punting twice before having a 53-yard field goal attempt blocked. In the second quarter, USD was on the brink of extending its lead after taking over at the Jackrabbit 9-yard line after a muffed SDSU punt. However, Jack S Cale Reeder came with a game-changing play by intercepting Coyote QB Carson Camp in the end zone on third-and-goal from the 8.
That turning point led to the rest of the game being all SDSU. On that ensuing possession following the interception, the Jacks drove the ball 80 yards and ended with what would become the winning margin on a TD catch from 28-yards out by WR Jaxon Janke on a pass over the middle by QB Mark Gronowski.
A a 47-yard scoring run by RB Isaiah Davis on the Jacks next possession gave them what would be the halftime lead of 14-3.
The third quarter belongs to SDSU as the Jacks scored what would be their final two TDs of the game and controlled the ball for over 12 minutes of the third quarter. Two additional Davis scoring runs in the quarter was really all SDSU needed and coasted through the final quarter to secure the win.
The Dakota Marker opponent of SDSU in North Dakota State had what many prognosticators thought was a fairly easy league game against Indiana State in Terre Haute this past week. But the Sycamores gave the Bison all they could handle before falling 31-26.
The one-win Indiana State squad held a 13-10 halftime lead over the Bison thanks in part to a WR Dante Hendrix touchdown reception and a QB Cade Chambers one-yard keeper. North Dakota State fought its way back into the contest in the second half behind a three-touchdown game from RB TaMerik Williams to go up 24-20 midway through the third quarter.
A late 10-yard touchdown pass from QB Cam Miller to WR Zach Mathis put the Bison ahead 31-20 with 5:44 remaining in the fourth quarter before the Sycamores put together a 10-play, 75-yard touchdown drive to fight back into the game.
But the ensuing onside kick, NDSU's Joe Stoffel collected the ball at the Bison 49 to end the Sycamores' final chances to come back for the upset.
Two big reasons this game was so close were turnovers and penalties disparities. NDSU had three lost fumbles (actually four fumbles overall but the Bison recovered one them) while not getting a turnover at all from Indiana State. NDSU also committed five penalties for 45 yards, while Indiana State did not commit any penalties.
While those two game lead us into Week 7 for a top two ranked clash, last week's biggest game was Missouri State hosting Southern Illinois. This battle was one that at first seemed like Missouri State would breakout of their two-game losing streak but in the end SIU extended it to three, while extending their own winning streak to four.
After falling behind, 14-0, Southern Illinois reeled off 38-straight points to blow past Missouri State 38-21. The Salukis scored 17 points in the second quarter and 21 more in the third to rout the Bears.
RB Javon Williams Jr. impacted the game in multiple phases, tallying 45 yards rushing, 37 yards passing, 39 yards receiving, 43 return yards, plus two touchdown runs.
Two other offensive leaders were in the receiving game as SIU had a pair of 100-yard receivers in the same game, as D'Ante' Cox (108) and twin brother Avante Cox (107) both surpassed the century mark. This was only the eighth time in school history to have two receivers eclipsed the 100-yard mark in a game.
North Dakota was another possibly suprising road winner this week. UND has been very strong since joining the MVFC in the spring of 2021 at home but not so good on the road. The Fighting Hawks might be starting to get their road warrior feet, however. UND defeated Youngstown State in eastern Ohio this past week 35-30.
Halfway through the fourth quarter, UND redshirt freshman S Cole Davis blocked a punt, returned it for a touchdown and sparked the Fighting Hawks to the win over YSU. This score gave UND a 35-24 lead at the time.
A RB Jaleel McLaughlin 4-yard touchdown for the Penguins run cut into that lead to make it 35-30 with 5:49 left in the fourth quarter. McLaughlin finished the game with 138 yards on the ground.
On the key 2-point conversion though, UND CB Edmund Ocansey broke up a pass in the end zone to make the Penguins need a late touchdown to win rather than a field goal to tie.
After a conservative series for the UND offense that ended with a sack on third-and-long, Youngstown State got the ball back with 3:54 left in the game at its own 44-yard line after a short punt.
The Penguins marched as close as the UND 29. On third-and-7 with about a minute left, Coley sacked YSU starting quarterback Mitch Davidson to force a fourth-and-16. YSU QB Mitch Davidson threw a 10-yard pass to WR Bryce Oliver, who C.J. Siegel tackled short of the line to gain to seal the win for UND.
Another road win happened in Cedar Falls. Northern Iowa fell to Illinois State in another close battle. The Redbirds won this back-and-forth match-up with ISU winning 23-21.
Both teams had chances late in the game, but the Redbird defense ultimately held the Panthers at bay when ISU LB Zeke Vandenburgh sacked UNI QB Theo Day to end the game and secure the victory for ISU at the end.
Redbird QB Zack Annexstad threw for a career-best 257 yards on 29 completions with one passing score, while redshirt freshman K Ian Wagner saw action in his first game after returning from injury and connected on 3-of-4 field goal attempts with makes of 33 and 25 yards in the first half and his career-long 41-yard make in the third quarter proved to be the game winner.
See highlights of these games below:
Memorial Stadium (Indiana State)
2022 Missouri Valley Standings
| Pos | Team | W | L | Conf W | Conf L | PF | PA |
| --- | --- | --- | --- | --- | --- | --- | --- |
| 1 | South Dakota State | 10 | 1 | 8 | 0 | 345 | 171 |
| 2 | North Dakota State | 8 | 2 | 6 | 1 | 341 | 170 |
| 3 | North Dakota | 7 | 3 | 5 | 2 | 312 | 290 |
| 4 | Youngstown State | 6 | 4 | 4 | 3 | 286 | 258 |
| 5 | Northern Iowa | 5 | 5 | 4 | 3 | 304 | 269 |
| 6 | Southern Illinois | 5 | 5 | 4 | 3 | 290 | 266 |
| 7 | Illinois State | 5 | 5 | 3 | 4 | 170 | 211 |
| 8 | Missouri State | 4 | 6 | 2 | 5 | 277 | 294 |
| 9 | South Dakota | 3 | 7 | 2 | 5 | 165 | 263 |
| 10 | Indiana State | 2 | 8 | 1 | 6 | 169 | 336 |
| 11 | Western Illinois | 0 | 10 | 0 | 7 | 138 | 406 |
WEEK 7 PREVIEW & PREDICTIONS
The highlight game this week is something that has not happened ever before in the MVFC when the top two ranked teams meet in the regular season when #2 South Dakota State travels to #1 North Dakota State. This will be only the second time in FCS history such a match-up will take place in the regular season with the prior match-up also involving a MVFC member in Northern Iowa hosted a non-conference game against Idaho in 1992.
All other such match-ups occurred in the FCS Championship games with NDSU involved in two of those in the 2015 national title game against Jacksonville State and the 2019 title game against James Madison.
The Dakota Marker game will more than likely this year set-up who will be the the champion in the MVFC and will have a huge impact on seeding in the Division I FCS Playoffs.
While this game will get most of the notoriety this week, three other MVFC match-ups will take place with UNI also playing its last non-conference game. North Dakota and Missouri State will have byes this week.
Here is a look at my predictions for all five games: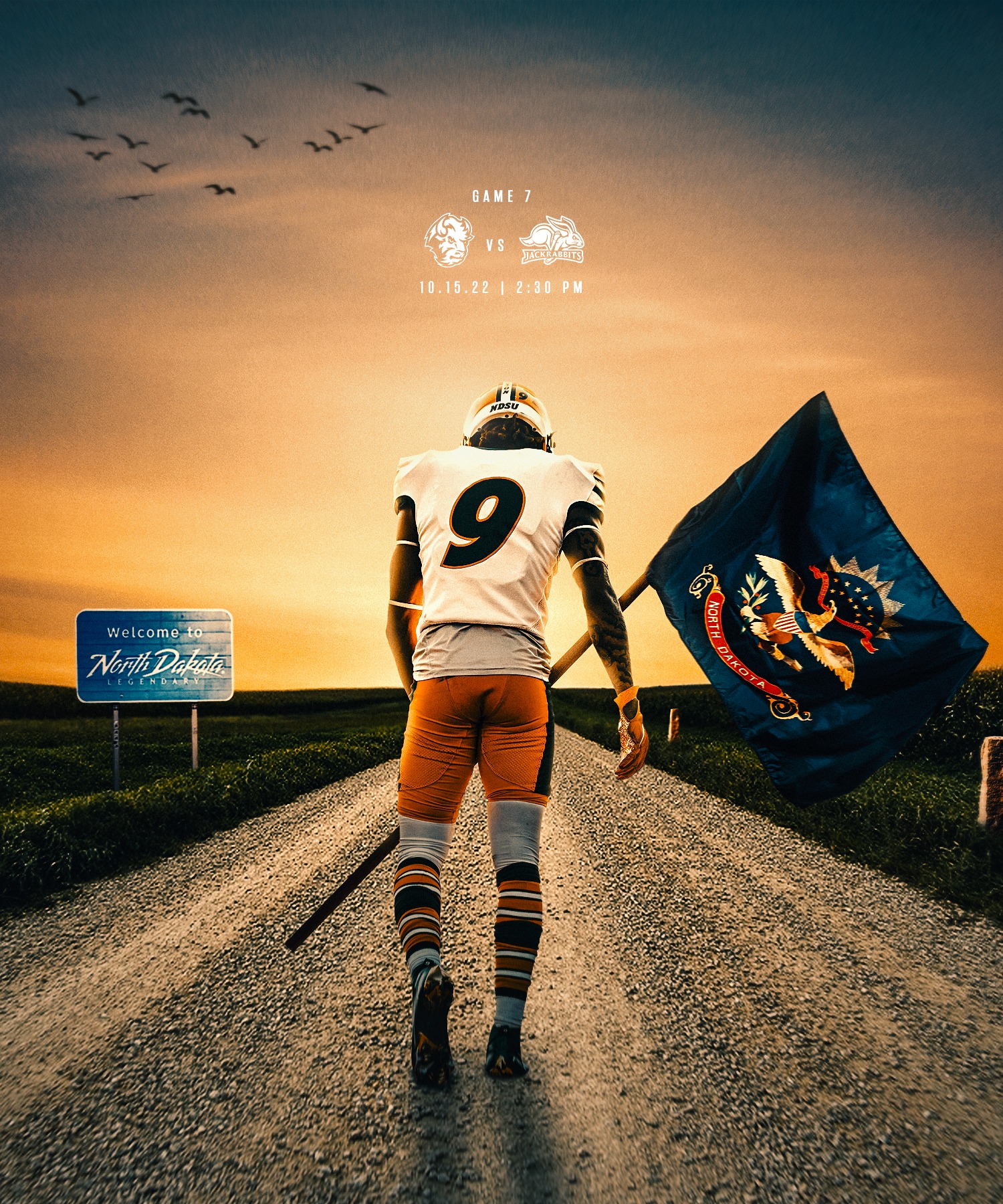 Below is a look at how SDSU and NDSU stack-up statistically. As can be seen with these stats, SDSU has the stronger defense surprisingly as what has made NDSU's 11-year run go mainly has been its strong defense. And also surprising, NDSU's offense is the better of the two statistically, which in the past years has almost always been the Jackrabbits with the stronger offense.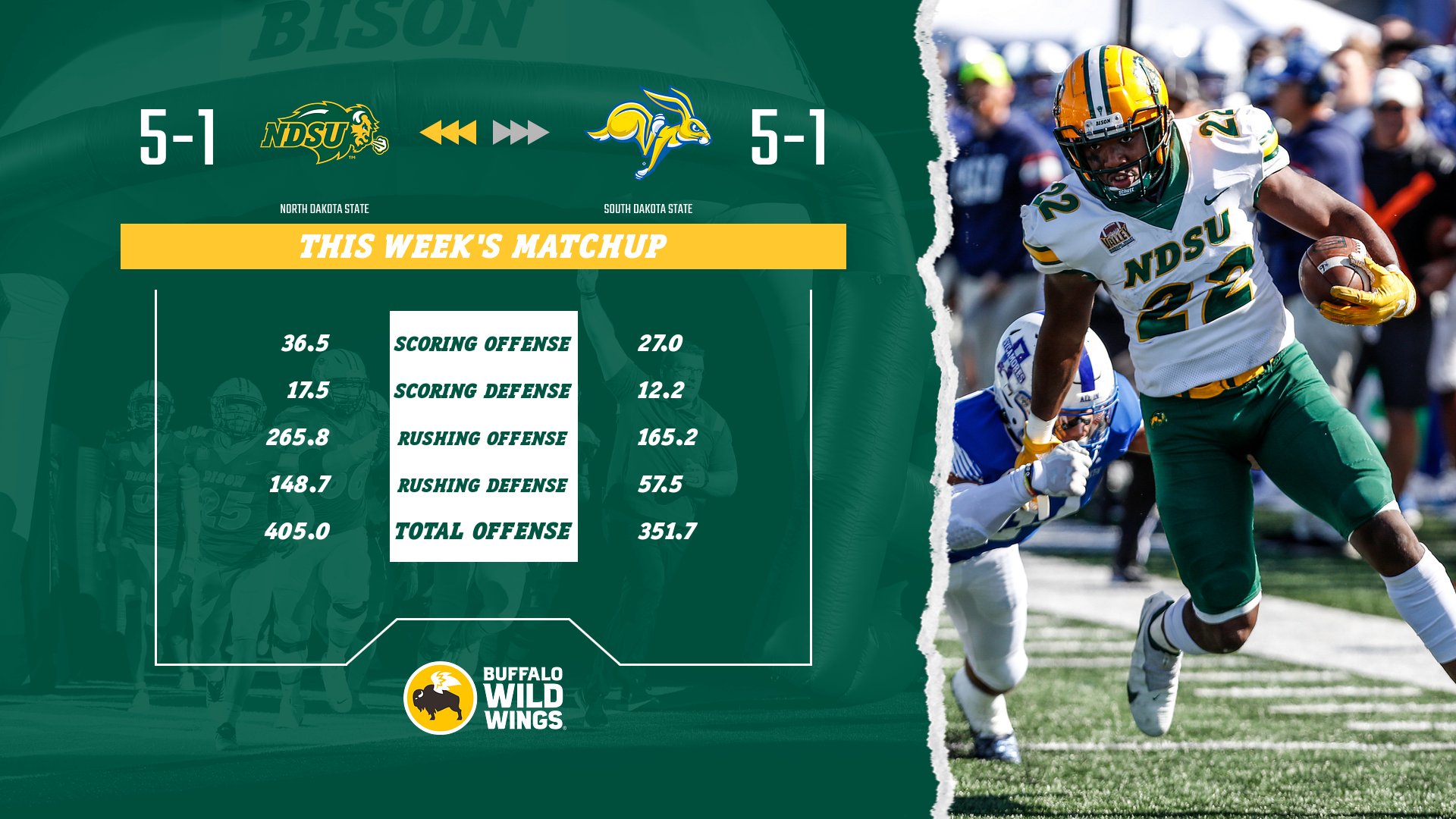 Both teams in this match-up though come in with five wins and an FBS loss. SDSU lost its opener narrowly at Iowa 7-3, while NDSU also narrowly lost its FBS game in Week 3 to Arizona 31-28.
NDSU looked really at its best in that Arizona game despite losing. Turnovers and penalties have been the thorn in the Bison so far despite winning all five of its FCS match-ups. SDSU's defense has been what mainly has won their five games against FCS opponents with its offense coming together over the last couple of weeks.
Both teams like to run the ball first with NDSU having multiple backs but has been lead by FB Hunter Luepke (478 yards, 8 TDs) and RB TaMerik Williams (261 yards but 145 yards, 3 TDs last week). SDSU relies on mainly on RB Isaiah Davis (626 yards, 5 TDs).
This is the 113th meeting between the two Dakota land grant universities that dates back to 1903. NDSU leads the all-time series 63-44-5, but SDSU has won two straight including a 27-19 win in Brookings last November. NDSU leads the Dakota Marker series (started when both moved to the Division I level) 10-8.
For my pick in this one, I believe really SDSU is playing right now at a better level but a sold-out Fargodome might be just what NDSU needs to get back to a more disciplined play. I think this game will go down to the wire and whoever wins the turnover battle will be the winner. With SDSU having won the last two match-ups, I think NDSU finds a way to avoid a third straight set-back to have the Dakota Marker back in Fargo. North Dakota State 27 South Dakota State 24
The Penguins looked like a team to start the season that might be able to contend for a playoff spot with two out-of-conference wins but YSU now has lost three in a row. Indiana State won its opener but has now lost four in a row. But the Sycamores looked like a team that might be on the rise with the talent it has and are coming off likely its best game of the season despite losing to NDSU at home last week. It is homecoming for the Penguins so the crowd could be a factor but from where I see the teams going right now, I think the Sycamores will get their first MVFC win of the season. Indiana State 31 Youngstown State 28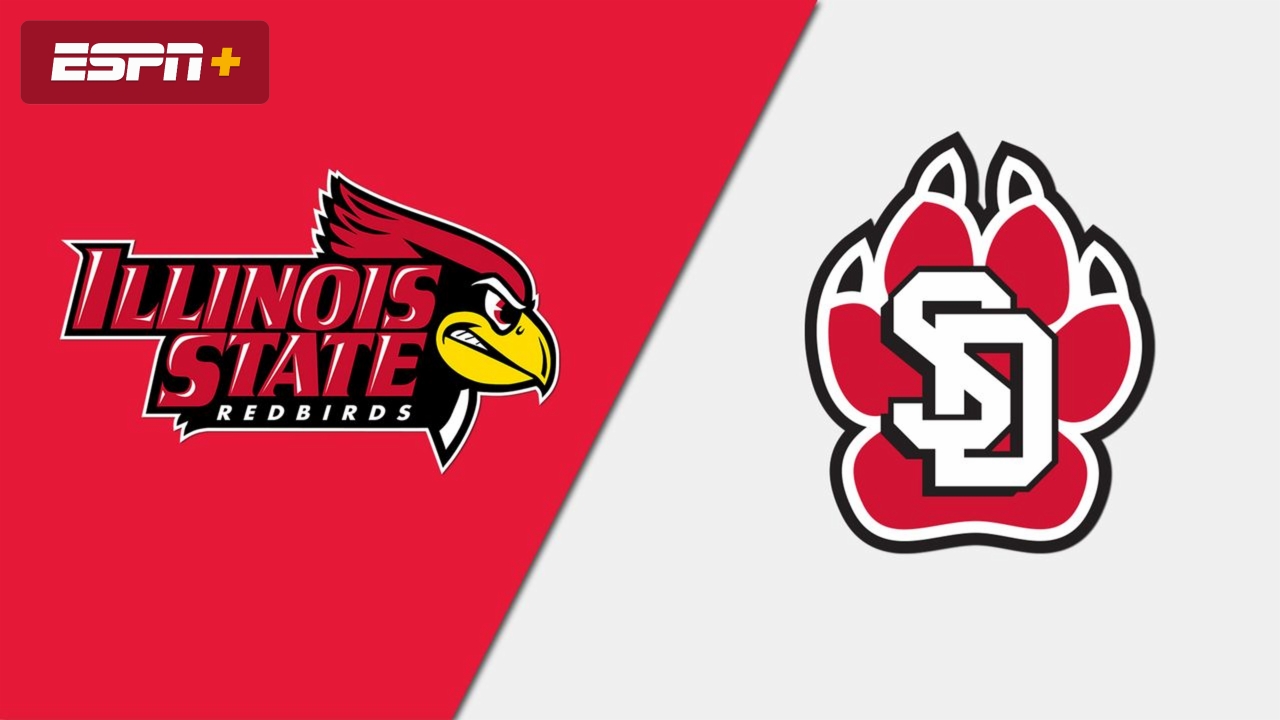 The Redbirds won the first five games in the series overall, but the two teams have split the last four meetings with the Coyotes winning at ISU in 2021 spring season and the Illinois State winning at USD last fall. This is also a homecoming game for ISU and from the way both teams are playing right now, I like the Redbirds to win this won rather easily. Illinois State 27 South Dakota 10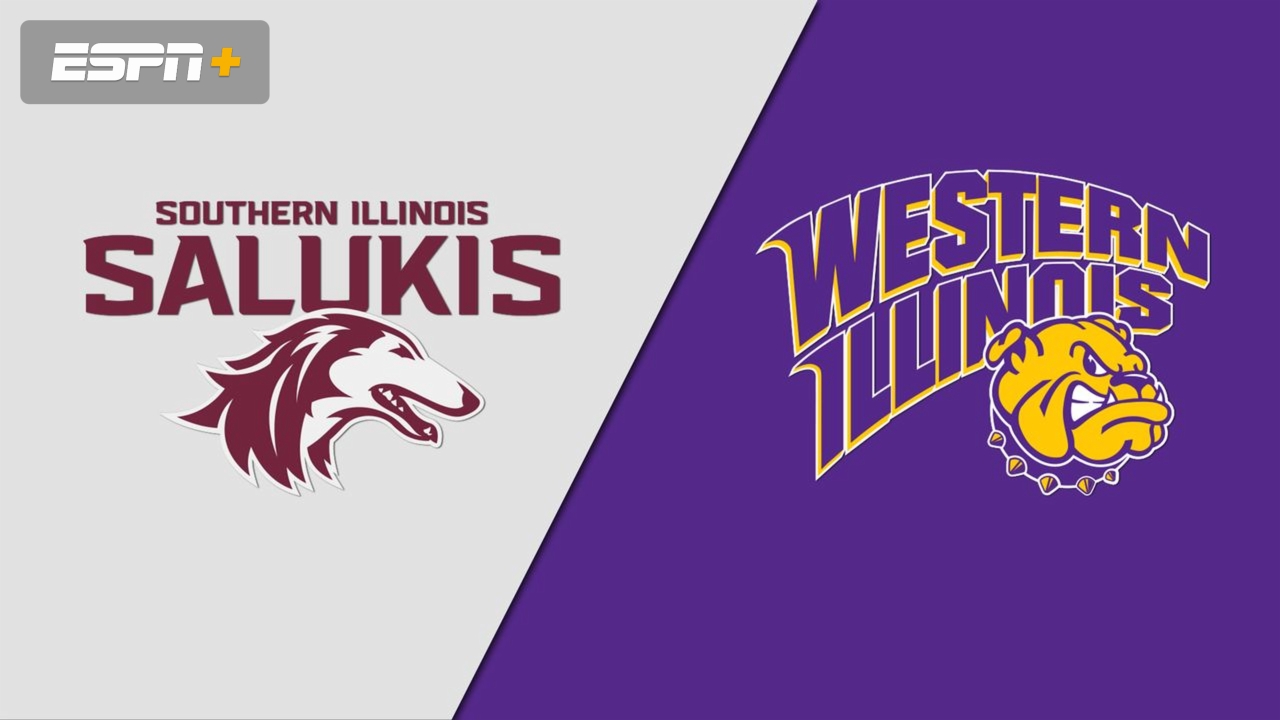 Southern Illinois started the season with two straight losses but the win over the Big 10's Northwestern has ignited the team to now three straight MVFC wins as well. Western Illinois is winless in five games but is coming off its bye week so they did have some extra time for this one. This is the third homecoming game this weekend in the MVFC and with the way both teams are playing right now, I can see WIU staying close possibly into the first quarter but in the end SIU will win this one by a fairly wide margin. Southern Illinois 38 Western Illinois 14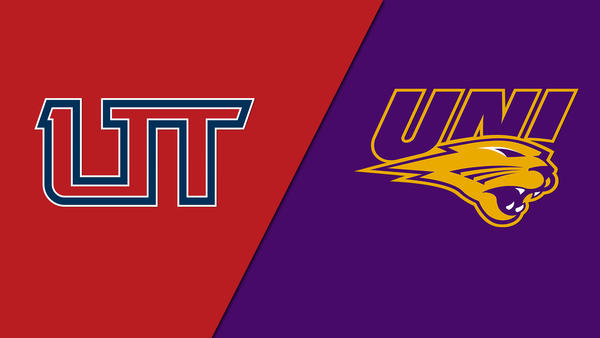 The Panthers get a break from MVFC play in hosting the WAC's Utah Tech. The Trailblazers are a transitioning team from DII to DI and in this offseason changed the school name from Dixie State to Utah Tech. The Panthers with four losses right now cannot afford another loss if it wants to get back to the playoffs like it did last year. Utah Tech is 1-4 with its lone win coming over DII Chadron (Neb.) State. The Panthers will take it to the Trailblazers in what UNI hopes is a long winning streak to get back into the FCS playoff mix. Northern Iowa 41 Utah Tech 17
Originally from LaMoure, North Dakota, Kent is a 1996 graduate of North Dakota State University. His prior writing experience is over 15 years having previously worked with D2football.com, I-AA.org, and College Sporting News before coming to College Sports Journal in 2016. His main focus is college football is the Missouri Valley Football Conference within the Division I FCS. And in 2017, he began also to look at the FBS Group of Five conferences of the American Athletic, Conference USA, Mid-American, Mountain West, and Sun Belt.
Reach him at this email or click below: