Missouri Valley Football Conference 2022 Week 8 Review/Week 9 Preview
South Dakota State has taken a firm grip on the MVFC race following the Jackrabbits second straight road win in the state of North Dakota. SDSU defeated UND in Grand Forks this past week a week after also defeating North Dakota State in Fargo.
The Jacks defeated the Fighting Hawks in somewhat of a similar fashion as their game with NDSU. SDSU trailed 21-14 at halftime to UND (the Jacks trailed 21-7 to NDSU in the intermission). SDSU then used a strong second half (much like it did against NDSU) to win this game.
SDSU scored 35 consecutive points in the middle portion of the game, including a 21-0 outburst in the third quarter to run its winning streak to seven games with the 49-35 win.
SDSU put together its best offensive drive of the first half in the closing minutes, covering 75 yards on eight plays, with the final 32 yards coming on a touchdown pass from QB Mark Gronowski to TETucker Kraft, the latter of whom returned to the lineup Saturday after missing the last six games due to injury.
SDSU put together a six-play, 66-yard touchdown drive to open the second half and knot the game at 21-all. WR Jaxon Janke, who had an 18-yard reception earlier in the drive, capped the march with a 10-yard catch and run.
A flurry of more big plays followed, starting with a 58-yard punt return by Jadon Janke to the UND 8-yard line that led to a 2-yard touchdown pass from Gronowski to Zach Heins for the Jackrabbits' first lead of the game at 28-21.
On the Fighting Hawks' first play from scrimmage on the ensuing drive, Quinton Hicks forced a fumble and Isaiah Stalbird's recovery and 8-yard return to the UND 17 produced another short field for the Jackrabbits. First, Gronowski caught a throw-back pass from Jadon Janke for 16 yards, then the sophomore quarterback scored from a yard out on the next play.
Gronowski would score again on a 10-yard run early in the fourth quarter and Amar Johnson added a 1-yard touchdown run midway through the final stanza to close out the Jackrabbits' scoring.
The Fighting Hawks scored a pair of touchdowns in the fourth quarter on a 9-yard Schuster run and their second blocked punt of the game resulted in an 11-yard touchdown.
Gronowski accounted for a career-high five touchdowns — three passing and two rushing — and finished the game 15-of-20 passing for 197 yards. He also gained 20 yards on six carries while Johnson, playing in place of an injured Isaiah Davis, led SDSU with 71 yards on 14 carries.
Southern Illinois entered the week tied with SDSU for the lead in the conference but the Salukis had a lackluster performance especially in the second half at South Dakota and fell to the Coyotes 24-21.
South Dakota rallied from a two-touchdown deficit to upset No. 14-ranked Southern Illinois, 27-24, on Saturday at the Dakota Dome, ending SIU's five-game winning streak..
The Salukis dominated the first quarter, rolling up a 172-18 advantage in total yards. RB Javon Williams Jr. capped the opening 13-play, 75-yard drive with a one-yard touchdown plunge — his seventh TD in the last three games.
The first warning sign for Southern hit when WR Bryce Miller fumbled on the team's next drive. The ball was scooped up by South Dakota's Brock Mogensen, who returned it 37 yards to the SIU 6. Two plays later, Travis Theis put the Coyotes on the board with a six-yard TD run.
SIU came right back with a 74-yard touchdown drive that featured a Ro Elliott 39-yard run, before Nic Baker scrambled to his left and found Avante Cox for a 16-yard touchdown pass.
The Salukis extended their lead to 21-7 on a Baker to Miller nine-yard TD strike with 2:51 left in the half.
Momentum shifted to South Dakota just before halftime, when Eddie Ogamba drilled a 46-yard field goal to cut the deficit to 21-10.
The Coyotes took the opening kickoff of the second half and marched 78 yards in nine plays for a touchdown that made it 21-17.
Southern's only scoring in the second half was a 21-yard field goal by Jake Baumgarte midway through the third quarter that put the Salukis ahead, 24-17. Lawrence then scored on a 29-yard run for USD early in the fourth to tie the game, 24-24.
The Salukis had two missed opportunities in the fourth quarter. After the defense rose up to stop South Dakota on 4th-and-1 near midfield, the offense couldn't capitalize. SIU's own 4th-and-1 opportunity was spoiled by a false start penalty that forced a punt.
After SIU's defense delivered a three-and-out, the offense drove to the South Dakota 42, but Baker was picked off on 4th-and-6 with 5:00 left in the game.
USD's game-winning drive went 41 yards and set up Ogamba's 44-yard field goal with 2:31 remaining for the final margin of victory.
South Dakota became the first team to run the ball effectively against Southern's defense this season, which came into the game ranked ninth in the FCS against the run. Theis and Shomari Lawrence both surpassed 100 yards rushing in the game for the Coyotes.
In a winner stay in the race game, Northern Iowa basically ousted Missouri State from playoff consideration. MSU lost its fifth straight game in the Panthers rather easy 41-20 win in Cedar Falls. UNI scored the first 17 points of the game and held a 24-7 halftime lead.
The Panthers outgained the Bears 522-221 and was 8-for-13 on third-down conversions. UNI had 201 yards on the ground while QB Theo Day went 22-for-37 through the air for 291 yards and a score.
Illinois State stayed also in the playoff chase again by winning another close game. The Redbirds looked though as they might have an easier time in their game at Indiana State. They jumped out to a 20-0 lead on the Sycamores but had to hold on in the end for a 27-21 road win.
As the third quarter came to a close, the Sycamores cut it to a one-score lead when Chambers connected with Harry Van Dyne on a 16-yard touchdown pass to make it 20-14. The Redbirds got some breathing room early in the fourth quarter, as QB Zack Annexstad rushed for his second touchdown of the game this one from three yards out to make it 27-14.
Indiana State would not go away though, as QB Case Chambers found WR Dante Hendrix for a 67-yard touchdown to cut it back to six at 27-21 with 10:18 left in the game. The Sycamores had the ball at the Illinois State 26-yard line with nine seconds left in the game, but an interception by DB Keondre Jackson iced the game for the Redbirds.
Youngstown State had an improbable win at Western Illinois to keep the the Penguins playoff bid hopes alive. YSU trailed 27-17 with just over three minutes left, but Colt McFadden came on to drill a 42-yard field goal as time expired to give the Penguins an improbable one-point win.
RB Jaleel McLaughlin led the way for the Penguins rushing for 207 yards on 32 carries – the fourth 200-yard effort of his career – tying the school record set by P.J. Mays.
After falling behind by 10, the Guins found a sense of urgency that willed them to the victory.
YSU used two big passing plays to get within two points. QB Mitch Davidson connected with WR Brandon Alexander for 48 yards before finding Bryce Oliver for a 40-yard score with 2:29 remaining. On the extra-point try, Paddy Lynch found Trenton Gillison for a two-point conversion to make it 27-25.
The defense forced a three-and-out and an incompletion on third down allowing YSU to save a timeout. WIU punted the Penguins' 17 with 51 seconds left. The Penguins marched down the field and were able to call timeout with four seconds left at the WIU 25-yard line to get the game winning kick.
See highlights of these games below:
2022 Missouri Valley Standings
| Pos | Team | W | L | Conf W | Conf L | PF | PA |
| --- | --- | --- | --- | --- | --- | --- | --- |
| 1 | South Dakota State | 10 | 1 | 8 | 0 | 345 | 171 |
| 2 | North Dakota State | 8 | 2 | 6 | 1 | 341 | 170 |
| 3 | North Dakota | 7 | 3 | 5 | 2 | 312 | 290 |
| 4 | Youngstown State | 6 | 4 | 4 | 3 | 286 | 258 |
| 5 | Northern Iowa | 5 | 5 | 4 | 3 | 304 | 269 |
| 6 | Southern Illinois | 5 | 5 | 4 | 3 | 290 | 266 |
| 7 | Illinois State | 5 | 5 | 3 | 4 | 170 | 211 |
| 8 | Missouri State | 4 | 6 | 2 | 5 | 277 | 294 |
| 9 | South Dakota | 3 | 7 | 2 | 5 | 165 | 263 |
| 10 | Indiana State | 2 | 8 | 1 | 6 | 169 | 336 |
| 11 | Western Illinois | 0 | 10 | 0 | 7 | 138 | 406 |
WEEK 9 PREVIEW & PREDICTIONS
Five conference games are on the slate this week, along with a very enticing non-conference game for North Dakota hosting WAC co-leader Abilene Christian which means all 11 MVFC squads will be in action this week.
Inside the conference, the big game might be Illinois State at North Dakota State. The Redbirds have won some very close games, while NDSU had its bye last week after the narrow loss at home to South Dakota State.
The UNI at SIU game also will have some serious playoff mode in this as well with SIU sitting with three losses and UNI sitting with four. The loser likely will be out of the playoff mix.
Here is a look at my predictions for all six games this week: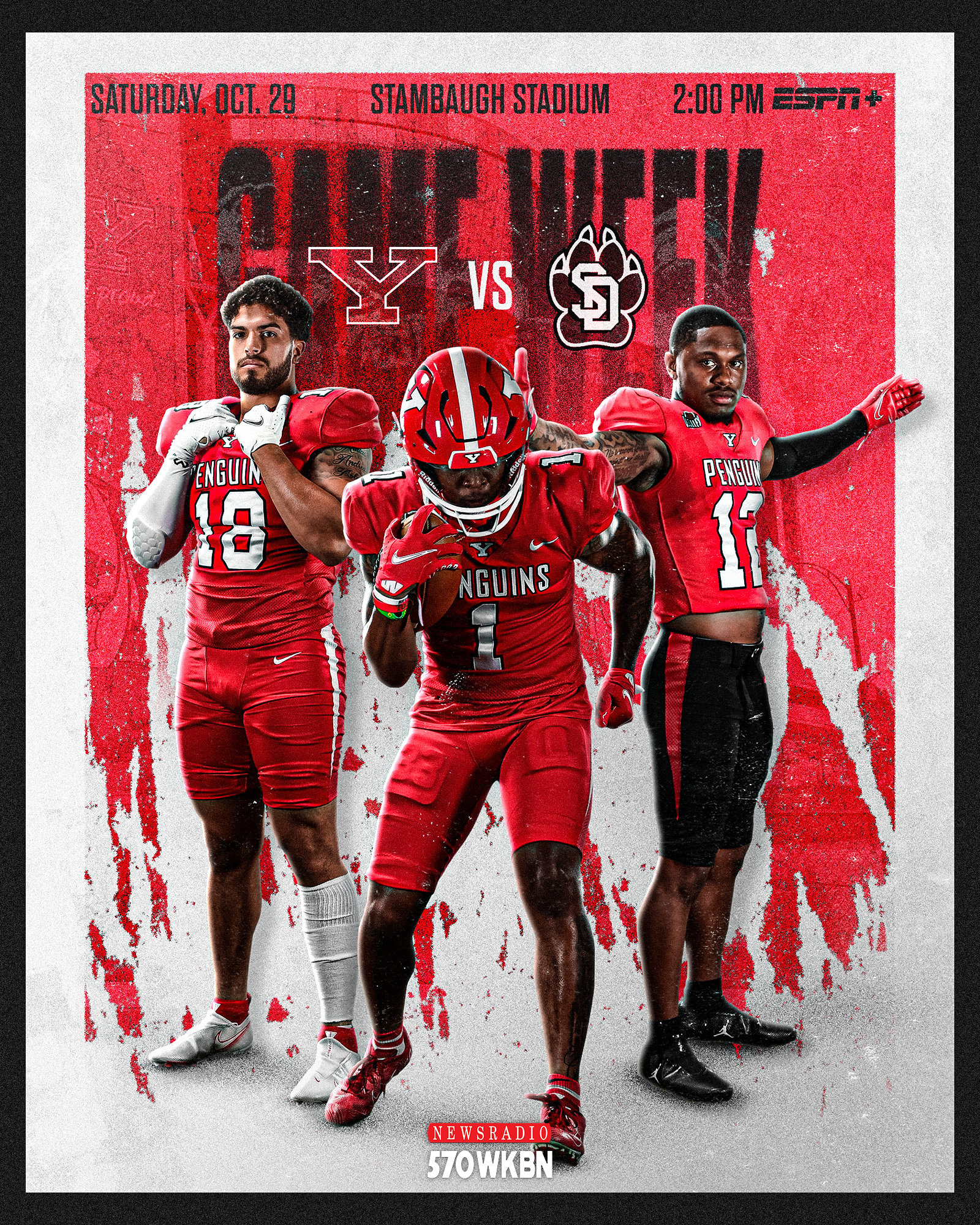 South Dakota at Youngstown State (ESPN+/KELOXTRA) 1:00 P.M.
The Penguins sit at three losses overall and are coming off that miraculous comeback win at Western Illinois last week. South Dakota played possibly its best game of the season in its win over Southern Illinois last week. Something has to give but I really like the Penguins coming home to notch this win but in a very tight game. Youngstown State 31 South Dakota 28
Indiana State at SDSU (Midco/ESPN+) 2:00 P.M.
This game kind of looks like a mismatch on paper with the winless in league play Sycamores against the undefeated in league play Jackrabbits. It is also Hobo Day (SDSU's version of homecoming) in Brookings so I would expect a near sellout for this game. However, Indiana Sate has kept all of its league games within a touchdown but just have not been able to get over the hump to notch a win. SDSU looks too strong to allow this especially in Brookings. But I think this game might be closer than most think. South Dakota State 38 Indiana State 28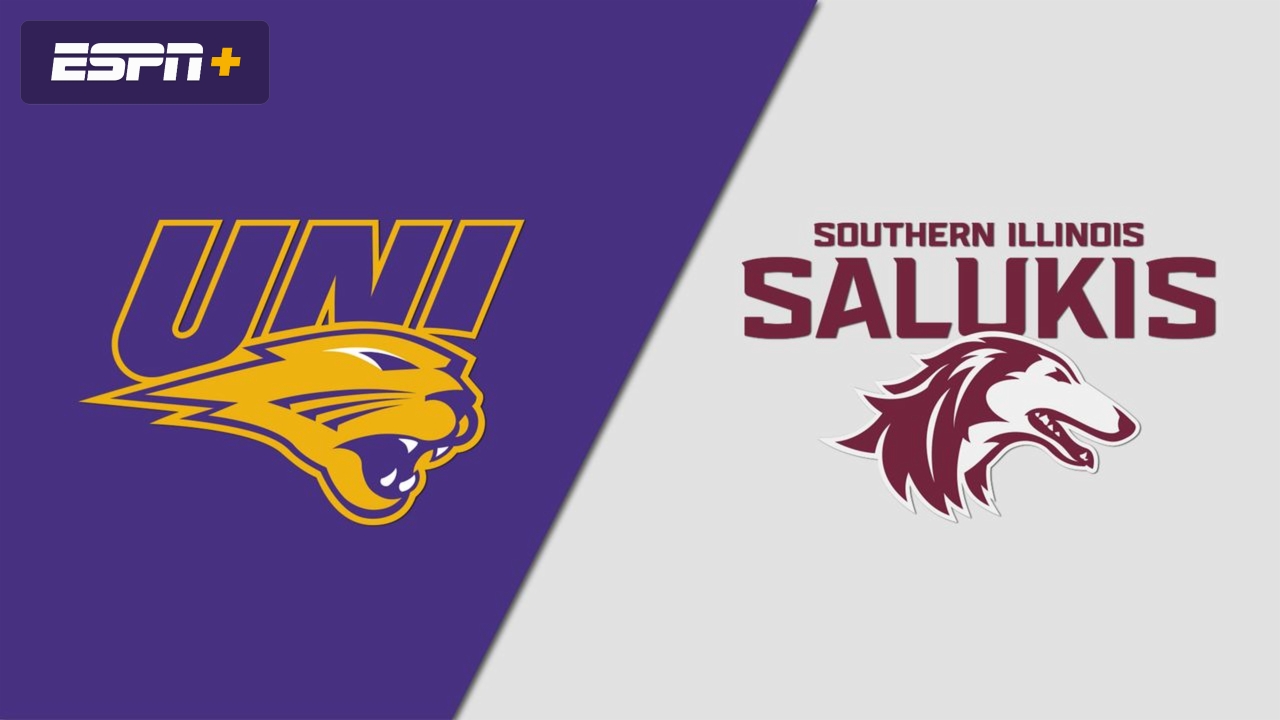 Northern Iowa at Southern Illinois (ESPN3) 2:00 P.M.
This has always been a key battle in MVFC play over the last 15+ seasons. This one has some added pressure on both sides to stay in playoff contention. The Panthers have won four of its last five games after starting the season with three losses. Southern Illinois had a similar start with two straight losses to start its season before knocking off FBS Northwestern in Game 3 that spurred a five game winning streak before that crashed last week at South Dakota. The Panthers have seemed to get things sorted out on its side and look like a team that made the playoffs last year. SIU looked like that through the last six games outside of the second half against USD. This contest though as of late has gone towards the Panthers–winning five of the last six meetings with SIU dating back to 2014. Southern's only win during that stretch came at home on in the spring 2021 season. I think the Panthers will pull this one out to put them squarely on the playoff conversation moving forward but it will come down the last position of the game. Northern Iowa 27 Southern Illinois 24
Western Illinois at Missouri State (ESPN+) 2:00 P.M.
Just where has Missouri State went the last five weeks with five straight losses? The Bears last week at UNI looked like a team that has given up on the season. Western Illinois nearly got its first victory at home against YSU last week but feel in the seconds of the game to give them their seventh loss. While Missouri State has the stronger roster, I just think they will again play uninspired football again this week. I like the Leathernecks to put the Bears season completely to rest this week. Western Illinois 35 Missouri State 31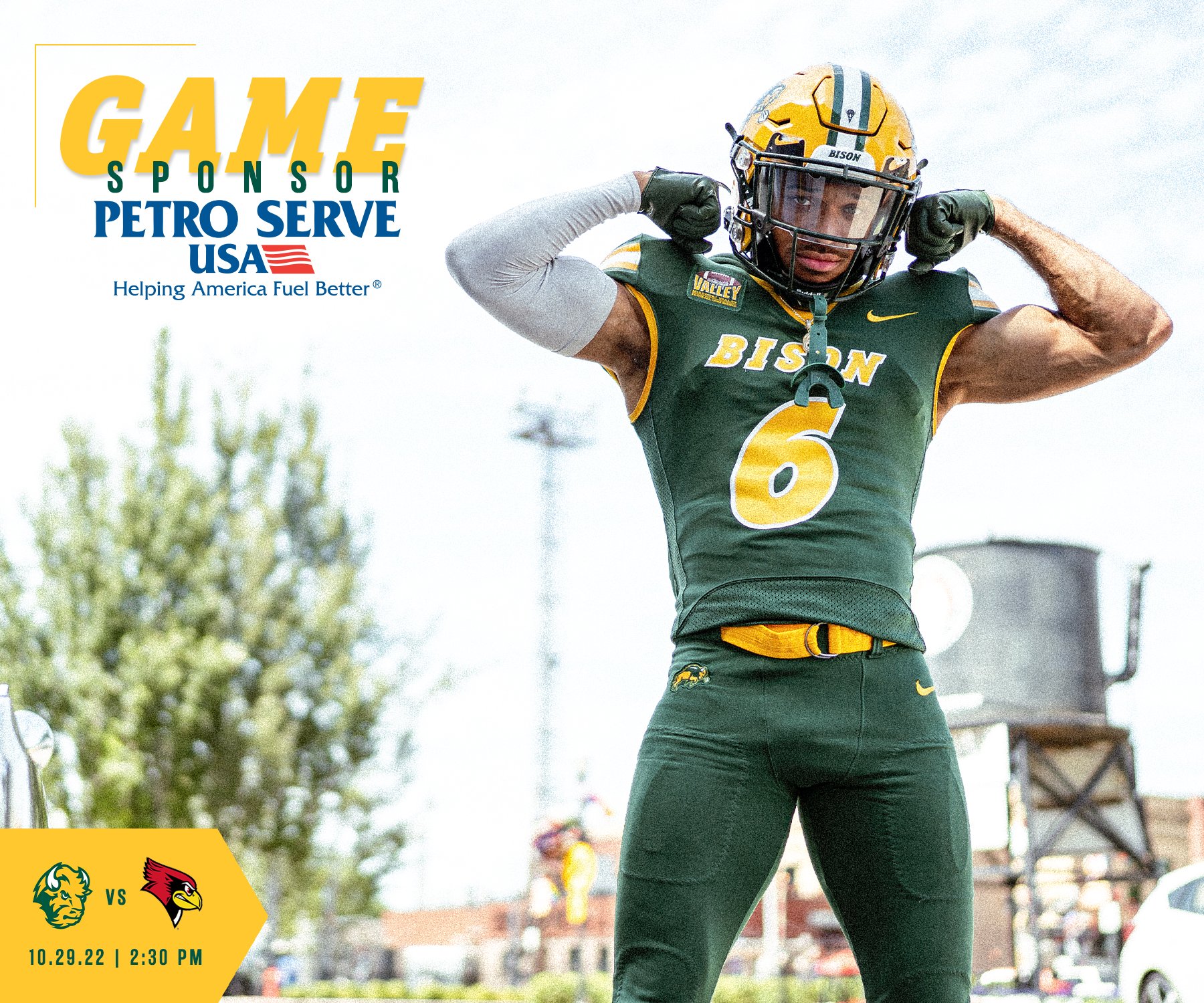 Illinois State at North Dakota State (ABC ND/ESPN+) 2:30 P.M.
NDSU is coming off the loss two weeks ago to SDSU and had its bye week ahead of this home contest with the Redbirds. Something has been off especially on the defensive side for the Bison this year but having a bye week might have come at a good time where it is about the halfway point of the season when including the playoff weeks for NDSU. The Redbirds have managed to just win five games–four of the five wins have been by a touchdown or less. I think ISU can keep this close but the Fargodome will be too much for them to overcome. North Dakota State 31 Illinois State 21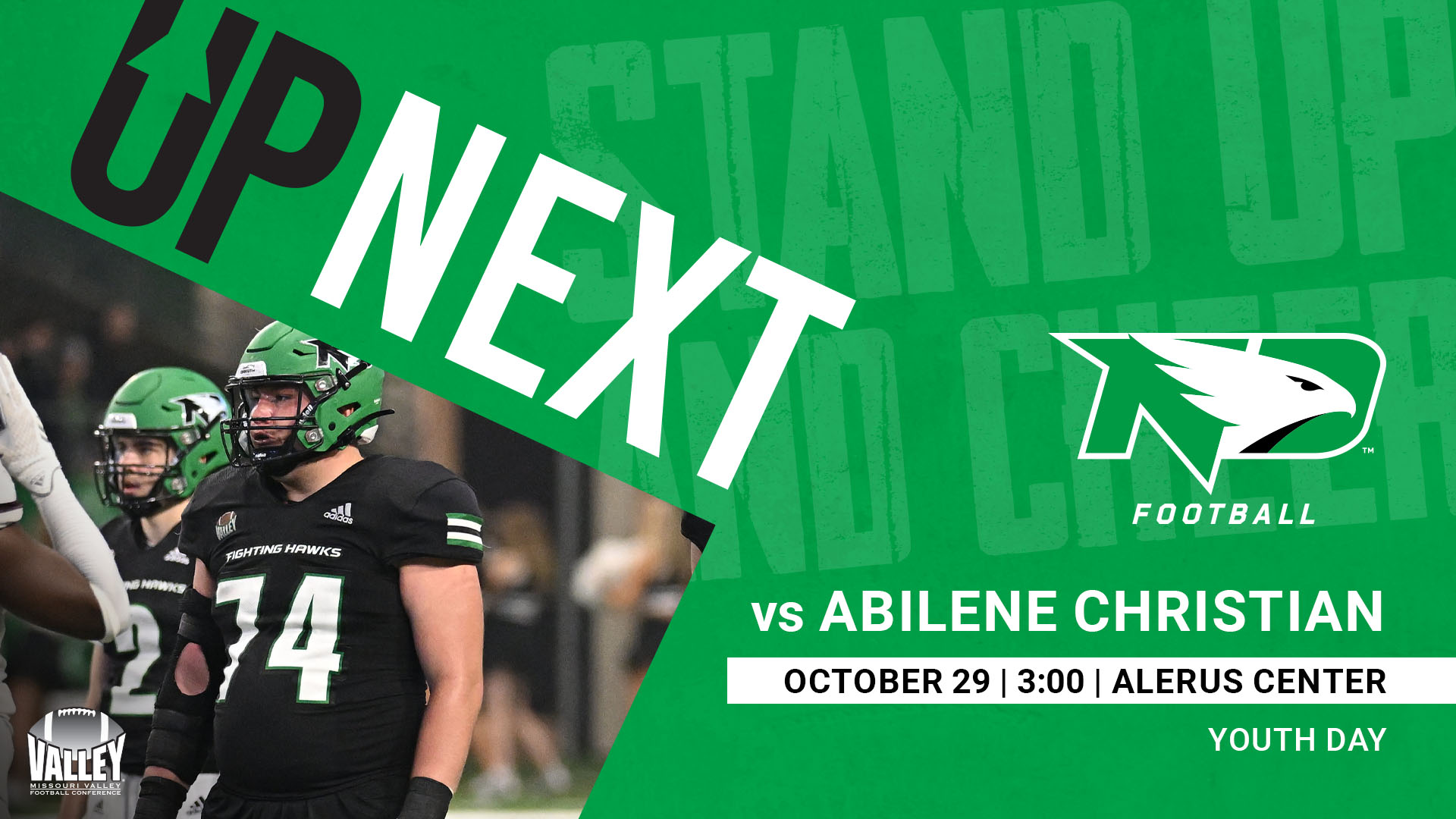 Abilene Christian at North Dakota (Midco Two/ESPN+) 3:00 P.M.
This is the last out-of-conference game for the league with UND squarely also on the playoff bubble. A win though here for the Fighting Hawks against a co-leader of a conference in the Wildcats might pay dividends not just for UND but possibly for the rest of the league to show the strength within the MVFC to playoff committee members. I think the Fighting Hawks pull this one out with a fairly large margin of victory to get that bad taste of losing at home to SDSU last week. North Dakota 41 Abilene Christian 21
Originally from LaMoure, North Dakota, Kent is a 1996 graduate of North Dakota State University. His prior writing experience is over 15 years having previously worked with D2football.com, I-AA.org, and College Sporting News before coming to College Sports Journal in 2016. His main focus is college football is the Missouri Valley Football Conference within the Division I FCS. And in 2017, he began also to look at the FBS Group of Five conferences of the American Athletic, Conference USA, Mid-American, Mountain West, and Sun Belt.
Reach him at this email or click below: