Jacksonville State, Jacksonville State, Jacksonville State. You're forgiven if you had the impression last season that the story of the OVC was all about Jacksonville State, their star quarterback, Eli Jenkins, and their star pass rusher, Darius Jackson.
But the Gamecocks didn't only win with those two players – they had breakout seasons from a lot of different guys that didn't have the last name of Jenkins or Jackson.
In the 2017 there are a multitude of players that OVC fans might be seeing in the highlights that might have skipped notice from all the incredible exploits of Eli Jenkins. Here are nine OVC players possibly poised for breakout seasons for their teams.

Kentel Williams, WR/RB/KR, Austin Peay
In a rough season for the Governors last season, the play of Williams, who was an all-purpose yardage threat as a freshman, really stood out. Listed as a running back last year but a wide receiver this year, the Knoxville, Tennessee native had 1,091 all-purpose yards in 2016 – 541 rushing, 165 receiving, and 385 in returns. In 2017 he looks like he might be a big focal point of opposing defenses – can he expand on his incredible freshman season and out-do himself this year to help turn around Austin Peay?
Nick Horne, LB, Eastern Illinois
He wasn't exactly invited to Eastern Illinois by the school President – when the Winona State safety applied to come to Charleston, Illinois to be closer to his hometown of Park Forest, he had to walk-on and attempt to work his way on to the first team. But the Panthers are glad he did, as he seamlessly stepped into the linebacker position, notching 73 tackles and 5 sacks. The first-team all-OVC accolades have gone to guys like Seth McDonald on the Panther defense, but Horne is a "glue guy" who might be able to make even bigger strides in 2018.
Jeffrey Canady, LB, Eastern Kentucky
Exactly how does a guy who is seventh in the nation in tackles escape all-OVC honors on defense in 2016? While we contemplate the answer to that question, it's worth noting that the Barbourville, Kentucky native, who had two uncles who also played football at EKU, had 123 tackles and 5 tackles for loss in the heart of the Colonels defense. In 2017, his redshirt senior season, if he can build his overall game to dominate on a very solid Eastern Kentucky defense, it could mean a special season for the Colonels.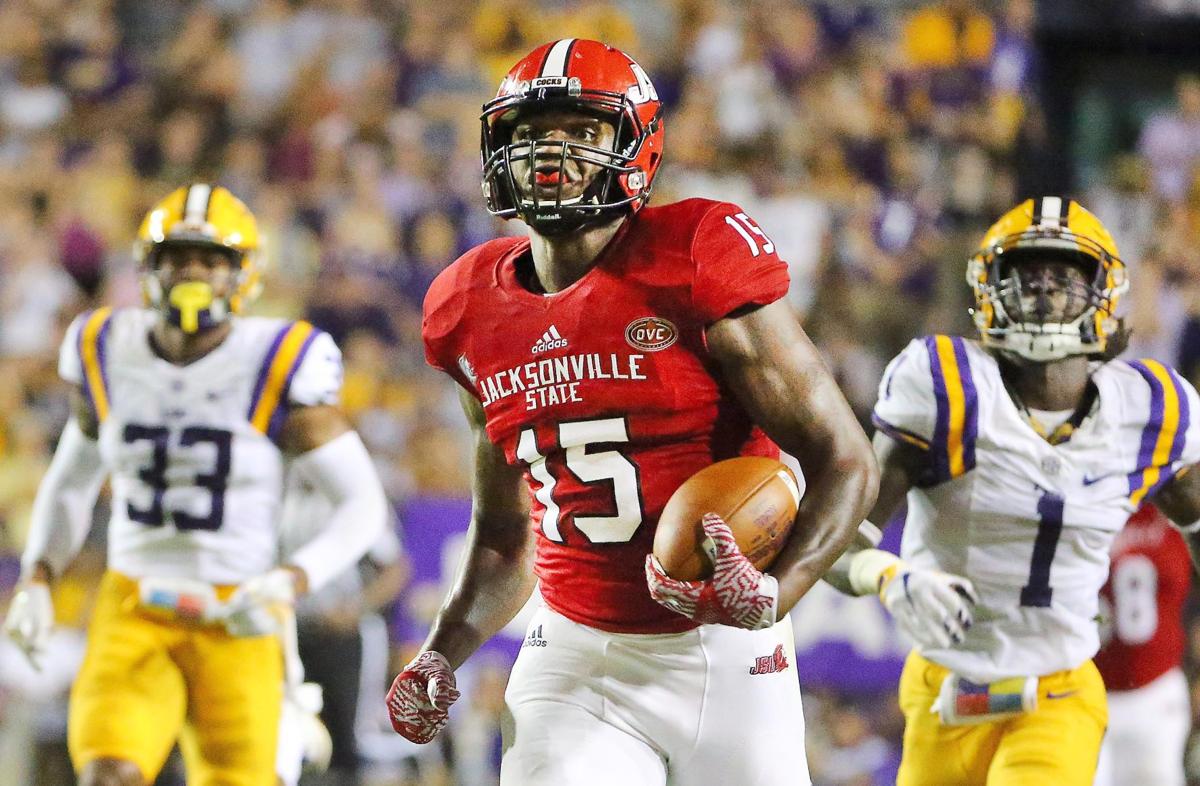 Krenwick Sanders, WR, Jacksonville State
When superstar wideout Josh Barge had to sit out the first two games of the season in 2016, the main beneficiary was Sanders, a transfer from Wisconsin that had one of the plays of the game against LSU with a long touchdown catch. Now with Barge and quarterback Eli Jenkins gone, the Jessup, Georgia native is a candidate to break out and fill the role that Barge had as the top receiver on the Gamecocks. Can he be that No. 1 guy and help carry Jacksonville State again to another OVC title?
Mareio McGraw, WR, Murray State
As a freshman, the Nashville, Tennessee native leapt onto the scene in the Racers' pass-oriented offense in the second half of the year and gave Murray State a good rushing game to complement the pass, notching 571 rushing yards and 18 receptions for 178 yards. McGraw seems poised to build on an extremely successful season last year and become an even bigger part of the Racer offense, and perhaps to lift Murray State into OVC title contention, too.
Jesse Hosket, QB, SEMO
When the Redhawks were at their best last year – like when they upset Eastern Illinois when they were in the FCS Top 25 – quarterback Jesse Hosket managed the game well, made some big passing plays, and was accurate throwing the ball. But the French Camp, Mississippi native struggled with consistency and accuracy at times, though he still averaged 202 passing yards per game and scored 14 touchdowns for the Redhawks. Can Hosket play with more consistency, and string together some wins in OVC play to make SEMO a contender? If he does have that breakout year, the Redhawks have a stifling enough defense to be tough to handle.

Steven Newbold, WR, Tennessee State
Though much of the preseason accolades will go to the guy lining up on the other side of him, Patrick Smith, it should open up all sorts of opportunities for the Carol City, Florida native to build on his tremendous freshman season. Can he break out and get more than 784 yards and 7 touchdowns in 2017? If he can, then that should mean Tennessee State could very well be pushing for an OVC championship as well.
Yeedee Thaenrat, RB, Tennessee Tech
It's an amazing story: the running back from Philadelphia, PA that worked out with Temple but couldn't attend because they didn't have any more scholarships. Literally two days before Tennessee Tech opened for fall practice in the 2016 season, he was invited to walk on with the chance to earn a scholarship. And boy, did he ever: he was a shoo-in for the OVC's all-newcomer team, with 707 yards rushing, 176 yards receiving and 6 touchdowns.
Thaenrat told the Northeast Times that his goal is 1,000 yards rushing and 10 touchdowns this season, and he's got the talent to do so.

Jaimiee Bowe, RB, UT-Martin
The Skyhawks do their business with a stable of running backs, and the Spartanburg, South Carolina native emerged last year as the top guy in UT-Martin's stable last year with 747 yards rushing and 7 TDs. Can he be their breakout star on offense and get past the 1,000 yard mark? If he does, he'll be shushing a lot of OVC competition and maybe help UT-Martin back to the FCS Playoffs.