It seems like we have this conversation every year.
It was another disappointing draft for HBCU football.
Once upon a time, HBCUs were the place to draft NFL talent. But that hasn't been the case lately.
Sure, Tytus Howard from Alabama State was selected in the first round by the Texans last year and went on to have an all-rookie season. He was the first first-round draft choice since Dominique Rodgers-Cromartie was selected by the Cardinals in 2008.
And last year, only four total players were drafted. The other three players, North Carolina A&T defensive end Darryl Johnson, Jr., offensive lineman Joshua Miles of Morgan State, and Prairie View A&M defensive end Quinton Bell were all seventh round selections.
All four players made opening day rosters. Of last year's 30 players who made opening day rosters, 14 of those players were free agents. To put that in perspective, just 21 HBCU players have been drafted since 2011.
I don't want to hear about how the COVID-19 pandemic prevented players from participating in an HBCU Combine organized by the NFL. I have some misgiving about that proposed combine. To me, if you're the league, instead of having a combine and inviting only two players from each school, why not make the trip to the schools while making trips to other schools in respective states? This allows for more than two players to be evaluated. Further, other players who were drafted also did not participate in various combines.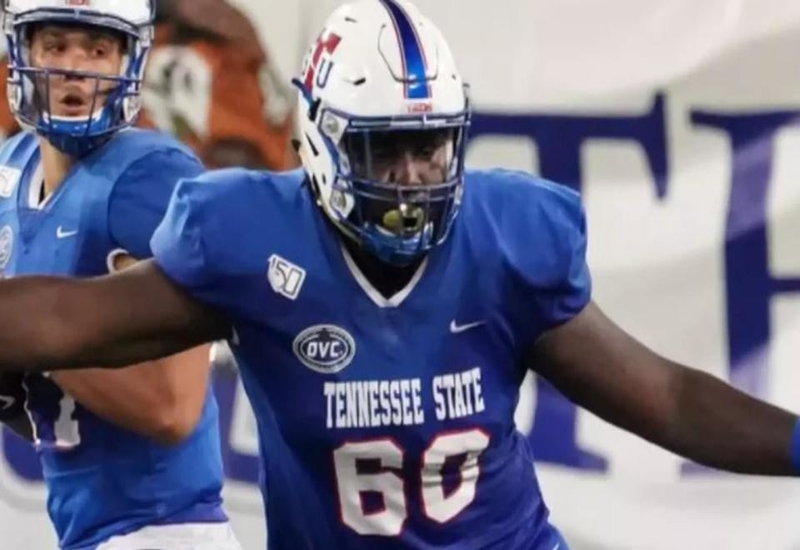 Let's be honest, this was going to be a lean year for HBCU players to be drafted in any case. There was only one participant from an HBCU that participated in the NFL Scouting Combine or the Senior Bowl and that was South Carolina State offensive tackle Alex Taylor. Taylor did well at the Senior Bowl, and was solid at the combine, yet still wasn't drafted.
As the rounds continued to go by, finally, offensive lineman Lachavious Simmons of Tennessee State was drafted in the seventh round by the Bears, 227th overall. The league was able to keep its streak alive of drafting at least one player from an HBCU since 1950. However, this also marks the first time since 2012 that only one HBCU player was drafted. The only other time that happened was in 1951 when back Alvin Hanley of Kentucky State was the sole HBCU player selected by the Los Angeles Rams in the 30th round.
Once a player gets to the sixth and seventh round, they almost don't want to get drafted. It becomes a tough road to make a team, particularly from an HBCU. If you sign as a free agent, you can select the best situation. Granted, there is more guaranteed money between the late rounder and undrafted free agent signee, but again, you can't put a price tag on the extra control.
It seems like each year there is an HBCU player that signs as a free agent and makes an impact. Last year, for example, it was Browns' punter Jamie Gillan, the former BOXTOROW All-American who was named AFC Special Teams Player of the Month for September and was named to the All-Rookie Team.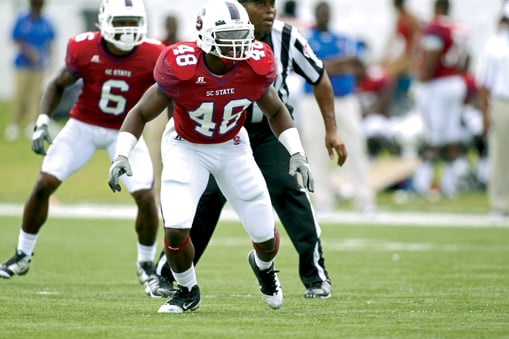 Go back a few years ago when South Carolina State linebacker Joe Thomas went undrafted in 2013. He worked hard and has had an impact in the NFL most notably with the Packers a few years ago. (He is now with the Cowboys.)
I can go back further. Paul "Tank" Younger was the first player from an HBCU to play in the NFL, going undrafted in 1949 yet went on to be named All-Pro three times and the Pro Bowl four times.
Willie Brown of Grambling went undrafted in 1963, but went on to make nine Pro Bowls/All-Star Games, win two Super Bowls, and finish his career with 54 interceptions during his 16-year career. He revolutionized the position of defensive back.
Willie Davis was a player drafted in the 15th round by the Browns in 1956. He went on to be named All-Pro five times, win five championships, and be inducted into the Pro Football Hall of Fame.
More recently, Antoine Bethea was selected in the 6th round of the 2006 draft by the Colts. He became a starter at safety from Day 1, has started 200 of 209 games in a 14-year career, has been named to three Pro Bowls and won a Super Bowl with the Colts his rookie season. He's looking forward to a 15th season in 2020.
While the saying goes that NFL scouts will find you if you can play, why aren't teams selecting HBCU players in higher rounds? Like with most things, it's all about the money.
Teams generally don't want to pay players from HBCUs or smaller schools, at least initially. That doesn't seem right because there has been a lot of success for HBCU players who were drafted fourth round and above recently.
Left tackle Terron Armstead from Arkansas-Pine Bluff was selected in the third round of the 2013 NFL Draft by the Saints. He has turned into one of the best and highest paid tackles in the game, protecting Drew Brees' blindside. He has been named to back-to-back Pro Bowls.
Javon Hargrave from South Carolina State was taken in the third round by the Steelers in 2016. In the offseason, he signed as a free agent with the Eagles and is now the highest paid nose tackle in football.
Running back/punt returner Tarik Cohen of North Carolina A&T, selected in the fourth round by the Bears in 2017, was named All-Pro in 2018 and is one of the most electrifying players in the league.
Then there's linebacker Darius Leonard from South Carolina State, second round pick by the Colts in 2018 who was named NFL Defensive Rookie of the Year and has been named All-Pro in his first two years in the league.
We know HBCU players can play. The 30 (33 when Donnie Shell, Harold Carmichael, and Winston-Hill are officially inducted) that are in the Pro Football Hall of Fame tells us so and I have mentioned just a few who are currently shining.
So draft these players higher and pay them and stop trying to get quality talent on the cheap.