Quietly, Dominick Bragalone's Offseason Work Hoping To Pay Off For Record-Breaking 2018
There he was on the sidelines of practice, Walter Payton award nominee and unquestioned feature back of the Mountain Hawks, senior RB Dominick Bragalone, on one knee.
Understandably, he was not on the field as much for practice with the Lehigh offense or Lehigh special teams. That's because head coach Andy Coen needs his legs for the regular season, where he'll hopefully be bowling over defenders from Villanova, Navy, Patriot League foes, and, on opening weekend, St. Francis (PA).
But it was clear that he wanted nothing more than to be out there on that field.
"It's tough," he told me after practice last week. "When you come out here, you really just want to get after it. You love football, you want to get in as many reps as you can, and I know the coaches are just being smart with my reps. However many reps they want to give me I'll take."
The South Williamsport, PA native burst onto the scene in 2015 as a true freshman, hitting the 1,000 yard rushing plateau after a late touchdown against Lafayette to reach 1,008 yards.
Since then, he's amassed back-to-back 1,000 yard seasons and is only 130 yards away from breaking the all-time Lehigh rushing record currently head by RB Rabih Abdullah.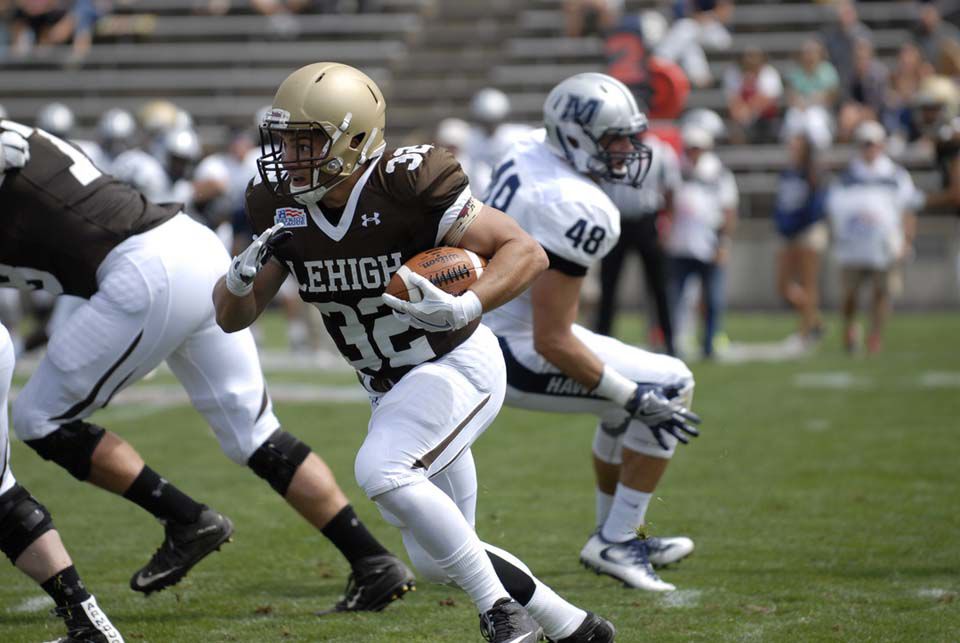 Abdullah ended his career with 3,696 yards, while Bragalone, after three full seasons, is at 3,567.
But his career at Lehigh has been a lot more than just numbers.
Though quiet, he's one of the strongest guys on the team and seems to break through just when the Mountain Hawks need him to the most, like when he got loose and caught a screen TD pass from QB Brad Mayes at the end of the first half against Colgate last year to keep Lehigh within striking distance, 28-21. Lehigh would end up winning the game 41-38, partially set up by a 20 yard run to set up the game-winning touchdown pass.
Perhaps predictably, this offseason he was seen on his Twitter feed lifting insane amount of weights, getting ready for the grind of the 2018 season.
"Lifting is a part of it," he told me, "but I've been working on speed, ball skills, trying to catch the ball better, cuts, blocking, vision, just trying to be a complete running back. Overall physicality in our practices has been through the roof, and I think that it's a great thing. With all the hitting we've been doing, that will be good for us in the long run."
One of the challenges for Dom this season is that he will be entering this season with a younger offensive line, one without the continuity of long-time Mountain Hawks OL Brandon Short, OT Tim O'Hara, and OL Zach Duffy anchoring the line.
This week, a starting offensive line was revealed with two returning starters in OG Nick Rosen and OG Liborio Ricottilli, but also featuring a true freshman, 280 lb OT Justin Gurth, in the starting lineup. Even so, Dom has been working well with them to figure out their tendencies so he can continue to excel.
"We have a lot of young guys, and they've been really stepping up," Bragalone said. "Being a senior, I have the playbook down, so I can be patient, focus on their blocking schemes and see what they're doing, knowing what the O line will do before the play is snapped. I think they're going to do fine."
This past week, Bragalone was also voted by his peers to be one of Lehigh's four captains, and the only offensive player to be honored with a captainship.
Dom is aware that his teammates look to him as an example.
"I try to come out here every day and not slack off, compete and work my butt off," he said. "I know that's going to compel other people and bring them towards that goal. It's not easy and you have to really work hard, and I think the guys understand that."
He also seems to have a fundamental understanding about not only the hard work, and also the fun of football, something he's going to be trying to infuse into this version of the 2018 Mountain Hawks.