BETHLEHEM – On April 15th, 2022, at about 6PM at Lehigh Valley Inpatient Hospice in Allentown, the beloved, record-setting former head coach of Lehigh football Andy Coen passed away at the age of 57.
He was a great man, taken from us too soon from a horrible disease. I know, because I had the honor of talking to him about his passion, Lehigh football, for his entire hall-of-fame coaching career.
For the last few years, complications from early-onset Alzheimer's disease robbed many of us of the ability to tell him how much he meant to all of us, including me. I can only imagine what his family has gone through.
His legacy, however, is in his many words and actions from when he was alive.
"Life has thrown me a curveball," Coen said in the press release on Friday, December 7th, 2018 when he announced he was stepping down as Lehigh football head coach. "I am in the early stages [of early onset Alzheimer's disease] and it is best for me to eliminate stress and concentrate on my health and well-being. My wife, Laura, and my children, Molly, Nolan and Finn have supported me throughout my career and are my biggest fans. This is a very difficult decision for all of us, but it is what is best at this time."
It's hard to believe that the man I spent so much time talking to for more than a decade is gone – a man who was just uncommonly loved and respected throughout the Patriot League, the Ivy League, and FCS football in general.
First Meeting
Almost instantly my thoughts shot back to the moment when I first met him and shook his hand.
The year was 2006, and the former Lehigh football assistant had just been hired away from the staff of the Penn Quakers.
He was offensive coordinator of two of the greatest football teams in Lehigh history in 1998 and 1999, and when you combined his career with Al Bagnoli at Penn, he had been a part of five Championship teams with a combined record of 69-15. After Pete Lembo was hired away by Elon, everyone in Lehigh Nation was excited about Andy "coming home" to Lehigh.
"The thing that impressed me the most when he was here originally was how hard our kids played for him and how they felt about him," athletic director Joe Sterrett said at the time. "Kids like playing for him, and have great enthusiasm playing for him."
The glowing reviews continued to pour in at the conclusion of that first press conference, which was in every way just a complete home run with Lehigh fans.
"This is a great place with wonderful pride and tradition," Coen said at the time. "I'm humbled to now have that responsibility to carry on that tradition… When I left [Lehigh], it was a very, very hard decision," Coen said. "I thought, at the time, for some personal and professional reasons, it was a good opportunity to go to Penn. But all along, I have been preparing myself to be a head coach and the opportunity to come back to Lehigh is wonderful."
He also said thid from his opening day press conference that has lived on and defined the Lehigh football program ever since he uttered it.
"It will truly be 'our' program. It's not going to be Andy Coen's program, it's going to be the program of the players… and together, we will work to accomplish great things at Lehigh. I want our program to be something that the entire Lehigh community will take pride in, both in the academic community, [and] certainly our student body, but also, very importantly, I want our alumni to have a real sense of connection with our football program.
"Tradition never graduates. The great tradition of Lehigh will go on and on forever and ever… the faces will change, the guys wearing the uniforms will change, but the tradition… will continue. It's critical that our alumni realize that, and I want them to get involved with this program. I will reach out to them, [and] I certainly want them to have the sense that we want them around… [and] we want them involved…. Once you're Lehigh, you're always Lehigh."
My opportunity to meet him for the first time was at the Green Pond Country Club at Patriot League Media Day in the summer of 2006. And I was nervous as hell. So nervous, in fact, that I didn't feel like I could interrupt the never-ending parade of media members who wanted to talk to him.
The time for the media members came and went. Most of the coaches were headed out to the golf course. I got some interviews, but I had resigned myself to the fact that the opportunity for interview I wanted the most had come and gone.
I was almost ready to leave – it was a sweltering hot day – when Lehigh's SID came running after me. "Did you get to talk to Andy yet?" he said. "He's waiting to talk to you."
And talk to me he did, in the parking lot of the Green Pond Country Club, with Lafayette head coach Frank Tavani next to him. I witnessed he and Frank shaking hands, with Tavani furthermore wishing him luck. Andy then told me how he "couldn't wait to get started" as a head football coach. "I'm very honest with the kids, [and] I get excited about having good rapport with the kids I coach – that's very important to me. I'm enthusiastic, energetic, however you want to say it… sometimes a little louder than your average person, but that's been a pretty successful style [for me].
"Around campus, the expectation is for the football program to be at the top," Coen continued. "I don't see this as a pressure situation. This is the kind of thing I want to be involved in."
That he took that time with me – a nobody – when he could have just jumped into the golf cart or stayed in the air conditioning, meant a whole lot to me when I was trying to figure out what the hell I was doing there.
Football Family
Over his incredible, successful career at Lehigh, I was incredibly blessed to talk to him about his passion, the Lehigh football program that he oversaw. I asked him a whole lot of questions over that time – fun questions, stupid questions, tough questions, questions that brought out the redness in his face, and others where he was moved to tears.
In those early years he went on the road to recruit, and he clearly was a master at it. I don't think he even needed to do anything special except to be himself. His love and passion for what he was building, and the simple message that he wanted the player's best time of their lives to be playing football at Lehigh, shone through very easily. He didn't have to really hide it. It was obvious whenever he opened his mouth.
I remember, even at the beginning, he was a man that took responsibility for wins and losses. I sat through a lot of press conferences where he wouldn't shy away from tough 4th down calls that didn't go Lehigh's way. "That's on me," he'd say, maybe even sometimes when it clearly wasn't his fault.
I remember when he would bring his young kids into his press conferences, occasionally – many years before Stephen Curry would do so. Family, clearly, was important to him, and players, coaches and media members saw that clearly. Lehigh, too, was a family.
I also remember, early on, it didn't seem like Andy would have a long career at Lehigh. His first three years were 6-5, 5-6 and 5-6, and the 2009 squad was at 3-7 going into their game playing spoiler against Lafayette. It wasn't said officially, but word on the street was that Andy had to win that game, or he was going to be let go. At that time, expectations for the Lehigh program were sky – FCS Playoff appearances were to be expected, and Lehigh had been out of that conversation for three straight years.
One of the big reasons fans and alums were so excited to have Andy back at Lehigh was the idea that he understood the Lehigh/Lafayette Rivalry so intimately. He understood the passion and importance of that game, which is the most played college football RIvalry in the world. He always called the Lehigh seasons as three different seasons: the regular season, the postseason (if you won your conference championship), and the "one-game season" of Lehigh vs. Lafayette. He knew many alumni didn't pay attention to the other seasons, but showed up for the "bowl-like atmosphere" for the sellout game.
The Best Rivalry Game Ever
That 2009 Rivalry game would end up going to overtime. It was a thrilling affair, 3-7 Lehigh giving 8-2 Lafayette everything they could handle. It sure seemed to me like the team was playing for Andy's job. But when Lafayette QB Rob Curley would find WR Kyle Hayes for a 34 yard TD pass with a minute to play, the Davis Rodruiguez extra point would tie the game at 21 and push the game to overtime.
Lehigh's JB Clark would hurl an 8 yard TD pass to TE Alex Wojdowski to give Lehigh the lead, and then would seal the victory by an interception by LB Al Pierce on Lafayette's possession in overtime. Pierce made a one-step fake of a blitz, then slid back into pass coverage, and then, he said in his direct way, "made a play". DL BJ Benning was carried off the field that day in a game, to me, was one of the top Rivalry games I've ever covered.
"All coaching is is hang in there with your guys, and they got better all year," Coen said in his opening statement. "We finally got some plays to go our way this game. This was such a tough season for our guys. I'm so happy for them that we were able to get the win here today. To score and take the lead in the fourth quarter for the first time, then give it up, then win the game in overtime, after all the tough losses they've had during the season, I think it speaks volumes to these guys and how they hung in there with us all year.
"Every week, you had to pick them up off the ground – but I tell you what, the time Tuesday came around they were excited to play football. We talk a lot about the kids in our program – we want to bring guys in who are competitors, leaders, and guys who love to play football. I told them before the game that we have those people in the room. It just hasn't worked out for us. So let's just go out and get this one.
"Even when it didn't look great for us out there they kept battling and battling and…. " Coen stopped, getting a bit emotional. "Awesome. Awesome for those guys."
I can see the raw, genuine emotion on his face how he said it. He came damn close to crying, but pulled it together. These were not mere words. He lived them. And, dammit, it WAS awesome. It's hard not to tear up while writing this.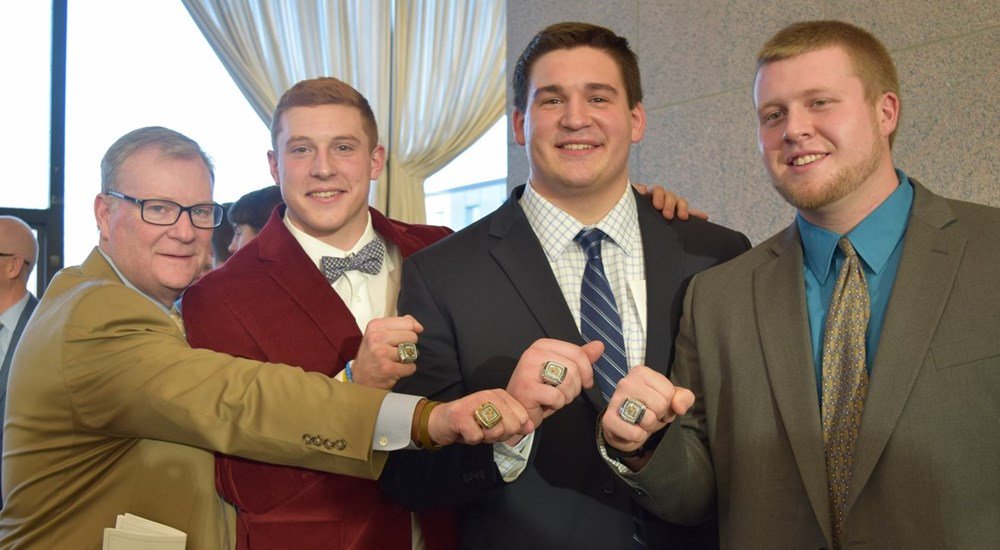 A Hall Of Fame Career Full Of Rings
In upcoming years, Andy frequently would point back to that 2009 game, as an inflection point in the program. Winning that game "set up all the good stuff that happened after", which included Patriot League championships in 2010, 2011, 2016 and 2017, as well as two FCS Playoff victories against Northern Iowa and Towson.
More than that, though, Coen mentored 135 All-Patriot League selections, six Patriot League major award winners, 25 All-America selections, 10 CoSIDA Academic All-District honorees, two CoSIDA Academic All-Americans and 236 Patriot League Academic Honor Roll selections.
I remember interviewing him on the field when Lehigh beat Liberty 28-26 in Williams Stadium – one of those games where Liberty paid Lehigh to come to Lynchburg, and the Mountain Hawks left town with the check, the win, and the unofficial trophy of being the "real LU".
I was right next to him on the field, soaked in Gatorade when he let loose a swear word, delivered one of the most fiery passionate statements before heading to the locker room to jump with his team.
"They believed and they hung in there," he said, hoarse. "They have trust in each other and our staff. We knew we were stepping it up a level in competition here and our kids certainly answered the call. We needed to be pushed; it was the first time all year we've been behind. Not at one point did anyone not think we'd win the football game." There was an emphasis when he said "NOT at ONE POINT."
I was blessed to be in the room as Andy delivered these wonderful quotes and so much more which showed how much he cared for the kids he coached and how we wanted to get them success. He thought his time playing football was the best time of his life, and he dedicated his life trying to make football the best time of life for the many, many kids he coached.
And he did that as long as he could.
During his final year of coaching, in 2018, Andy was clearly struggling, though it was not totally clear to everyone exactly what he had to deal with. By that point, he was more the "CEO" of the football team rather than doing the day-to-day. His competitive fire, though, never wavered. I could see it in him as I interviewed him outside the Princeton locker room and in some of the other tough losses of that season.
Up until the last minute, it wasn't clear if Andy would be able to tie Bill Leckonby for the most head coaching wins in Lehigh program history. It would, poetically, come down to the final game of the year, when Lehigh would bulldoze Lafayette 34-3 to allow Andy to tie the program record.
"I can't count the number of guys on the offense talking in my ear saying to that we need to get you that last touchdown for the record, and that last touchdown for the MVP," RB Dominick Bragalone said. "That shows how much a family we have, how selfless people are on our team. We knew there was a lot riding on this game. Even though our record wasn't what we wanted, there was still a lot to play for and getting Coach Coen that record was one of them. He's done a lot for us, so we wanted to do this for him."
It was a great way for Andy to conclude his football coaching career – with a final win in the "one-game season" in The Rivalry.
Rest in peace, Andy. You did awesome.
Contributions: In lieu of flowers, memorial contributions may be made to Lehigh Valley Hospice – 17th Street Inpatient Hospice Care and/or Alzheimer's Association both in care of Heintzelman funeral home, P.O. Box # 196, Schnecksville, PA 18078-0196.