SANTA BARBARA, Calif. – The strange thing about history is the fact that the significance of the event is seldom realized at the very moment it takes place. It often takes time, sometimes years, before its true importance becomes fully known and appreciated.
And sometimes facts are embellished.
No one knows that better than Sam Cunningham.
As a sophomore at the University of Southern California, Cunningham boarded a plane to travel to Alabama for his first collegiate football game and hoping to see a little playing time. Little did he know what took place a short time later would forever alter the landscape of college football.
"I was just a sophomore, so I had no reason to think I had to be a leader that day or that year," Cunningham said.
But as the years have unfolded since that day in the Deep South, Cunningham's name has taken on an air of reverence.
Because on that day he rushed for 135 yards and two touchdowns as the Trojans defeated the Crimson Tide 42-21 at Legion Field in Birmingham.
His performance has been erroneously linked to Alabama coach Bear Bryant deciding to recruit black players to play for the Crimson Tide.
The fact is Cunningham's performance only made the legendary Alabama more resolute in his charge to integrate football in the Deep South by convincing the Alabama supporters the Crimson Tide would only become better by opening up its roster to blacks.
Jerry Claiborne, a former assistant coach for Bryant, and later the head coach at Kentucky said, "Sam Cunningham did more to integrate Alabama in 60 minutes than Martin Luther King Jr. did in 20 years."
Cunningham had already been on Bryant's radar while playing at Santa Barbara High School, one of the five oldest high schools still open in California, where he helped his team to the playoffs each of his four seasons at the school. He was part of a long line of outstanding players to come from SBHS.
"There were great players long before I got to high school," the personable Cunningham said, "and there have been great players long after I left."
Cunningham was busy making a name for himself in and around Los Angeles with her performance on the football field and news reached far and wide, including all the way to Tuscaloosa and the campus of Alabama.
"(Bryant) sent me a recruiting letter while I was in high school," Cunningham said. "But, there was no way I was going to go there to play football. It was too far from home and to different of a culture … and I wasn't ready for that."
SOUTHERN CAL TROJANS
With the decision to bypass Alabama and a host of other colleges unsuccessful in obtaining his services Cunningham enrolled at Southern Cal where he would play for another legendary coach in John McKay.
Along the way he would etch his name in college football history.
A six-foot, three-inch fullback, Cunningham would earn the nickname "Bam" for the way he punished people he would be tasked to block.
In a time when freshmen were not eligible to play varsity football, Cunningham spent the 1969 season learning the ins and outs of college football and hoping to one day follow in the footsteps of previous great Trojan runners. Players like Mike Garrett and O.J. Simpson, two of the greatest tailbacks in college football history.
Garrett, a two-time All-American while at USC (1964-65), rushed for 3,221 yards and 30 touchdowns during his Trojan career and won the Heisman Trophy in 1965 and ushering in USC's claim as "Tailback U."
Simpson would surpass Garrett three years later by winning the Heisman in 1968 and ending his collegiate career with 3,423 yards rushing before going on to eventually becoming the first person in NFL history to rush for 2,000 yards in a single season (1973) while with the Buffalo Bills.
Cunningham, meanwhile, had the job of blocking for Clarence Davis, who had taken over as tailback with the departure of Simpson to the NFL following the 1968 season and gained All-American recognition in his first season as a starter.
USC vs. ALABAMA
Cunningham and Davis, along with quarterback Jimmy Jones, teamed to form an all-black backfield, believed to be the first of its kind in NCAA Division I football history, for the Trojans in the 1970 opener against the Crimson Tide. USC also had two other black players, Charlie Weaver and Tody Smith, start the game in Birmingham.
Cunningham began the game on the bench but saw action almost immediately and stole the show against the hosts. He rushed for two touchdowns in the opening quarter to propel the Trojans to a 12-0 lead after the first 15 minutes. His scoring runs were from 22 and four yards out.
A seven-yard scoring run from starting fullback Charlie Evans in the second quarter pushed the USC to a 22-7 lead at halftime.
Davis and Jones connected on a 23-yard scoring pass in the third quarter to increase the lead to 29-7. Backup quarterback Mike Rae hit Bill Holland from six yards out for USC's final touchdown. Kicker Ron Ayala booted a pair of field goals (25, 27) in the game for the Trojans.
The impact off the field made by Cunningham and the Trojans that day was to convince Bear Bryant to lobby Alabama supporters to more receptive to having black players on the team.
That became a reality the next year when Alabama native John Mitchell, along with Wilbur Jackson, became the first black players at Alabama. Mitchell, who transferred from Eastern Arizona Junior College, started all 24 games over his career at Alabama and helped the Crimson Tide to a pair of SEC championship. He also became the first black to be named a co-captain at Alabama.
Southern Cal would battle to a 21-21 tie against Nebraska the following weekend before winning two straight against Iowa and Oregon State by a combined 93-13. The Trojans would win just three of the final seven games to end the season at 6-4-1.
Cunningham ended his first collegiate season with 488 rushing yards on 76 carries (6.4 ypc) and scored five touchdowns.
ENDING WITH THE TROJANS
Cunningham would spend two more seasons in a USC uniform. Two memorable seasons in which he become one of the faces of college football during what is considered by many to be the Golden Age of college football.
He would also earn a name for himself with the way in which he dove over the line of scrimmage to gain more yards.
It was a move he says what no necessarily by design, but more out of necessity.
"The USC offense had always been prehistoric and vanilla with either a 22 Blast or 23 Blast," said Cunningham, who recalled the origins of what become his signature play.
"The offensive line during my junior year wasn't as good as it would be during my senior season," he explained. "There was one game where we went for it on fourth-and-short and when I noticed the line getting pushed back into me I decided to leap in an effort to get the first down."
It was effortless for the athletic Cunningham, who competed in track while in high school as a sprinter and high jumper. He had also competed in one decathlon for the Trojans in his first year at USC.
"It looked more dramatic than it really was," Cunningham said of the leap that helped make him famous.
The 1971 season turned out to be Cunningham's best statistical season as a Trojan. He rushed 158 times for 746 yards (4.6 ypc) and scored five touchdowns for the second straight season.
His final season brought Cunningham his only All-American honor as he finished the year with 102 carries for 349 yards (3.4 ypc), but more than doubled his previous touchdown output by finding the end zone 13 times on the year.
It was a huge day in the Rose Bowl that allowed Cunningham to make Rose Bowl history.
He rushed for four touchdowns, all in the second half as USC pulled away from Ohio State by outscoring the Buckeyes 35-10 in the second half en route to a 42-17 win as John McKay won his 100th game as Trojan coach.
Cunningham's first score came on a two-yard run for the first score of the second half to give USC the lead for good. He added three more scores, all from one yard out on that famous dive over the line. His play helped propel USC to the national championship in his final season as the Trojans finished 12-0-0 on the season.
"The 1972 team was the most unselfish team I have ever been a part of," Cunningham said. "Everyone who suited up was very, very good … and we were all about winning."
The four touchdowns broke the previous Rose Bowl record for most points with 24 points for the Trojan legend, who was named the game's outstanding player.
Cunningham ended his collegiate career with 1,579 yards on 337 rushes (4.7 ypc) and 23 touchdowns. He also caught 34 passes for 293 yards as a Trojan. USC posted a 24-8-2 record during Cunningham's time on the roster.
During Cunningham's career the Trojans swept Notre Dame in all three meetings between the two storied programs. The sour note was the fact USC managed to go just 1-1-1 against its cross-town rival, UCLA, during that same span.
He went on to play in the Hula Bowl, the College All-Star Game and the Coaches All-America Game before being drafted into the National Football League.
Cunningham, who earned three letters at USC (1970-72) also developed a strong appreciation for McKay.
"John McKay was a great evaluator of talent and had a brilliant football mindset," Cunningham said as he praised his former coach. "But the thing that really set John McKay apart was the way in which he always cared about his players as people first.
"When we didn't play well the sportswriters really got a taste of his incredible wit and humor," Cunningham added.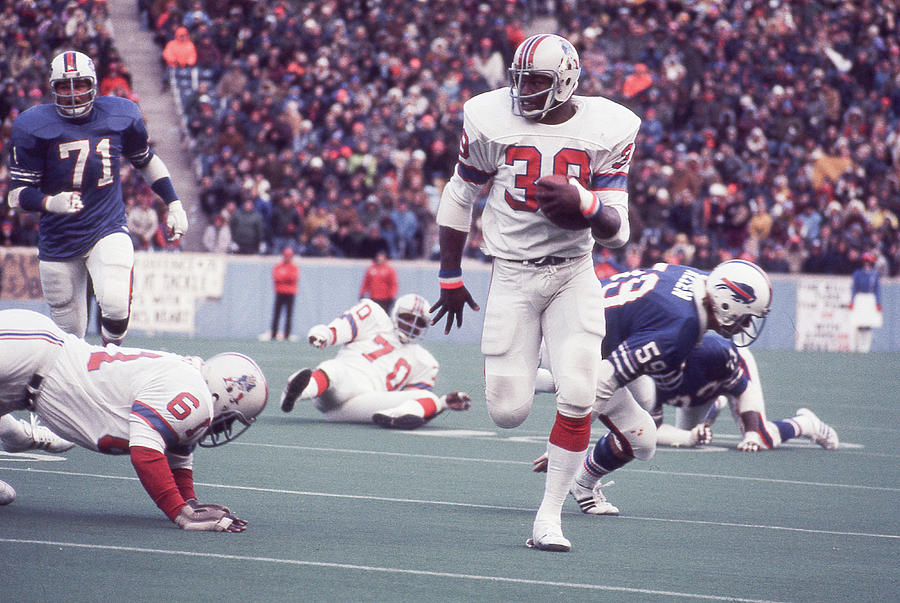 NFL
After Cunningham's time at Southern Cal he continued the tradition of a Trojan back being selected in the NFL Draft when he was chosen by New England in the first round (11th overall) pick in the 1973 Draft.
It was a time when the Patriots were not very good.
"I was never on a losing team until I got to New England," Cunningham said. "We were young and inexperienced and most of the people on the team did not know how to win with any consistency."
The Patriots finished 3-11 in Cunningham's first season with the team. They improved to 11-3 the following season, thanks in large part to Cunningham's 811 rushing yards and nine touchdowns. Three years later he rushed for a career-high 1,015 yards and scored four touchdowns. He played in integral part of the 1978 Patriots rushing attack that set an NFL record with 3,165 yards rushing as a team. That record stood until broken by the Baltimore Ravens in 2019.
Cunningham, a Pro Bowl selection in 1978, would spend all 10 seasons of his NFL career with New England. He finished his pro career with a New England franchise record 5,453 rushing yards, 210 receptions for 1,905 yards and 49 touchdowns.
HALLS of FAME
Cunningham was inducted into the Rose Bowl Hall of Fame in 1992 and in 2010 was inducted into the College Football Hall of Fame and the Patriots Hall of Fame. He is also a member of the USC Athletic Hall of Fame (2001). His brother, Randall, was a standout quarterback at UNLV (1981-84) and later played in the NFL with Philadelphia (1985-95) and Minnesota (1997-99). He also spent time with Dallas (2000) and Baltimore (2001),
A native of Bismarck, N.D., Ray is a graduate of North Dakota State University where he began studying athletic training and served as a student trainer for several Bison teams including swimming, wrestling and baseball and was a trainer at the 1979 NCAA national track and field championship meet at the University of Illinois. Ray later worked in the sports information office at NDSU. Following his graduation from NDSU he spent five years in the sports information office at Missouri Western State University and one year in the sports information at Georgia Tech. He has nearly 40 years of writing experience as a sports editor at several newspapers and has received numerous awards for his writing over the years. A noted sports historian, Ray is currently an assistant editor at Amateur Wrestling News.