CSJ's David Mays caught up with Sam Houston State offensive coordinator Ryan Carty to talk Bearcats football, CAA football, and a journey that took him from the East coast to the epicenter of Texas football.
CSJ's David Mays: Thank you Coach for taking the time to answer some questions. Can you tell me about your days at Somerville High School as a star QB and how you believe it prepared you for where you are now?
Sam Houston State Offensive Coordinator Ryan Carty: I was very fortunate to have a successful and enjoyable high school career. My father was my head coach and my oldest brother Kevin was the Offensive Coordinator and we threw the ball all over the field. It was a blast. I think my upbringing and having played QB have possibly led me to be a dropback pass first, ask questions later type of playcaller.
Mays: You played with Joe Flacco at Delaware and won a National Championship. What did you take away from that run through the FCS Playoffs and use today at SHSU and are there any fun memories with you and Joe ?
Carty: Timeline wise, when we won the FCS National Championship, I was a redshirt freshman and I was the backup to QB Andy Hall, who eventually got drafted by the Eagles. When I played with Joe, he beat me out my Senior season but they didn't get to the National Title game until the next season, when I was coaching at UNH in 2007. To this day, Joe still has the strongest arm I've ever seen live.
Mays: You come from a football rich family, dubbed, "one of the first football families of Central Jersey". Can you expand on that and what you learned from your brothers and father?
Carty: My two older brothers are two of my best friends and exceptional football coaches. My Father is a hall of fame football coach in the State of New Jersey who spent time bouncing between high school and college before my brothers and I were in High school and he decided to coach us. Football is mainly all we talk about when we're together, and my poor mother is a saint for putting up with us at the dinner table over the years.
Mays: Chip Kelly of UNH, Oregon and Philadelphia Eagles fame, now with UCLA, recommended you for a job at UNH. What we're you able to learn from him and what does that recommendation mean to you?
Carty: I certainly owe Coach Kelly for getting me hooked up at UNH. And he's always been a gracious resource when I've reached out to him. Over my time at UNH, he'd come back and clinic with us each off-season. I was so lucky that Coach McDonnell took a chance on me when I was 24 years old and tabbed me to coach the tight ends. It certainly set the course for my career.
Mays: When Sean McDonnell needed a new offensive coordinator and hired you at your young age, that spoke volumes. Do you recall that discussion at that time and what do you remember about that game vs. Holy Cross in 2012?
Carty: I do remember right before my first season as offensive coordinator someone wished me a happy birthday and when he realized I was only 29, he said something to the effect of "what the hell was I thinking!?" I'd been there for five years already and coached three different positions by that point – I think he just thought I was older and hoped that I was ready, without even thinking of my age. I certainly remember feeling so excited for the Holy Cross game, definitely nervous, and of course relieved when we had offensive success.
Mays: What made you want to leave a place where you had lot of success to Sam Houston State ?
Carty: I wouldn't say I wanted to leave, but just thought that it was the right time to do so. I owe so much to Coach Mac and the University of New Hampshire. But, after 11 seasons, I was beginning to feel like part of the furniture up in Durham. I needed to get out of my comfort zone, get around a new set of people with different backgrounds and offensive ideals, and being comfortable with Coach K.C. Keeler kind of made the transition and easier decision.
Mays: What do you envision this offense being this season for the Bearkats and what should Bearkats fans expect to see ?
Carty: We are so excited as an offensive staff right now. We think we have really come together during this challenging time and if we stay healthy, I think you'll be able to see what Sam Houston has been known for in the recent past: an up-tempo, attack style offense that can beat you in multiple ways.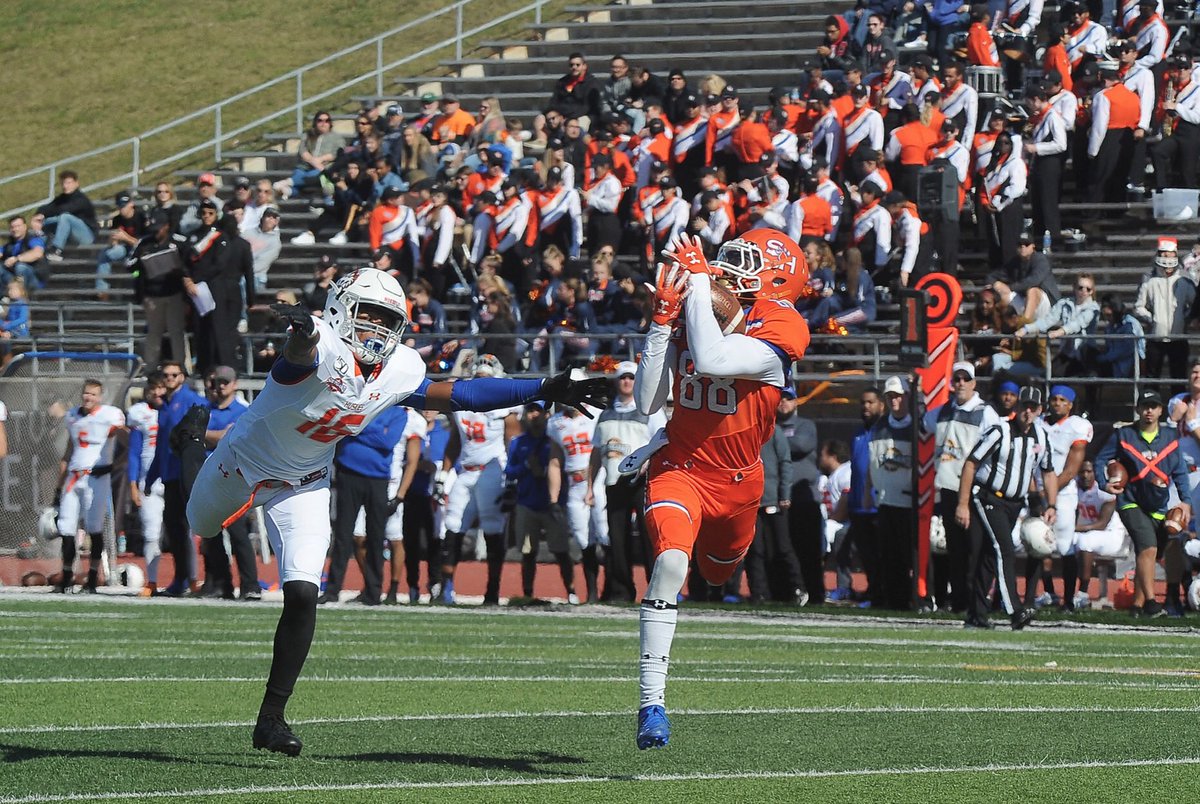 Mays: Can you give me two or three "unknown" offensive guys who should break out this season ?
Carty: That's a good question. I feel like we have a ton of depth right now in the skill positions. I know there are a few guys that we've added over the off-season that I hope will make significant impacts as well. One name is Chandler Harvin. He played a decent amount for us last year toward the back-end of the season and he's had a great off-season at the WR position. Our TE's have a great chance of helping us in the pass and run game. 2 names to look for there would be Isaac Schley and Keontae Richardson. And where it all starts, up front, we have 2 returning starters in Colby Thomas and Eleasah Anderson that we are very hopeful they can bring the young/new guys along and set the tone for our offense at the line of scrimmage.
Mays: Recruiting in Texas is competitive enough for just the FBS programs. I would assume tougher for the FCS programs. You have been very successful in the past with finding hidden gems in recruiting. What do you notice in certain players that others seem to miss and can you talk about the challenges it is recruiting in a talent rich state.
Carty: I feel like there are so many Student Athletes that can play at the scholarship level in the state of Texas, that unearthing talent is a bit easier down here. The programs are so well coached and the players come into college with a huge knowledge base that allows us to get them indoctrinated into an offensive system and team culture a lot quicker than their counterparts in some other states. I feel very fortunate that we don't have to look too much further than a 4 hour driving radius from our campus to find great players.
Mays: What is one or two memories in your levels of coaching that stick out, whether it be a discussion, a play or two, etc ?
Carty: It'd be hard to pin-point one or two since I've been fortunate to coach some great offenses, get to the playoffs 11 straight seasons, defeat four FBS Programs, play high school ball for a Hall of Fame coach, play college ball for and now coach with an Eddie Robinson award winner, and also coach with another National Coach of the year at UNH. I just count my blessings every day, and look forward to creating more amazing memories.
Carty: You've coached and played in the Northeast. Now you're in Texas. Two different environments. What is it like now, vs. New Hampshire and Delaware? They say the South and Southwest are where the rabid fans are. Is this true or are we all wrong and is the Northeast a party in its own right?
Carty: I think that wherever you are, people are passionate about their football teams. Things are definitely a bit different in the great state of Texas, however. It's a little bit less about how fanatical they can get on Friday-Sunday, and more about the sport being a way of life.
David is a former writer on SB Nation (BuildingTheDam), covering all sports at Oregon State. David also conducted field interviews with students athletes across all sports at Oregon State. Before that, he wrote for Know It All Football. He is a huge sports fan and loves college football and is the brains behind the Twitter handle HardcoreFCS.