The dark days are over! Robert Morris caps off an incredible season finishing 7-5 with their most recent victory coming over Sacred Heart 16-14.
Head coach Bernard Clark Jr in just his second year with the Colonials finished with a winning record for the first time since 2010.
Throughout this entire season, the Colonials have shown incredible heart and moxie, overcoming a horrible 1-4 start to then finishing 6-1 in their last 7 games, making them 2nd in the NEC.
The Offense
This Colonial offense wasn't the flashiest or the prettiest, but they got the job done, led by a dual-headed rushing attack by Alijah Jackson and Terrence Stephens. The duo combined for 1,479 rushing yards. Alijah Jackson led the team in all-purpose yards with 1,138 and in rushing yards with 971 ( 5.2 yards per rush), which put him 2nd in the NEC for rushing yards on the season.
Senior RB Terrence Stephens had a great season as well rushing for 508 yards and a team-leading 5 rushing touchdowns with a 4.2 yards per rush.
The passing game led by QB George Martin and TE Mathew Gonzalez had a pretty good year. Martin placed 6th in the NEC in passing yards with 1,348 and had 11 passing touchdowns along with a 51.8 completion percentage. Senior TE Mathew Gonzales capped off
his year with 563 receiving yards 4 touchdowns on 34 receptions.
The surprise of the year for the Colonials, however, was freshman Garrett Houser who led the team in receiving touchdowns with 5; it's safe to say the future is bright for this young man.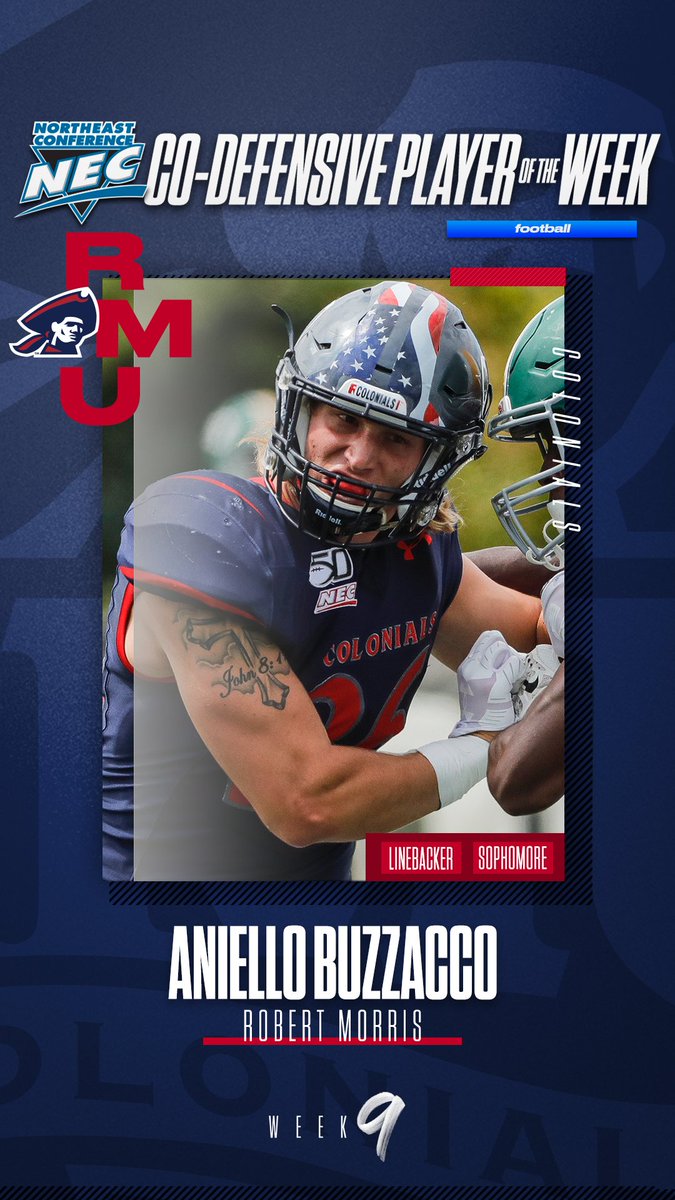 The Defense
Now we turn to the defense led by defensive coordinator Dave Plungas.
As far as players go, none played quite like sophmore standout Aniello Buzzacco in which he had a team-leading 131 total tackles, 52 of which were solo tackles. To go along with those 131 tackles, Buzzacco had 2 interceptions and 2 forced fumbles as well.
Early on in the season, the defense couldn't get their footing quite right. When NEC conference play began, however, the defense came alive at one point they held opposing teams to under 300 total yards for 3 straight weeks.
The defense as a whole forced a total of 23 turnovers (12 fumble recoveries and 11 interceptions). The team leader in the interception department was Tavon Harville with 3.
Coach Clark and the future of this team
It's incredible to think that a team that once was in the dark ages with winless seasons have come so far. For that fans have to thank Eddie Robinson award finalist head coach Bernard Clark Jr. If he can do what he did in just a 2-year span, everyone should be excited for the future of this Colonial team shortly.
Special shoutout to the "Wizard" Nick Bisceglia
With yet another onside kick recovery, Kicker Nick Bisceglia has become a bit of a legend on campus with the special teams calling themselves "The Pack" it's safe to say he's the top dog in said pack.
By Cody Potanko, Special to the College Sports Journal