Sherri Coale Establishes Sooners as National Power
NORMAN, Okla. – Sherri Coale's attentions and thoughts continued to drift as she sat in a meeting room in the famed Broadmoor Hotel in Colorado Spring in 1996.
The rookie college coach was drawn to the beauty of the picturesque Rocky Mountains outside the window as she listened to women's basketball coaches from other schools in the newly formed Big 12 Conference as they prepared to embark on a new season.
But the coaches in the room were not ordinary coaches. Surrounding Coale were coaches who made a Who's Who of women's coaching greats.
Jody Conradt (Texas), Marian Washington (Kansas), Marsha Sharpe (Texas Tech) and Ceal Barry (Colorado) were among the legendary coaches sitting around the table along with the rookie coach. That quartet of coaches would later retire from their respective schools with a combined 2,341-1,081 (.684) during their own hall of fame careers.
"I was awestruck and wondered what I had gotten myself into," Coale said. "I couldn't help but to ask myself 'is this for real.'"
It took just a short time before the new Sooner coach would begin her journey that would put her in the hall of fame along with the coaches she idolized at that meeting in Colorado Springs.
GROWING UP
Coale, whose maiden name is Buden, grew up, along with two brothers, up in Healdton, Okla., a short 80-mile drive south from Norman, where she would later establish herself as one of the top coaches in women's college basketball history.
It was also a time when Oklahoma high school girls still played six-on-six basketball. It was also a time when the budding basketball star would cement her fame as a sort of gym rat that would carry on to her own collegiate playing career.
Coale, who played guard for the Bulldogs, spent plenty of time alone in her high school gym in the early morning or late nights working to perfect all aspects of her game.
She spent so much time in the gym that her coach, Elvin Sweeten, padlocked the doors to the gym in an effort to get his star player to spend less time on her game and focus more on other aspects of her life than just basketball.
It was one of the many lessons delivered by the soft-spoken Sweeten that Coale took to heart and later applied to her own coaching.
After graduating from high school in Healdton, Coale matriculated to the big city of Oklahoma City to play at Oklahoma Christian College.
She graduated summa cum laude from college in 1987 after playing four seasons for the Lady Eagles.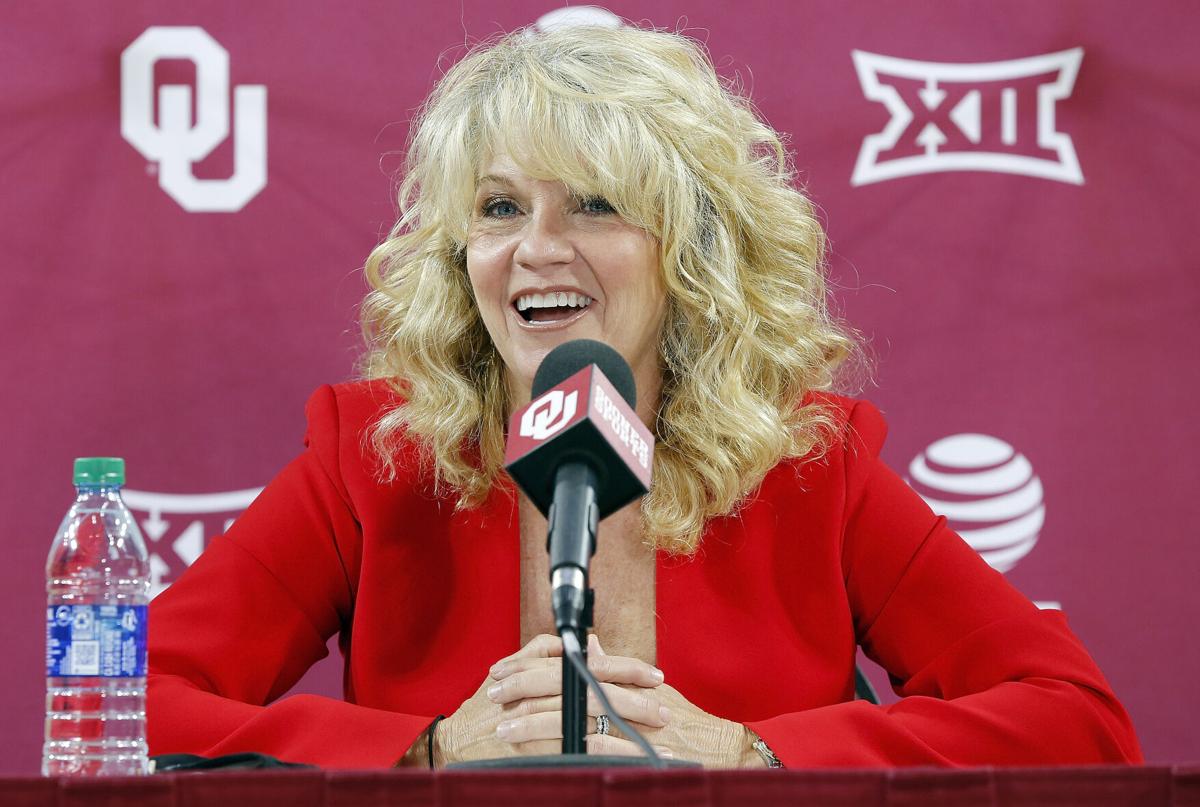 OKLAHOMA COMES CALLING
The hiring of Coale in 1996 to take over an Oklahoma program that had fallen on hard times caught many followers by surprise.
After all, Coale had no collegiate coaching experience and moved a scant three miles across town after coaching at Norman High School for six years and establishing the Lady Tigers as one of the top girls programs in Oklahoma.
"Coming in, there were really no prearranged expectations," said Coale, who took over a program that had finished 12-15 the previous year under Burl Plunkett, whose final team lost eight of its final nine games in 1995-96.
The Sooners had had just 10 winning seasons in the 22 years of women's basketball at the school and just two of the previous coaches had left Norman with a winning record. Maura McHugh was the winningest coach in school history after she compiled a 142-70 (.669) record in her seven seasons and Plunkett ended his three-year tenure with a 52-36 (.591) record before Coale's arrival.
The success began to form slowly, like the famed twisters that are engrained in state lore.
Oklahoma finished 5-22 in Coale's first season as the Sooners won just one of 16 games in the new Big 12 Conference. That mark improved the following year when OU doubled its conference win total by claiming two triumphs in league play and ended the year at 8-19.
The third time is the charm. And it certainly was Coale and the Sooners.
Oklahoma finished in a tie for fifth place in the league standings and finished the season 15-14 after losing to Arkansas 97-93 in the second round of the WNIT.
It was the first winning season in Norman in four years and it marked the first of what would stretch of postseason appearances to 19 under Coale's leadership. The Sooners would appear in the NCAA Tournament each of the next 18 seasons before having that streak snapped in 2019.
Coale, whose trademarks were ball handling and defense, continued to guide her Sooners up the ladder as they finished tied for the conference championship the following year and made the first NCAA appearance during her tenure. They were eliminated from the tournament with a 102-80 loss to Connecticut in a Sweet 16 game in Richmond, Va.
After winning the Big 12 in each of the next two seasons, Coale's team reached the Final Four for the first time in her career. Again, it was Connecticut that put an end to OU's title hopes with an 82-70 win in the 2002 national championship in San Antonio. The Sooners had defeated Duke 86-71 in the national semifinal to set up the meeting with the Huskies.
Coale and the Sooners made history in 2005-06 as the team logged a 16-0 record in conference play to become the first women's team in Big 12 history to go undefeated in league play. It matched the mark set by the Kansas men (2001-02).
Oklahoma would return to the Final Four in 2009, but could not get past the semifinal round. The Sooners were edged by Louisville 61-59 in 2009 and fell to Stanford 73-66 the following season. Connecticut would win the national title both of those years.
The three games that assured the Sooners a trip to the Final Four still resonate in her mind.
"Those games are always special," she said. "The ending to the season may not have been what we had hoped … but getting a chance to play for the national championship is the next best thing to winning it all."
The first appearance in the Final Four might have been the most rewarding. Sure, the Sooners came up a bit short of the ultimate prize, but to secure their spot they had to defeat a pair of familiar foes to advance to San Antonio.
Oklahoma defeated Texas Tech 72-62 and then cruised past Colorado 94-60 in the West Regional in Boise, Idaho to advance to San Antonio.
Coale credits a pair of unlikely supporters as being a key to the success she had in leading the Sooners.
Former coaches Billy Tubbs and Barry Switzer became familiar faces at women's games at the Lloyd Noble Center to watch Coale's teams.
Tubbs, who coached the OU men's basketball (1980-94), was called Coale after her Norman High School team scored 100 points in a game to offer his congratulations and he later became a sideline analyst on radio broadcasts for Coale's games at Oklahoma.
"We formed a very friendly relationship," Coale said of the Tubbs, " … he was like a brother to me and he was very enthusiastic about our program."
CALLING IT A CAREER
Coale's decision to close her coaching career in 2021 caught many by surprise, but she says it had been on her mind for the past few seasons.
Her 2018-19 team finished 8-22, the first losing season with her at the helm since her second season. The Sooners compiled record of 12-18 and 12-12 over what would turn out the be the final two seasons of her coaching career before announcing her retirement.
"I always knew there were other things I wanted to do and I knew my heart would tell me when that time was," said Coale, who inducted in the Women's Basketball Hall of Fame in 2016. She was also enshrined in the Oklahoma Women's Hall of Fame in 2007.
"I was raised to understand when it was time to hand things off," she added, "and with everything that was going on around college sports with covid and the NIL … everything was right."
Coale's teams won six Big 12 regular season titles during her tenure at the school and captured four tournament championships during her illustrious career.
She ended her career with a 513-294 (.636) record in her 25 seasons in Norman to warrant her place alongside the iconic coaches she shared that Colorado Springs table with years earlier when she prepared to embark on her collegiate career.
Coale, who authors a blog, www.sherricoale.com, where she uses many of her coaching experiences as they can often relate to everyday life.
"Coaches and athletes must keep in mind to not take everything personally," she advises. "Everyone needs to develop a support system outside of athletics who can help you when you are fighting. We all need a truth-teller who will keep us grounded."
A native of Bismarck, N.D., Ray is a graduate of North Dakota State University where he began studying athletic training and served as a student trainer for several Bison teams including swimming, wrestling and baseball and was a trainer at the 1979 NCAA national track and field championship meet at the University of Illinois. Ray later worked in the sports information office at NDSU. Following his graduation from NDSU he spent five years in the sports information office at Missouri Western State University and one year in the sports information at Georgia Tech. He has nearly 40 years of writing experience as a sports editor at several newspapers and has received numerous awards for his writing over the years. A noted sports historian, Ray is currently an assistant editor at Amateur Wrestling News.