Southland Conference Game of the Week
GAME PREVIEW: McNeese at Southern
When: Saturday, September 18 at 6p.m.CST
Where: Mumford Stadium; Baton Rouge, Louisiana
TV/Streaming: ESPN+
Frank Wilson became McNeese's 17th head coach in program history back in January of 2020. The New Orleans native, who is widely considered one of the top recruiters in college football, spent four seasons as the head coach at UTSA before arriving on the McNeese campus. The spring season saw McNeese overcome obstacles and adversity from all angles and play its best football late in the season, winning two of its last three games – two of the losses on the season were by a combined six points.
Jason Rollins is entering his first season as the interim head coach and second season at Southern. Before coming to Southern he spent four years at UTSA where he served as associate head coach, defensive coordinator, linebackers coach and secondary coach. Rollins helped mentor one of the nation's top defenses in 2017, as the Roadrunners led C-USA in seven different statistical categories.
McNeese Cowboys (0-2, 0-0 in Southland)
McNeese entered last Saturday's game against LSU wanting to show some improvement from last week's season opening loss to West Florida – the Cowboys battled from start to finish in a 34-7 loss. McNeese QB Cody Orgeron connected with Carlos Williams on a 44-yard catch and run with 4:30 to play in the fourth quarter to ruin LSU's bid for a shutout. Orgeron completed 10-of-20 passes for 91 yards and a score – he set a new McNeese record for most consecutive pass attempts (159) without throwing an interception. The old record of 142 was set by Cody Stroud in 2013. Tulane transfer Stephon Huderson led all rushers with 72 yards on 16 carries (4.5 yards per carry) while Deonta McMahon added 44 yards on 11 carries.
Southern Jaguars (1-1, 0-0 in SWAC)
Southern dominated Miles College in the second half last week, winning 41-24 at home in the Pete Richardson Classic. Quarterback Glendon McDaniel was 10-of-13 for 140 yards and a touchdown – he had a stellar QB rating of 192.8. Running back Craig Nelson carried the ball eight times for 134 yards (16.8 yards per carry) and a touchdown. Wide receiver Marquis McClain had two receptions for 49 yards and a touchdown. The Southern defense was stout all night long – strong safety Tamaurice Smith led the team with eight tackles and two pass breakups. Defensive tackle Davin Cotton added seven tackles.
Fearless Prediction
The Cowboys will win this game and get back on track – they are contenders for the Southland title.
McNeese 28 Southern 24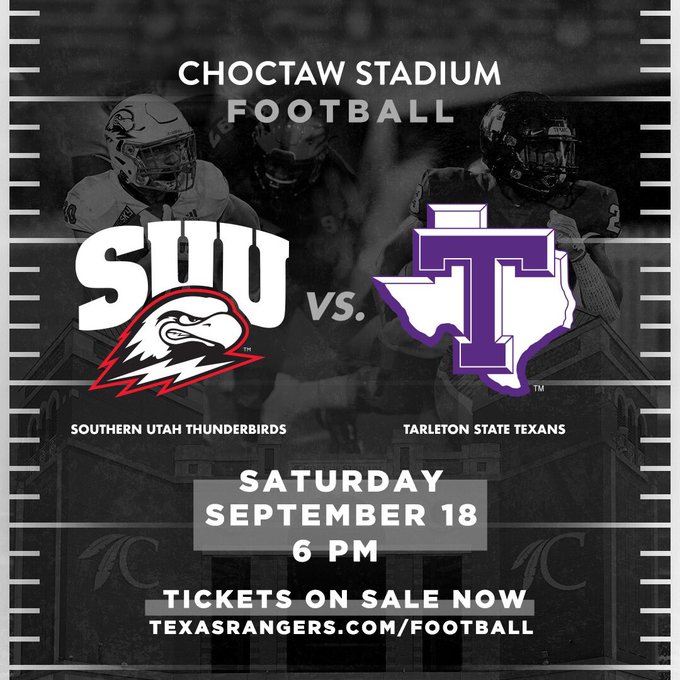 Western Athletic Conference Game of the Week
GAME PREVIEW: Tarleton vs Southern Utah
When: Saturday, September 18 at 6p.m. CST
Where: Global Life Park; Arlington, Texas
TV/Streaming: ESPN+
Todd Whitten is the all-time winningest head coach in the history of Tarleton Football – he is in his 12th season as the leader of the Texans in 2021. This is Whitten's 17th season as an NCAA head coach and his 34th season of coaching football at any level. Whitten guided Tarleton's first NCAA Division I campaign in the spring football season of 2021. The Texans went 5-3 in their first season at the FCS level and earned their first win over a Division I program against FBS New Mexico State on February 21.
Demario Warren is in his sixth season as head coach of the Thunderbirds. Although his team only managed one victory during the pandemic-interrupted 2020-21 campaign, all five of the T-Birds' losses came by a combined 15 points. Each contest Southern Utah dropped ended as a one-possession game. Despite the disappointing setbacks, Warren mentored nine all-conference performers and two All-Americans in La'akea Kaho'ohanohano-Davis and Braxton Jones. Quarterback Justin Miller was also named a Hero Sports FCS Sophomore All-American.
Tarleton State Texans (1-1, 0-1 in WAC)
The Texans rushed for 347 yards and five touchdowns in a dominating 54-7 win over Fort Lewis in Stephenville last Saturday night. Four different Texan running backs had over 50 yards rushing – Daniel Wright Jr. led all rushers with 119 yards on 15 carries (7.9 yards per carry); Jayy McDonald had 92 yards on nine carries and two touchdowns; Khalil Banks also had a pair of touchdowns to go with 54 yards rushing on seven carries (7.7 yards per carry), while Ryheem Skinner had 50 yards rushing on eight carries (6.25 yards per carry) and a touchdown. Quarterback Steven Duncan was efficient throwing the football – he was16-of-20 for 154 yards and a touchdown. Linebacker D.J. Harris had the big day on defense with 12 total tackles – including seven solo; Harris also had a sack and three quarterback hurries.
Southern Utah Thunderbirds (0-2, 0-0 in Big Sky)
The Thunderbirds played their second game against an FBS opponent in five days when it took on No. 19 Arizona State on September 2, but ultimately fell by a score of 41-14 under the lights of Sun Devil Stadium. The loss dropped Southern Utah to 0-2 on the year. The Thunderbirds were plagued by turnovers in the first half as Arizona State picked off three passes and recovered a fumble. But Southern Utah's defense responded throughout the game – the Thunderbirds came up with two turnovers on an onside kick and a fumble recovery late in the second half. Quarterback Justin Miller was 19-of-30 for 146 yards and three interceptions without a touchdown – he finished the night with a QB rating of 84.2. Running back David Moore III had four rushes for 26 yards (6.5 yards per carry) and a touchdown.
Fearless Prediction
The Texans win this one in a nail-biter – they will be a force to reckoned with in the WAC.
Tarleton 31 Southern Utah 28
Other games of interest
Southeastern Louisiana at Central Connecticut State
Streaming: NEC Front Row (free)
The Lions offense rolled to 598 total yards and 32 first downs against the Conference USA member Louisiana Tech Bulldogs in a 45-42 loss last week. Reigning Walter Payton Award winner and senior QB Cole Kelley threw for a career-high 495 yards on 44-of-59 passing, with three TDs and two interceptions.
Southeastern 48 Central Connecticut State 27
Tennessee-Martin at Northwestern State
Streaming: ESPN+
UT-Martin overcame a large first-quarter deficit to defeat Samford 33-27 in their home opener. Northwestern State fell 13-10 to Alcorn State last week despite a stellar defensive effort in Lorman, Mississippi.
Northwestern State 27 UT-Martin 21
Incarnate Word at Texas State
Streaming: ESPN3
The Cardinals defeated Prairie View A&M 40-9 last week in San Antonio. Texas State put up a solid defensive effort in the Bobcats' 23-17 overtime win over Florida International last week in Miami.
Texas State 42 Incarnate Word 31
Northern Colorado jumped out to an early lead and went on to a 45-13 victory over Houston Baptist at Husky Stadium in Houston last Saturday. Prairie View A&M suffered four turnovers in their 40-9 loss to Incarnate Word in San Antonio.
Houston Baptist 31 Prairie View A&M 30
Lamar at Northern Colorado
Streaming: ESPN+
Lamar was beaten 54-0 by UTSA last Saturday in San Antonio – the young Cardinals should play better this week.
Northern Colorado 34 Lamar 17
Mississippi Valley State at Stephen F. Austin
Streaming: ESPN+
Mississippi Valley State dropped its opener 35-0 to Murray State. SFA lost 28-22 to Texas Tech in an epic thriller in Lubbock last Saturday night.
SFA 42 Mississippi Valley State 0
UT-Permian Basin at Abilene Christian
Streaming: ESPN+
Quarterback Stone Earle threw six touchdown passes and Darius Lewis had 131 receiving yards in leading the Wildcats to a 62-7 romp over Louisiana College last Saturday night. Quarterback Clayton Roberts tossed six TD passes in the Falcons' 42-31 win over WTAMU.
ACU 34 UTPB 21
Dixie State at UC-Davis
Streaming: ESPN+
The Trailblazers were steamrolled 41-3 last week by Weber State. The Aggies upset Tulsa 19-17 in the opener and cruised to a 53-7 rout over San Diego last Saturday.
UC-Davis 42 Dixie State 13
Rob Butler is a lifelong Texas A&M football fan – his family is full of A&M graduates. He graduated from Lamar University in Beaumont, Texas with two degrees – a BBA in Finance and an MBA. His hobbies include jogging and reading books pertaining to college football.