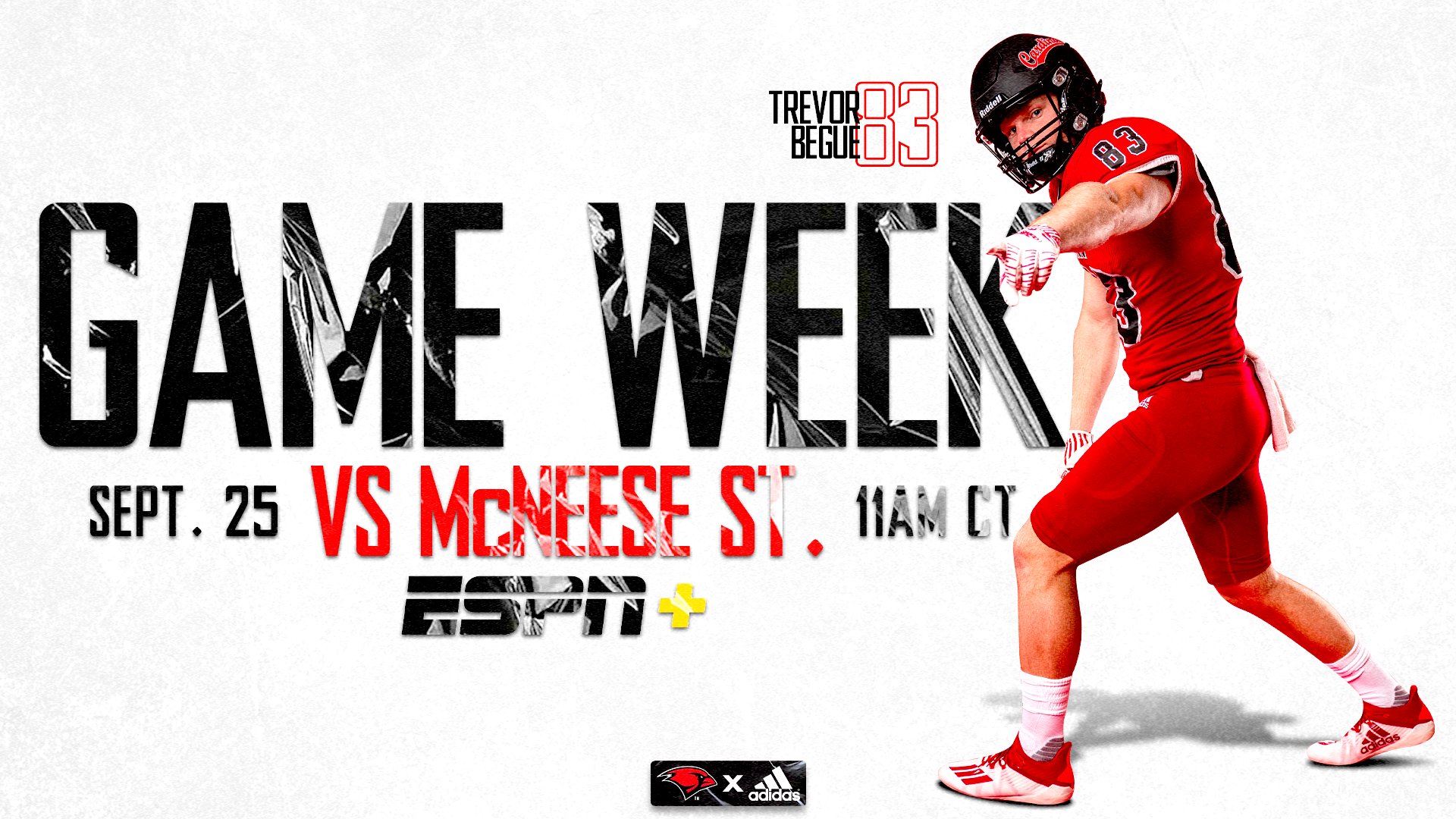 Southland Conference Game of the Week
GAME PREVIEW: McNeese vs Incarnate Word
When: Saturday, September 25 at 11a.m.CST
Where: Benson Stadium; San Antonio, Texas
TV/Streaming: ESPN+
Frank Wilson became McNeese's 17th head coach in program history back in January of 2020. The New Orleans native, who is widely considered one of the top recruiters in college football, spent four seasons as the head coach at UTSA before arriving on the McNeese campus. The spring season saw McNeese overcome obstacles and adversity from all angles and play its best football late in the season, winning two of its last three games. Two of the losses on the season were by a combined six points.
Eric Morris is in his fourth season as head coach at Incarnate Word. He has a career record of 16-16 (13-10 in Southland Conference). In his second year with the Cardinals, 2019, Morris guided the team to five wins, including two over ranked opponents (No. 25 HBU and No. 23 Southeastern Louisiana). Those two wins (on the road in consecutive weeks), marked the first time UIW won back-to-back Southland Conference road games in program history.
McNeese Cowboys (1-2, 0-0 in Southland)
McNeese couldn't have asked for a better way to start off their game against Southern last Saturday night – Mason Pierce took the opening kickoff 1-yard deep in the end zone and returned it 100-yards for the score and an early Cowboy lead. But that would be just about all the Cowboys would have to cheer for in the first half as the Jaguars built a 21-10 halftime lead. Things were much different in the second half as the Cowboys stormed back to beat Southern 31-24 in Baton Rouge. Quarterback Cody Orgeron was 7-of-16 for 75 yards and a touchdown. Tulane transfer running back Stephon Huderson ran the ball 23 times for 111 yards and a touchdown. Wide receiver Josh Matthews caught a pass for a touchdown.
Incarnate Word Cardinals (2-1, 0-0 in Southland)
Incarnate Word traveled to San Marcos and upset the Texas State Bobcats 42-34 last Saturday night. This was the first time in program history the Cardinals defeated an FBS program. Quarterback Cameron Ward led the team with 376 passing yards; running back Marcus Cooper rushed for 74 yards and had a 45-yard punt return; and wide receiver Robert Ferrel had 10 receptions for 132 yards and two touchdowns. Linebacker Kelechi Anyalebechi led the defense with 11 total tackles and a sack.
Fearless Prediction:
Incarnate Word will win this game and prove that they're contenders for the Southland title.
Incarnate Word 38 McNeese 31
Co-Western Athletic Conference Game of the Week
GAME PREVIEW: Abilene Christian vs Lamar
When: Saturday, September 25 at 6p.m. CST
Where: Provost Umphrey Stadium; Beaumont, Texas
TV/Streaming: ESPN+
Adam Dorrel is in his fifth season as the 20th head coach in Abilene Christian football history. Hired on Dec. 19, 2016, as a three-time AFCA DII Coach of the year at Northwest Missouri State University, Dorrel has an overall collegiate head coaching record of 92-35 record (.724) through 10 seasons. The 2020 Wildcats were one of only 15 Football Championship Subdivision (FCS) teams to play a fall schedule, and on Oct. 31 ACU won the 500th game in program history, defeating Mercer, 20-17, on a walk-off 38-yard field goal by Blair Zepeda.

Blane Morgan was named Lamar University head coach Dec. 12, 2019, becoming just the third coach since the university re-established the program prior to the 2010 season. In his first season, Morgan was tasked with guiding one of the youngest teams in the nation – 57 freshmen – through the rigors of the conference schedule. Despite a depth chart that consisted of 35 underclassmen, including 21 freshmen, the Cardinals stunned the Southland Conference by finishing tied for fifth in the league (after being picked last in the preseason polls). Morgan and his staff managed all this while guiding the program through an unprecedented pandemic.
Abilene Christian Wildcats (2-1, 0-0 in WAC)
Running back Tyrese White ran for 103 yards and junior wide receiver Kobe Clark rocketed up ACU's career receiving list to power the Wildcats to a 34-9 win over University of Texas Permian Basin last Saturday night at Wildcat Stadium. Clark, a former walk-on, caught nine passes for 92 yards and one touchdown, and moved from eighth to fifth in career catches (160) for the Wildcats. Quarterback Stone Earle was 17-of-24 for 143 yards and a touchdown. Defensive end Jordan Paup returned an interception 22 yards for a touchdown – he also had three tackles to go along with a sack. For Paup's efforts he was named WAC Defensive Player of the Week on Monday.
Lamar Cardinals (2-1, 0-0 in WAC)
In a defensive slugfest, Lamar made just enough plays to pull out its first FCS win of the season by stunning Northern Colorado17-10 in overtime last Saturday in Greely, Colorado. The Cardinals' defense held the Bears to 236 yards of total offense, and just 84 yards on the ground.
Quarterback Jalen Dummett completed 7-of-13 passes for 86 yards. Dummett's favorite target was wide receiver Erik Pizarro – he had three receptions for 66 yards. Running back Chaz Ward ran the ball 20 times for 77 yards, including the game-winning 10-yard touchdown run in overtime. Kicker Bailey Giffen was named WAC Special Teams Player of the Week – he had a game-tying 26-yard field goal with six seconds left to force overtime and he averaged 42.1 yards per punt.
Fearless Prediction:
These young Cardinals are much better than we thought – this program has turned around.
Lamar 28 Abilene Christian 24
Co-Western Athletic Conference Game of the Week
GAME PREVIEW: #1 Sam Houston vs #25 Central Arkansas
When: Saturday, September 25 at 4p.m. CST
Where: Estes Stadium; Conway, Arkansas
TV/Streaming: ESPN+
Now in his eighth season as head coach at Sam Houston, K.C. Keeler has taken the Bearkats to places they have never been before, culminating in the program's first-ever FCS national championship in 2020. In his tenure he has directed the Bearkats to a 71-22 record that includes 14 victories over top-10 ranked opponents and 13 wins in NCAA postseason action. During 27 years as a head football coach, Keeler has produced a record of 243 victories, only 95 losses and 1 tie.
The most prolific quarterback in University of Central Arkansas history became the 20th head coach of the program in December 2017 when Nathan Brown was hired to replace Steve Campbell. Brown, a 2016 inductee in the UCA Sports Hall of Fame in his first year of eligibility, spent the previous four years (2014-17) as the Bears' offensive coordinator on teams that went 33-15 (.688), including 20-5 (.800) in 2016-17 and had the most efficient passing offense in the FCS in 2017.
Sam Houston Bearkats (2-0, 0-0 in WAC)
Sam Houston cruised to a 52-14 victory over Southeast Missouri in the home opener September 11 at Bowers Stadium. Running back Ramon Jefferson rushed for a career-high 153 yards and two touchdowns as the Bearkats racked up 297 yards on the ground. Backup quarterback Trapper Pannell also added a 77-yard touchdown run and running back Noah Smith finished with 61 yards on 11 carries. Quarterback Eric Schmid completed 16-of-28 passing attempts for 243 yards and three scores. Wide receiver Cody Chrest had six receptions for 72 yards and a touchdown. Sam Houston's defense dominated the second half. The Redhawks had 216 yards of total offense in the first two quarters but were held to just 90 yards after the break.

Central Arkansas Bears (1-2, 0-0 in Atlantic Sun)
Central Arkansas survived a resurgent Arkansas-Pine Bluff squad and pulled away for a 45-23 victory in their home opener last Saturday night at Estes Stadium. Quarterback Breylin Smith finished 31-of-42 (73.8 percent) for 329 yards and four touchdown passes – he overcame a pair of interceptions on consecutive possessions in the third quarter to lead the Bears on two fourth-quarter touchdowns drives that sealed the victory. Central Arkansas freshman running back Darius Hale led the Bears with 76 yards on 19 carries – he also added a pair of short touchdowns runs late in the fourth quarter to seal the win. Wide receiver Tyler Hudson had five receptions for 85 yards and a touchdown.
Fearless Prediction:
Sam Houston will be too dominant for Central Arkansas – but the Bears will put up a fight.
Sam Houston 37 Central Arkansas 24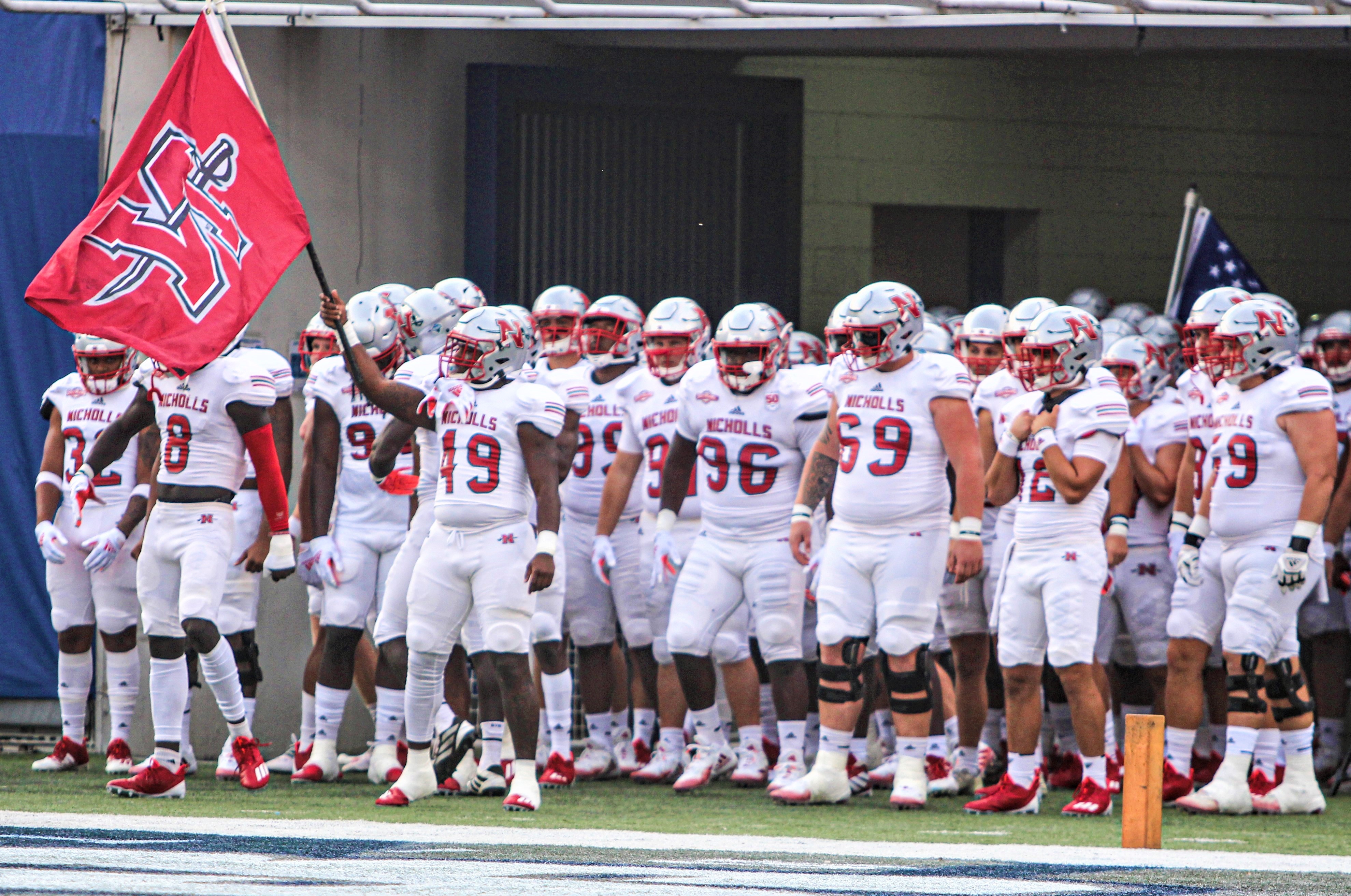 Other games of interest
North Alabama at Nicholls
North Alabama lost to a tough Jacksonville State team 27-24 in Jacksonville last Saturday. Nicholls gave the Louisiana Ragin' Cajuns all they could handle in the Colonels' 27-24 loss in Lafayette on September 11.
Nicholls 38 North Alabama 20
Lincoln (CA) at Stephen F. Austin
SFA wide receiver Xavier Gipson recorded his second career three-TD game in leading the Lumberjacks to a lopsided 58-13 win over Mississippi Valley State in Nacogdoches, Texas last Saturday.
SFA 66 Lincoln (CA) 0
Rob Butler is a lifelong Texas A&M football fan – his family is full of A&M graduates. He graduated from Lamar University in Beaumont, Texas with two degrees – a BBA in Finance and an MBA. His hobbies include jogging and reading books pertaining to college football.