Southland Conference Game of the Week
GAME PREVIEW: McNeese vs. #8 Southeastern Louisiana
When: Saturday, October 30 at 6:00 pm CST
Where: Strawberry Stadium; Hammond, Louisiana
TV/Streaming: ESPN3
Following a standout performance in Saturday's 28-20 win over then-No. 16 Incarnate Word, McNeese defensive end Isaiah Chambers was named Southland Conference Defensive Player of the Week. In addition, the Cowboys were named the FCS Team of the Week by Stats Perform for their impressive win over the Cardinals. Chambers, a graduate transfer from the University of Houston, tallied a career-high four of the Cowboys' 10 sacks in the game.
The Southeastern Lions moved up another spot in the Stats Perform FCS Top 25 and AFCA FCS Coaches' Top 25 released on Monday. The Lions climbed to No. 8 in both polls. SLU moved up a spot in both polls after extending its win streak to five games with a dominating 51-14 victory at Northwestern State.
McNeese Cowboys (3-4, 2-2 in Southland)
The McNeese offense has struggled this season – the Cowboys are averaging 24.6 ppg, which is 69th in the FCS. Their 313.6 ypg is 91st in the FCS. Cody Orgeron has 1,235 passing yards (205.8 ypg) to lead McNeese, completing 62.3 % of his passes and recording nine touchdown passes and two interceptions this season. He's also helped on the ground with 128 rushing yards (21.3 ypg) on 76 carries with two rushing touchdowns. Deonta McMahon's team-high 206 rushing yards (34.3 ypg) have come on 44 carries, with three touchdowns this year. He's also tacked on 13 catches for 128 yards (21.3 per game). Josh Matthews' team-leading 293 receiving yards (48.8 yards per game) have come on 23 receptions with two touchdowns. Defensively, the Cowboys are giving up 29.4 ppg, which is 76th in the FCS – they're giving up 411.7 ypg, which is 89th in the FCS.
Southeastern Louisiana Lions (6-1, 4-0 in Southland)
The Southeastern offense has been unstoppable this season – the Lions are averaging 51.5 ppg, which is 2nd in the FCS. Their 576.9 ypg is also 2nd in the FCS. Cole Kelley has been a dual threat to lead SE Louisiana in both passing and rushing. He has 2,479 passing yards (413.2 ypg), completing 74.7% of his passes and throwing 23 touchdowns and five interceptions this season. He's rushed for 269 yards (44.8 ypg) on 72 carries with seven rushing touchdowns. Austin Mitchell's 555 receiving yards (92.5 yards per game) pace all receivers on the team. He has 36 receptions and five touchdowns. C.J. Turner has recorded 412 receiving yards (82.4 yards per game) and five touchdowns, hauling in 24 passes this year. The Lions have struggled defensively – they're allowing 29.14 ppg, which is 74th in the FCS, and their defense is giving up 388.4 ypg, which is 70th in the FCS.
Prediction
The Cowboys will be tough on the road, but the Lions will stay undefeated in conference play.
Southeastern 45 McNeese 31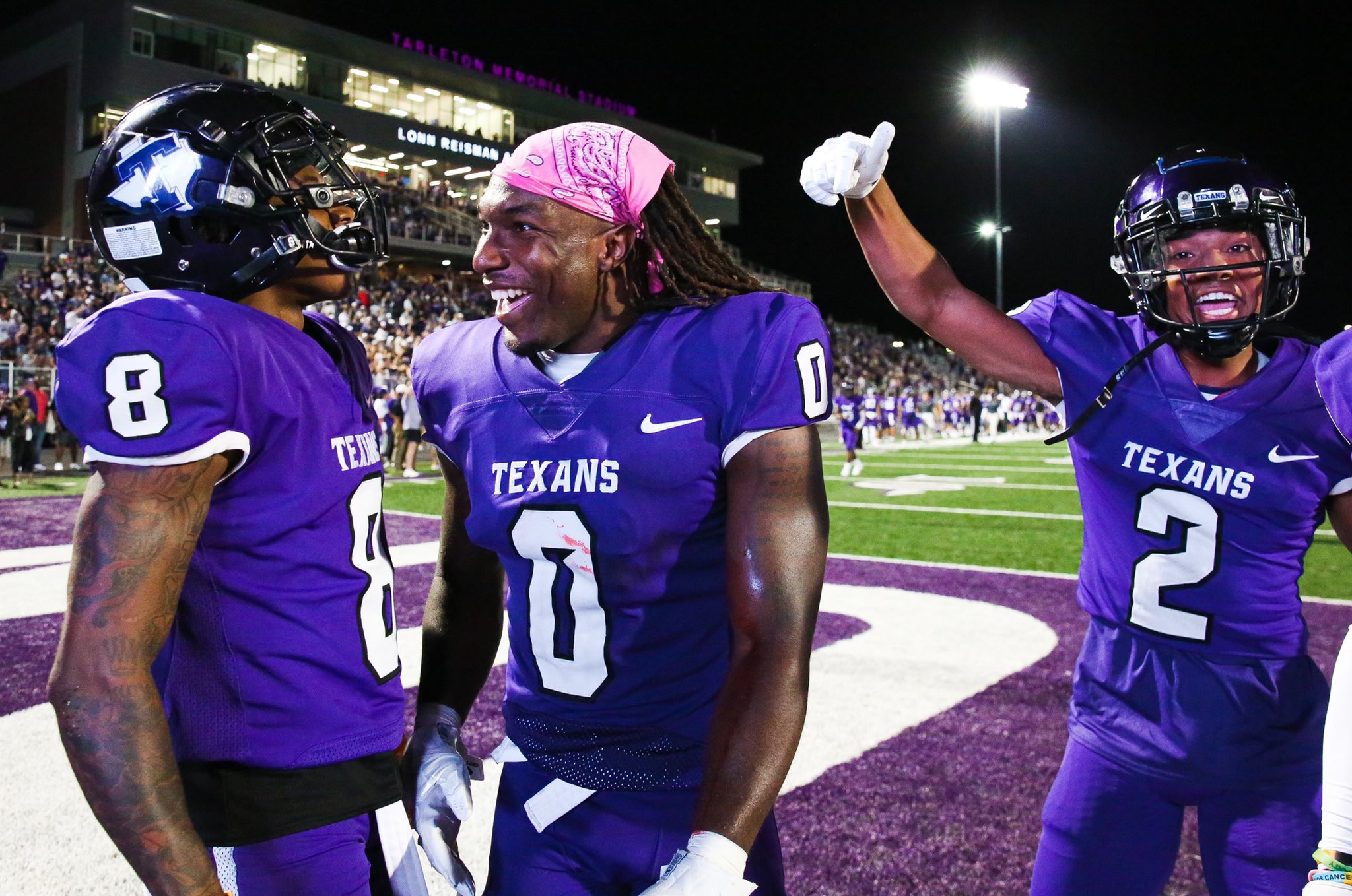 Western Athletic Conference Game of the Week
GAME PREVIEW: #1 Sam Houston vs Tarleton State
When: Saturday, October 30 at 6:00 pm CST
Where: Memorial Stadium; Stephenville, Texas
TV/Streaming: ESPN+
Sam Houston scored 42 unanswered points to run over Jacksonville State for a 42-7 victory last Saturday afternoon. Running back Ramon Jefferson rushed for 110 yards and two scores, and quarterback Eric Schmid threw for 227 yards and two touchdowns at the top ranked Bearkats improved to 6-0 overall and 4-0 in the WAC/ASUN challenge. Wide receiver Jequez Ezzard and Ife Adeyi each caught touchdown passes and finished with 84 and 88 yards receiving, respectively.
Tarleton State University set a new school attendance record, hosting 16,216 fans inside Memorial Stadium for the Texans' 17-14 win over Midwestern State in their homecoming game last Saturday. Texans tight end Max Maxfield caught both of Tarleton's touchdowns from quarterback Steven Duncan, and defensive back Devin Hafford added two interceptions to his NCAA Division I-leading takeaway numbers, including the game-sealer with three seconds remaining to put Memorial Stadium in a frenzy.
Sam Houston Bearkats (6-0, 2-0 in WAC)
During the Bearkats' victory over Jacksonville State, senior cornerback Zyon McCollum was able to snag an interception, while also forcing two fumbles throughout the game. His twin brother Tristan finished the game with two pass breakups to keep the JSU offense off the field. Defensively, the Bearkats are allowing 16.5 ppg, which is 14th in the FCS. They're giving up 300.2 ypg, which is 16th in the FCS. Offensively, the Bearkats are rolling this season – their 40.5 ppg ranks 5th in the FCS, while their 464.8 ypg is 6th in the FCS. Quarterback Eric Schmid has completed 86-of-163 passes for 1,180 yards, with 14 touchdowns and five interceptions. Running back Ramon Jefferson has carried the ball 80 times for 582 yards (7.28 ypc) with seven touchdowns. Wide receiver Cody Chrest has 24 receptions for 324 yards (13.5 ypc) with four touchdowns.
Tarleton Texans (4-3, 1-1 in WAC)
Senior Devin Hafford was named WAC Defensive Player of the Week for his performance in the win over Midwestern State. The senior has eight takeaways on the year, six interceptions and two fumble recoveries. Entering the year, Hafford had six interceptions for his collegiate career across five seasons and 45 games. Offensively, the Texans are led by QB Stone Earle, who has completed 102-of-155 passes (65.8% comp. pct.) for 1,232 yards with 13 touchdowns and four interceptions. Running back Tyrese White has carried the ball 55 times for 391 yards and three scores, averaging 7.1 yards per carry. Wide receiver Kobe Clark has 38 receptions for 405 yards and five touchdowns, averaging 10.7 yards per catch.
Prediction
The Bearkats will stay undefeated before a sellout crowd at Memorial Stadium.
Sam Houston 38 Tarleton 10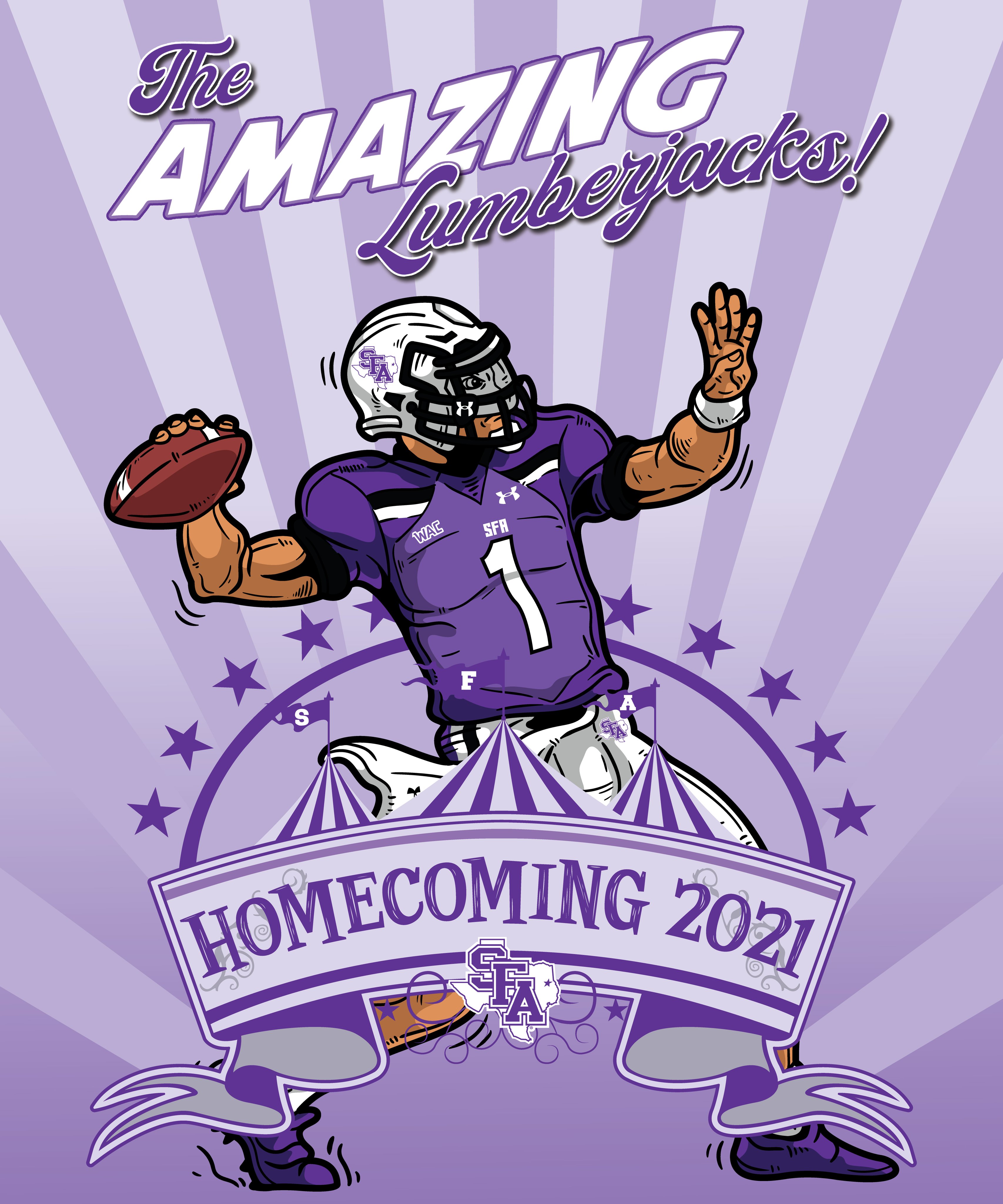 Other games of interest
Lamar (2-5) at #25 Eastern Kentucky (5-2), Sat., Oct. 30, 1:00 pm CST, ESPN+
Lamar QBs Mike Chandler and Jalen Dummett have different strengths, but the offense seems to be settling into the two-quarterback system. EKU QB Parker McKinney accounted for 289 total yards and three touchdowns in EKU's 38-35 win over Central Arkansas a couple of weeks ago.
EKU 34 Lamar 23
Dixie State (0-7) at Delaware (3-4), Sat., Oct. 30, 12:00 pm CST, Flo Sports (subscription req'd)
Dixie State dropped a hard-fought game to SFA last Saturday, falling 37-20 inside Greater Zion Stadium. Delaware only produced 109 yards of total offense last week against James Madison. Utah lawmakers announced this week they will recommend Dixie State changed their name to Utah Tech, possibly as soon as this November.
Delaware 37 Dixie State 21
Abilene Christian (4-3) at Stephen F. Austin (4-3), Sat., Oct. 30, 4:00 pm CST, ESPN+
ACU linebacker Hunter Kier was the WAC Defensive Player of the Week two weeks ago. SFA WR Xavier Gipson had a career day in the victory over Dixie State, hauling in nine catches for a career-best 218 yards through the air and two touchdown receptions.
SFA 34 ACU 24
Houston Baptist (0-7) at Incarnate Word (5-2), Sat., Oct. 30, 3:00 pm CST, ESPN+
HBU wide receiver Tyson Thompson is averaging 27.5 yards per kickoff return to rank 12th nationally among all FCS players. UIW QB Cameron Ward threw for 455 yards in the loss to McNeese last weekend.
UIW 52 HBU 14
Northwestern State (1-6) at Nicholls (3-4), Sat., Oct. 30, 12:00 pm CST, ESPN+
For the first time this season, the Demons scored first last Saturday afternoon – but it was all downhill from there in the 51-14 loss to Southeastern. Nicholls QB Lindsey Scott Jr. was named Southland Conference Offensive Player of the Week following the Colonels' 44-14 road win at HBU.
Nicholls 37 Northwestern State 10
Rob Butler is a lifelong Texas A&M football fan – his family is full of A&M graduates. He graduated from Lamar University in Beaumont, Texas with two degrees – a BBA in Finance and an MBA. His hobbies include jogging and reading books pertaining to college football.