It was a nerve-wracking three days, but in the end the result was worth the wait.
Tennessee State standout Lachavious Simmons heard his name called when he was selected by the Chicago Bears at the annual NFL Draft, which took place April 23-25.
The six-foot, five-inch, 315 pound offensive lineman was the 13 th pick in the seventh round (227 th overall) and was the only Ohio Valley Conference athlete chosen in this year's draft.
Five players, including Simmons' TSU teammate Chris Rowland, inked free agent deals after going undrafted.
Simmons, a native of Selma, Ala., will join a Bears team that finished 8-8 during the 2019 season after finishing 12-4 the previous season.
Chicago also drafted Arlington Hambright (Colorado), another offensive lineman, with the 226th overall pick in the recent draft.
"I'm so excited to get to Chicago and be great in the Windy City," Simmons said moments after his selection by the Bears. "My time at TSU was amazing. The friendships I built and the relationship with the coaching staff was amazing."
Simmons started all 12 games for the Tigers in 2019 and anchored an offensive line that averaged 400.1 yards per game. The Tigers, which finished 3-9 last season, ranked third in the OVC in total offense and second in passing with 260.7 yards per game.
Simmons started games at left guard and left tackle last season.
TSU quarterback Cameron Rosendahl benefited heavily from the Simmons-led offensive front by establishing a school record 241 completions on the season. His 3,023 passing yards were the second most in school history, as
was his 61 percent completion percentage.
Rowland, meanwhile, signed a free agent deal with Atlanta on April 25 after capping off a brilliant senior season that saw him voted the Black College Hall of Fame player of the year, the OVC's offensive player of the year and
landing a spot on 12 all-American teams.
A native, of Nolensville, Tenn., Rowland (5-8, 180) caught 104 passes for 1,437 yards and eight touchdowns, including a 96-yard scoring reception on the second play of the game against Jackson State in the Southern Heritage
Classic held at the Liberty Bowl in Memphis. Jackson State won the game 49-44 despite a 21-point fourth-quarter rally. Rowland finished the game with seven catches for 139 yards.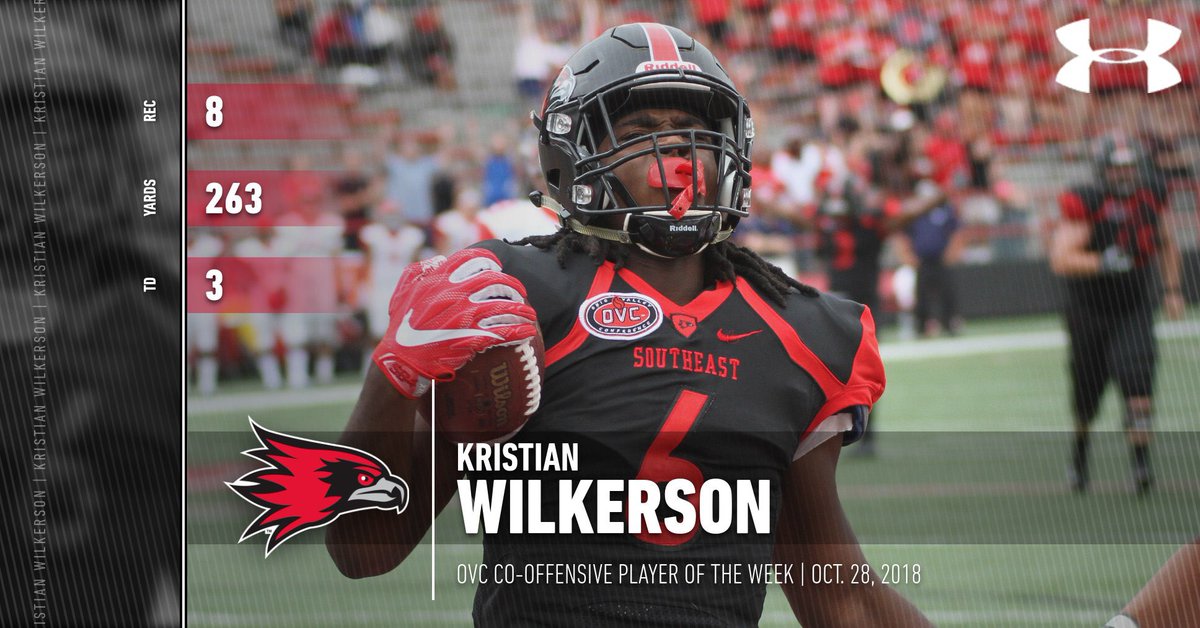 Southeast Missouri, which shared the OVC championship with Austin Peay, had two players sign deals following the draft. Josh Avery and Kristian Wilkerson agreed to terms with Seattle and Tennessee, respectively.
Avery, a six-foot, four-inch defensive lineman, recorded 41 total tackles during his time with the Redhawks. He also had seven tackles for loss and 2.5 sacks during his collegiate career.
Wilkerson, meanwhile, was one of the top offensive players in the conference a year ago. He finished his stellar career in Cape Girardeau with 219 receptions for 3,540 yards and 33 touchdowns. His 263 yards against UT-Martin in 2018 is a school record for the six-foot, one-inch speedy wide receiver.
Jacksonville State and UT-Martin both had one player moving on to the NFL.
Josh Pearson (6-4, 205), a wide receiver, signed with Tampa after earning all-OVC and all-America honors each of the past two seasons for Jacksonville State. He hauled in a school record 17 touchdowns in 2018 and added 13 in his final season. He caught 59 passes for 943 yards in his final season at JSU.
Jaylon Moore (6-2, 190) signed a deal with the Baltimore Ravens despite being limited because of injuries during the 2019 season. A preseason all-conference selection in 2019, Moore, a native of Memphis, Tenn., tallied just 16 receptions for 292 yards and five touchdowns in his final season.
He had 92 catches for 1,492 yards in his four years with the Skyhawks and his 18 career TDs are the third most in program history. His junior season saw him catch 52 passes for 799 yards and eight touchdowns. Moore was also a standout sprinter on the UT-M track team.
A native of Bismarck, N.D., Ray is a graduate of North Dakota State University where he began studying athletic training and served as a student trainer for several Bison teams including swimming, wrestling and baseball and was a trainer at the 1979 NCAA national track and field championship meet at the University of Illinois. Ray later worked in the sports information office at NDSU. Following his graduation from NDSU he spent five years in the sports information office at Missouri Western State University and one year in the sports information at Georgia Tech. He has nearly 40 years of writing experience as a sports editor at several newspapers and has received numerous awards for his writing over the years. A noted sports historian, Ray is currently an assistant editor at Amateur Wrestling News.