The 157th Meeting of "The Rivalry" (Lafayette at Lehigh) – Game Preview, Drink Of the Week, And Fearless Prediction
BETHLEHEM, PA – Many have said it's something you should do at least once in your life. Whether you're a Lehigh person, a Lafayette person, whether you're from the Lehigh Valley, whether you consider yourself a college football fan, it's a pilgrimage, a bucket list item.
This Saturday, college football's most-played Rivalry will contest its 157th meeting between the Lafayette Leopards (3-7) and Lehigh Mountain Hawks (2-8), and the hope is that it will be, well, normal.
In the long, storied history between the two nearby Rivals – the two schools are only separated by about 18 miles – only once, in 1896, were games cancelled (over the amateur eligibility of one of the athletes).
Last year, due to the COVID pandemic, the 2020 season was not technically cancelled – merely delayed to the spring, where the 156th edition of The Rivalry was played in front of family, friends, and some media members at Fisher Field in Easton, PA.
The Leopards ended up winning a thriller 20-13 in a game that went down to the wire, as Rivalry games so often do. Lafayette TE Steven Stillanos unquestionably deserved the MVP with two beautiful TD catches, both times well covered by the Mountain Hawks.
On the field, competitively, the Rivalry was as fierce as ever in the spring. If you were watching the last several minutes of the game, and closed your eyes, you could imagine that you were in the middle of a Rivalry game, just in the warming temperatures of the spring rather than the chilling temperatures of fall.
But the game, which very, very nearly didn't happen at all, was also played in a surreal atmosphere. With understandable COVID restrictions, the stands were largely socially distanced and empty. There were no cheerleaders, no bands, none of the familiar student energy that pours in from tailgating into the stadium, directed towards the field or the other fans.
2021 is not the first time two Lehigh/Lafayette games were contested in the same calendar year.
In the early days of The Rivalry, in the horse and buggy era, Lehigh and Lafayette would play each other in a home-and-home series in large part because it was very easy to hop on the Lehigh Valley Railroad to head to the opposing field, play a football game, and recuperate at home. (I wrote a book that talked a lot about this era of Lehigh football, available in print and Kindle on Amazon.)
1901 was an end to the time when The Rivalry was routinely contests more than once a year.
In 1902, the athletics departments at both Lehigh and Lafayette decided to only play their historic Rivalry game once a year instead. According to the book Legends of Lehigh-Lafayette, this was an effort to reduce injuries, since the game of football in the days of mass momentum plays, had grown very violent.
In 1943 and 1944, Lehigh and Lafayette also chose to contest two games those years due to wartime restrictions on schedules (and the fact that many schools decided not to field football teams to focus on war preparation).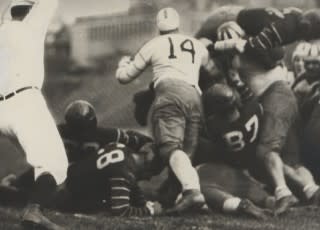 Now again, in 2021, history repeats itself in The Rivalry, but this time, fans of both schools are hoping to return to a level of historic normalcy – which in this case means tailgating, music, friends, fun, bands, cheerleaders, and the familiar student energy pouring out from the stands.
The game is taking place at Murray Goodman Stadium in Bethlehem, and kickoff is at noon. If you can't make it to Bethlehem, it is going to be streamed on ESPN+ with two different feeds: Lehigh's video feed (with Steve Degler, Mike Yadush and Doug Heater on the call) and the other video feed (with Gary Laubach, Mike Joseph, Meghan Caffrey, Phil Ng, and John Leone on the call). The Lehigh radio call will be available on Fox Sports Radio 1230/1320 AM and 94.7 FM Allentown, with Matt Kerr, Jim Guzzo and Matt Markus on the call (and also available on LVFoxSports.com).
Of course, I'll be there too, tweeting through it all on @LFN, as I always do.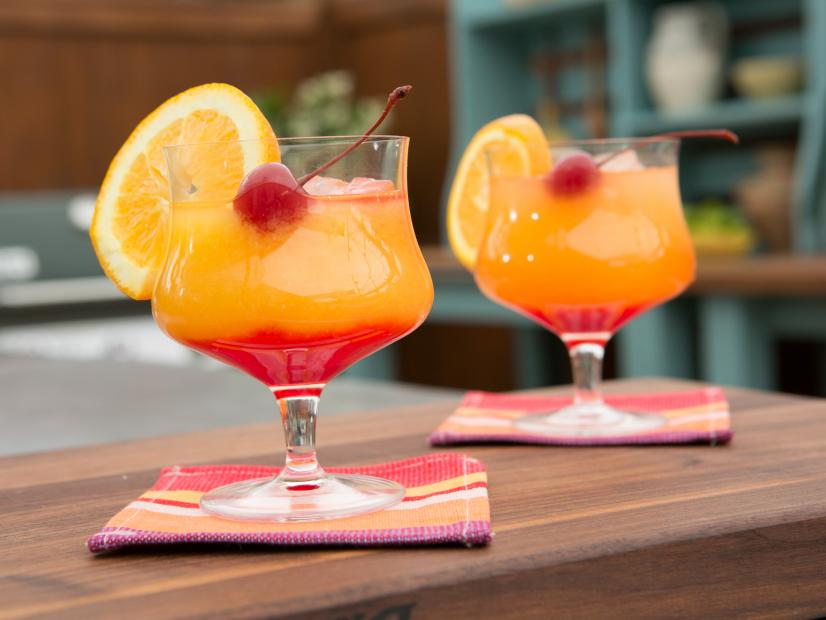 LFN's Drink of the Week
If this is your first Rivalry game, my suggestion to you is to get there early. The noon kickoff isn't ideal (at least for me), but in order to maximize the experience it's really worth it to get there as close to when the lots open as possible (which in this case is 9:00 AM). Alumni from both schools will be there with lots of food, drink and good vibes. Bring a mask and be hungry.
The weather calls for a game in partly cloudy skies, with a high of about 50, which means there is a great flexibility in terms of tailgating drinks. We could go with mimosas, or even just a good blonde Yuengling golden pilsner, but I think the timing and the symbolism of the Tequila Sunrise just makes it perfect for this time and place.
Ingredients
1 1/2 ounces tequila
3/4 cup orange juice
3/4 ounce grenadine syrup
Orange slice, for garnish
Maraschino cherry (optional, I almost never do this step)
In a highball glass filled with ice, pour in the tequila and orange juice. Slowly pour the grenadine into the glass over the back of a spoon or by drizzling it down the side of the glass, allowing it to settle at the bottom. Garnish with an orange slice and maraschino cherry.
LFN's Drinks of the Week are meant to be enjoyed in responsible tailgates, meaning everyone is over 21, nobody is driving while impaired or under the influence, and Ubers are lined up if necessary. Only enjoy these things responsibly. If you're a student, those buses to and from campus are your friends!
Breaking Down The Game
(Thanks to Lehigh and Lafayette for their game notes.)
It seems like in the last three meetings between these ancient Rivals, not much separates the two schools. Both have similar records. Both sport identical 2-3 records in Patriot League play, collectively beating Georgetown and Bucknell but losing to Colgate, Fordham, and Holy Cross. Both are winless out-of-conference against the CAA.
If you are scouting common opponents, it's advantage, Lafayette: the Leopards beat Penn at home 24-14, while Lehigh lost 20-0 to the Quakers on the road.
However if you're looking at "recent form", it's advantage, Lehigh: the Mountain Hawks have won two straight against Georgetown and Bucknell, while Lafayette lost back-to-back games to Holy Cross and Colgate.
All signs point to a dogfight this weekend as both sides will be looking to get a needed offseason boost that hopefully will more resemble a traditional one than the last two years.
Lafayette is led at quarterback by a true freshman, QB Ah-Shaun Davis, who is a two-time Patriot League rookie of the week. His best game of the year game against Fordham, where he went 20 for 28 for 354 yards and 2 TD passes. He's started 8 games and while he's been more of a game manager lately, head coach John Garrett is clearly excited about the potential he brings for the next three seasons.
The timeless RB Selywn Simpson will be leading the Lafayette rushing attack, though the Leopards engage in a three-headed rushing attack with Simpson, RB Jaden Sutton and true freshman RB Michael Hayes. Lafayette only has 1,276 total rushing yards on the season, though that includes -78 yards from Davis when he's flushed from the pocket.
Lafayette's top receiver is junior WR Julius Young (613 yards receiving, scored TDs vs. Air Force, Fordham, and Georgetown), and junior WR Joe Gillette (446 yards, 1 TD) flanking him on the other side. Davis and his main targets have a good rapport and have a knack for finding the 1st down marker, and the MVP of this spring's game, senior TE Steve Stillanos, who returned in late November, will also be suiting up at TE1 (and anyone who watched this spring's game will know how dangerous Stillanos is catching passes).
Lafayette has a legitimate NFL prospect in the form of senior DT Malik Hamm. On the season he has 60 tackles, 6 1/2 tackles for loss and 4 1/2 sacks, which is remarkable considering 1) he's a defensive tackle, who rarely get those types of numbers, and 2) he's constantly fighting through double-teams, as he's priority one for every offensive coordinator facing Lafayette. To me he projects more as an athletic defensive end – he certainly has the tool set to do so.
Hamm, however, is hardly the only concern for Lehigh on defense. Junior LB Marco Olivas (104 tackles, 4 pass break-ups, 1 forced fumble) is a dynamic defender who also shined last spring for the Leopards on defense, Though LB Billy Schaffer is not listed on Lafayette's depth chart – he leads Lafayette with 3 interceptions – the Leopard secondary has 7 interceptions on the year, and three seniors, S Caleb Burr, S Otis Thrasher, and CB Jordan Anderson bring loads of experience.
For Lehigh, sophomore QB Dante Perri started the season as the fourth-string QB on the depth chart, but through the course of the season he simply worked his way into the starting position and has been a huge reason for the Mountain Hawks turning things around after an 0-8 start to the season. After going 27 for 37 for 317 yards and 1 TD vs. Fordham, he's done a great job managing games and putting Lehigh in position to win.
Lehigh too has a triple-headed rushing attack with senior RB RaShawn Allen, RB Zaythan Hill and RB Jack DiPietro, who have exploded in recent weeks with great collective rushing performances against Georgetown and Bucknell. The Mountain Hawks' young receiving corps, featuring sophomore WR Romello Miner, sophomore WR Eric Johnson, and junior WR Jalen Burbage, have also come more to into their own in the last few weeks as well.
Defensively is where Lehigh has the most senior leadership and has been the calling card of the team the past two seasons. LBs Pete Haffner and Nate Norris are a pair of 5th year seniors that have been everywhere on the field for the Mountain Hawks – when they've been on the field together, since both worked through injuries over the course of the year.
On the defensive line, DLs Mikhari Sibblis (4 sacks)and DL Trevor Harris (3 sacks) have led a defensive line that has gotten in the face of quarterbacks all season, with NG Ben Murphy providing the glue in the center of the line.
The secondary, too, boasts a potential all-Patriot League candidate in DB TyGee Leach (64 tackles, 4 1/2 tackles for loss), while CB LaTreil Wimberly (38 tackles, 1 INT) has also played great ball in the last few games as well.
Keys for Lehigh
Pressure. Blitz every down? Probably not, but it will behoove the Mountain Hawks to keep Davis on his back foot, perhaps even establishing that type of tone early. Blitzing puts a lot of pressure on the defensive backs, and they will have to take on that added responsibility against Lafayette's experienced receiving corps.
Emotions in check. Even in victory, Lehigh has been uncharacteristically making unforced errors that have kept teams in games – first downs due to penalties, and silly penalties, like taunting. Against Georgetown and Bucknell they may not have cost Lehigh, but one ill-timed one of those against Lafayette could easily be the difference between winning and losing.
Short Passing. Lafayette's defense ain't chopped liver. They pose a lot of problems, as they are difficult to burn deep but are not easy to run against. Dante and the rest of the offense are probably best served through screen passes, maybe designed outside runs, and passes at the 1st down markers. If the offense can make that work – and the O line gives Dante the time to do it – I love Lehigh's chances.
Fearless Prediction
I have one prediction about this game, and it's this: It will be a very close, razor-tight margin game that will exude the same sort of energy of other Rivalry games gone past. It will come down to one play, one more play than the other side, which is usually the recipe for an all-time Rivalry game. Both sides, I think, will enter the offseason with a credible case as to why they should be considered Patriot League title contenders next year. But the team that wins will have a lot more momentum towards that goal.
Lehigh 16, Lafayette 17