Southern University Jaguars
Location: Baton Rouge, LA
Coach: Dawson Odoms (50-27), 8th Season at Southern
Stadium: Ace W. Mumford Stadium (Capacity: 29,000)

CSJ Projections:
1st: SWAC (1st in West Division)
3rd: HBCU
8th: Louisiana
54th: FCS
178th: Division I
2018 In A Sentence: After a 2-3 start, the Jaguars would cut like a hot knife through SWAC butter, winning five straight and beating Rivals Grambling 38-28 in the 45th annual Bayou Classic. A close defeat to Alcorn State 38-27 in the SWAC Championship game narrowly kept them from the Celebration Bowl.
Biggest Shoes to Fill: Southern is poised to have a tremendous season because head coach Dawson Odoms has so much coming back. One of the few starters that needs replacement is their starting wideout, WR Trey Smith. He had 28 catches for 481 yards, but he really shined in the end zone, where he scored 8 TDs. During Southern's 5 game winning streak to end the year, he scored touchdowns in 5 straight games.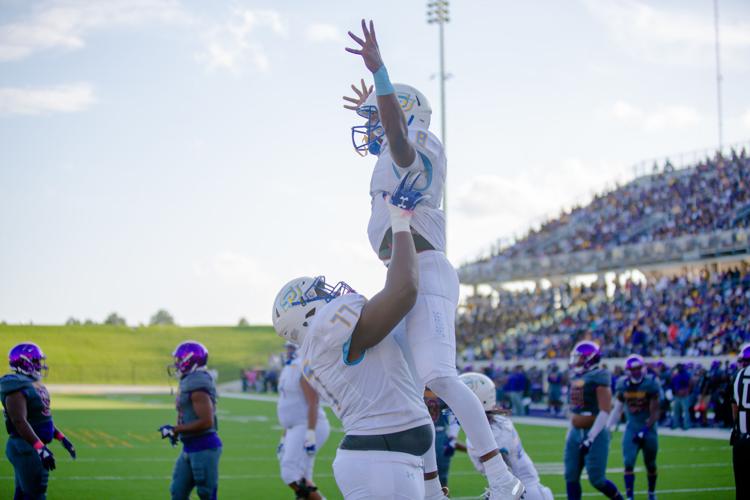 Key Player: The "heartbeat of the Southern offense" is dual-threat QB Ladarius Skelton, who has blossomed into a very good SWAC quarterback and was a huge reason why Southern made their march to the SWAC championship game. Still somewhat raw, once given the reins of the offense he really emerged as a scary threat both rushing (530 yards, 8 TDs) and passing (10 passing TDs and only 1 interception). Only a junior, he should only get better with the number of talented, returning players around him, which should concern the rest of the SWAC.
Fearless Prediction: The margin between Southern and Alcorn State feels razor-thin, but it's looking like they will be facing off once again in the SWAC Championship game. If Skelton can continue his level of improvement – and I think he can – the Jaguars should be Celebration Bowl-bound this year.