SWAC Predicted Order of Finish
Last season, Alcorn State was oh-so-close to knocking off North Carolina A&T in the Celebration bowl. This season, who is likely to be competing for a Celebration Bowl bid, and who's likely to be sitting at home?
Celebration Bowl Favorites:
1. Alcorn State
Alcorn State is the SWAC favorite to return to the Celebration Bowl this year. Returning All-Conference QB Noah Johnson and All-Conference RB De'Shawn Waller, the Braves certainly won't be missing a beat on offense. Couple that with 3 preseason 1st team All-Defensive selections and Alcorn looks poised to take the SWAC East again this year, and the Braves can possibly go all the way.
Read our full Alcorn State team preview here.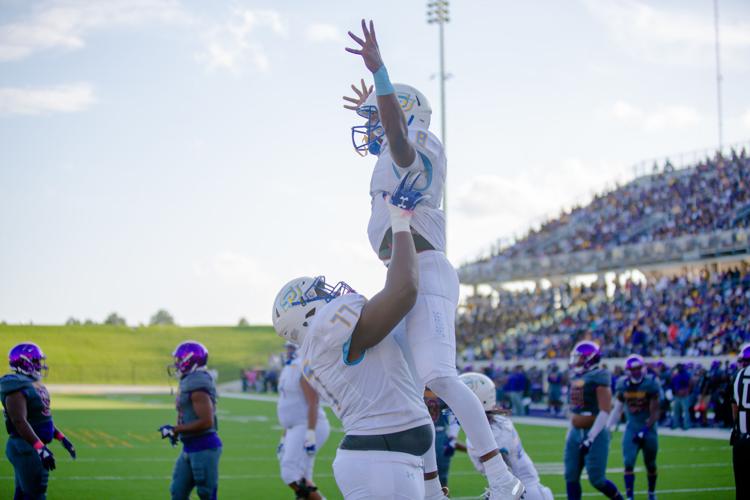 2. Southern
Of the teams out in the SWAC West, Southern seems to be the most balanced and has the most talent across the board to contend for the SWAC Title. In a conference top heavy with quarterback talent, junior QB Ladarius Skelton will be flying under the radar, but is poised for a breakout season. With the West division looking to be more competitive than the East again, Southern will have to bring their A game every game if they want another potential shot at Alcorn State in the SWAC Championship.

Read our Southern team preview here.
Celebration Bowl Contenders:
3. Prairie View A&M
With games against Alcorn State and Southern scheduled relatively early in the year, we will know how realistic it is for Prairie View to see themselves as legitimate conference title contenders by mid-October. Returning almost all their offensive linemen and players at all skill positions, we expect the Panthers to score a lot of points. If their defense can hold serve, then watch out.

Read our Prairie View A&M team preview here.
4. Grambling State
We are really splitting hairs between Grambling and Prairie View when it comes to who will be the challenger to Southern. The Tigers are returning 8 starters on offense including promising QB Geremy Hickbottom, along with a defense that had a knack for causing turnovers last year. The State Fair Classic and Bayou Classic will define the season for Grambling State. If they win both games, they'll likely be in the Celebration Bowl.

Read our Grambling State team preview here.
5. Alabama A&M
Alabama A&M showed seismic improvements on both sides of the ball last year while posting their first winning record in over half a decade. With QB Aqueel Glass coming back to orchestrate the A&M offense, the Bulldogs will likely be putting up a bunch of point this year. Their key game will be coming on November 16 th against Alcorn State. If Alabama A&M plays up to their potential all year, this clash at the top will likely decide the SWAC East champion.

Read our Alabama A&M team preview here.
Celebration Bowl Longshots:
6. Jackson State
This program was a bit inconsistent last year, winning a few impressive games, and then following them up with head scratching losses. If the Tigers want to make that next step into the SWAC/HBCU elite, they will need to solidify their offense, starting with their battle as to who the starting quarterback will be. Couple that with a defense that doesn't give up too many points, Jackson State could be nipping at the heels of Alabama A&M and maybe even Alcorn State by the end of the year.

Read our Jackson State team preview here.
7. Alabama State
Maybe I'm stretching with positioning here in terms of a long shot, but when you return 10 out of 11 starters on offense and you have experienced quarterbacks, something has got to give. Alabama State will need to win all its games they are supposed to win, along with the Magic City Classic and their game against Alcorn State, to have a shot. I wouldn't put my money on the Hornets personally, but stranger things have happened in the SWAC, especially in the East.

Read our Alabama State team preview here.
Nope.
8. Texas Southern
We don't expect much from the Tigers this year, especially coming off a 2-9 record and losing their top receiver and only offensive threat of note but talking heads have been wrong before. With a new coach at the helm that has assistant experience at top level Power 5 programs, expect Texas Southern to be a lot more competitive this year. They won't make the Celebration Bowl, but they might mess up someone else's chances.

Read our full Texas Southern team preview here.
9. Arkansas-Pine Bluff
With a few players on the preseason All-SWAC First team on offense and defense, it's not like UAPB is lacking when it comes to exceptional talent. Their problem is that the talent is not evenly distributed. For them to truly compete they'll need to fix their leaky faucet defense, while getting more production from the quarterback position. I don't expect much from them in the stronger West division, but with individual playmakers anything is possible, even in football.

Read our full Arkansas-Pine Bluff team preview here.
10. Mississippi Valley State
Second year head coach Vincent Dancy has a lot of work to get the Delta Devils back on track. With a team that will be made up of mostly new players, this is going to be an up hill battle. A positive is that he has QB Dejerric Bryant returning, who showed promise when he started 5 games last year. The Delta Devils also have many of their leading tacklers as well on defense, but on the whole, this is a season where they will likely be looking a 1-2 wins max.

Read our full Mississippi Valley State team preview here.
5 Big Conference Games to Watch
1. Prairie View A&M @ Alcorn State 9/21/2019
2. Grambling State @ Jackson State 10/5/2019
3. Prairie View A&M @ Southern 10/12/2019
4. Southern @ Alcorn State 10/26/2019
5. Alcorn State @ Alabama A&M 11/16/2019
Ten Players to Watch from the SWAC
Offensive Players to Watch
1. Noah Johnson, QB – Alcorn State
2. Aqueel Glass, QB – Alabama A&M
3. De'Shawn Waller, RB – Alcorn State
4. Jeremias Houston, TE – Southern
Defensive Players to Watch
1. Armoni Holloway, LB – Alabama A&M
2. Javen Morrison, DB – Alcorn State
3. Jordan Lewis, DL – Southern
4. Joseph McWilliams, DB – Grambling State
Special Teams Players to Watch
1. Corey McCullough, K – Alcorn State
2. Tyrin Ralph, RS – Arkansas Pine Bluff
Preston attended James Madison University where he majored in Vocal Performance. As a member of the Drumline and Marching Royal Dukes for 4 years, he's seen a lot of JMU football up close and personal and having grown up attending HBCU games, he has extensive knowledge of the history and pageantry that comes with attending a game in the MEAC and SWAC. When not talking college football or being musical, Preston is a fan of the game the world calls football, golf, and curling. (Curling? Curling!)