Youngstown State Penguins
Location: Youngstown, OH
Coach: Bo Pelini (27-22 @ YSU, 94-50 overall), 5th season at YSU
Stadium: Arnold D. Stambaugh Stadium (Capacity: 20,630)
CSJ Projections:
8th: MVFC
8th: Ohio
50th: FCS
174th: Division I
2018 In A Sentence: Two years ago, the Penguins made it to the FCS Championship, where they would be runners-up losing to the James Madison Dukes 28-14. Since then, the Penguins have finished 6-5 and 4-7 the last two seasons, including last year just 3-5 in MVFC play.
Biggest Shoes to Fill: RB Tevin McCaster rushed for 2,970 yards and scored 36 touchdowns in his career. Last year alone, he rushed for 1,235 yards and 12 touchdowns.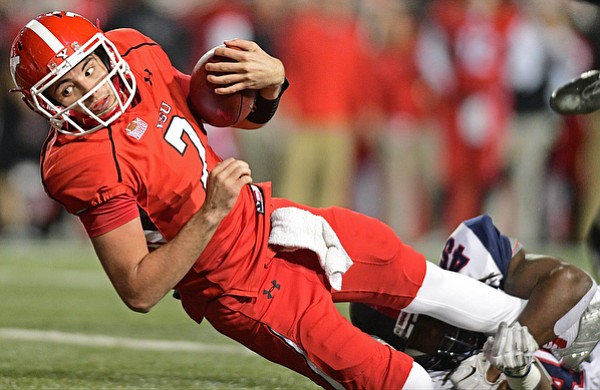 Key Player: QB Nathan Mays will be given every chance to retain the starting quarterback job. ast year, nerve issues in his leg forced him to cede to the job to to the now graduated Montgomery VanGorder at the start of last season after the pair split first-team reps throughout fall camp and limited his action in 2018. He wasn't working at full speed during spring practice. His experience will be key as his back-up looks to be either redshirt-sophomore Joe Craycraft, who has yet to throw a pass at YSU and freshman Mark Waid.
Fearless Prediction: The Penguin defense brings back defensive coordinator Carl Pelini, who coached the Penguins from 2015-2017, before heading to Bowling Green as defensive coordinator/interim head coach. With Pelini back look for the Penguins to have a stronger defensive team again. YSU gave up nearly 4,000 total yards last year. The offense will also need to find a replacement for McCaster so there are a lot of question marks but young talent is present on this team so if this can come together, YSU has a good opportunity for a winning record and maybe even battle for a FCS playoff spot. But with a lot of question marks means YSU likely will only be slightly better than 2018 and a 5-6 win season seems likely.
Originally from LaMoure, North Dakota, Kent is a 1996 graduate of North Dakota State University. His prior writing experience is over 15 years having previously worked with D2football.com, I-AA.org, and College Sporting News before coming to College Sports Journal in 2016. His main focus is college football is the Missouri Valley Football Conference within the Division I FCS. And in 2017, he began also to look at the FBS Group of Five conferences of the American Athletic, Conference USA, Mid-American, Mountain West, and Sun Belt.
Reach him at this email or click below: