The MVFC continues to be the premier conference in the FCS having now had at least one national title game representative for the past eight seasons (NDSU- 7 times, Youngstown State – 1 time, Illinois State – 1 time) and seven national titles over the span. That tradition should could continue in the deep league. NDSU, SDSU, Illinois State, and UNI seem like the playoff highest potentional with Indiana State and Western Illinois right on the edge.
Playoff Tier
These teams are high caliber teams who will be in contention for playoff consideration until they take themselves out of it.
North Dakota State
The Bison are currently on a 21-game winning streak – that's tied for sixth-best all-time in the FCS (NDSU holds the record at 33.). NDSU may seem to be down this year with just seven starters back and having a new head coach in Matt Entz and quarterback in Trey Lance to replace Easton Stick but the Bison have done this before and should be right back at the top again.
Read our full NDSU team preview here.
South Dakota State
If SDSU was in any other conference than with NDSU, the Jacks probably would have had at least a couple national title game appearances. Like NDSU, the Jackrabbits must replace their long-time quarterback in Taryn Christion but should be just fine especially with RB Pierre Strong and WR Cade Johnsonback back. SDSU does return six on defense so the Jacks should be just fine on this side of the ball and will be battling for the MVFC crown and another seed in the FCS playoffs.
Read our SDSU team preview here.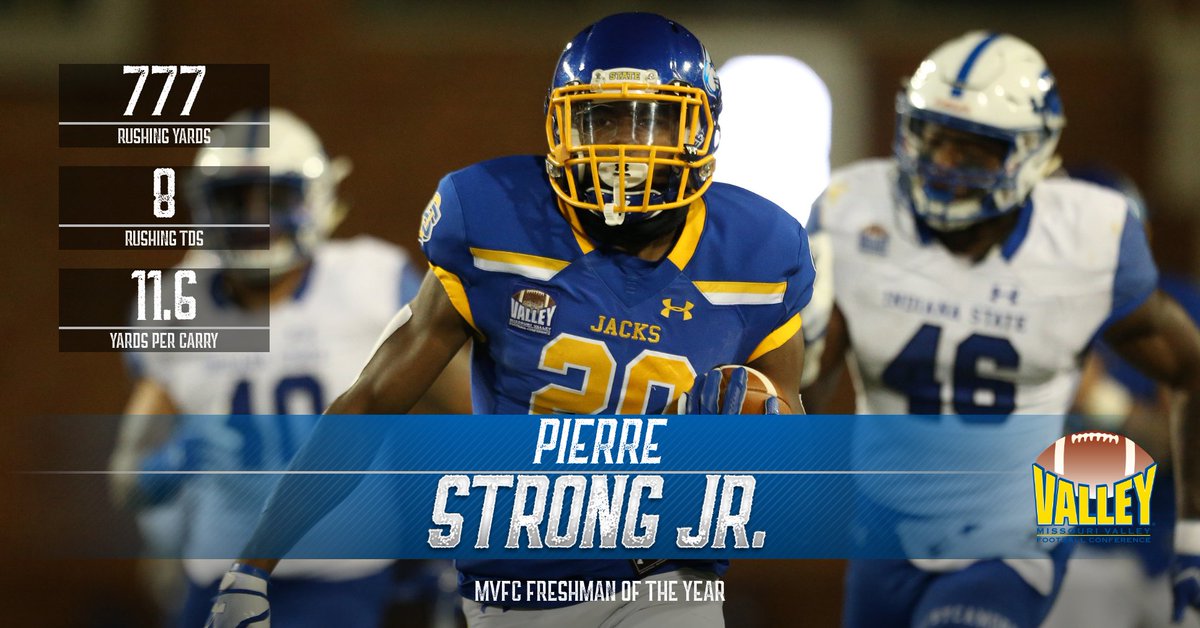 Illinois State
The Redbirds had a disappointing 6-5 season last year but still had an early season win over FBS Colorado State. Illinois State now has missed out on the playoffs two years in a row but look with QB Brady Davis and All-American RB James Robinson leading what should be a strong offense. S Luther Kirk and CB Devin Taylor should led the defense from their secondary. The Redbirds should get back to the playoffs again this year
Read our Illinois State team preview here.
Northern Iowa
The Panthers made the playoffs in a similar fashion how they have in recent years–start slow and finish in almost must win mode late. UNI like NDSU and SDSU must replace its starter at QB in Eli Dunne. But the Panther defense should be strong with CB/S Xavior Williams. The offense may have a new quaterback but should have a great security blanket in TE Briley Moore (39 catches last year). Look for the Panther to repeat their familar pattern of starting ff slow and make the playoffs with a strong push in the late season.
Read our UNI team preview here.
The Swing Tier
These teams are headed towards the top side of the standings and if all goes well could surprise the top tier teams.
Indiana State
The Sycamores just missed out on the FCS playoffs despite finishing 7-4 overall last year so 2019 will be a redeption campaign to get into the field. MVFC Newcomer of the Year QB Ryan Boyle will head a strong offense, while LB Jonas Griffith will lead the Indiana State defense after he has two 100-tackle seasons on his resume. Look for Indiana State to battle the season squeak into the FCS field this year.
Read our Indiana State team preview here.
Western Illinois
The Leathernecks are another MVFC team that needs to replace its starting quarterback with the loss of Sean McGuire. The defense also must replace its cog in the middle in DT Khalen Saunders but LB Zach Glisan is back to lead the defense this year. WIU will be a stronger team at the end of the season but will not have quite enough to make the FCS field this year.
Read our WIU team preview here.
South Dakota
South Dakota boosts the MVFC total offense reigning leader in QB Austin Simmons but he needs some help in the running game for the Coyotes to improve on the 4-wins it saw last year. The defense will have six starters back with DE Darin Greenfield leading the way. USD will improve and with some luck could be in FCS playoff contention but looks like they will just miss out.
Read our USD team preview here.
Youngstown State
The Penguins are hoping senior QB Nathan Mays is healthy this year but is being pressed by QB Joe Craycraft. The Penguins will also be looking for a star in the running game after the loss of RB Tevin McCaster. DEs Justus Reed and Shereif Bynum should lead a what should be a very physical defense. YSU is just three years removed from its national runner's up position but looks like playoffs are a ways away for this team but should be better than the four wins it saw last year.
Read our full YSU team preview here.
The Bottom Looking Up Tier
No one wants to be the bottom teams, but these teams have more than a few significant hurdles to get where they want to be.
Missouri State
The Bears return QB Peyton Huslig but only one offensive lineman is back to help him block and have four other staters back on offense. Missouri State's defense is where it needs the most improvement and will try to use LBs Angelo Garbutt and McNeece Egbim to help give up less (36 points & 471 yards last year). In a stacked MVFC, the Bears will be better talent-wise but probably will not equate to more than the four wins they had last year.
Read our full MSU team preview here.
Southern Illinois
The Salukis finished last in the standings a year ago but return 10 starters on defense headed by All MVFC S Jeremy Chinn to try to get out of the cellar. SIU needs a new quarterback this year too but will have a capable RB D.J. Davis as its focal point for its offense. SIU won just two games last year and might finish better this year–but only slightly better.
Read our SIU team preview here.
5 Big Conference Games to Watch
North Dakota State at South Dakota State 10/26
North Dakota State at Illinois State 10/5
Illinois State @ South Dakota State 11/9
Northern Iowa @ South Dakota State 11/16
Indiana State @ Northern Iowa 11/9
Ten Players to Watch from the Pioneer Football League
Offensive Players to Watch
QB Ryan Boyle, Indiana State
RB Pierre Strong, South Dakota State
WR Cade Johnson, South Dakota State
RB James Robinson, Illinois State
OT Dillon Radunz, North Dakota State
Defensive Players to Watch
LB Jabril Cox, North Dakota State
LB Christian Rozeboom, South Dakota State
DE Darin Greenfield, South Dakota
S Jeremy Chinn, Southern Illinois
Special Teams Player to Watch
K Chase Vinatieri, South Dakota State
Originally from LaMoure, North Dakota, Kent is a 1996 graduate of North Dakota State University. His prior writing experience is over 15 years having previously worked with D2football.com, I-AA.org, and College Sporting News before coming to College Sports Journal in 2016. His main focus is college football is the Missouri Valley Football Conference within the Division I FCS. And in 2017, he began also to look at the FBS Group of Five conferences of the American Athletic, Conference USA, Mid-American, Mountain West, and Sun Belt.
Reach him at this email or click below: