Connecticut can finally start their independence with this game in late August. It has been over 21 months since the Huskies have taken the field against any team. UConn was one of just two FBS schools last year to fully sit out the 2020 season.
When UConn last played, they were still a member of the American Athletic Conference in 2019 and finished just 2-10 overall and winless in league play. The move to football independence came as the rest of the athletic programs decided to move back to the Big East Conference, a place UConn left in the conference in 2013 as the non-football playing schools decided to breakaway. The Huskies came back to the Big East for the 2019-20 season for non-football sports.
Fresno State is coming off an average season with 3-3 season in the COVID-19 shorten 2020 season with all games they played coming within their conference of the Mountain West.
This game will mark the return of fans to Bulldog Stadium as the state of California would not allow any attendence in games last fall due to the COVID-19 pandemic.
This game will also be the first game amongst the Group of Five squads and second only to Nebraska at Illinois overall in the FBS this year. It is one of six games including FBS opponents in Week 0.
This game will be the first time Fresno State and UConn have ever played each other. In fact, it will be UConn's first game in the state of California in program history, and the furthest west the team has traveled since Boise State in 2018. That does not mean the Fresno State coaching staff is without experience against UConn.
FSU Coach Kevin DeBoer served as Indiana's offensive coordinator in 2019 when the Hoosiers defeated the Huskies, 38-3.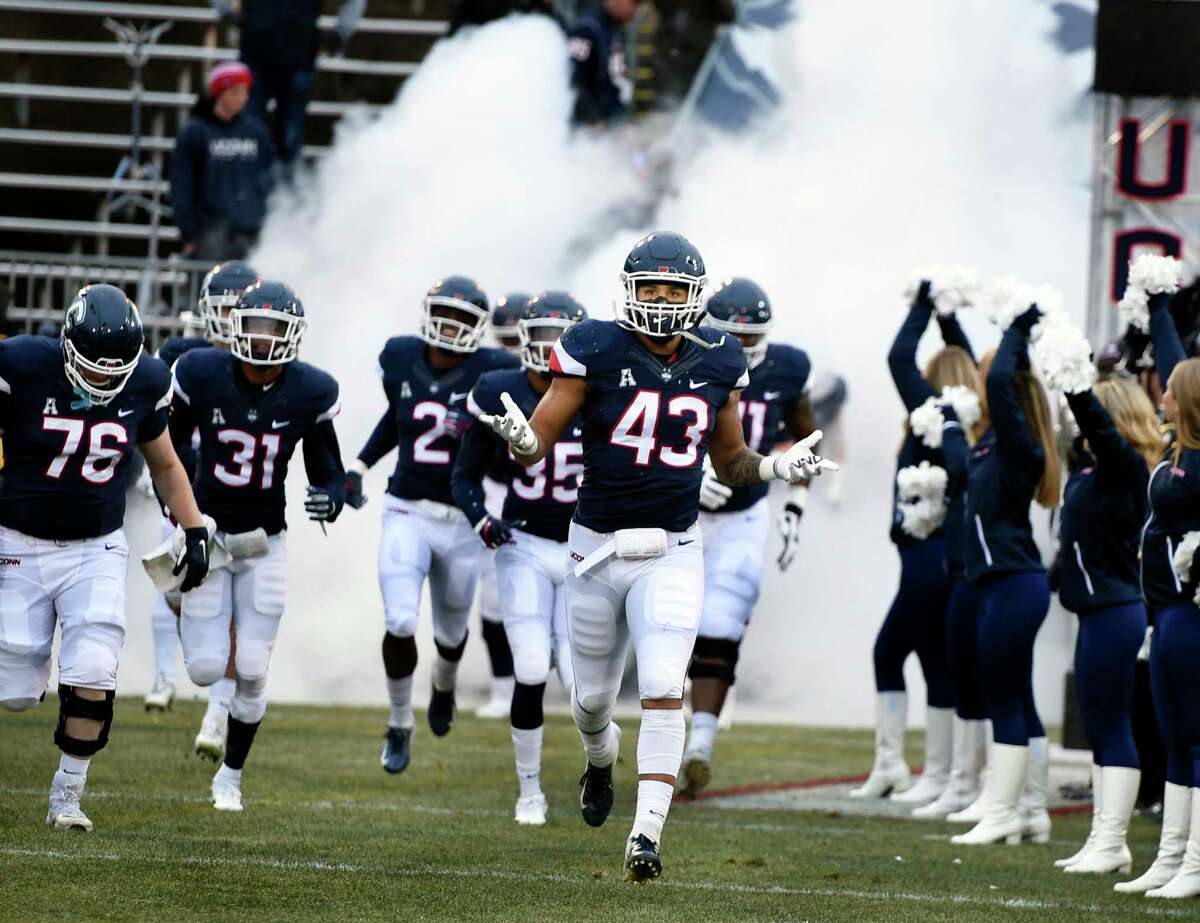 UCONN HUSKIES (2-10) IN 2019
Coach Randy Edsall enters his fourth year of his second stint at the helm for UConn. During his first stint, from 1999 to 2010, Edsall elevated UConn to full FBS status in 2002 and led the Huskies to two Big East conference titles and five bowl appearances, including the 2011 Fiesta Bowl. His coaching record during UConn's first nine FBS seasons was 65-46. He then went to Maryland and led the Terrapins to two bowl games in his five seasons but was let go during the 2015 season.
His second stint with the Huskies has not gone as well – a combined 6-30 record from 2017 to 2019, and a pair of last-place finishes in the American Athletic Conference.
UConn struggled mightily on defense in their last season of 2019, ranking 128th out of 130 FBS teams in points allowed per game (40.5).
Against the run, UConn allowed 224 rushing yards per game to its opponents. The Huskies' run defense ranked 123rd in the country.
UConn was not much better on offense as the Huskies ranked 120th in points scored per game (18.9) and finished 108th in total yards per game (344.9).
QB Jack Zergiotis played in 10 games and started nine as a true freshman, throwing for 1,782 yards and nine touchdowns against 11 interceptions and likely will be the starter in this first game back for the 2021 season.
Including Zergiotis, UConn returns seven offensive starters, highlighted by senior RB Kevin Mensah, who is coming off back-to-back 1,000-yard seasons. Mensah is arguably the Huskies' best offensive player and should be the top option for the Husky offense this season.
UConn also brings back eight defensive starters in 2021.
KEY PLAYER: RB KEVIN MENSAH
As mentioned earlier Mensah is coming off two 1,000 yard seasons and will likely be the focal point for the Fresno State defense. He will need to break some tackles to give the Huskies to allow UConn to see a more pass friendly defense for Zergiotis. If he can do that, UConn will have a chance to pull the upset in their first game in 21 months.
FRESNO STATE BULLDOGS (3-3, 3-3 MWC) IN 2020
Coach DeBoer had a few ups and downs in his first season in Fresno. The Bulldogs started the season 3-1 but lost its last two games at Nevada and New Mexico to finish with the .500 record.
The Bulldogs are expected to contend for the Mountain West Conference West Division championship this season. A big reason for that is that Fresno State returns virtually all of its explosive weapons from 2020. Senior RB Ronnie Rivers is back after carrying 100 times for 507 yards and seven touchdowns. For his career, he has rushed for 2,629 yards and scored 35 touchdowns and is averaging 5.2 yards per carry.
Also back is senior QB Jake Haener, who was impressive in a shortened season a year ago. In six games, he completed 150 of 232 passes (64.7 percent) for 2,021 yards and 14 touchdowns but intercepted five times, He also rushed for three scores.
On defense, Fresno State has almost all of the starters and top 20 tacklers from last year's group returning. The issue will be keeping up the pressure up front while also making sure they stop the run and keeping the amount of big plays against them under control.
Kwami Jones and David Preales lead the charge up front for the Bulldogs, combining for 15 TFLs and 9 sacks last season while Tyson Maeva comes in from Boise State to anchor Fresno's linebacking group.
The secondary has their pieces like Evan Williams and leading tackler Bralyn Lux, but it's a matter of showing the goods before we can believe it defensively for Fresno State. As a team, Fresno State averaged allowing 30 points per game last season so we will see if the experience this year pays off.
KEY PLAYER: RB RONNIE RIVERS
Rivers was an unexpected returnee this year as some projects he would move on to the NFL Draft after last season. This is the good news for the Bulldog fans. He will be facing a Husky team that has not shown it can stop the run so I would expect Rivers to get his fair share of carries and he likely will have a chance to break a few big plays in the running game in what might be a one-sided game early by the third quarter.
FEARLESS FORECAST:
The rust and traveling across the country might be too much for UConn, not to mention the strong Fresno State offense it is going against. UConn will likely get a few key plays as it comes in with no 2020 game film for Fresnso State But expect the game to be in hand for the Bulldogs by the third quarter with the back-ups getting their chance to play late in the game. Fresno State 41 UConn 17
Originally from LaMoure, North Dakota, Kent is a 1996 graduate of North Dakota State University. His prior writing experience is over 15 years having previously worked with D2football.com, I-AA.org, and College Sporting News before coming to College Sports Journal in 2016. His main focus is college football is the Missouri Valley Football Conference within the Division I FCS. And in 2017, he began also to look at the FBS Group of Five conferences of the American Athletic, Conference USA, Mid-American, Mountain West, and Sun Belt.
Reach him at this email or click below: