Bad Boy Mowers Gasparilla Bowl – UCF vs. Marshall – Fearless Prediction and How to Follow
UCF Knights vs. Marshall Thundering Herd
When: Monday, December 23rd, 2019 at 2:30 pm ET
Where: Raymond James Stadium in Tampa Bay, FL
How to Follow: ESPN, 740 AM/ 96.9 FM The Game (UCF radio), Marshall Football Radio via TuneIn
The Gasparilla Bowl (formerly the St. Petersburg Bowl) was founded in 2008 and includes an American Athletic Conference team versus either an Atlantic Coast Conference or Conference USA team to represent in this game. If one of these sides does not have a winning enough team to be eligible for bowl requirements the Mid American Conference or Sun Belt Conference is eligible to send teams in their place. The bowl game was renamed and moved to Tampa Bay in order to serve as a tourist destination type bowl. The bowl was named after mythical pirate Jose Gaspar in hopes of creating a family-friendly theme along with the bowl game. Both UCF and Marshall have been to this bowl three times before but have resoundingly different records. UCF is 1-2 overall with a win over Ball State 38-17 (2012) and two losses to Rutgers 45-24 (2009) and NC State 34-27 (2014). Marshall has a 3-0 record in their time at the bowl with wins over FIU 20-10 (2011), Connecticut 16-10 (2015), and South Florida 38-20 (2018).
University of Central Florida Knights 9-3 (6-2 American)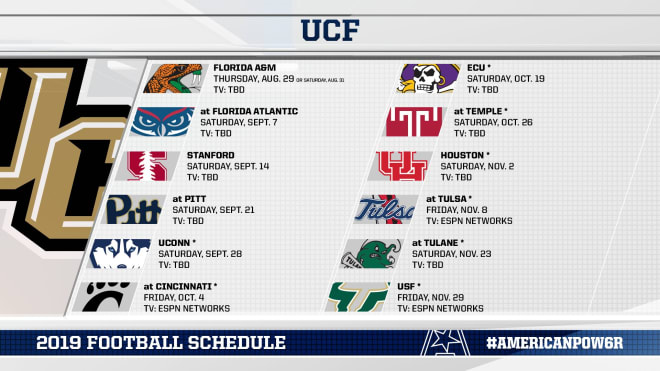 Their Season
The Central Florida Knights finished the season second in the East Division of the American Athletic Conference with a record of 9-3. The UCF Knights finished just one win less than conference foe Cincinnati for control of the AAC East. UCF had a few very notable wins including Stanford, dominating South Florida, and running up the score on Temple. Two close losses that could have been avoided to Pittsburgh and Tulsa kept the Knights trailing the Bearcats this season, but Cincinnati won the head-to-head game too. This may not have been as magical as the 2017 "National Championship" season, but UCF put in several strong performances to earn a valuable spot in the Gasparilla Bowl.
Key Wins: 45-27 over Stanford, 34-7 over South Florida, 63-21 over Temple
Bad Losses: 35-34 to Pittsburgh, 34-31 to Tulsa
Key Players
Offense: Dillon Gabriel, QB has turned out to be a steal for Central Florida. As a Freshman Gabriel has thrown 3,393 yards, 27 touchdowns, only 7 interceptions, and almost a 60 percent completion percentage. If Gabriel stays healthy and studies his plays well, he could be the starter for the next three seasons as well. A strong performance in this bowl game could set him up for a strong lead going into the offseason for next year's starting position again.
Defense: Nate Evans, LB created a nice senior season for himself as the tackle leader for UCF. He leads the team with 61 solo tackles and 100 total tackles on the season. Evans also ranks second on the team in tackles for a loss. When the UCF defense is on the field it is a guarantee that Evans will be in the middle of the action flying around like a torpedo. While Evans does not have any sacks recorded, he is second on the team in quarterback hurries. No matter the situation Marshall should expect Evans to create a problem for any ball carrier that crosses his path.
Marshall University Thundering Herd 8-4 (6-2 CUSA)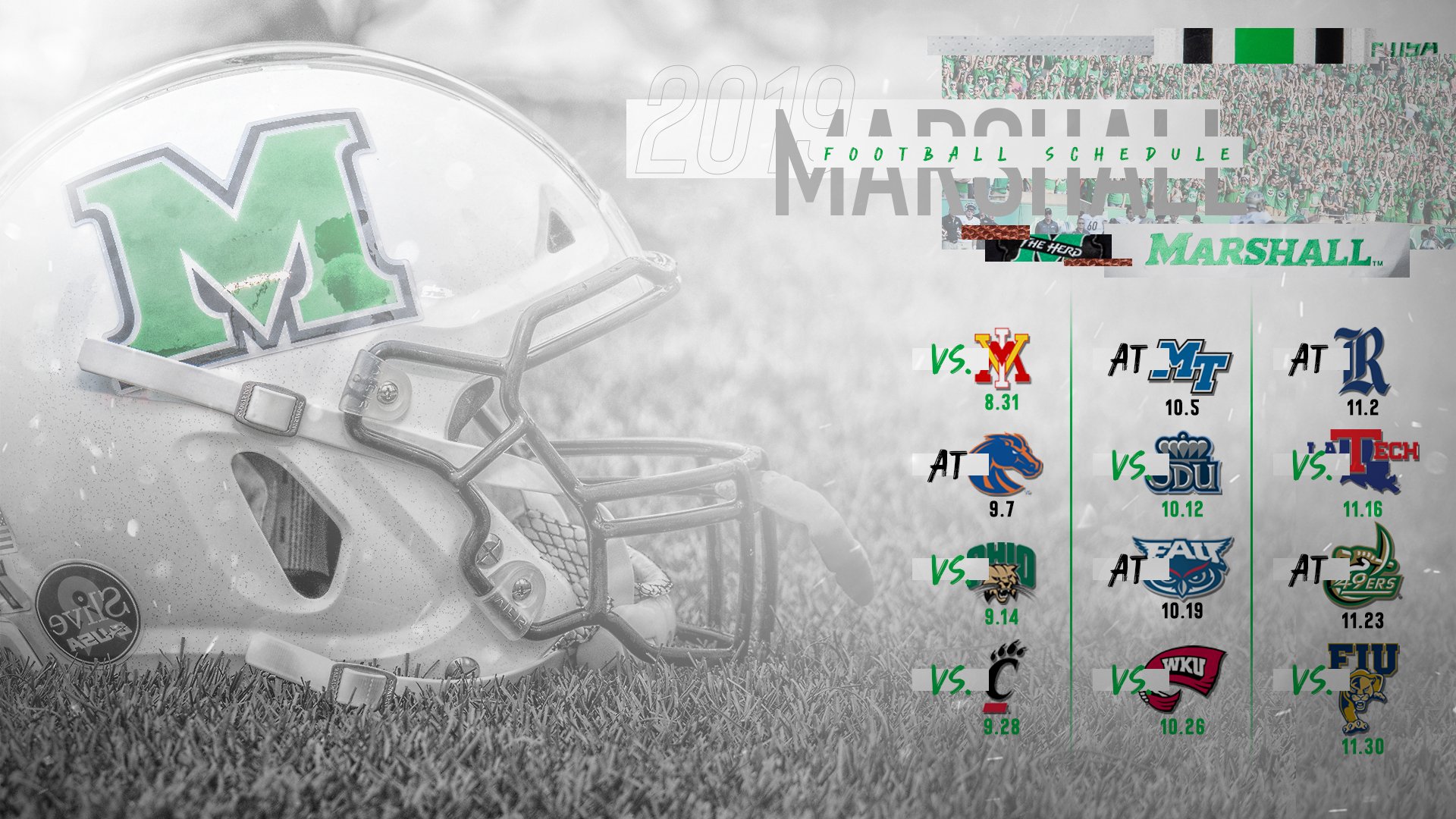 Their Season
Marshall University finished the season 8-4 and second in the East Division of the CUSA. A decent 8-4 finish for Marshall ensures them a trip to the Gasparilla Bowl in hopes of becoming 4-0 all-time in this bowl. A rocky start to the season left people wondering if Marshall would be able to right the ship before the losses were overwhelming. A tough Boise State game, a shellacking from Cincinnati, and an underwhelming effort at Middle Tennesee left the Thundering Herd at 2-3 through week five. Tough wins against FIU, LA Tech, and Western Kentucky contributed to the Thundering Herd righting the ship well, despite an unexpected loss at Charlotte.
Key Wins: 30-27 over FIU, 31-10 over LA Tech, 26-23 over W. Kentucky
Bad Losses: 24-13 to Mid. Tennesee, 24-13 to Charlotte
Key Players
Offense: Brenden Knox, RB is the fire of this offense with 1,312 yards, 11 touchdowns, and a 5.3 yards per rush average. This sturdily built redshirt sophomore knows how to rumble down the field for big yards. The passing attack does earn decent yards per game, but the touchdown to interception ratio is much closer than it needs to be.
Defense: Tavante Beckett, LB is an undersized linebacker with an oversized amount of effort given on every down. Beckett sports a stat line of 114 tackles, 7 tackles for a loss, 2 sacks, 1 interception, 2 forced fumbles, and 2 fumble recoveries. For his size, Beckett plays several levels above what would be normally expected. He is the Marshall Defense's Swiss Army knife.
Fearless Prediction
This game will be enticing to watch as Marshall strives for 4-0 all-time in the Gasparilla Bowl, while Central Florida has a bad taste in their mouth of letting Cincinnati take the East Division by such a close margin this year. Both teams have something to prove and it will be extremely evident on the field with neither side giving up ground at first. Marshall is used to the ground and pound of Brenden Knox rolling down the field, but Nate Evans will be there each time to meet him in his tracks. Marshall is a strong team, but I think they will be forced to air it out more than they are comfortable which will result in more turnovers, more punts, or both. Central Florida, on the other hand, loves to air the ball out and move upfield with their dangerous receivers. The Marshall secondary does pose a threat with their flexible coverage and determined corners. Overall, the passing attack of Central Florida will simply be too much for Marshall to cover and will ultimately lose because of it.
UCF 38, Marshall 24
My name is Ben Schleiger and I'm your representative for the Big Sky Conference. I have done work for multiple newspapers and sports blogs including The Johnstown Breeze, The University of Northern Colorado Mirror, and Mile High Maniac. I am a proud alumnus of the University of Northern Colorado with a degree in Psychology and a minor in Political Science. In my free time, I like watching sports, playing video games, and trying new foods.