Florida International University vs. Arkansas State
When: Saturday, December 21st, 2019 at 5:30 pm ET
Where: Cramton Bowl in Montgomery, Alabama
How to Follow: ESPN, 107.9 FM (KFIN Arkansas State Radio), 790 AM (Panther Radio)
The Camellia Bowl is a bowl slated for a Mid American Conference team and a Sun Belt Conference team to square off. This year the MAC did not have enough eligible teams so the Conference USA offered Florida Internation in place of a sub .500 team in wins. The Camellia Bowl is a relatively new bowl, but it prides itself on history and competition. The namesake is based on Alabama's state flower the Camellia. Adding to a historical feel of the gameday experience of the Historic Cramton Bowl that gives that Old School feels to the environment. As for competition, the bowl is one of the most competitive with the five games of its history being decided by a total of 17 points overall, including two walk-off wins.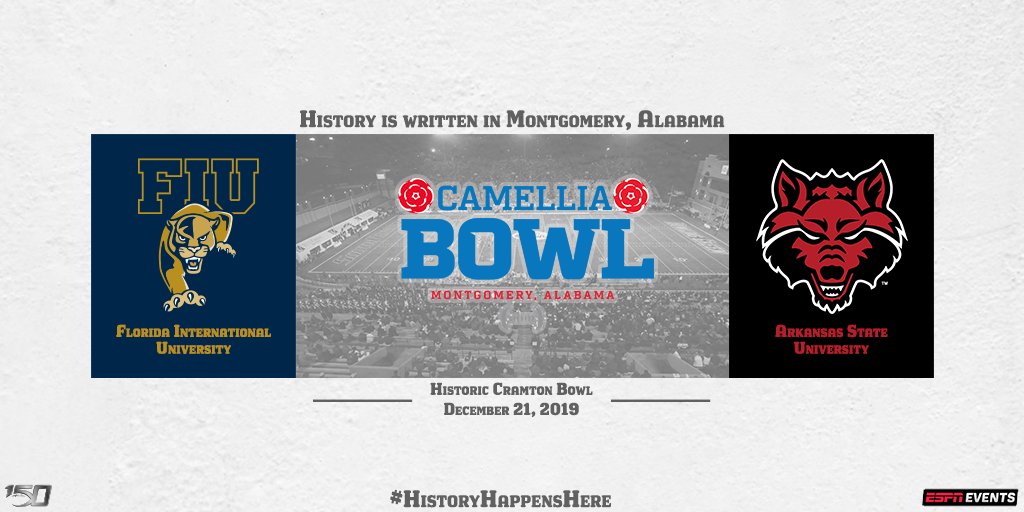 Florida International Panthers 6-6 (3-5 CUSA)
Their Season
Florida International finished fifth in the Conference USA East Division at 6-6. The Panthers may not be a sexy bowl pick, but their record was just good enough and their wins when they came were actually fairly impressive. The beginning of the Panther season was one to forget as a 2-3 record may as well have been an 0-5 record. Those two wins came against a rebuilding FCS team and the worst FBS team in the nation. Things looked dire for Panther nation until a surprising victory over Charlotte reignited the spark. However, FIU would trade-off winning and losing for the rest of the season. Two bad losses came during this time to Mid Tennesee and Florida Atlantic, but a six-point win over Miami and a three-point loss to Marshall gave fans hope a favorable bowl matchup would be in their future.
Key Wins: 44-0 over UMASS, 48-23 over Charlotte, 30-24 over Miami
Bad Losses: 42-14 to Tulane, 50-17 to Mid Tennesee, 37-7 to Florida Atlantic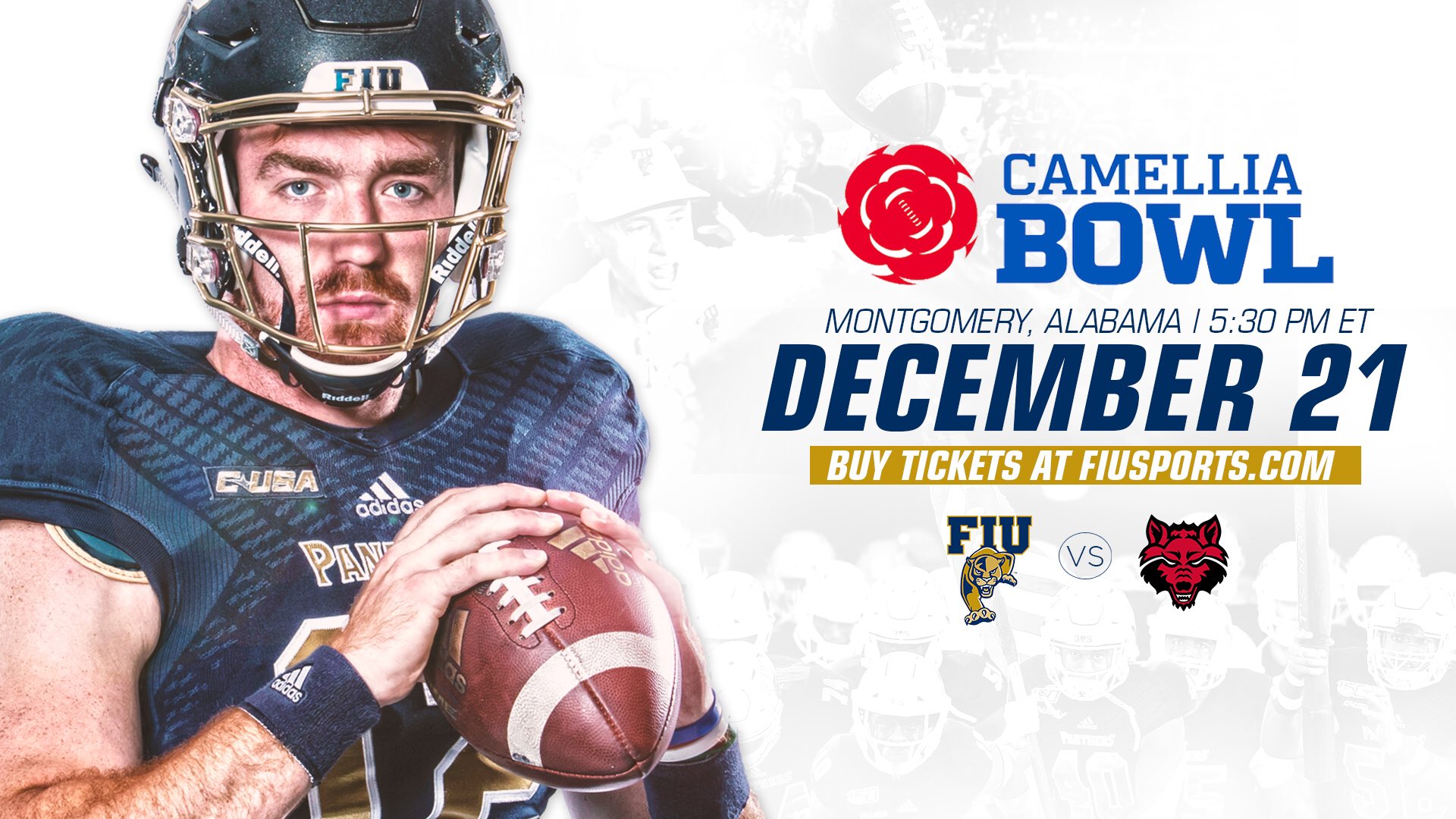 Impact Players
Offense: James Morgan, QB is a strong leader and equally strong passer when put into that situation. This season Morgan put up 2,273 yards passing, 13 touchdowns, 3 interceptions, and had a 58 percent completion rate. The run game is definitely important to the FIU offense and scoring, but the ability to work in Morgan's arm when needed to will add depth to the FIU offense. Although he may not pass as often as other quarterbacks his touchdown to interception ratio is a stellar 4.33 touchdowns for every 1 interception.
Defense: Sage Lewis, LB is a high caliber linebacker playing next to an equally impressive linebacker, Jamal Gates. Lewis stood out to me just a hair more based on his stats and his senior status. It is nice to highlight the seniors in the last game of the year, but Lewis is a senior that has earned his spotlight based on merit rather than superlatives. His stat line is something that Arkansas State better pay attention to or they may end up on the receiving end of it. Lewis has 80 tackles, 4 tackles for a loss, 1 sack, 3 interceptions, and 1 forced fumble on the season. These stats combined with his beefy stature of 6'1″ and 240 lbs. should instantly be on the radar of the Arkansas State offensive linemen.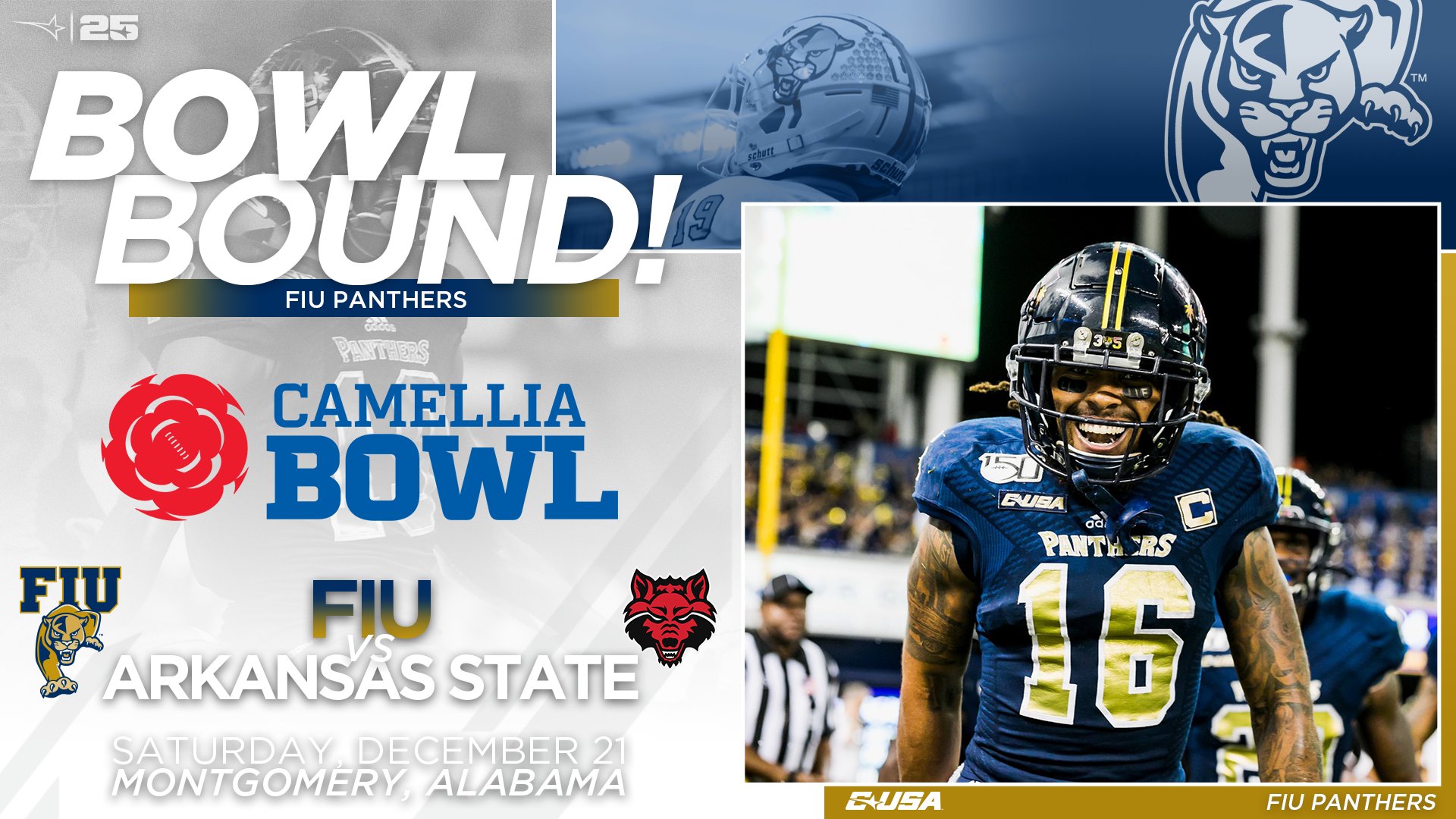 Arkansas State Red Wolves 7-5 (5-3 Sun Belt)
Their Season
The Arkansas State Red Wolves finished second in the Sun Belt West Division behind Louisana-Lafayette. The Red Wolves had a good season overall as no games besides the Georgia game were a blowout and they finished with seven wins total. A challenging non-conference schedule worked out well for the Red Wolves as they went 2-2 with a dominant win over UNLV and a solid performance against a Top 30 FCS team. The good work would continue to pay off as Arkansas State went 5-3 in the conference with only one bad loss. A noticeable margin loss to Georgia State and dropping the last game to a terrible 2-10 South Alabama were the only blemishes on the conference record besides a solid loss to Louisana-Lafayette. Arkansas State was able to down Georgia Southern to keep them at 7-5 just like the Red Wolves and Georgia State.
Key Wins: 43-17 over UNLV, 38-33 over Georgia Southern, 38-14 over Texas State
Bad Losses: 55-0 to Georgia, 34-30 to South Alabama, 52-38 to Georgia State
Impact Players
Offense: Omar Bayless, WR is a big body receiver who can really hurt defense's around the Sun Belt Conference. Bayless has 84 catches for 1,473 yards and 16 touchdowns this season. Per catch Bayless is averaging 17.5 yards and 122.8 yards per game overall. A physical receiver with the skill set that he does is something that FIU will need to be aware of all game long. The passing attack outside of Bayless is equally as daunting as Kirk Merrit has 763 yards and 11 touchdowns on the year. The run game is not bad either with Marcel Murray tallying 782 yards and 6 touchdowns, but Bayless will be the marquee player to dismantle.
Defense: Darreon Jackson, DB has menaced opposing Sun Belt teams by leading the defense as a corner. His stat line is 64 solo tackles, 107 total tackles, 7 tackles for a loss, 1 sack, and 1 interception. Jackson's journey to Arkansas State was somewhat unconventional as he was originally signed and redshirted by Boise State freshman year. Things did not work out so Jackson went to Coffeyville Junior College closer to his hometown of Derby, Kansas. At Coffeyville JC he tallied 94 tackles, 1 forced fumble, 6 pass breakups and 5 interceptions, including two returned for a touchdown. From there he became a backup at Arkansas State and did not get his first start until the 2017 Camellia Bowl where he recorded a career-high 12 tackles in one game. For Jackson, he has special motivation to come back to the Camellia Bowl as a leader and come home with a win this time.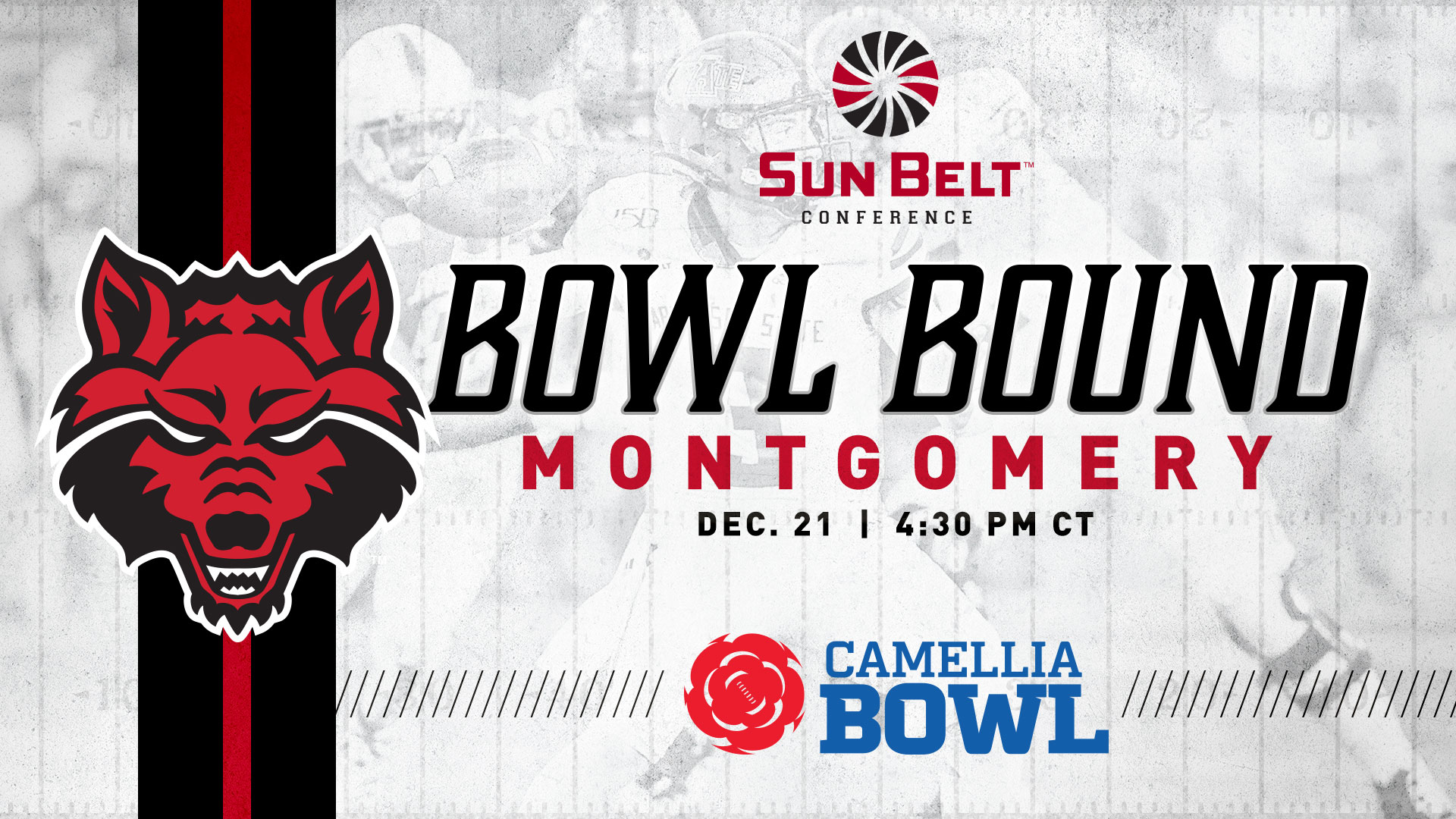 Fearless Predictions
Ben: Like the previous Camellia Bowls, this game should be a close contest overall. Both offenses have stout options for playmakers and big-time scores. The defenses have their playmakers for sure, but the overall depth of both defenses will come into question in the second half, especially if this game gets into an offensive shootout. James Morgan is a talented quarterback, but with Arkansas State's key defenders being cornerbacks I think Morgan's job will be especially difficult and limit the potency of the FIU offense. Arkansas State is stacked on offense and even if the top option is covered they should be able to delegate down to the backup or the running back if Omar Bayless is double covered. Arkansas State 35, Florida International 30
Chuck: Arkansas State ended the year won four of their last fie games for bowl eligibility, while FIU barely snuck in with a program-defining win over Miami (FL). The Red Wolves ended the year strong with a Georgia Southern win and should also handle FIU. Arkansas State 24, Florida International 17
My name is Ben Schleiger and I'm your representative for the Big Sky Conference. I have done work for multiple newspapers and sports blogs including The Johnstown Breeze, The University of Northern Colorado Mirror, and Mile High Maniac. I am a proud alumnus of the University of Northern Colorado with a degree in Psychology and a minor in Political Science. In my free time, I like watching sports, playing video games, and trying new foods.