Luck, like beauty, is dependent on perception.
And with a little luck, fans of the Big South Conference could be in for an early holiday present depending on how things play out this weekend around the league. Or, for some, it could mean headaches or heartbreak.
Monmouth, currently ranked No. 15 in the nation, and Campbell square off in a huge conference tilt that could go a long way in determining how the long season eventually plays itself out. A Monmouth win will assure the Hawks of no worse than a tie for the BSC championship.
A win by Campbell, combined with the expected win by Kennesaw State in its game against Hampton, would create a tie atop the conference standings. Monmouth, Campbell and Kennesaw State would all be sporting 4-1 conference records making next weekend's slate of conference games.
And all three will be favored to come away with wins in their final regular season games. Monmouth and Kennesaw State will both finish the season at home Nov. 23 when they face Hampton and Gardner-Webb, respectively, while Campbell will be on the road at Charleston Southern that same day.
Whether the national pollsters have enough confidence in the overall strength of the BSC, it could be tough for three league schools to advance to the playoffs if a three-way tie is a reality at the end of regular season. One deserving team could be left out.
Other games involving BSC teams this weekend will see Presbyterian close its conference season at home against Charleston Southern, while North Alabama plays at Gardner-Webb.
Conference Game of the Week:
Monmouth (8-2, 4-0) at Campbell (6-3, 3-1)
Where: Barker-Lane Stadium, Buies Creek, N.C.
When: Saturday, Nov. 16, 1 PM.
TV/Streaming: ESPN3 (cable subscription req'd)
When Monmouth and Campbell take the field at Barker-Lane Stadium on Saturday, it has the potential to be the stuff dreams are made of as both teams are looking to solidify its spot atop the Big South Conference standings with just one final week to go before the start of the FCS playoffs.
The league-leading Hawks have the inside track heading into the crucial matchup, but they will certainly be tested by the homestanding Fighting Camels.
Monmouth Hawks
Monmouth's stock has continued to rise in recent weeks as the Hawks have turned away all comers in their attempt at overtaking Monmouth atop the league standings.
The Hawks turned in a near masterful performance two weeks ago in easily handing defending conference champion Kennesaw State its first conference setback of the season and setting the stage for a dramatic finish to the regular season.
Monmouth hopes a repeat of that performance is in store against Campbell on Saturday.
Key players: Record-setting QB Kenji Bahar and RB Pete Guerrero provide the Hawks with a two-headed monster on the offensive side of the ball. Both standouts are among the candidates for the Walter Payton Award this season. Bahar, who last week became the school's all-time touchdown passing leader, has completed 221 of 334 passes this season for 2,693 and a whopping 22 touchdowns. Equally impressive is that the talented signal caller has been intercepted just seven times.
Guerrero, meanwhile, has been the workhorse out of the backfield for the Owls. He has gained 1,191 yards on 210 carries (5.7 ypc) and has scored nine touchdowns. No other backfield runner has more than 348 rushing yards this season for Monmouth.
Lonnie Moore and Terrance Greene are the leaders in catching the ball this season. Moore has caught a team-high 52 catches on the year for 723 yards, also a team-best, and is averaging 13.9 yards per catch. Greene has added 49 catches for 654 yards (13.3 ypc) this season. Moore and Greene have both caught seven TD passes on the year.
Campbell Fighting Camels
There is no better time than the present to end a two-game losing streak and that is what Campbell is tasked with doing against Monmouth on Saturday.
The Fighting Camels have lost their last two games by a combined four points and a win over league-leading Monmouth will take some of the sting out of those recent setbacks. Defeating the Hawks is something clearly within the realm of possibilities as Campbell has more than enough weapons to force a tie for the conference lead heading into the final weekend.
Key players: Key may be an understatement when talking about Campbell's Hajj-Malik Williams. He simply do it all. Williams leads the Fighting Camels with 2,257 of total offense. He has completed 120 of 210 passes for 1,729 yards and 16 touchdowns on the season. He has also paced Campbell with 528 yards rushing after carrying the ball 117 times (4.5 ypc) and scored an additional seven times. If there is one concern on the part of the Campbell coaches, it's the 11 interceptions thrown by Williams.
Campbell has a dynamic trio of receivers who should prevent the Hawks' secondary from trying to shut down the Camels through the air. Caleb Snead and Davarius Bargnare have both tallied 29 receptions to lead the team in that category. Snead's receptions have gone for 554 yards, while Bargnare has tallied 331 yards through the air. Jalen Kelsey has added 17 catches for 371 yards and six touchdowns.
Johnathan Hawkins has chipped in with 461 yards on 100 carries (4.6 ypc) and six TDs for the Fighting Camels.
If the Monmouth defense, which has 21 sacks already this season, can get pressure on Williams when attempting to pass, things could get dicey for the Camels. Williams and his team have a home turf to defend … and a championship still in sight: Campbell 35, Monmouth 34.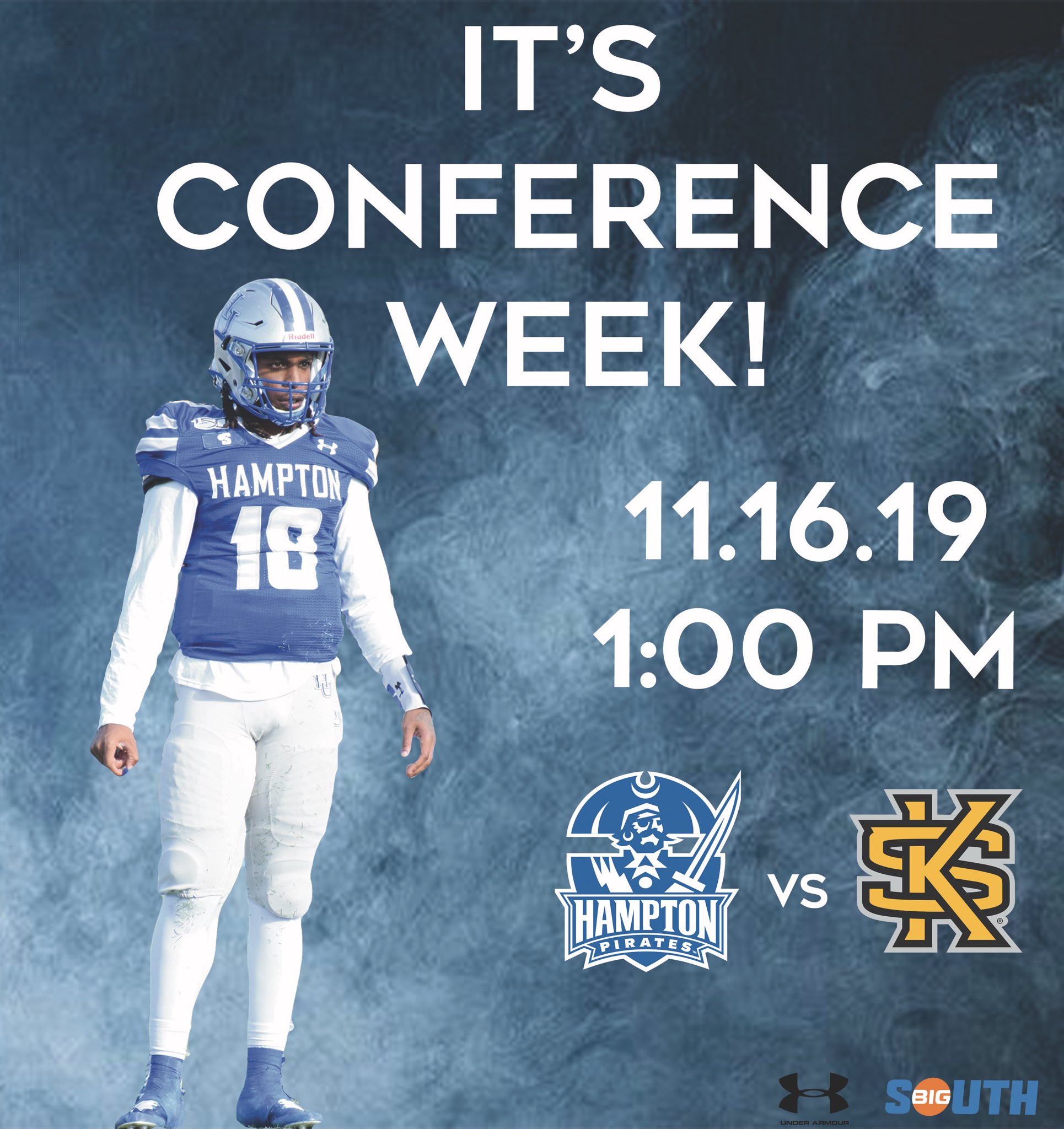 Fearless predictions for the rest of the slate
Kennesaw State (8-2, 3-1) at Hampton (5-5, 1-3)
Where: Armstrong Stadium, Hampton, Va.
When: Saturday, Nov. 16, 1 p.m.
TV/Streaming: ESPN+ (subscription req'd)
Kennesaw State's quest for the Big South Conference championship and an automatic berth into the FCS playoffs figures to get a boost despite playing on the road at Hampton on Saturday.
The Owls, who were ranked No. 15 in the recent FCS Coaches Poll, have proven to be among the top teams in the nation at running the football this season KSU is averaging 350.0 yard per game on the ground. Hampton, though, has proven to stop the run well enough as opponents average just under 115 yards per contest.
Something has to give in that regard.
Bronson Rechsteiner and Isaac Foster are the top two rushes for the Owls this season. Rechsteiner paves the way with 641 yards, while Foster has added 506 yards of his own. There are others. Plenty of others. A total of 17 players appear on the team's rushing charts proving the depth of the Owls in that department.
While Hampton may give way to the Owls on the ground, the Pirates hold the upper hand when it comes to passing the football. Deondre Francois have thrown 318 passes and has completed 188 of those for 2,362 yards and 23 touchdowns this season to lead Hampton.
KSU's passing attack has been virtually non-existent this season. The Owls have completed just 42 of 92 passes as a team for 889 yards this season.
Saturday's game also figures to see two other Hampton players reach milestones this season. RB Shai McKenzie needs just 23 yards to reach 1,000 for the season on the ground, while teammate Jadakis Bonds needs 155 yards to reach 1,000 yards on the season through the air. Kennesaw State 35, Hampton 24
Charleston Southern (4-6, 2-2) at Presbyterian (1-9, 1-4)
Where: Bailey Memorial Stadium, Clinton, S.C.
When: Saturday, Nov. 16, 1 p.m.
TV/Streaming: ESPN+ (subscription req'd)
Presbyterian snapped its long losing streak a week with a surprising win over Gardner-Webb. The Blue Hose are hoping to make it two straight as they close out their stay in the Big South Conference. PC, which closes the regular season Nov. 23 at home against St. Andrews, will become a member of the Pioneer Football League next season.
Charleston Southern is also coming off a win, a thrilling overtime victory against Hampton, and if the Big Southern Conference has taught us anything it's that anything can happen in the conference on any particular day.
Both the Buccaneers and Blue Hose struggle at scoring points and both allow points at a similar pace. In the end it may come down to whoever has the ball for the final possession, but with the game at home in Clinton: Presbyterian 24, Charleston Southern 21
North Alabama (3-7, 0-0) at Gardner-Webb (3-7, 1-4)
Where: Spangler Stadium, Boiling Springs, N.C.
When: Saturday, Nov. 16, 1:30 p.m.
TV/Streaming: ESPN+ (subscription req'd)
Pride is about all that is on the line when North Alabama and Gardner-Webb take the field on Saturday.
Because pride can lead to momentum … and momentum, which can lead to even greater things, will be much needed as both teams head into the offseason in preparation for a shot at redemption when the 2020 campaign gets underway. It is the season finale for North Alabama, while Gardner-Webb closes out the season Nov. 23 at Kennesaw State.
If figures to be a tight game as the visiting Lions who rely heavily on its aerial attack. UNA is averaging 268.9 yards per game passing this season. Dexter Boykin, Cortez Hall and Jakobi Byrd have combined for 95 receptions for 1,634 yards on the season. Boykin (29 catches) leads the team with 579 yards, while Byrd is the leader in receptions with 40 for 506 yards.
It could be a big day for G-W's Jayln Cagle, who has rushed for 839 yards and eight touchdowns this season. The UNA defense is giving up more than 218 per game on the ground. Gardner-Webb 35, North Alabama 28
A native of Bismarck, N.D., Ray is a graduate of North Dakota State University where he began studying athletic training and served as a student trainer for several Bison teams including swimming, wrestling and baseball and was a trainer at the 1979 NCAA national track and field championship meet at the University of Illinois. Ray later worked in the sports information office at NDSU. Following his graduation from NDSU he spent five years in the sports information office at Missouri Western State University and one year in the sports information at Georgia Tech. He has nearly 40 years of writing experience as a sports editor at several newspapers and has received numerous awards for his writing over the years. A noted sports historian, Ray is currently an assistant editor at Amateur Wrestling News.