It's highly unusual for Lehigh (4-5, 3-2) and Sacred Heart (6-4, 4-2)to be playing a non-conference game this late in the season, but for both teams, important milestones remain.
First, if Lehigh hopes to finish the season with a winning record, they'll have to beat the Pioneers, who are facing off against the Mountain Hawks for the first time in their history. The same is true of Sacred Heart – a win guarantees them a winning record.
Second, a win for Lehigh would give a serious psychological boost for a team on a rollercoaster ride of a season, who have experienced a three-game losing streak to start the year, followed by a four game win streak punctuated by last-second wins, followed by a two-game slide that have put Lehigh in the position they are in today.
Third, if the Mountain Hawks can beat Sacred Heart, who had wins over Patriot League members Bucknell and Lafayette, it would be exactly the tonic the team needs the week before facing their arch-Rival Lafayette next weekend, but they'll have to beat an emotional, fired-up Sacred Heart team on their Senior Day in order to do it.
Lehigh enters this game against Sacred Heart a team depleted by injury, unable to run the ball in much of a capacity last week vs. Bucknell, and seemingly having lost the magic that delivered them their four-game winning streak.
And Sacred Heart enters this week off of 41 straight points against Wagner, a game where they went into the locker room at halftime down 7-0 and then played their best half of the season in the second half, forcing an amazing eight turnovers.
Streaks
If Lehigh's season has slipped downward, the Pioneers have made a turn for the better, winning three straight NEC games. Similar to Lehigh, if Sacred Heart wins this weekend, they will clinch their second-straight winning season.
And the more you look at Sacred Heart's season, it's striking how both teams are opposites.
Lehigh has won their games with defense, beating Merrimack 10-3 and limiting six of their eight opponents under 30 points a game. Sacred Heart has won their games with offense, beating Lafayette 56-40 and when scoring more than 30 points a game, the Pioneers are 3-0.
Sacred Heart's offensive line is probably the best trench in the NEC, allowing just 8 sacks in ten games, while the Mountain Hawks have struggled protecting the passer, yielding 33 sacks in nine games.
Lehigh's defensive front seven, however, led by LB Keith Woetzel, has amassed 25 sacks in nine games compared to just 16 for the Pioneers. He leads the team in tackles with 92 and leads the FCS in solo tackles, averaging 7.4 yard per game.
So in many ways, this is going to be a matchup of strength on strength.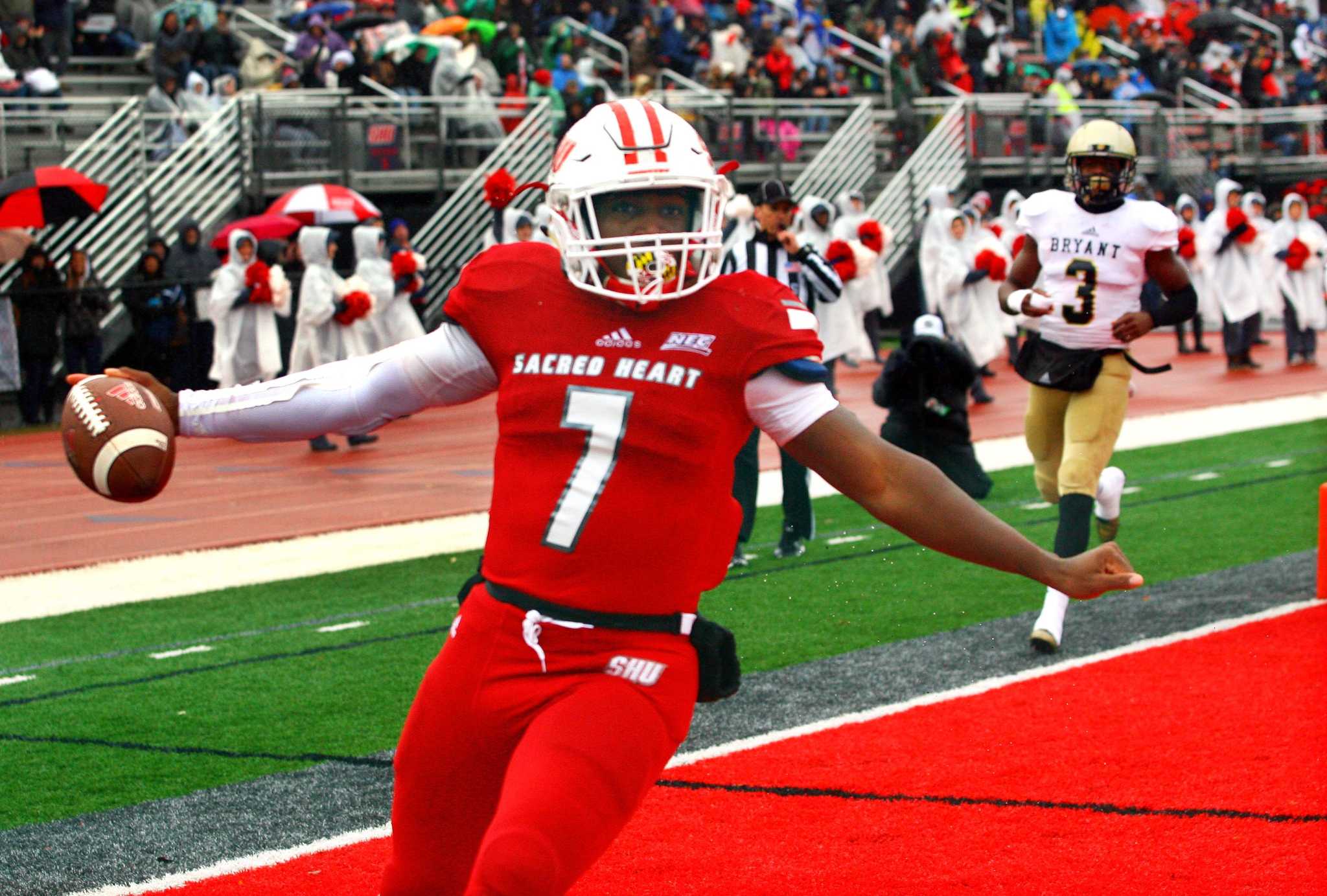 Chestnuts Roasting
RB Julius Chestnut has 10 total touchdowns (eight rushing, two receiving) in 2019. He extended his FCS-leading rushing total to 1,224 on the season with his seventh 100+ yard performance of the season last week against Wagner. Over the last two games, Chestnut has 67 carries for 319 yards (159.5 per game) while he stands just 63 yards away from 2000 for his career as he'd become the first underclassman in program history to reach the 2000 career rushing milestone in his first two seasons as a Pioneer. To put that in perspective, if you doubled Lehigh's rushing output for the season so far (569 yards), you still wouldn't reach Chestnut's totals.
His consistency has been important, as the Pioneers lost their starting QB, Temple transfer Logan Marchi, last week but didn't miss a beat against the Seahawks, allowing redshirt freshman QB Marquez McCray to shine. That – along with an amazing eight forced turnovers – had Sacred Heart throttle Wagner 41-7, as McCray went 11 for 14 passing and got his first career passing touchdown.
"I don't think I've ever seen as good a third and fourth quarter as I saw this week," Sacred Heart head coach Mark Nofri said this week, who earned his 50th career head coaching win. "We regrouped at halftime and talked to the kids about staying together, and any time you get eight turnovers in a game, that plays a big factor in it."
For Lehigh, WR Dev Bibbens has emerged as the Mountain Hawks' most consistent weapon on offense, with 61 catches, 734 yards and 6 TDs. All six of those touchdowns have come in the last seven games, and Bibbens is coming off a 11 catch, 92 yard effort where he accounted for almost half of Lehigh's offense.
The Mountain Hawks struggled on offense last week when their first and second string QBs were knocked out of the game. This week, like Sacred Heart, Lehigh will be fielding a backup under center, though there is some question as to whether it will be QB Addison Shoup, who may have recovered enough to start, or QB Alec Beesmer, who finished the game.
"We couldn't move the ball. We couldn't protect the quarterback. We couldn't run the ball," Lehigh head coach Tom Gilmore said after the 20-10. "Defensively, Bucknell hurt us with the play-action pass. We couldn't get pressure on the quarterback. They completed a couple of big plays off double moves. It was an overall poor performance by us as a program – coaches and players alike."
Senior Day
For Sacred Heart, it's Senior Day, which is always a huge, emotional day for athletes in any football program.
"It's always sad to see some of these kids leave, to play their last game at Campus Field," Nofri said. "They won at least one NEC championship, they're all going to graduate, and they're all going to move on to get great jobs, and that's part of it. They get at least one ring, and a degree."
Coach Nofri's Take | Week 1⃣2⃣

Hear from @mark_nofri on ⬇️
✅ Halftime adjustments vs Wagner
✅ A heroic effort from #SHUDefenseVsEverybody🛡️
✅ QB Marquez McCray's debut
✅ His graduating seniors playing their final home game
✅ Keys to defeating Lehighpic.twitter.com/EIwFDtUXSl

— SHU Football (@SHU__Football) November 14, 2019
Across to the other sideline, Lehigh is playing for a winning record, and some momentum going into their ultimate "senior day" next week – the 155th meeting between bitter rivals Lehigh and Lafayette in the most played college football rivalry.
Though Lehigh is mathematically alive for an FCS playoff berth and Patriot League championship, they are not in control of their own destiny. They need to win against Lafayette next week, and get some help this week and next.
As a result, Lehigh isn't focused on postseason, championships, rings or even next week.
"We talked about it as a team and our mindset is to go 2-0; there's nothing else to really focus on," senior DE Davis Maxie said this week. "We can't dwell on the past. We just have to look at what we have and we have two games guaranteed."
"We've just got to get back to the basics and the things we were doing during our four-game winning streak," Bibbens said. "We need to execute at a higher level and more consistently. We need to help the defense by keeping them off the field."
Lehigh (4-5) at Sacred Heart (6-4)
Where: Campus Field, Fairfield, CT
When: Saturday, November 16th, 12:00 PM
TV/Streaming: NEC Front Row
Radio: Fox Sports 1230/1320 (Matt Kerr, Jim Guzzo, Matt Markus)