One of the great things about collegiate athletics is that nothing can ever be taken for granted. Teams must come ready to play each time out. That may sound like a worn-out cliché' but it certainly holds true.
Much like Punxsutawney Phil, Cinderella seems to make an occasional appearance.
Just ask Kentucky after the top-ranked Wildcats were stunned by Evansville 67-64 earlier this week in men's basketball … and inside the walls of hallowed Rupp Arena, at that.
Austin Peay, whose win over UT Martin last week pushed the Skyhawks from atop the conference standings, and Southeast Missouri State must both avoid any sort of letdown this week if they are to keep their goal of an OVC championship and a berth in the FCS playoffs intact.
The Governors play at Murray State, while the Redhawks travel to Eastern Illinois to take on the Panthers, who claimed their first victory of the season last weekend.
AP and SEMO are good bets to advance to the postseason no matter what happens in their games this weekend. Wins on Saturday likely sews up a spot in the postseason for both teams. A loss by either does not close the postseason door, but makes it possible for other teams to make a strong case to the pollsters.
UT Martin may not be so fortunate.
The Skyhawks, by virtue of their loss to the Governors, likely needs to win, and win big, at home against Tennessee State if they expect to extend their season. It will be the final conference game of the season for UT Martin. The Skyhawks play at Kentucky Nov. 23 to close out the regular season. The Wildcats have struggled this season and are 4-5 heading into their game at Vanderbilt.
Tennessee Tech, which received one vote in the recent FCS Coaches Poll, plays at Eastern Kentucky this weekend. Both teams are long shots to advance to the postseason, but the Golden Eagles have the best opportunity if they can get past the Colonels.
BYE: Jacksonville State (6-5, 3-4)
Conference Game of the Week:
Tennessee Tech (6-4, 3-3) at Eastern Kentucky (5-5, 3-3)
Where: Roy Kidd Stadium, Richmond, Ken.
When: Saturday, Nov. 16, 1 PM.
TV/Streaming: ESPN+ (subscription req'd)
The matchup between Tennessee Tech and Eastern Kentucky has more than enough ingredients to rival a potent witch's brew. A little bit of this, a sprinkle of that, a dash of, oh, this should work … and for good measure, a heaping of numbers. And, plenty of uncertainty as to what the end result will yield.
Both the Golden Eagles and Colonels sit at 3-3 in OVC play heading into the game, and while both are out of the race for the conference championship, neither can afford another loss if their hopes of postseason play remains intact.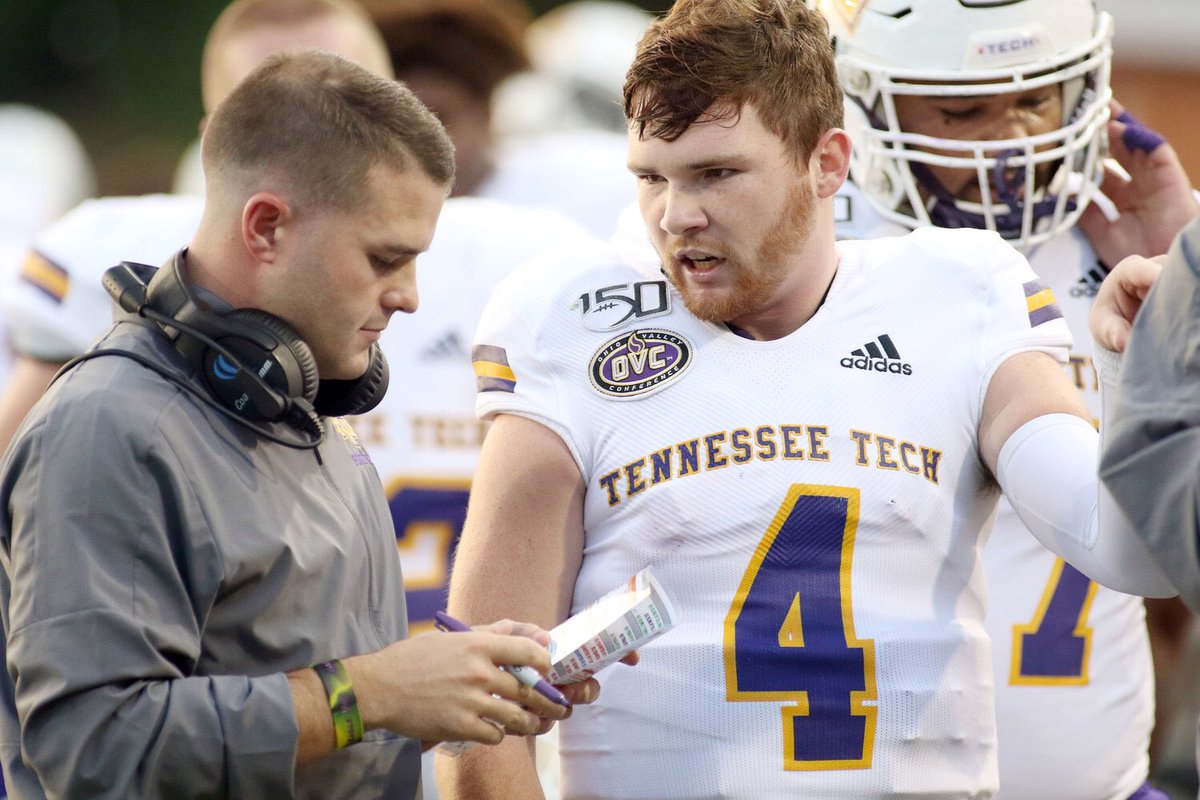 Tennessee Tech Golden Eagles
A three-game conference losing skid suffered earlier this season might be more than some pollsters can overlook in the end, but Tennessee Tech has simply been getting the job done down the stretch the best way the Golden Eagles know how: winning the games it should … and needed, to win.
Tech has won each of its last two games to move to 3-3 in the OVC, including a 37-27 win last weekend against five-time defending conference champion Jacksonville State that knocked the Gamecocks out of title contention.
A third straight win would improve the Golden Eagles to 7-4 on the season and put even higher stakes for them in their season finale Nov. 23 against rival Tennessee State if their hopes of the postseason are still alive after Saturday.
Key Players: Tech quarterback Bailey Fisher is among the most talented signal callers in the Ohio Valley Conference. He has passed for 2,324 yards by being successful on 199 of his 317 pass attempts already this season and has thrown for 20 touchdowns. Bailey, a sophomore, also ranks second on the team in rushing with 409 yards on 131 carries (3.1 ypc) and 10 touchdowns for the Golden Eagles. He trails team-leader David Gist by just 34 yards. Gist has carried the ball 101 times for 443 yards (4.4 ypc) and one TD.
Receivers Metrius Fleming and Darrius Stafford, who have combined for nearly half of Tech's 2,542 total passing yards this season, provide Fisher with a pair of talented targets and that could prove detrimental for EKU this weekend. Fleming and Stafford have combined for 1,051 yards. Fleming tops the team receiving charts with 41 receptions for 571 yards, while Stafford has corralled 32 passes for 480 yards. Each has scored three times for the Golden Eagles. Gist provides a threat weapon through the air after already catching 28 passes for 314 yards out of the backfield.
Eastern Kentucky Colonels
The task at hand for Eastern Kentucky is simple enough: win its remaining two games, starting this weekend, if the Colonels are to have any chance at postseason play. Even that may not be enough as it would improve them to 7-5 on the season, and a five-loss team in the playoffs would be unlikely. They would need plenty of help from other corners of the country.
Key players: Any talk of the strength of the Colonels on offense must begin with RB Daryl McCleskey. And with good reason. McCleskey leads all OVC rushers this season with 1,022 yards on 164 carries (6.2 ypc) and has scored seven times. He is also averaging more than 100 yards in each of his team's six conference games in 2019. He has added 25 pass receptions for an additional 169 yards and a score. There is a big drop off in rushing numbers after McCleskey. Teammate Alonzo Booth has rushed the ball 111 times for 567 to rank second on the team in rushing. While Booth's average of 5.1 yards per carry is impressive enough, what really stands out is the fact he has proven to have a penchant of finding the endzone as he has scored 12 times on the season already. Containing him will certainly be on the minds of the Tech defense.
QB Parker McKinney has proven to be efficient at times operating the EKU offense. He has completed more than 50 percent of his passes (102-194) for seven touchdowns. On the downside is the nine times he has had passes picked off by opponents. Keyion Dixon leads the team with 31 catches for 420 yards and one touchdown this season. It is interesting to note that a total of 18 different players have caught at least one pass for the Colonels this season.
After careful consideration and looking into the crystal ball and a reading of the tea leaves … and needing to flip a coin: Eastern Kentucky 28, Tennessee Tech 27.

Fearless predictions for the rest of the slate
Austin Peay (7-3, 5-1) at Murray State (4-6, 2-4)
Where: Roy Stewart Stadium, Murray, Ken.
When: Saturday, Nov. 16, noon
TV/Streaming: ESPN3 (cable subscription req'd)
The excitement of putting themselves into position to win the school's first Ohio Valley Conference championship in more than four decades puts some pressure on Austin Peay heading into the final two weeks of the regular season. And those butterflies may show themselves in the early going against Murray State.
Saturday's game will put two of the OVC's top quarterbacks on full display. Austin Peay's JaVaughn Craig and his counterpart, Preston Rice, have both thrown for more than 2,000 yards already this season. Both have tossed 17 touchdown passes … and several more are likely to be added on Saturday.
But, when the dust settles on Saturday the Governors should be one step close to reaching that lofty goal.
The Racers, who just a few weeks ago, had postseason aspirations of their own, have had two weeks to prepare for Saturday's game. The added time proves to be insufficient: Austin Peay 35, Murray State 21.
Southeast Missouri State (7-3, 5-1) at Eastern Illinois (1-9, 1-5)
Where: O'Brien Field, Charleston, Ill.
When: Saturday, Nov. 16, noon
TV/Streaming: ESPN+ (subscription req'd)
As the season progresses, Southeast Missouri is learning that each game becomes more important to its chance at an OVC championship. So far, the Redhawks have responded to that challenge in fine fashion and are riding a four-game winning streak heading into this week's encounter with Eastern Illinois. And they have done so in an impressive way. They have won three of those games during the current streak by a touchdown or less, proving SEMO can handle the pressure of a conference race. The pressure rises in Week 12 and a slip up could prove costly. SEMO quarterback Daniel Santacaterina and receiver Kristian Wilkerson should be simply too much for the EIU secondary to contain: Southeast Missouri 38, Eastern Illinois 14.
Tennessee State (2-8, 1-5) at UT Martin (6-4, 5-2)
Where: Hardy M. Graham Stadium, Martin, Tenn.
When: Saturday, Nov. 16, 1 p.m.
TV/Streaming: ESPN+ (subscription req'd)
Just a few weeks ago it appeared UT Martin was on its way to a conference championship. Now, it appears the Skyhawks might have been exposed after losing two of their last three games and leaving those title hopes hanging in precarious balance heading into the final two weeks of the season. Tennessee State, meanwhile, has already proven to have the ability to run with the top dogs at times, as evidenced by the Tigers' 26-24 win earlier this season against Austin Peay. Neither the Skyhawks nor Tigers run the ball particularly well, but TSU throws the ball with more success than this week's opponent. On the other side of the ball, the Skyhawks seem to have the upper hand by allowing nearly 100 fewer total yards per game. That means defense could play a major factor into Saturday's tilt. Martin's standout RB Logan Peyton could prove to have a big day and with 194 rushing yards, which is slightly more than the Tigers are allowing on the year, would reach the 1,000-yard plateau for the season. Will that be enough? UT Martin 31, Tennessee State 24.
A native of Bismarck, N.D., Ray is a graduate of North Dakota State University where he began studying athletic training and served as a student trainer for several Bison teams including swimming, wrestling and baseball and was a trainer at the 1979 NCAA national track and field championship meet at the University of Illinois. Ray later worked in the sports information office at NDSU. Following his graduation from NDSU he spent five years in the sports information office at Missouri Western State University and one year in the sports information at Georgia Tech. He has nearly 40 years of writing experience as a sports editor at several newspapers and has received numerous awards for his writing over the years. A noted sports historian, Ray is currently an assistant editor at Amateur Wrestling News.