Villanova and James Madison may have been caught looking ahead to their showdown last week, as both had to survive and win late. Take nothing away from Stony Brook and William & Mary, who gave those two teams all they could handle. The CAA title may well be on the line this week in Harrisonburg. Don't sleep on New Hampshire who has a rock solid defense after years of being thought of as nothing more than an offensive team.
BYE: William & Mary
Conference Game of the Week:
Villanova (6-0, 3-0) at James Madison (5-1, 2-0)
Where: Bridgeforth Stadium, Harrisonburg, VA
When: Saturday October 12th, 1:30 PM
TV/Streaming: MASN, FLO Sports ($$/Subscription)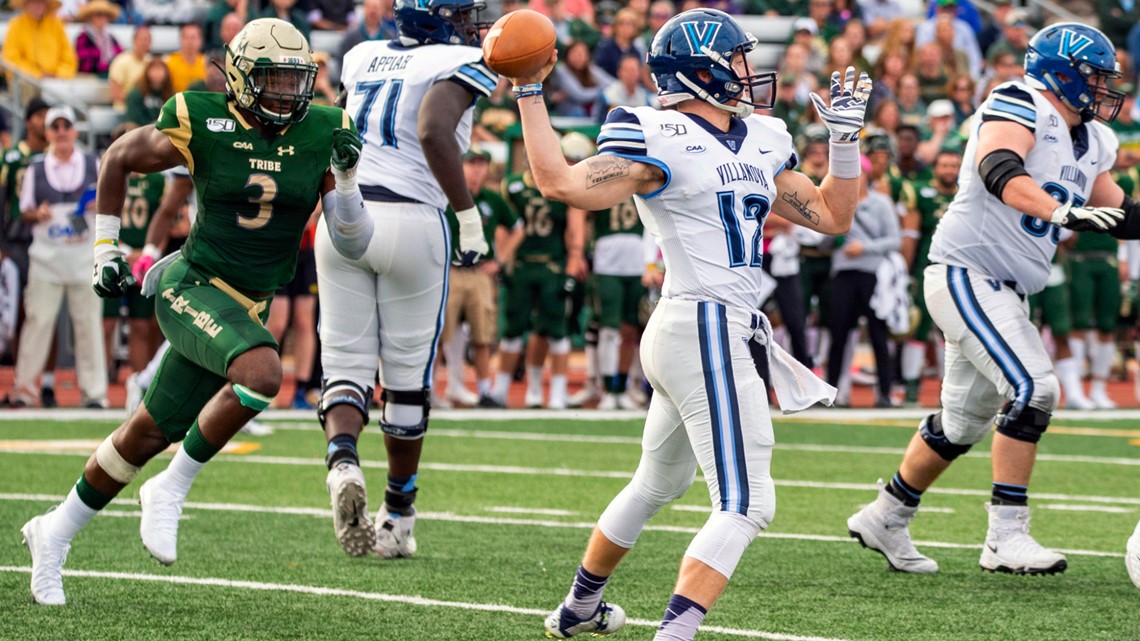 Villanova Wildcats
Villanova has score at least 33 points in every game they have played so far. Led by a transfer quarterback and strong running back, the Wildcats can put up points. In CAA play, the Villanova defense has allowed 45, 17 and 28 points, so there has been no shortage of scoreboard fireworks when the Wildcats hit the field. The defense will have to be better if Villanova wants to go on a long run. The longer you play, the better the defenses you see. This week they will see the best defense they have all year and arguably the best offense. Will Villanova be up to the task?
Key Player: After Tyquel Fields of Stony Brook threw for over 300 yards last week against James Madison, Daniel Smith has to be thinking he can do the same thing to the Dukes' secondary. On the season, Smith has accounted for 23 touchdowns – 17 passing and 6 rushing – and has thrown just three interceptions. Justin Covington left last week's game with an injury so more may fall on the shoulders of Smith this week.
James Madison Dukes
After three straight road games, James Madison will be glad to be playing in front of its home crowd. The Dukes have been firing on all cylinders on both sides of the ball, but they ran into some obstacles last week against Stony Brook. Without Rashad Robinson, the Seawolves were able to pick apart the younger Dukes secondary. On offense, James Madison move the ball with easy, but couldn't hold on to it, losing four turnovers. The Dukes escaped with a win, but they'll have to be much better on both sides this week to remain unbeaten in the CAA.
Key Player: If the Dukes learned anything last week, its that they need CB Rashad Robinson in the lineup. The Dukes have been beaten on big pass plays quite a few times this year but it came to a head last week when Stony Brook completed just 15 passes but threw for over 300 yards. Robinson did not play last week, but the Dukes are hopeful that he will be in the lineup this weekend. The Dukes will need him in order to contain the strong Villanova offense.
Fearless Prediction: Both teams should be able to score points this weekend, but the Dukes are at home and are just a bit more talented all the way around. James Madison 34, Villanova 21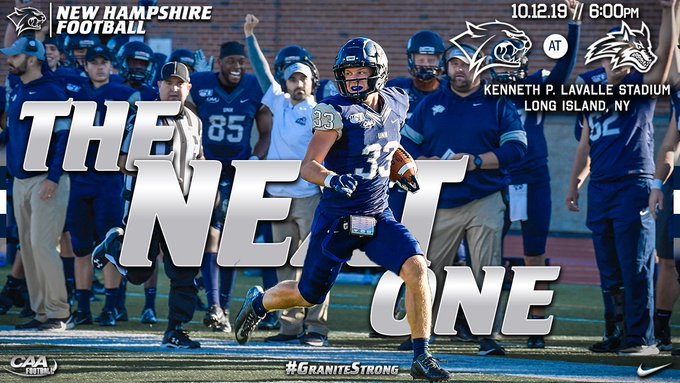 Fearless predictions for the rest of the slate
Richmond (2-3, 1-1) at Maine (2-3, 0-2) Saturday October 12th, 12:00 PM, Alfond Stadium, Orono, ME, Maine Local TV, FLO Sports ($$/Subscription)
Both of these teams come into the game 2-3 but they couldn't be much more different. Maine is clearly the better team hunting for a playoff berth while Richmond is just playing out the string. Maine 41, Richmond 24
Delaware (3-2, 1-0) at Elon (2-4, 1-2), Saturday October 12th, 2:00 PM, Rhodes Stadium, Elon, NC, Stretch Internet, FLO Sports ($$/Subscription)
Elon needs this game to have any hope of making the playoffs while Delaware still feels they have a shot at the league title. The desperate Phoenix pick up the win this week. Elon 27, Delaware 19
Albany (3-3, 1-1) at Towson (3-2, 1-1), Saturday October 12th, 4:00 PM, Johnny Unitas Stadium, Towson, MD, FLO Sports ($$/Subscription)
Albany has been much more competitive so far this year. However, they have not played a team as good as Towson. Towson 48, Albany 22
Rhode Island (1-4) at FBS Virginia Tech (3-2) Saturday October 12th, 4:00 PM, Lane Stadium, Blacksburg, VA, ACC Network, Watch ESPN (subscription req'd)
Rhode Island doesn't stand much of a chance against an FBS opponent this weekend. Virginia Tech 55, Rhode Island 13
New Hampshire (3-2, 2-0) at Stony Brook (4-2, 1-1), Saturday October 12th, 6:00 PM, LaValle Stadium, Stony Brook, NY, SNY, FLO Sports ($$/Subscription)
This figures to be a low scoring game with two solid defenses. Stony Brook has the better offense and is at home so this one favors the Seawolves. Stony Brook 17, New Hampshire 16
Jamie is a proud 2002 graduate of James Madison University. He's witnessed the growth of the program from no one in the stands in 1998, to the hiring of Mickey Matthews, to the 2004 National Championship, to the 2008 team, to the struggles in the early 2010s, and finally the rebuild under Mike Houston. He also allegedly really enjoys Washington, DC-based Stanley Cup winners.
Reach him at: